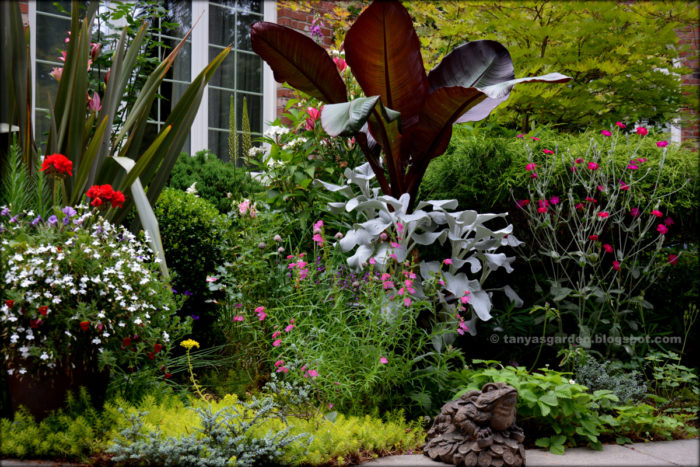 My name is Tatyana Searcy, and my garden is located on the Kitsap Peninsula in the state of Washington. It was previously featured on the GPOD (plus, my photos have appeared in several other posts: Gazebo, Blue poppies, Lakewold Gardens, Butchart Gardens).
Today, I'd like to share the views of my front plant bed that I think was in its best shape ever last gardening season. And I know exactly what gave this plant bed its luscious, best ever look. Of course, many plants have reached substantial size, and several important plants have been added—among them, 'Autumn Moon' Japanese maple (Acer shirasawanum 'Autumn Moon', Zones 5–9) and 'Oregon Pride' hydrangea (Hydrangea macrophylla 'Oregon Pride', Zones 6–9).
But I added two more important elements to this central bed in 2018. The first was a potted red banana plant (Abyssinian bananas, Ensete ventricosum 'Maurelii', Zones 10–11). When I got it out of the garage in spring, the tall red banana instantly added dramatic effect to the plant bed. In summer, when it unfurled its stunning dark leaves, it became a star of the front garden. What a gorgeous architectural plant it is! The second element was several containers with annuals that I placed in the front of the plant bed. Those were relatively tall containers that allowed their flowers to "float" and fill otherwise empty or dark spaces.
For two of these tall pots, I bought hanging baskets and just plopped them into the pots (instant gratification!). From afar, the pots were almost invisible and the flowers looked suspended in the air.
Only the central front bed is shown here, but the second red banana plant and several identical pots with annuals were located further to the right, on the opposite side of the driveway. It provided a sense of unity and rhythm to the entire front garden.
I hope to repeat the look of the front bed in 2019.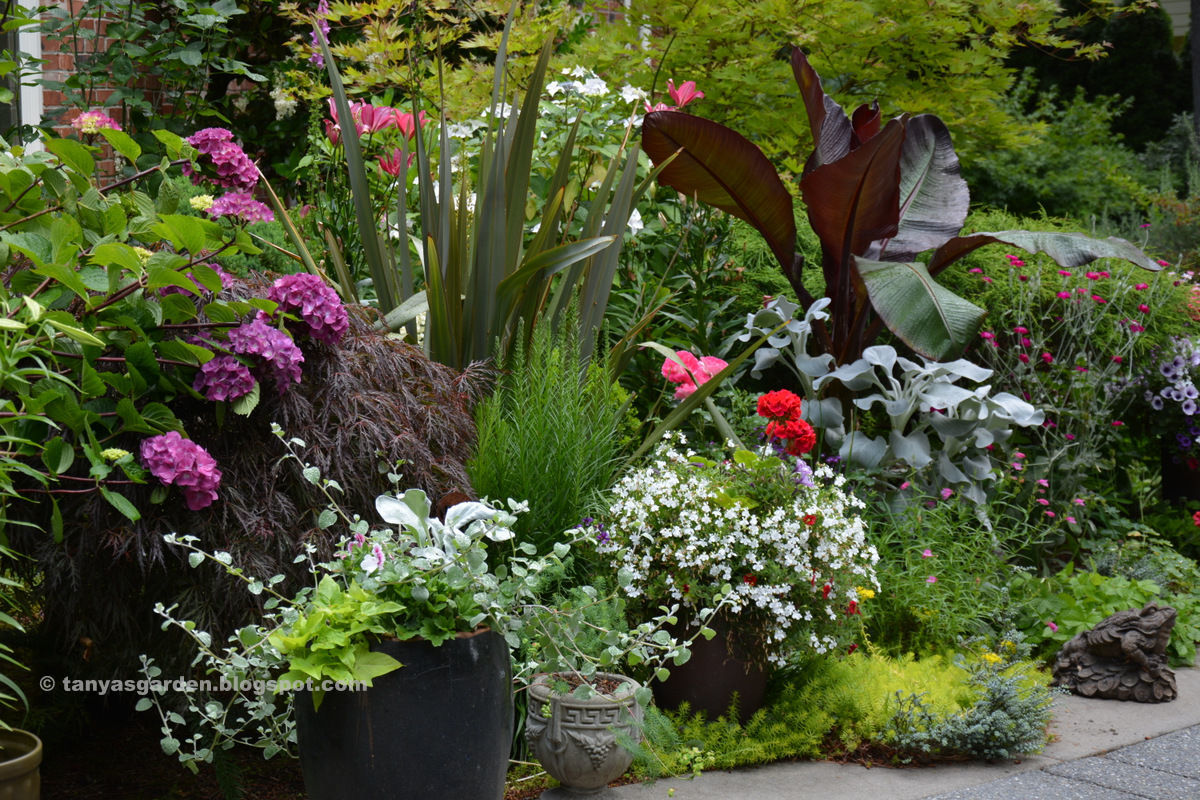 Red (Abyssinian) banana, a big bush of Hydrangea macrophilla 'Oregon Pride', Phormium tenax (New Zealand flax, Zones 9–11), and 'Autumn Moon' Japanese maple are striking plants that define the look of this plant bed.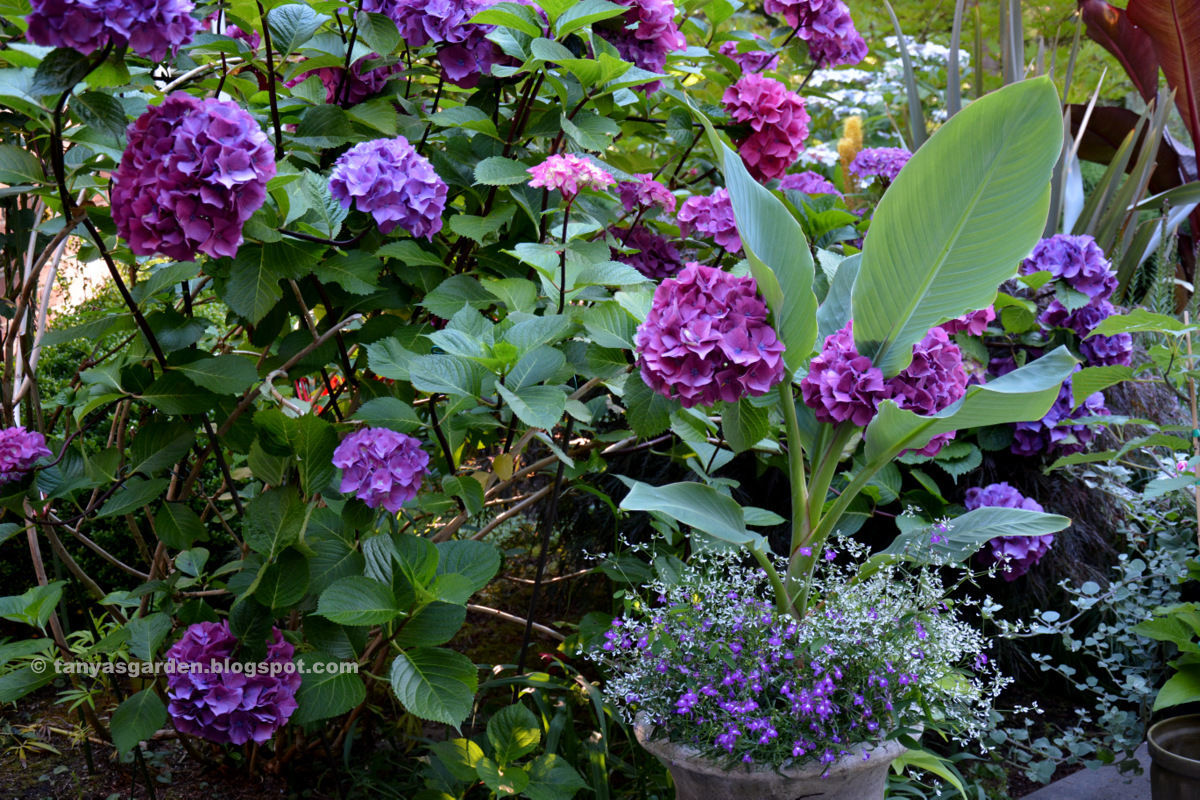 It's difficult to overestimate the impact of the Hydrangea macrophylla 'Oregon Pride' in this plant bed. It's not just the large bright flower heads, but the big leaves and striking burgundy stems that attract attention.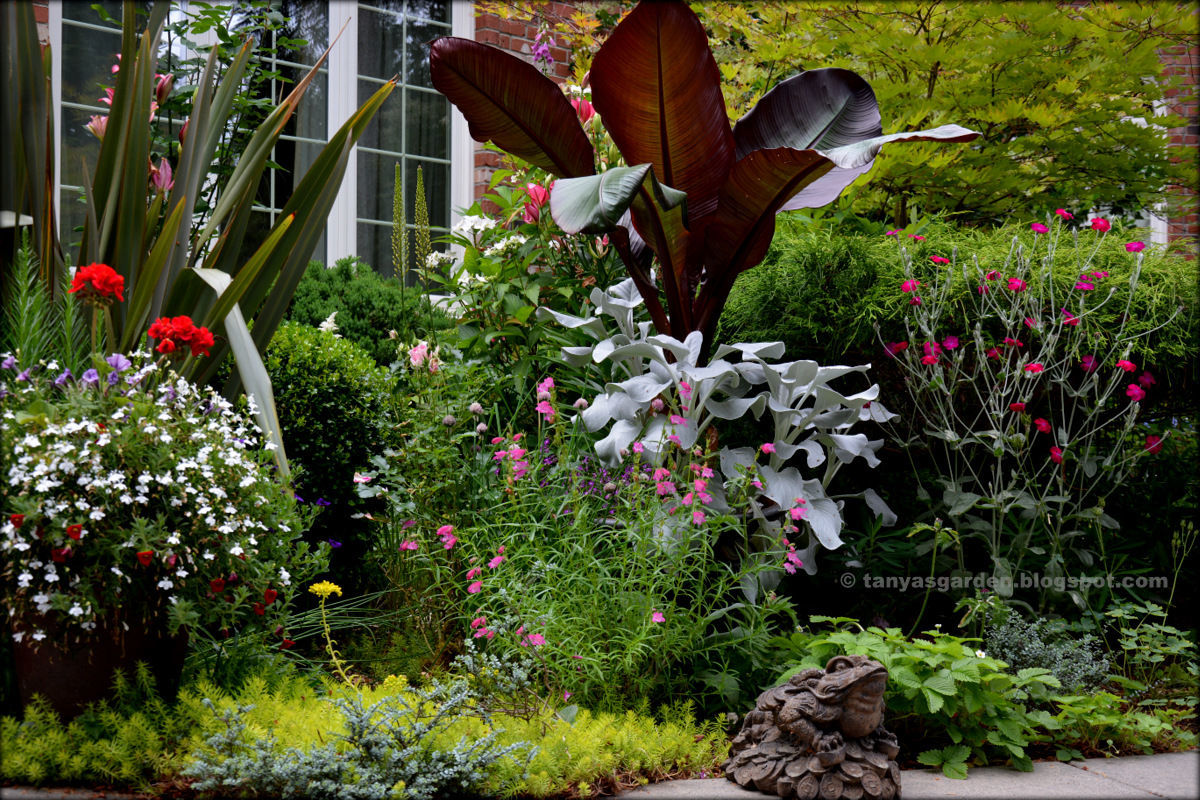 Another important plant that adds interest to this plant bed is Senecio candicans 'Angel Wings' (Zones 8–10 or as annual). It was sitting in the same pot as the Abyssinian banana.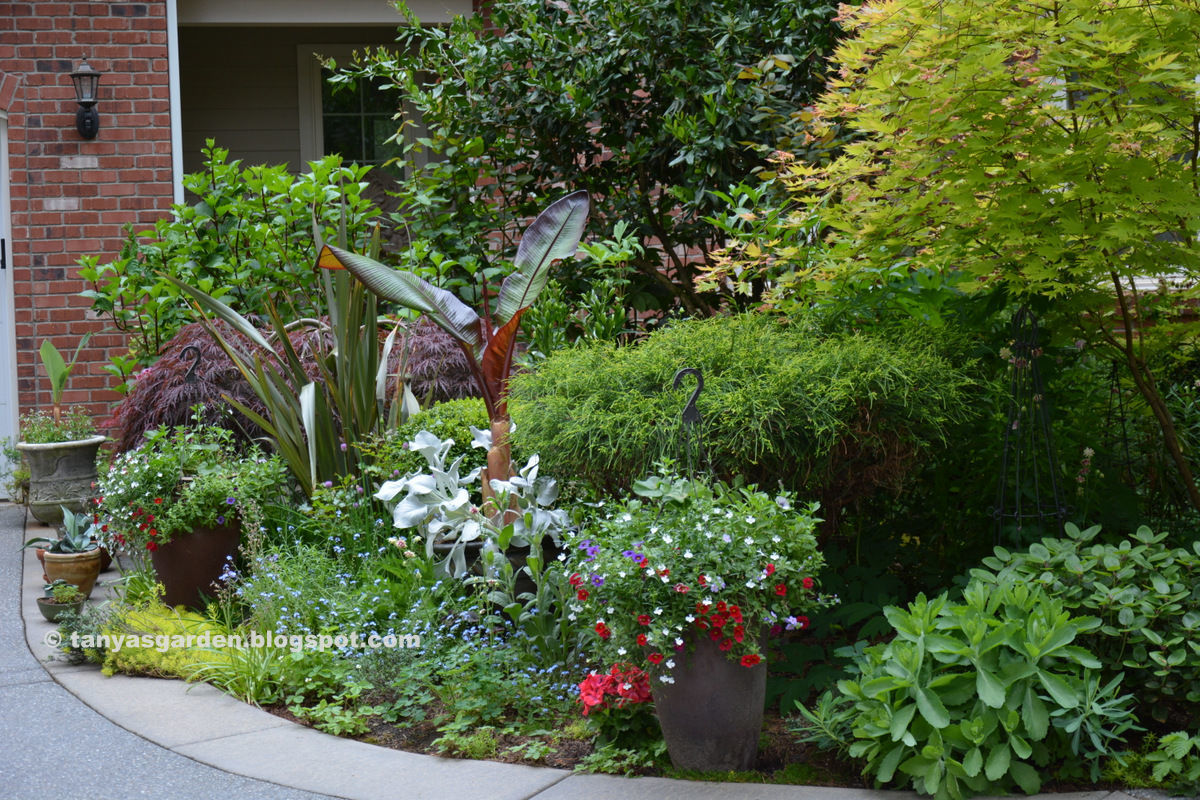 In this May picture, you can see two hanging baskets sitting on the top of tall containers with hooks still attached. Blooming annuals in containers provided color to this spot even when very few plants were blooming there.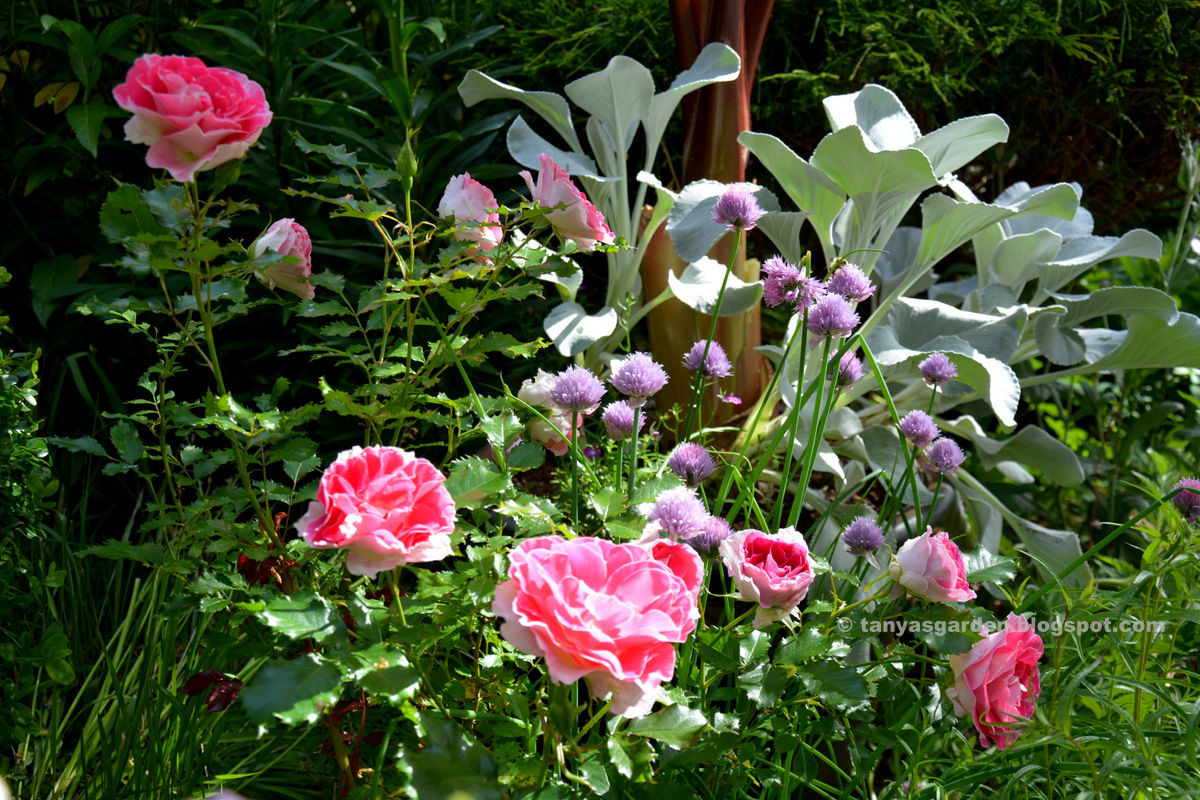 Rose 'Regensberg'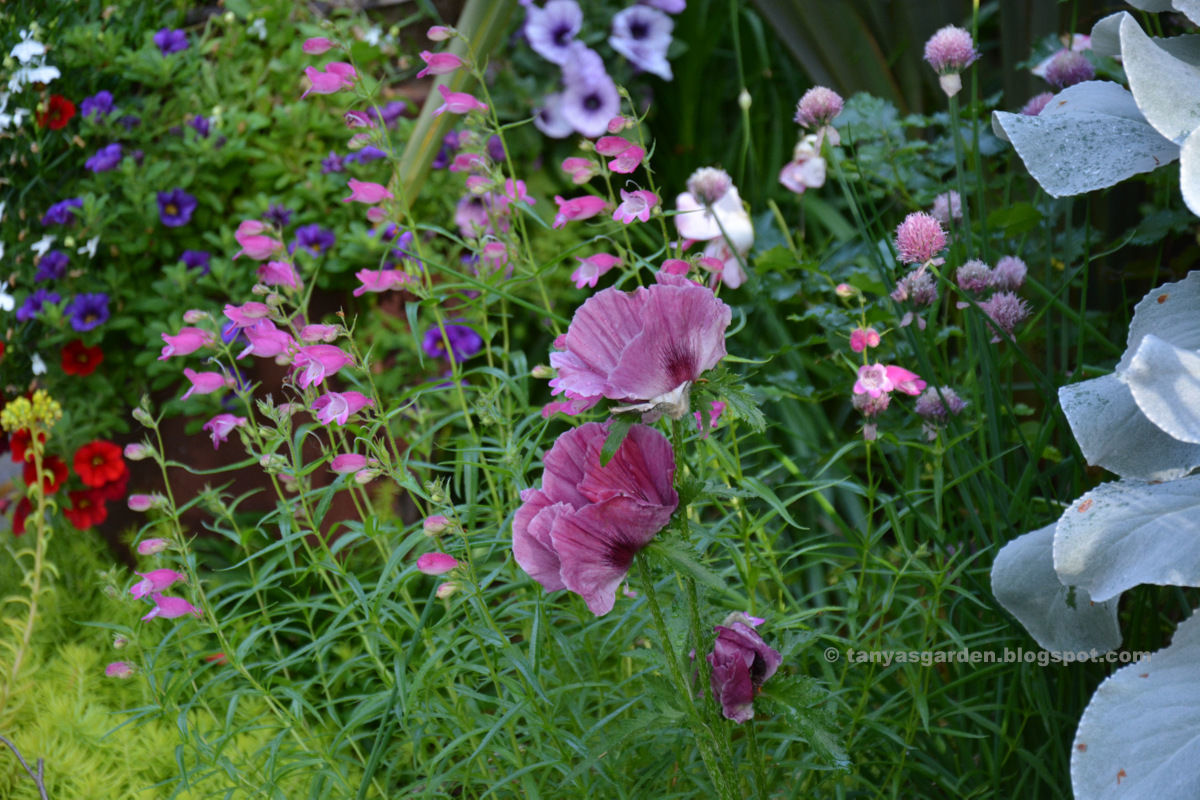 Poppies, Penstemon 'Red Rocks' (Zones 4–8), lilies, 'Mr. Lincoln' and 'Regensberg' roses, Liatris spicata 'Kobold' (Kobold blazing star, Zones 3–8), chives (Allium schoenoprasum, Zones 4–8), Eremurus (foxtail lily, Zones 5–8), Rose campion (Lychnis coronaria, Zones 3–9), Fuchsia 'Dollar Princess' (Zones 9–11), and Digitalis purpurea (foxglove, Zones 3–8) are among the perennials growing in the front plant bed.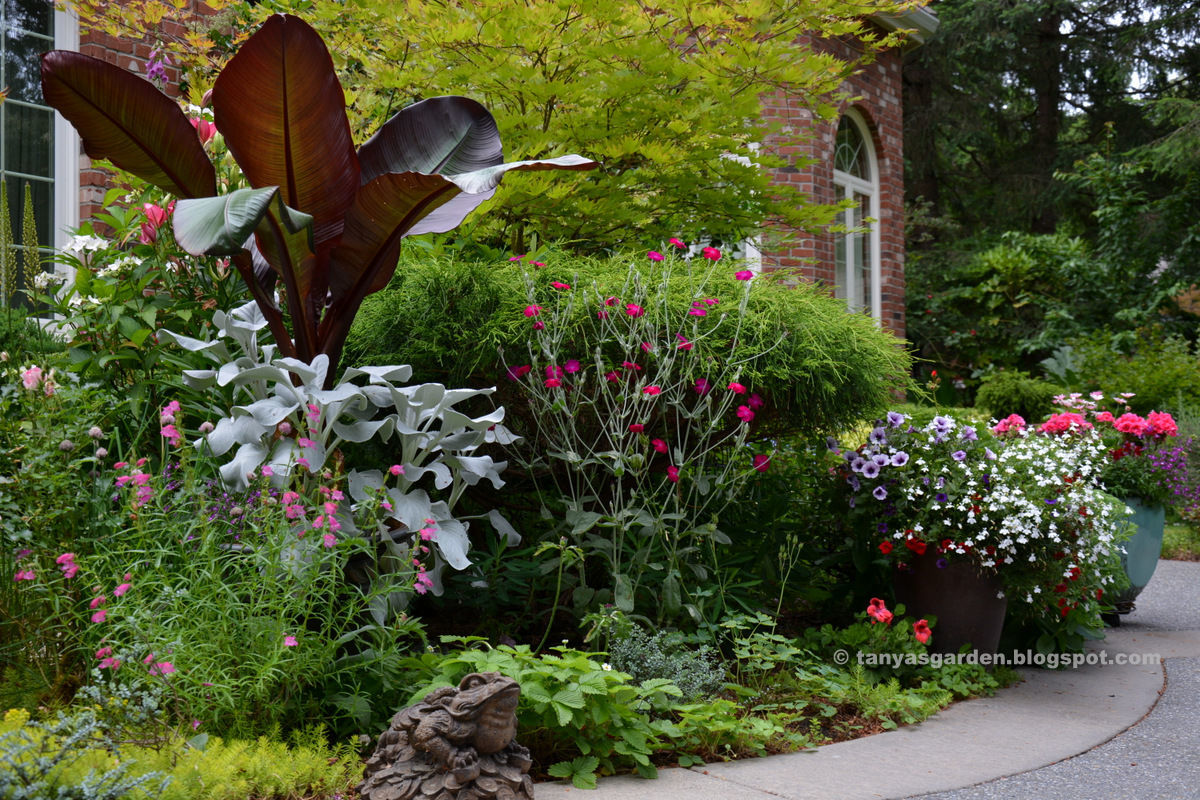 I recently introduced rose campion to the front garden. Its vividly colored flowers seemed to be too bright to me, but now I appreciate not only its flowers but its bushy, multistem structure. A single plant of rose campion can perk up a dark spot in a bed.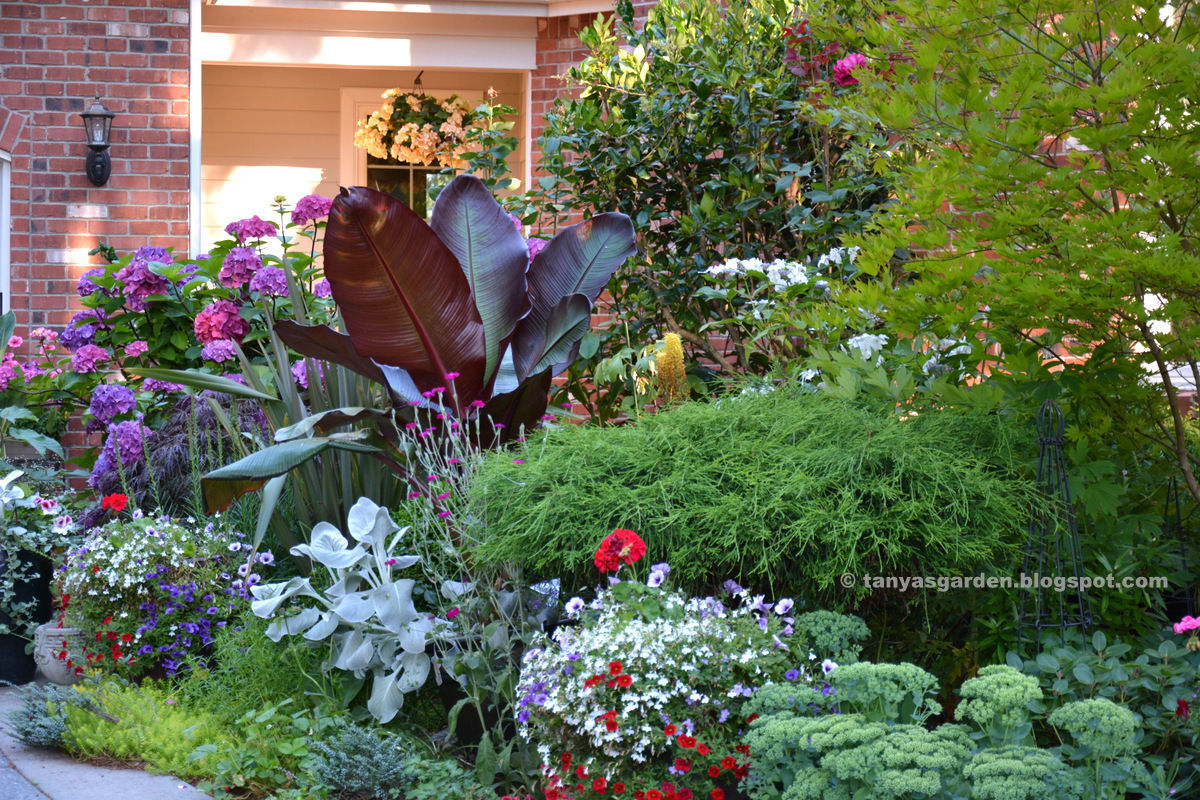 My Abyssinian bananas have already been overwintered four times in the garage.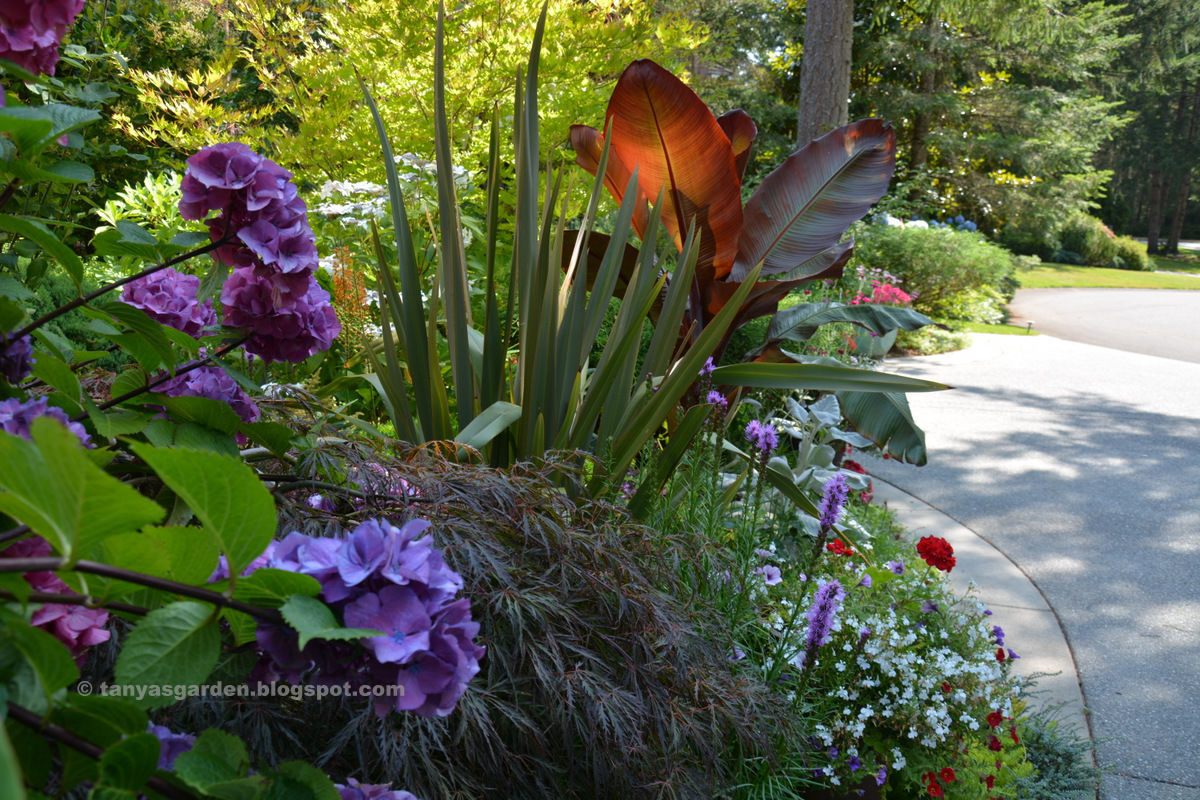 'Oregon Pride' hydrangea looks good next to a purple-leaf Japanese maple.
Bigger plants in this picture are, from left to right: 'Sungold' thread-branch cypress (Chamaecyparis pisifera 'Sungold', Zones 4–8), 'Autumn Moon' Japanese maple, and 'Canadale Gold' wintercreeper (Euonymus fortunei 'Canadale Gold', Zones 5–8).
Have a garden you'd like to share?
Have photos to share? We'd love to see your garden, a particular collection of plants you love, or a wonderful garden you had the chance to visit!
To submit, send 5-10 photos to [email protected] along with some information about the plants in the pictures and where you took the photos. We'd love to hear where you are located, how long you've been gardening, successes you are proud of, failures you learned from, hopes for the future, favorite plants, or funny stories from your garden.
If you want to send photos in separate emails to the GPOD email box that is just fine.
Have a mobile phone? Tag your photos on Facebook, Instagram or Twitter with #FineGardening!
You don't have to be a professional garden photographer – check out our garden photography tips!
Do you receive the GPOD by email yet? Sign up here.