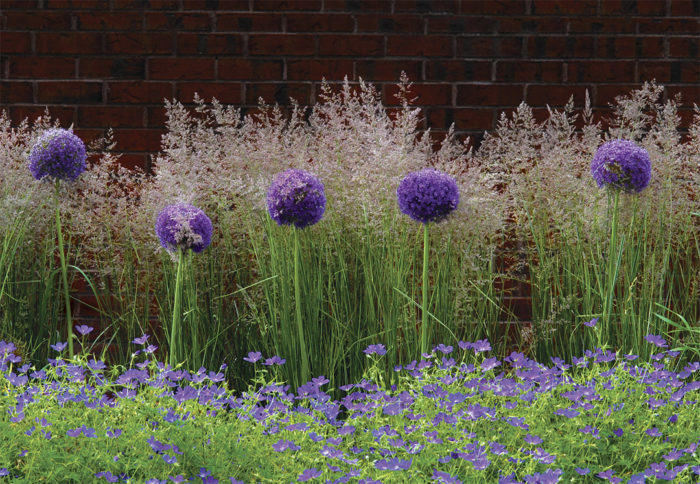 Designing the plantings immediately surrounding your home is a tricky task for many gardeners. These plants are frequently viewed up close and personal by visitors and the UPS guy, so they deserve to be an inviting feature of your home. But with a commanding house looming behind these beds, there are many areas for gardeners to go awry. Classic mistakes include cramming all the plants around the front door (making it impossible to see the door), a narrow bed wide enough for only a single row of shrubs, or a red oak planted 4 feet from the foundation that will grow into your gutters in no time.
The most critical aspect of your foundation beds is selecting plants that make an impact but don't overpower the space. You need to include structural plants that will create the framework and architecture of the space, but it's also important to include statement plants to weave the tapestry of the garden together. The blending of these two types of plantings creates foundation beds that are essential to your home. Here are a few of my go-to structural and statement foundation plants to try in your garden.
Structural
Foundation Plants
Structural plants create the framework of the garden. Imagine your garden with no foliage. What's left is the bones of the garden. These plants can be either evergreen or deciduous, but common qualities are their strong form and a habit that allows them to live within the tighter confines of the area around your home.
'Faulkner' Boxwood
Buxus microphylla

'Faulkner'
Few structural plants have a presence like the treasured boxwood (Buxus spp. and cvs., USDA Hardiness Zones 4–9). Whether your aesthetic is formal, with tightly clipped hedges, or you enjoy the beauty of an informal cloud-pruned planting, boxwoods are the plants that make it possible. Over the past couple of years, I've fallen in love with 'Faulkner' boxwood. I was first drawn to this shrub because of its glossy bright green—almost chartreuse—spring foliage, but soon learned to appreciate it more due to its compact, slow-growing habit. 'Faulkner' is easily maintained as a low hedge with less maintenance, and it is one of the cultivars that has survived a series of brutal winters here in the Midwest.
Zones: 5 to 9
Size: 3 to 4 feet high and wide
Conditions: Full sun to partial shade; moist, well-drained soil
'Frans Fontaine' European Hornbeam
Carpinus betulus

'Frans Fontaine'
An "architectural plant" might be the best way of describing 'Frans Fontaine' European hornbeam. This tree naturally grows in a tight, upright habit, which allows it to fit perfectly into many foundation gardens. Standing like a sentinel, this tree is the perfect specimen to anchor an entrance. Also, 'Frans Fontaine' excels as a pleached hedge, creating the structure of a garden room. Either way, you can't lose.
Zones: 4 to 8
Size: Up to 30 feet tall and 10 feet wide
Conditions: Full sun to partial shade; well-drained soil
Dwarf Purple Willow
Salix Purpurea 'Nana'
A small shrub with a soft gray-green appearance and relaxed, round shape that dances in a soft breeze, dwarf purple willow is a perfect companion around the home. I have used it in many different settings, from a long hedge to a single specimen, and no matter how I use it, this plant always makes the other plants around it pop. Unlike other willows, it will not eat your house and plays nicely with others.
Zones: 4 to 8
Size: 3 to 5 feet tall and wide
Conditions: Full sun to partial shade; medium to moist soil
Little Lime® Panicle Hydrangea
Hydrangea paniculata

'Jane'
In the age of a million hydrangeas, few are proven landscape plants here in the Midwest. A great one is Little Lime® panicle hydrangea, a shrub that will make your neighbors green with envy (pun intended). In mid-July and August, an explosion of lime green-white flowers starts blooming on sturdy stems. Little Lime® blooms on the current year's growth, so no matter how harsh the winter, you'll have beautiful blooms. Perfectly suitable for the foundation garden due to its compact size, it also fits well in many other settings. Plant one or plant 50—you won't get it wrong.
Zones: 3 to 8
Size: 4 to 5 feet tall and wide
Conditions: Full sun to partial shade; moist, well-drained soil
S

t

atem

e

nt
Foundation Plants
Statement plants provide the "wow" factor for a foundation garden. The area around your home is valuable real estate, and any plant that resides there needs to have a special quality of bloom, scent, or texture to earn its spot. These are the plants that make an impression and make people want to stop and take a photo for Instagram.
'Montrose White' Lesser Calamint
Calamintha nepeta

'Montrose White'
When it comes to impact, it's hard to beat 'Montrose White' lesser calamint. I am mad for this plant! This white blooming perennial will make your foundation sing from August to frost. It will be perfectly at home planted in that tough, hot, dry, gravelly part of your foundation garden that has taken the life of so many plants before it. I would highly recommend planting 'Montrose White' where you frequently walk past so you can pinch the foliage and inhale the tart, minty fragrance that abounds. If you're looking to bring pollinators to your garden, look no further; the air around the blooms will be buzzing with excitement.
Zones: 5 to 10
Size: 1 foot tall and up to 3 feet wide
Conditions: Full sun; well-drained soil
'Dark Towers' Penstemon
Penstemon

'Dark Towers'
If you're looking for a punch of dark foliage for a contrast in your design, 'Dark Towers' penstemon provides the hit you're looking for. This cultivar displays a much darker, deeper color saturation compared to 'Husker Red' (Penstemon digitalis 'Husker Red', Zones 3–8) and provides a longer bloom time than most penstemons. This is one of those perennials that wakes up early in spring and provides a pop of dark foliage that contrasts perfectly against a light background. The masses of pink flowers show off from late spring to early summer. One of my favorite features is the dark seed pods that emerge after the bloom and persist the rest of the summer—a major bonus.
Zones: 3 to 8
Size: 16 to 24 inches tall and 12 to 16 inches wide
Conditions: Full sun to partial shade; moist, well-drained soil
'Overdam' Feather Reed Grass
Calamagrostis

×

acutiflora

'Overdam'
Ornamental grasses play an important role in my arsenal of plants. They are the yarn that weaves the rest of the design together and makes it work. 'Overdam' feather reed grass is a lesser known option that I often choose because of its delicate white and green variegation that showcases the plants around it. Compared to the better known 'Karl Foerster', 'Overdam' is about a quarter smaller, allowing it to be placed among and around other plants without overpowering them.
Zones: 4 to 8
Size: Up to 3 feet tall and 2 feet wide
Conditions: Full sun; well-drained soil
'Millenium' Ornamental Onion
Allium

'Millenium'
Attracts butterflies, deer resistant . . . wait no, even better—a deer deterrent! Do you need to know more? 'Millenium' ornamental onion features prolific, pink, golf-ball-size blooms that appear in later summer when the garden is starving for something interesting. When it's not blooming, this allium has shiny deep green foliage that blends well in the border. Unlike other alliums, this plant is sold as an herbaceous perennial and not a bulb.
Zones: 5 to 8
Size: 12 to 16 inches tall and wide
Conditions: Full sun to partial shade; dry to average soil
'Cleopatra' Foxtail lily
Eremurus

×

isabellinus

'Cleopatra'
Any good garden needs a diverse cast of characters with varying heights, shapes, and bloom times. 'Cleopatra' foxtail lily will add drama to your garden with a distinctive 4-foot-tall spiky bloom. I love planting 'Cleopatra' within a mass of ornamental grasses. Come summer, the slender bloom will shoot up and add an additional spectacle to the border. Then, once the bloom is finished, grasses hide the less attractive foliage. Foxtail lilies are easily grown as long as they have good, well-draining soil. A great tip is to dig the hole 3 to 4 inches deeper than needed and add some grit to allow for additional drainage. Once established, this summer bulb will consistently return for a number of years.
Zones: 5 to 8
Size: 4 to 5 feet tall and 1 foot wide
Conditions: Full sun; well-drained soil
---
Tip
Bring out your bed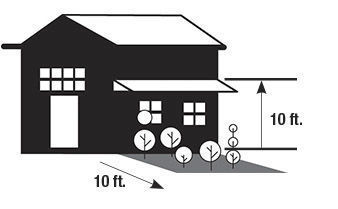 Here's a quick, easy trick for scaling a foundation bed: Take the height of the first floor of your home and lay the measurement out on the ground. For example, if the height of your first floor is 10 feet, then your bed edge should be 10 feet from the foundation. If you prefer not to have a bed this large, at least place a statement tree or walkway at this measurement out from the foundation. This helps the house feel grounded and provides you with the space to incorporate a larger variety or more frequent repetition of plantings.
Tip
Avoid the death zone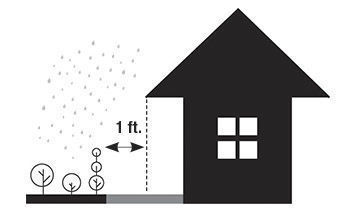 Often homes have large eaves, with plantings directly below the drop zone for gutter overflow and falling ice. Plants in this area take a beating, but placing a gravel edging area 1 foot wider than your eaves will move your plantings outside of this danger zone and protect your house from any backsplash.
---
Nick McCullough is a landscape designer and partner in McCullough's Landscape and Nursery in New Albany, Ohio.
Photos: millettephotomedia.com; Steve Aitken; courtesy of Monrovia Nursery; Richard Bloom; Bill Johnson. Illustrations: Kate Gosselin
---
Sources
• Brent and Becky's Bulbs, Gloucester, VA; 877-661-2852; brentandbeckysbulbs.com
• Digging Dog, Albion, CA; 707-937-1130; diggingdog.com
• Garden Crossings, Zeeland, MI; 616-875-6355; gardencrossings.com
• High Country Gardens, Shelburne, VT; 800-925-9387; highcountrygardens.com
• Monrovia, Azusa, CA; 888-752-6848; shop.monrovia.com