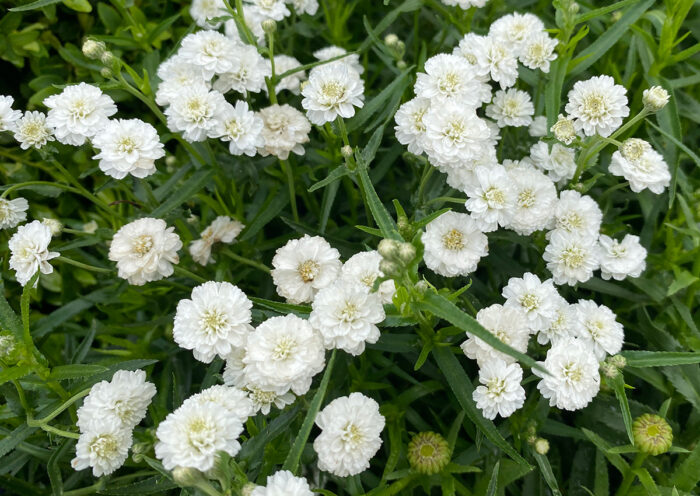 I find late-season flowers to be some of the most delightful of the year. They represent one last encore to a year of gardening done well. The bees enjoy the flowers as much as I do. Here are a few fall-flowering perennials that will attract pollinators to your garden.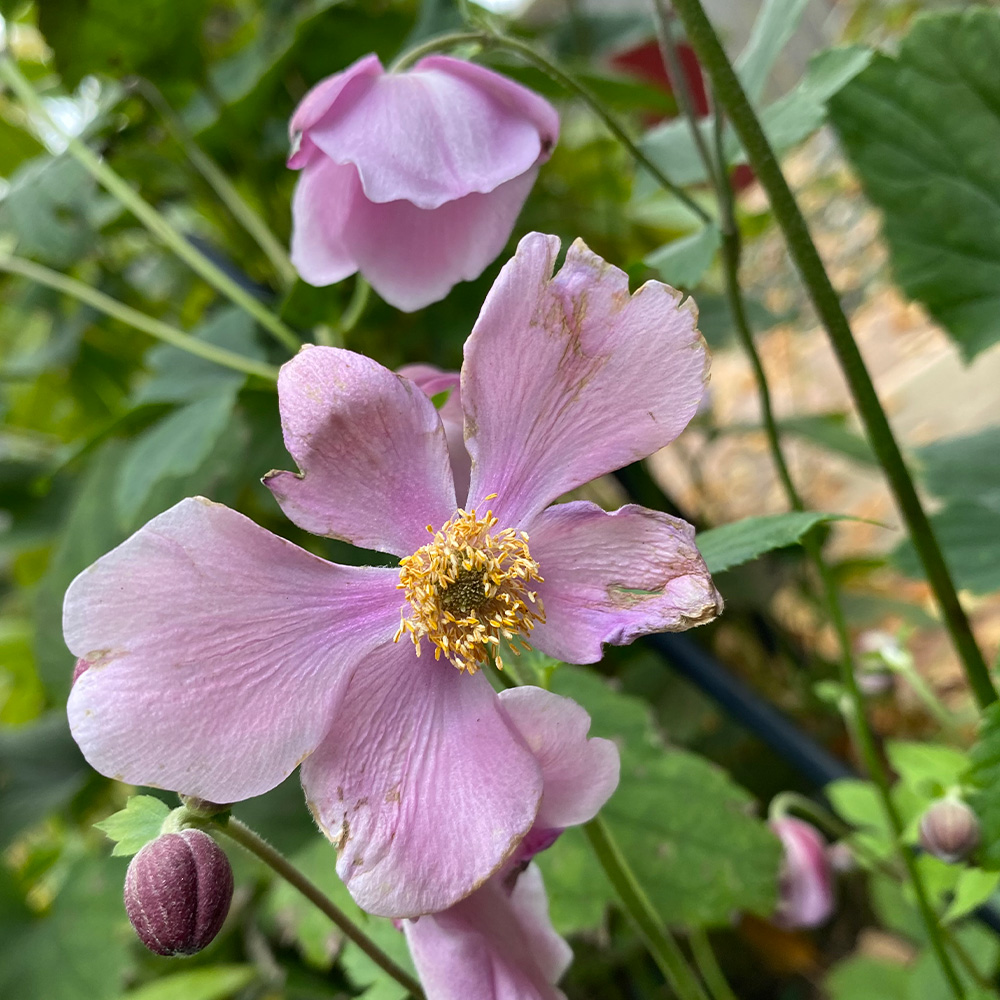 Anemones have flowers that can last for months
Anemone spp. and cvs., Zones 3–11
Fall-flowering anemones are some of the most underappreciated late-blooming perennials. Not only are they beloved by pollinators, often being the only source of fresh pollen late in the growing season, but their delicate pink blossoms dance ever so subtly in the air on 3-foot-tall, threadlike stems. Flowers last for weeks to months if you can bear not to cut them. My favorite is 'Robustissima' anemone (Anemone × tomentosa 'Robustissima', Zones 4–7). A tough hybrid growing in full sun to light shade, 'Robustissima' blooms earlier than other anemones. In my garden, it has continued to bloom through hard frosts and well through the end of October. When the first flush of blooms has passed, don't remove the stems. Leave them alone and you will be rewarded with a second and third set of blossoms, extending the color for many weeks. In some gardens I have seen this variety wander a bit, but not to the extent that controlling it is problematic. It prefers soil that is moist, rich, and with slightly acidic to neutral pH. Place it in front of a low-hung window and you will be able to enjoy it whether you are in your garden or inside and wishing you were.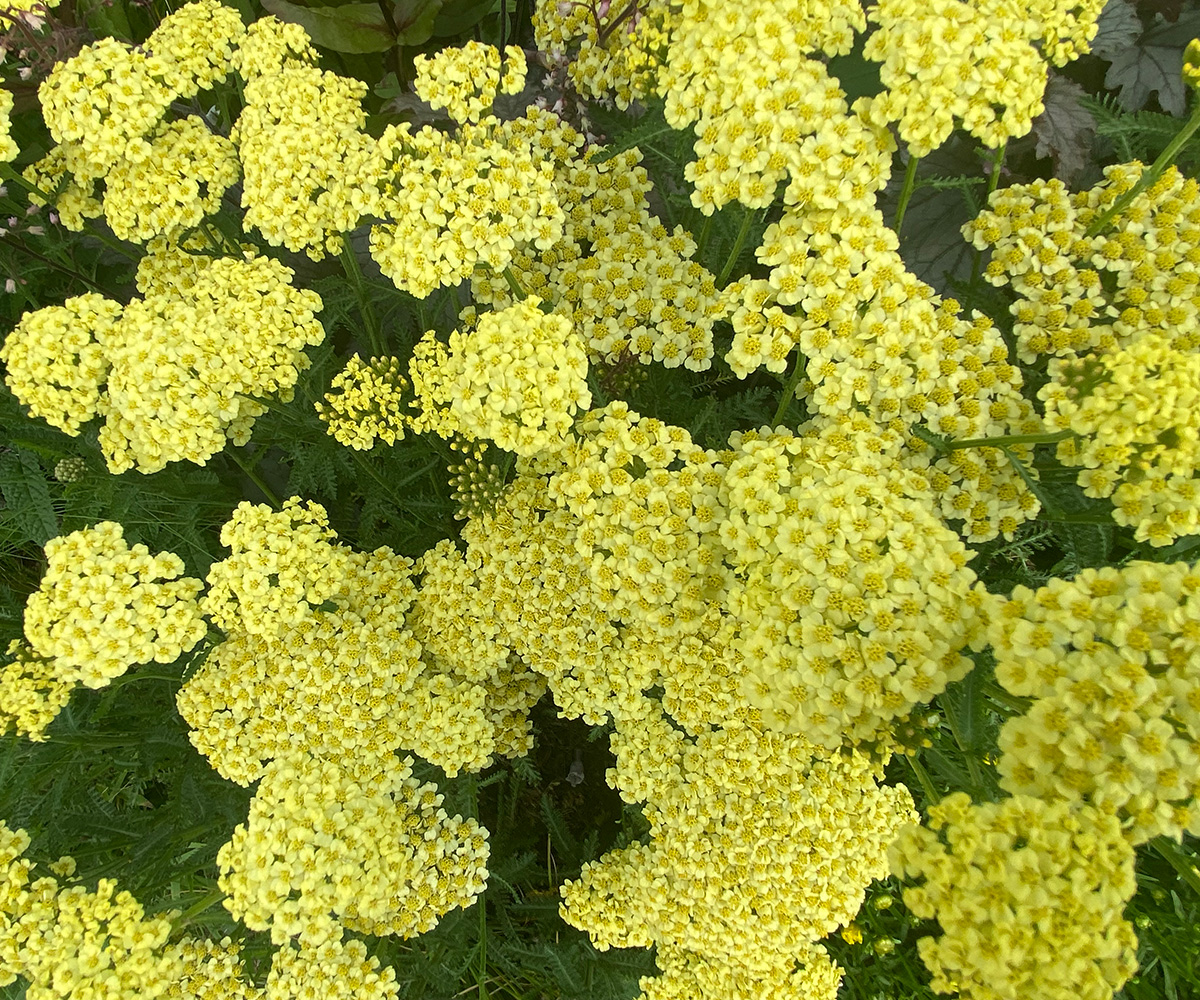 Yarrows continue their bountiful summer displays into fall
Achillea spp. and cvs., Zones 3–9
Hardy and easy to grow, yarrow is a durable perennial known for its long season of bloom. Those varieties that start to flower in early to midsummer will continue blooming into autumn and provide blooms for fall pollinators. The New Vintage™ series of yarrows, including New Vintage™ Violet ('Balvinolet'), New Vintage™ Rose ('Balvinrose'), and New Vintage™ White ('Balvinwite') start blooming in June and continue through September if deadheaded regularly. Short in stature, growing 8 to 18 inches tall and 8 to 12 inches wide, these perennials are well suited for the front of a border or for tucking into a mixed bed. When looking for a soft yellow that will complement most every other color, try 'Sunny Seduction' yarrow (Achillea millefolium 'Sunny Seduction', Zones 3–8), a mutation of 'Summer Pastels' yarrow (Achillea millefolium 'Summer Pastels', Zones 3-8) that grows 2 feet tall and wide. Another great choice is 'Peter Cottontail' sneezewort (Achillea ptarmica 'Peter Cottontail', Zones 3–8), a unique, single-flowering variety with blooms that look a little like mums (Chrysanthemum spp. and cvs., Zones 5–9). Yarrows are typically safe from grazing by rabbits and deer and prefer medium to slightly dry soil, full sun to partial shade, and good drainage. If conditions are right, self-seeding is possible but can be prevented if flowers are deadheaded.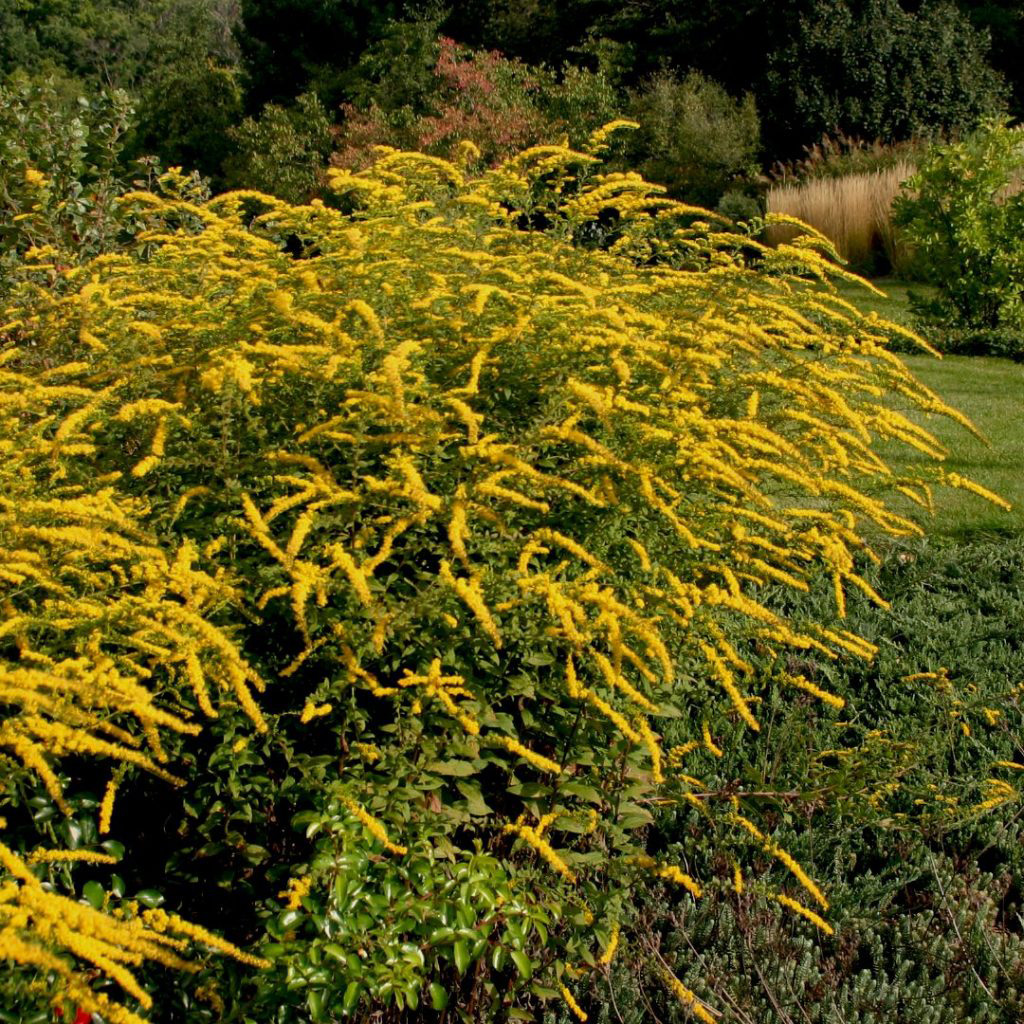 Goldenrod brings sunny bright yellow flowers to fall gardens
Solidago spp. and cvs., Zones 3–9
With flowers exploding like showers of sparks, goldenrod is a genus made up of mostly North American natives with a honey-like fragrance. Over a hundred different species of goldenrod exist, one for nearly every climate and situation, yet all bloom late in the growing season. 'Fireworks' goldenrod (Solidago rugosa 'Fireworks', Zones 4–9) is a large clump-forming cultivar with a bushy habit and panicle flowers. It's also not as aggressive a spreader as some other goldenrods can be. Reaching 2 to 3 feet tall and 3 to 4 feet wide, this perennial will take up the same space as a small shrub. 'Golden Fleece' goldenrod (Solidago sphacelata, Zones 3–8) is a compact and upright variety, growing 1½ to 2 feet tall and 1 to 1½ feet wide. 'Golden Fleece' would look beautiful if planted in a large group in front of taller grasses or shrubs, and equally charming if used in containers or as part of a mixed perennial border. Requiring full sun and moist, well-drained soil for best performance, goldenrods are also deer resistant.
I recommend that you leave all of these perennials untouched after a hard freeze, allowing the foliage to dry and remain in place over the winter. There are many benefits to leaving perennial foliage standing over winter. The dried stems and leaves will protect the crowns of the plants, any seeds will be a food source for wildlife, there will be some texture to provide interest, and the foliage will provide a habitat for beneficial overwintering insects. Save your tidying up for the spring.
For more plants for pollinators, check out:
For more fall-blooming perennials, check out:
And for more Northern Plains regional reports, click here.
—Marti Neely, FAPLD, owns and operates Marti Neely Design and Associates in Omaha, Nebraska.