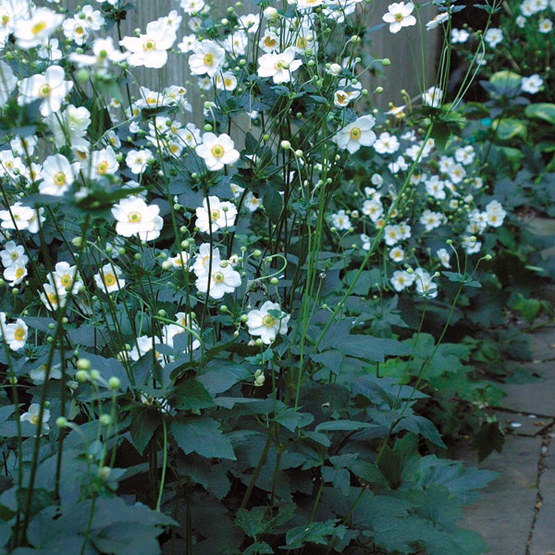 Asters and mums aren't the only perennials that brighten the late-season garden. Fall-blooming anemones (Ane­m­one spp. and cvs., USDA Hardiness Zones 4–7) also bring a refined and elegant touch of beauty to an autumn landscape when delicately beautiful flowers burst open atop the plant's willowy stems. The white and pink blossoms illuminate the shade garden, especially at dusk, as the setting sun's warm light slips under the branches of nearby trees.
As flowers fade, the petals drop to the ground, leaving behind a globe-shaped seed head. Newly opening blossoms mingle among the seed heads, providing a lovely show for several weeks between late July and October, depending on the cultivar.
They prefer partial shade but will tolerate sun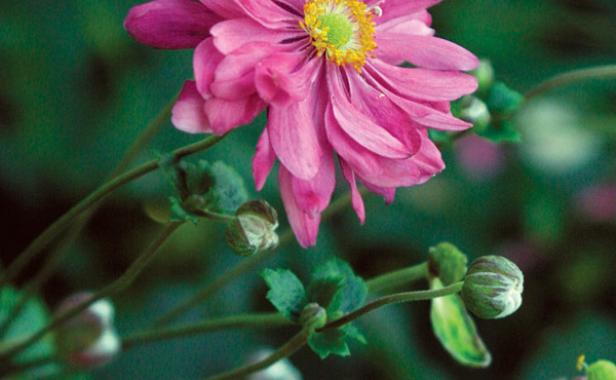 Although the plants may take a year or two to become established, fall-blooming anemones form a handsome 12-inch-tall ground cover that can spread quickly when planted in the right place. They flourish in light to partial shade in moist, humus-rich soil but will tolerate full sun as long as there is sufficient moisture. Locations receiving morning sun rather than the hot afternoon sun are best, particularly in Zones 7 and higher. Water-saturated soil, especially in the winter, may lead to the death of the plant and should be avoided.
Spring planting is recommended, and mulch is necessary during the plant's first winter. In colder areas (Zones 5 and lower), plant anem­ones in protected spots near walls or fencing, for example, and apply leaf mulch every winter. The type of soil also determines how quickly a plant spreads; anem­ones spread more easily in a light, moist soil than in a heavy, dry soil.
These perennials don't require deadheading to prolong flowering, but cutting out spent flowers can keep plants looking tidier, although you will sacrifice the attractive seed heads. Once hit by a good, hard frost, the foliage blackens and becomes unsightly, so many gardeners often remove it in late fall. If the darkened foliage doesn't bother you, however, leave it as winter protection.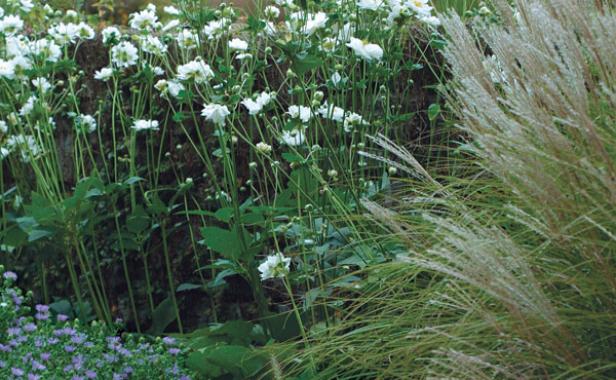 Division is rarely needed, maybe once every eight to 10 years. Transplanting should be done in the spring, but you should not be surprised if sprouts appear at the original planting site; any pieces of root left in the earth will regenerate. Plants seldom require staking. Flopping is usu­ally caused by a lack of light, which can be remedied by trimming the branches of nearby trees or shrubs.
Protect large-flowered selections from forceful breezes, or simply select more compact cultivars with stout stems. Another alternative is to cut taller plants back by half in early June. This could delay blooming by a week or two.
As for pests, Japanese beetles love to devour anem­ones, and black blister beetles are a problem in some parts of the country. Both insects can completely defoliate a plant, and although it will generate new leaves, the plant will not flower that year. Plants imported from Europe may also be infested with foliar nematodes, which are sometimes difficult to detect but steadily weaken the plant. The only solution to a nematode problem is to destroy the plant.
All about anemones
Anemone spp. and cvs.
CULTURE: They thrive in light to partial shade but will tolerate full sun, as long as there's sufficient moisture. Site plants in moist, humus-rich soil, but avoid overly wet conditions. Most are hardy in USDA Hardiness Zones 4–7.
PROPAGATION: Divide plants in early spring or propagate them by root cuttings in late fall or early spring.
MAINTENANCE: Fertilize annu­ally in early spring, and apply mulch annually in northern regions. Spent flowers can be removed to keep the plant tidy.
PEST AND DISEASES: Japanese beetles and black blister beetles can be a problem, but neither is life threatening. Foliar nematode damage, which is difficult to recognize, will cause plants to slowly decline.
ORIGINS: Although often collectively referred to as Japanese anemones, most fall-blooming species and cultivars did not originate in Japan.
Anemone hupehensis grows wild in the grasslands and in higher elevations of central and southwestern China.
Anemone hupehensis var. japonica, the semi-double form of A. hupehensis, was exported to Japan, where it was cultivated for centuries and escaped into the wild. Its cultivars offer semi-double, somewhat smaller blossoms. After he found a semi-double form in a Shanghai graveyard in 1843, Robert Fortune sent it home to England, and Europeans immediately began breeding new garden forms.
Anemone × hybrida plants are commonly referred to as the Japanese hybrids. They're the result of a cross between A. hupehensis var. japonica and A. vitifolia, a tender Himalayan species with grapeleaflike foliage and white flowers. There are a great number of cultivars available today, varying in flower form, color, and height. Anemone tomentosa is native to the higher altitudes of northern China. It's undoubtedly the hardiest and most vigorous of the fall-flowering anemones.
Elegant white blooms brighten shady corners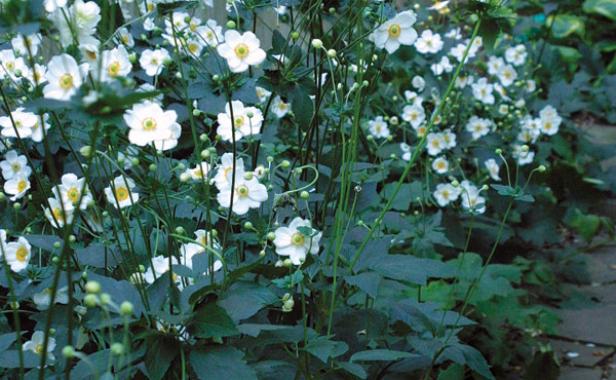 Although pink-flowering selections far outnumber those in white, there are two outstanding white cultivars that always seem to fit the bill. 'Honorine Jobert' (A. × hybrida 'Honorine Jobert', Zones 5–7) is an exquisite heirloom with single white flowers introduced by M. Jobert of Verdun in France in 1858. Named after Jobert's daughter, this ele­gant selection has received the Award of Garden Merit (AGM) from the Royal Horticultural Society. The blooms have wide silky sepals that are flushed pink on the outside, which sit upon 36-inch-tall stems from September to October.
'Whirlwind' (A. × hybrida 'Whirlwind', Zones 5–7) is another white heirloom cultivar, which was found in Rochester, New York, in 1887. It is a compact plant that grows to 25 to 30 inches tall. Its semi-double flowers are made up of a multitude of narrow, somewhat twisted sepals, flushed green at the edges. The flowers open in August—a little earlier than 'Hono­rine Jobert'—and continue into October. Both selections are perfect for illuminating partially shaded nooks and crannies.
Pale pink varieties bloom from late summer into fall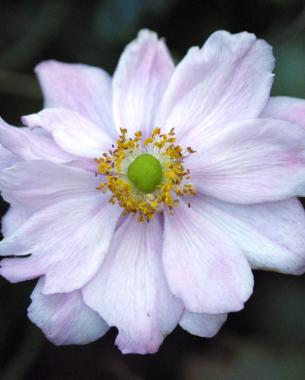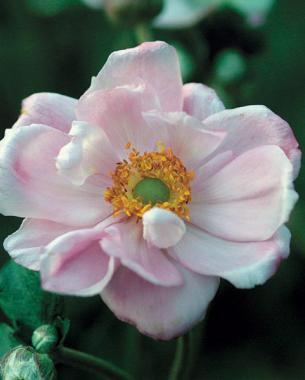 To me, late-season, fresh pink flowers always breathe new life into tired, raggedy-looking gardens. Fall-blooming anemones come in many shades of pale pink and can be mixed and matched with other flowering foliage plants. One of the most outstanding pale pink selections is 'Königin Charlotte' (A. × hybrida 'Königin Charlotte', syn. 'Queen Char­lotte', Zones 5–7). It was introduced by the Pfitzer Nursery in Germany in 1898 and is an AGM winner. Its semi-double blooms appear on 4-foot-tall stems in Septem­ber through October and have silver-pink sepals that are notched at the ends. If you can't find 'Königin Char­lotte', 'Alice' (A. × hybrida 'Alice', Zones 5–7) is a similar cultivar with large semi-double flowers that have a thick golden ring of stamens.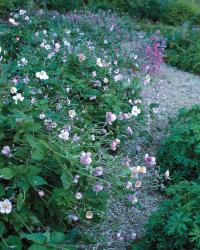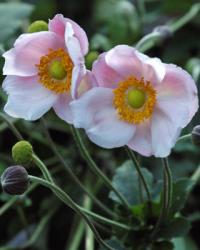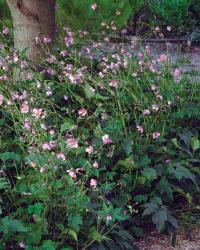 For a touch of lavender-pink, try 'Kriem­­hilde' (A. × hybrida 'Kriem­hilde', Zones 5–7). This semi-double German hybrid introduced in 1908 has large, bright, bowl-shaped flowers that are held on sturdy, 32- to 40-inch-tall stems from September to October.
If you are looking for flowers that start blooming in early July, 'Richard Ahrens' (A. × hybrida 'Richard Ahrens', Zones 5–7) is an excellent choice. Introduced by Pfitzer Nursery in 1921, it is a vigorous plant with large semi-double flowers, reaching 28 to 36 inches tall and blooming through September.
Another choice is 'September Charm' (A. × hy­brida 'September Charm', Zones 5–7), a darker pink English selection from 1932 and an AGM winner. It is a floriferous cultivar, with large, single, saucerlike flowers that continue into October. The blossoms tend to nod downward a bit, but they are held on resilient stems that are 24 to 32 inches tall.
Deep pink blossoms jazz up a scene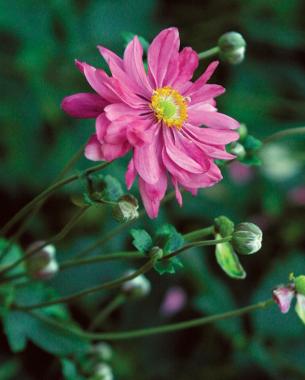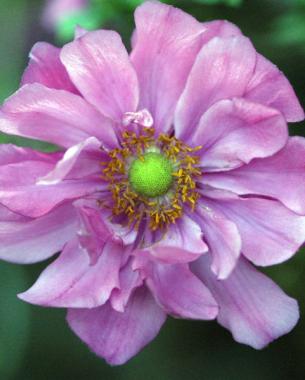 One of the best fall-blooming ane­m­ones with deep pink blooms is 'Bressingham Glow' (A. hupehensis var. japonica 'Bressingham Glow', Zones 5–7). From August to October, deep rose–pink semi-double flowers on relatively tall (28- to 36-inch-high) stems decorate this introduction by Alan Bloom. The Ger­man selection 'Pamina' (A. hupehensis var. japonica 'Pamina', Zones 5–7) is similar in color and flower form, but it's a plant that's hardier, neater, and more compact (22 to 28 inches tall). 'Pamina' is certainly one of my favorites.
One other semi-double German variety worth mentioning is 'Margarete' (A. × hybrida 'Margarete', Zones 5–7), which has strikingly colored flowers that open a little later, in mid to late September. The flowers are so large and heavy that they require protection from the wind to stay upright.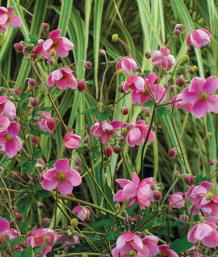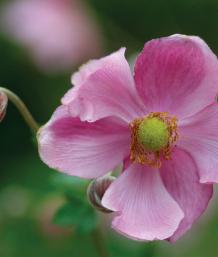 The relatively new, single-flowered cultivars 'Hadspen Abundance' (A. hupehensis 'Hadspen Abundance', Zones 5–7) and 'Rosenschale' (A. × hybrida 'Rosenschale', Zones 5–7) cannot be overlooked when selecting dark pink varieties. 'Rosenschale' ("pink bowl" in English) is a vigorous plant that features immense rounded flowers with a purple tint. 'Hadspen Abundance' won an AGM partly for its unique, two-toned flowers that occur in abundance. Both cultivars bloom from August to October and reach a height of 24 to 34 inches.
Finally, the cultivar 'Robustissima' (A. tomentosa 'Robustissima', Zones 4–7) grows to 24 to 32 inches tall with single, light violet–pink flowers. It's an extremely robust and vigorous plant that is best suited to naturalizing. It will overwhelm other plants and may become a nuisance in a bed.
Anemones have a natural-looking or wild character that complements shrub plantings, making them ideal partners for rhododendrons (Rhododendron spp. and cvs., Zones 4–9) and hydrangeas (Hydrangea spp. and cvs., Zones 4–9). Monkshoods (Aconitum spp. and cvs., Zones 3–8), baneberries (Actaea spp. and cvs., Zones 4–9), snakeroots (Cimicifuga spp. and cvs., Zones 3–8), and shade-tolerant hardy geraniums (Geranium spp. and cvs., Zones 4–9) make excellent perennial garden companions in beds and borders.
The lush green leaves of anemones combine well with the lavish foliage of hostas (Hosta spp. and cvs., Zones 3–8), ferns, and shade-loving ornamental grasses throughout the summer. Garden designers and home owners looking for heirloom plants for their garden-restoration projects are often thrilled to learn that these time-honored cultivars fit perfectly into their plans.