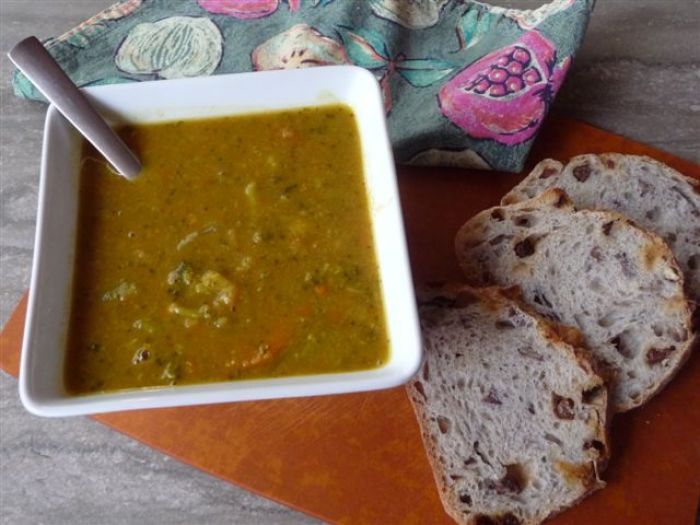 Ingredients:
Note on ingredients:
There are many kinds of curry powder on the market and sometimes I make my own blend. I particularly like Penzey's Sweet Curry for its blend of aromatic spices and I can make it as hot as I want with my own homegrown chile peppers. I also use Vong's Four Star Curry Blend, which doesn't need much heat added. The heat from chiles, as well as the fragrant spices, vary enormously in curry blends, so try different brands to find ones that you like.
This soup can be made with other veggies: you might use cauliflower in place of the broccoli; add a turnip or parsnip in place of potato, or even a sweet potato.
Serves 6
2 tablespoons olive oil
2 leeks, washed, trimmed and sliced or 1 medium onion, diced medium fine
2 stalks celery, sliced thin
2 large carrots, sliced thin
2 medium potatoes, diced
About 3 heads of broccoli; about 4 cups broken or cut into large, bite-sized pieces
6 cloves garlic, minced
2 to 3 teaspoons curry powder
About 6 cups vegetable stock, heated
About 1 teaspoon salt (if stock is not salted)
Freshly ground black pepper
1/2 to 1 teaspoon crumbled chile pepper or ground cayenne pepper
A few teaspoons Bragg Liquid Aminos, optional
In a soup pot, heat the oil over medium heat. Add the leeks or onion and sauté for about 2 minutes; add celery and sauté for about 2 minutes more. Add the carrots and potatoes and sauté for 3 minutes more, stirring, so that they don't stick. Toss in the broccoli and cook 2 minutes more. Add the garlic and cook another minute or so, then sprinkle with the lesser amount of curry powder, stir and add about 4 cups of the vegetable stock. Cover and cook over medium heat until the ingredients come to a boil, stir and reduce heat so that the soup cooks at a bare simmer. Cook, covered for about 15 to 20 minutes until the vegetables are tender.
Puree the soup with an immersion blender, in batches in the blender, or in a food mill. Puree about half of the soup. Return the soup to the pot and season with salt, pepper, and a little chile pepper or cayenne, and the Aminos if you are using them. Stir and heat gently, covered for about 5 minutes. Taste for seasoning and adjust—you may want to add the extra curry powder, more chile pepper, and/or salt and pepper. The soup can be made ahead and reheated. Ladle the hot soup into bowls and serve.