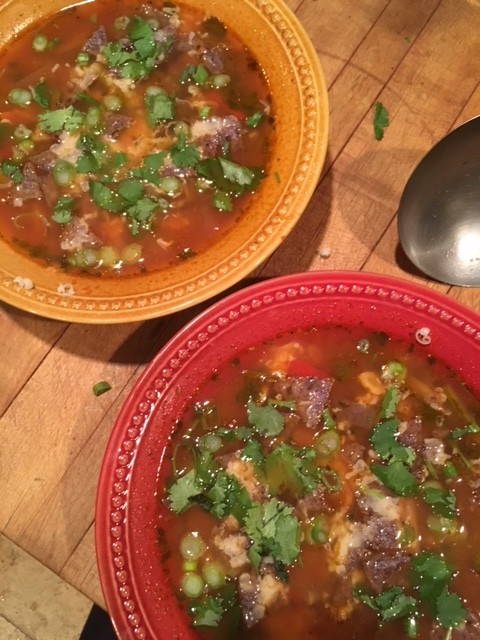 Chile peppers and garlic are two botanicals that I include in my diet daily. I believe that they keep me healthy throughout the year-in any season. In the winter, I must use dried or preserved chiles since my fresh ones are long gone, and my garlic stored in the coldroom is just about finito.
There is nothing like a bowl of nourishing hot soup on a cold winter day, especially a grey, damp rainy day that sort of seeps into the bones in your body that seem to complain about the weather. I add enough capsicum and allium to make me sweat a little and I feel warm to the very core of my body. Try some tortilla soup–it is warming comfort food.
Tortilla Soup
There are many versions of this soup–this one is vegetarian–although it is often made with chicken stock and sometimes pieces of chicken or chorizo. The vegetables vary according to season–you can use whatever you might have on hand. I usually include some type of squash–zucchini, yellow or an orange winter variety, corn (fresh or frozen), mushrooms add a lovely flavor, green beans or asparagus cut into 1-inch lengths add green and crunch, cabbage adds sweetness, and I like some red bell pepper and a fresh jalapeno or serrano besides the ground red chile. You need about 3 or 4 cups of chopped vegetables.
Some recipes fry the tortillas, however I do not find this neccessary and I like how the corn tortillas get thicker, soft and chewy in the soup. They give it that inimitable flavor from the corn and lime.
Garnish with a handful of crumbled tortilla chips, sprinkle grated cheese over top and then some chopped cilantro. Sometimes I also place a few slices of ripe avocado and sliced green onions on top too.
Serves 6 to 8
About 2 tablespoons olive oil
1 medium onion, diced
About 3 to 4 cups chopped vegetables
3 to 5 garlic cloves, finely chopped
1 jalapeno or serrano pepper, stemmed, seeded and chopped fine
About 4 6-to 8-inch corn tortillas
1 generous tablespoon hot and/or mild ground red chile
1 teaspoon toasted and ground cumin seed
About 1 pound ripe tomatoes, peeled, seeded, and diced, or a 14-ounce can tomatoes, seeded and chopped
About 6 to 8 cups vegetable or chicken broth
1 cup cooked pinto beans, drained
Salt and freshly ground black pepper
About 1/4 cup chopped cilantro leaves
Couple handfuls of tortilla chips, for garnish
Grated cheddar or queso, for garnish
Chopped fresh coriander leaves, for garnish
Heat the olive oil in a large heavy-bottomed soup pot over medium heat and add the onion, saute a few minutes. Add the vegetables (using the firmest ones first like the squash and red pepper and adding softer, quicker cooking vegetables like mushrooms and cabbage a bit later in cooking) cover and cook 3 to 5 minutes.
Remove the lid and stir in rest of the vegetables, garlic and jalapeno and stir, cover for a few minutes. Meanwhile, cut the tortillas in half and then crosswise into 1/2-inch strips. Add the strips to the pot, stir, cover and let cook for a few minutes more.
Sprinkle with the ground chile and cumin, stir and add the tomatoes, vegetable broth and pintos to the pot. Bring to a simmer and cook over low heat for about 20 minutes. Season with salt and pepper and chopped cilantro. Add the extra broth if you like a thinner soup.
 
Simmer for a few minutes longer. Taste for seasoning and add a little more chile pepper if it is not spicy enough. Serve hot accompanied by the garnishes of crumbled tortilla chips, grated cheese, scallions, avocado, cilantro and perhaps a squeeze from of fresh lime. Salud!