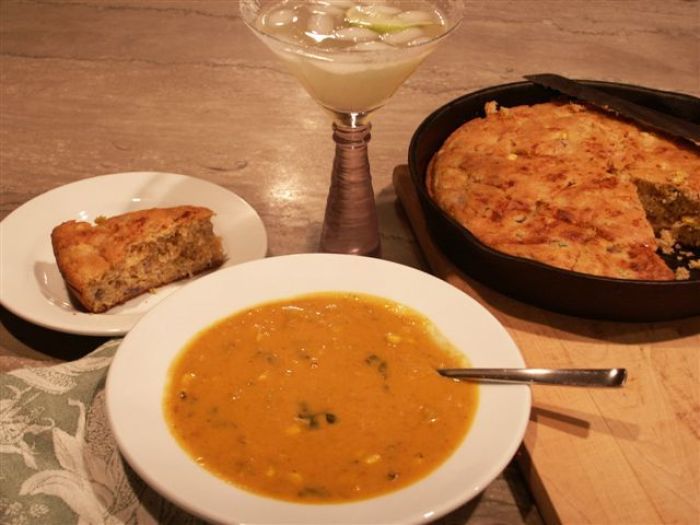 Ingredients:
1 butternut, acorn, delicate, carnival, or sweet dumpling squash–or a small pumpkin–roasted, peeled, and cut into bite-sized pieces (about 4 to 5 cups)
1 dried ancho, pasilla, or chile negro chile pepper, stemmed, seeded, and minced; or about 1 1/2 to 2 teaspoons ground ancho or pasilla chile powder
1/2 cup boiling water
2 tablespoons olive oil
About 1 cup chopped onion
2 to 3 large cloves garlic, minced
2 cups fresh or frozen corn
15-ounce can (or about 1 1/2 cups cooked) black beans, drained and rinsed
About 6 cups vegetable broth
Salt and freshly ground pepper
About 1 teaspoon cumin seed, toasted and ground
1/2 cup freshly chopped cilantro
Fresh lime
This Southwestern-style soup features the native trio of squash, beans, and corn; their flavors having been combined for centuries. This soup is quick to assemble once the squash or pumpkin has been prepared. It can be made ahead; it is one of those soups that tastes even better the next day. If you don't like cilantro, substitute Italian flat-leaved parsley and/or basil.
Serves 6 to 8
Preheat oven to 350 º F. Cut the squash or pumpkin in half. Remove the seeds and place the squash cut-side down in a baking dish with about 1-inch of water in the bottom. Place the squash in the oven and bake for anywhere from 30 to 60 minutes or until the squash is tender. Smaller, thin-walled squash cook faster than a thick butternut so cooking time varies. This step can be done a day or two ahead. If you want to serve the soup in a hollowed-out pumpkin, you can do this while the squash is baking.
Soak the dried chile in 1/2 cup boiling water to soften; if using ground ancho, add it to the soup pot with the stock. In a large soup pot heat the oil over medium heat and add the onions. Sauté, stirring, for 5 minutes. Add the garlic, squash, corn, and beans and stir well. Add the stock along with the ancho chile, cover the pot, and cook over medium-low heat for 5 minutes. Generously season with salt and pepper and add the cumin and cook for 10 minutes, so that it is just barely simmering.
Add the cilantro and squeeze a half of a lime into the pot, stir, remove from heat and cover for a few minutes before serving. Taste for lime, salt and pepper and adjust if needed.