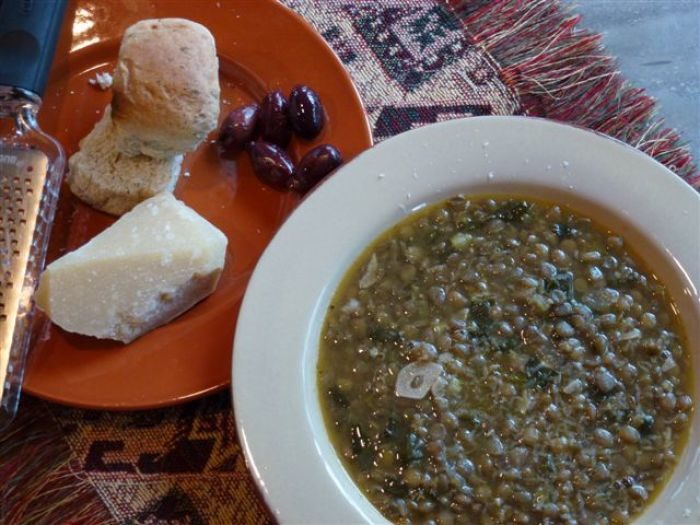 Ingredients:
Serves 6 to 8
2 to 6 cups loosely-packed, shredded green leaves
3 to 4 tablespoons olive oil
1 medium onion, finely chopped
1 pound lentils
3 bay leaves
8 to 10 cups warm vegetable stock or water
6 cloves garlic, sliced or minced
2 to 3 teaspoons dried oregano
1 teaspoon paprika
Few pinches cayenne pepper
Salt and freshly ground pepper
Lemon juice or sumac, optional
My maternal grandmother, Mema Ella, who was Irish and married to a German used to make Lentil Soup on New Year's Eve for good luck in the new year. Hers was more like a vegetable soup with potatoes, carrots and celery. Lentil soup is a traditional dish served in Israel, Syria and Lebanon, as well as North Africa, though it comes in many guises. I often add a few tablespoons of Za'atar, when I want that exotic spice flavor. Both green and red lentils are popular, onions and garlic are often added, along with various spices and herbs, and sometimes rice, potatoes or bulgur; greens like spinach or chard are a vitamin-rich addition.
You can use any greens in this recipe from the milder spinach, tat-soi or chard to the heartier kale, broccoli rabe, dandelion or collards. With the stronger greens, heftier greens, remove the tough ribs and use 2 to 4 cups of shredded leaves; with the milder greens you can use 4 to 6 cups of shredded leaves. Also note that thicker greens take longer to cook and soften whereas spinach and tat-soi wilt quickly.
Wash the greens, remove the stems if big or tough, stack the leaves and cut them crosswise into chiffonade (wide shreds). In a heavy-bottomed soup pot, heat the oil over medium heat. Add the onion and sauté for 5 minutes, stirring occasionally. Add the lentils and bay leaves and stir for a minute. Carefully add 1 cup of stock and stir, then add another 7 cups of stock. Cover the pot and bring to a boil, reduce heat to a simmer and cook for about 30 minutes, stirring occasionally.
Add the garlic, oregano, paprika, cayenne, salt and pepper, stir to combine and simmer for another 15 to 20 minutes until lentils are tender. Add the heartier greens like kale, collards, broccoli rabe or dandelion at this time as they take longer to cook than spinach or tat-soi leaves; they will need a good 15 to 20 minutes. Or, add the milder shredded greens, stir, cover and cook 5 minutes more.
Taste for seasoning and adjust with more salt, pepper, or cayenne. Add another cup or two of stock if need be. Just before serving, add a generous squeeze of lemon or about 1/2 teaspoon of sumac, if desired. Serve hot; the soup can be made ahead and gently reheated. Garnish with grated parmesan if desired; or sometimes I stir in a spoonful of Greek yogurt.