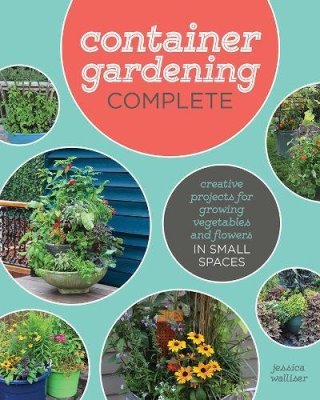 Jessica Walliser may be known for her helpful books like Good Bug, Bad Bug and Attracting Beneficial Bugs to the Garden, but she's also one creative gardener.
Her newest book is all about helping gardeners learn how to grow in small spaces with Container Gardening Complete: Creative Projects for Growing Vegetables and Flowers in Small Spaces (Cool Springs Press, 2017). Her book is a go-to guide for all kinds of container gardening, especially growing fresh food in tiny spaces.
When she says, "complete," she means it.
Her book includes everything a container gardener needs to know — from getting started to troubleshooting problems. Even if you haven't had much luck growing fruits, vegetables and herbs in containers before, you will now. Jessica provides easy-to-follow directions for her how-to-grow information and project details, too.
Sprinkled throughout the colorful, 272-page book are creative projects that add to the fun of growing in containers. A few examples include:
Building a cedar planter box
Creating a hypertufa for planting
Assembling a cedar pot dolly
Planting a beginners berry garden
Making a self-watering patio container
Each project details the materials and tools you'll need, step-by-step instructions and suggestions for which plants will work best. For example, the gutter garden includes dwarf basil, thyme, sweet marjoram, tri-color sage, baby Swiss chard, and more delicious edibles.
I've been a container gardener for years and agree with her "three foundational pillars to successful container gardening: selecting the right kind of container, filling it with the right potting mix, and placing it in the best growing conditions." She backs that up with solid information about each pillar.
Some of her container choices are sure to make you smile, like planting tiny succulent plants where bread would normally go in a discarded toaster. How about planting in a milk crate or a galvanized stock tank? Other raised bed-type planters include wash tubs, baby pools and bathtubs.
The pictures in the book are inspirational. They show so many approaches and creations from other small-space gardeners they will inspire you to stretch your creative muscles and take your container vegetable gardening to a new level.
(Cool Springs Press provided a complimentary review copy; opinions are always my own.)