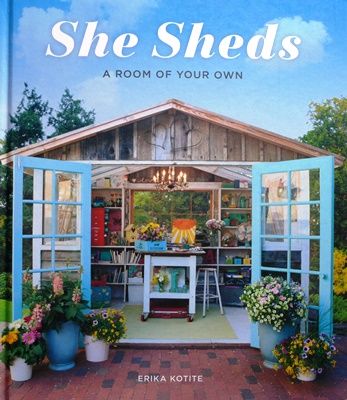 Erika Kotite is an editor and writer who lives in Huntington Beach, Calif. As the former editor of Romantic Homes and Victorian Homes magazines, she has a longtime interest in restoration and old houses. 
Her new book, She Sheds: A Room of Your Own (Cool Springs Press, 2017), shows how women from around the globe have turned small sheds into gardening rooms, artist's studios, craft rooms, writer's retreat, meditative space, guest room and more.
In this Q&A interview conducted by email, Erika offers encouraging words for creating a small getaway in your own backyard. 
Where did your interest in She Sheds come from?
I've always had a soft spot for outbuildings. We spend a lot of time up in Northern California, in Sonoma and Mendocino counties, which are very rural. On our walks I take photos of farms and old houses and their resident small structures. We covered sheds a great deal in Romantic Homes, mostly the gardening/potting variety but never (to my recollection) called them she sheds. When I got the call from an editor at Quarto about a book on "She Sheds," it was very exciting. I had a strong feeling that their time had come. 
Why not He Sheds, too?
Man caves superseded any notion of "he sheds." You would think that men and sheds would go together, since sheds are typically for storing tools and supplies. And make no mistake: Many men have backyard studios or sheds, and they are really nice places. I found many great he sheds but couldn't use them in the book for obvious reasons. Maybe that's the next book!
How did you find all these spaces, especially those in Chapter 2 on Sheds for Gardeners?
The gardeners' sheds came from a variety of sources. To be honest I got really creative with Google search! But some came because of my connections at RH. Mary McCachern has a very popular blog that contains a lot of details about her shed, so I found her early on (custom built gardening shed in Lake Norman, N.C.). The restored corncrib in Eastern Shore, Md., came from a writer/stylist I used to work with at RH. I found Becky Sanks-Hogg's year-round potting shed (West Linn, Ore.,) through Google. Hers received a Green Improvement award from a magazine. 
Which is your favorite gardening shed? Why?
Although I love Mary McCachern's beautiful shed for its changing decor and lakeside location I have to say that Judy Weiss's (see image above) is my favorite. Why? Because it was an old shed that was given a new life. Weiss and her husband did some really creative things, like installing two six-panel doors on tracks in the back to create a wide opening. Also the privacy trellis on the porch, with growing vines that tell the coming and going of the seasons. I love it.
Do you have shed? If so, please describe it.
Much as I love beachside living, our zero-lot home didn't allow me to build my own she shed; so I asked my sister-in-law in Santa Cruz if she wanted one! Our experience building that she shed is in Chapter 7.
I'm very proud of how Karin's shed turned out; it's a kit shed, 8 x 12, and we added larger window openings on each side for better light. Karin and her decorative painter friend Gregory LeBaron of Transformational Color, came up with the rich hues for the siding, doors and trim. It's very Santa Cruz, very warm and funky. It's large enough for Karin to use for overflow sleeping when her nephews come to visit. They fight over who gets to crash in the she shed.
6. What would be the steps for a gardener to get started on her own shed (especially on a budget)?
For gardeners on a budget, think about how you can combine the utility part with the living part in your she shed. Consider allocating one side for storage and one side for your creative pursuits. This way, you can better justify the expenditure on a nicer shed. Kit sheds are certainly less expensive than custom sheds – our kit cost about $1,500 but then we spent another $2,000 on materials, paint, labor (we were on a tight deadline and wanted to compensate helpful neighbors!).
The cheapest way to build one is having time to accumulate your lumber for low cost or free, like salvage, construction sites, neighborhood teardowns, craigslist, etc. Free materials combined with your own labor is the least expensive way to go by far. But you need to be patient and have plenty of time to do it this way. You also need to have considerable building skills. 
What else would you like us to know about She Sheds?
One of the greatest things about she sheds is that they add a great deal to the view of your back yard. Whether they match the architectural design of the home or contrast with it in an interesting way, she sheds are designed with both form and function at the fore.
In my opinion, plunking down a vinyl boxy shed with no windows is a waste of a great opportunity to enhance your vegetable or flower garden. Not to mention the fact that she sheds provide a terrific space for potting and growing seedlings, keeping seed catalogs and flower cutting. A she shed for gardening is truly a win-win.
(Cool Springs Press provided a complimentary review copy of She Sheds.)