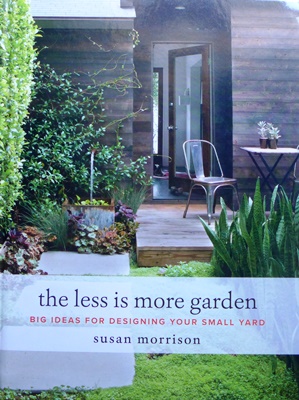 Whenever I give a talk about small-space vegetable gardening, there's always someone in the audience who asks about design. As in, how to design a small vegetable garden so it's as beautiful as it is functional.
I can offer a few design suggestions, especially on how to make the most of the space with vertical solutions.
However, now I can direct them to the creative ideas in Susan Morrison's new book: The Less is More Garden: Big Ideas for Designing Your Small Yard (Timber Press, 2018). Susan is a well-known landscape designer in California and a national expert on small-space garden design.
Her book is bound to inspire you to think about your vegetable growing in a different way. Because she captures the essence of small spaces, it's easy to imagine how to take her ideas and apply them to any small space.
The less is more mindset has to do with enjoying the space you have, instead of longing for a bigger space. In her designs, less space means more enjoyment, more beauty, more relaxation and a garden that is "more YOU."
All of her design ideas for ornamental gardens can be adapted to growing fruits, vegetables and herbs. Consider adding water features (or the illusion of water), hardscape elements and standout plants. Benches, chairs, mirrors and garden art add design elements to any vegetable garden space.
When it comes to the edible garden, Susan explains how to plant vegetables when there's no garden space.
"If you want vegetables in your landscape but lack the room for a dedicated raised bed, don't jettison the idea of growing your own edible plants," she writes. "Explore some of the many clever systems now widely available for planting vertically on walls or fences, such as Woolly Pockets."
She also encourages gardeners to mix vegetables and herbs with ornamental plants, either in the ground or in pots.
An especially helpful table in the book is called 'Double-duty Herbs." Susan's idea is to "look for less common versions of the classics" and choose herbs that add a mix of colors and textures. Some of her recommendations include Cuban oregano, Chef's Choice rosemary, Tricolor sage and Highland Cream thyme.
After you thumb through Susan's book, you're sure to see your vegetable garden in a fresh, new way.
(Timber Press provided a complimentary copy for this review; opinions are always my own.)