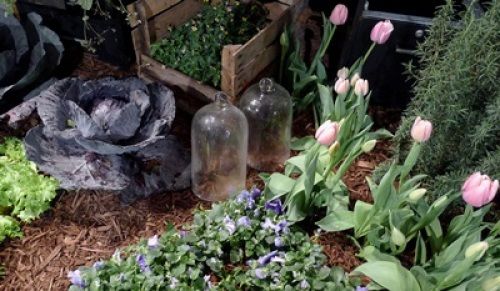 There's nothing like a late-winter snowstorm to get gardeners thinking about spring. The warm weather is bound to get here sometime, and I want to be ready when it does. 
Being stuck inside has given me time to consider some new ways to grow my vegetable garden this season. Here are four ideas to help you rethink your spring vegetable garden, too:
Plant spring edibles with spring flowers. Cool season vegetables, like cabbages and leafy greens, make for good garden bedfellows in the spring flower garden. Combine edibles and ornamentals that mix colors and textures for a stunning display.
Locate your sunniest spot in the spring flower bed and interplant your choice of cool season vegetables. Allow enough room for each crop to grow to its full potential. After harvest, fill in with warm-weather vegetables or colorful annuals.
While you're at it, plant some perennial herbs to make planning for next season easier. Save some space for tulip, daffodil and even garlic bulbs.
Grow a gutter garden. If you'd like to make the most of your garden, rain gutters let you grow on any sunny fence or wall. A simple wooden frame can hold sections of rain gutters in place.
Allow for each gutter section to have drainage holes at one end and place them at a slope to allow for drainage.
Fill the gutters with a light-weight, quick draining potting mix and slow-release plant fertilizer. Then plant with seeds or transplants, water and start harvesting as soon as you can.
Get creative with containers. A stack of old tires makes the perfect planting place for potatoes. Start with two or three tires, soil, 4 or 5 seed potatoes and straw. As plants start to grow, add another tire, and cover plants with more straw.  
Other vegetables can be grown in tires, too. Tomatoes, peppers and strawberries like the extra warmth that tires can provide.
Make the most of the cold. A cold frame is a simple open-bottom box that helps vegetable gardeners extend their spring and fall gardening seasons. It's almost like having a small solar-heated greenhouse.
The box frame can be any size, as long as it's higher in the back and angled lower in the front. Place the box so it's facing sunny south.
Use an old glass window frame or other transparent cover that's attached with hinges to the back of the frame. Add old cabinet handles to make lifting the lid easier for venting to keep plants from burning during the hottest part of the day. Be sure to cover at night.
Fill the cold frame with soil and start seeding with cold-hardy crops starting in late February or early March. Some vegetable gardeners leave plants in the cold frame, but others start vegetables meant for transplanting into another garden bed once the weather warms.
What ideas do you have for your spring garden? Please share them here!