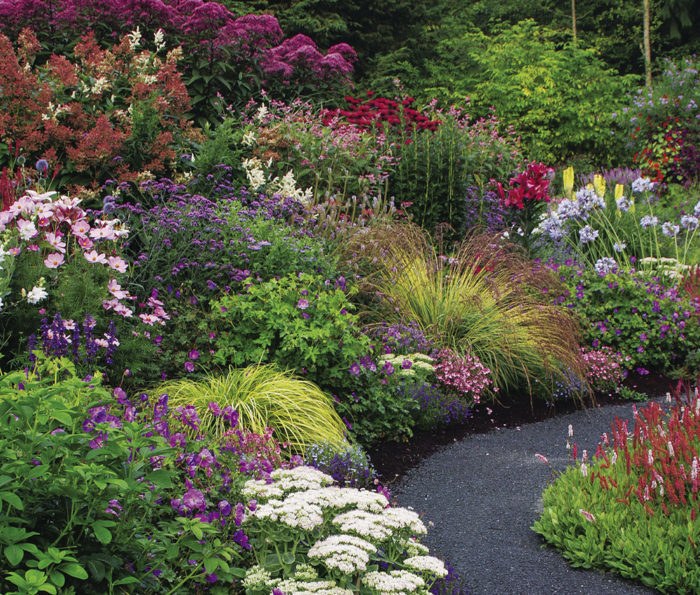 Most of us want our gardens to look fabulous all the time—no matter the season. That's great if you are willing to put in the time and money required to make it that way. Yes, it's certainly possible to have a garden that looks like it's at its peak in spring, summer, fall, and even winter—especially if your garden is large enough to accommodate the amount of plants needed to make that happen.
But let's be honest—getting the garden to shine all the time takes a lot of effort. You'd need to plant an evergreen framework for the background, then add spring-blooming bulbs, early-blossoming shrubs and ephemerals, summer stars, and fall standouts. It sounds lovely, doesn't it? Of course, as these scores of plants die back, go out of bloom, or get too big for their allotted spots, they need to be pinched, pruned, divided, cut down, and perhaps hauled away. This carefully constructed symphony takes considerable knowledge, skill, sweat, and space to pull off.
Many gardeners might enjoy a certain amount of work outside but, understandably, might not have the time to spend the hours upon hours necessary to make a garden that is at peak performance in every season. For those folks, designing a garden that peaks during a specific window of time might be the answer to easily getting a landscape that looks good most of the year.
---
To find out what some of the plants in this garden are, check out One Peak, Four Seasons of Interest: Plant IDs
---
Bloom time and habit should dictate plant selection
To translate the idea of designing for one peak to your particular garden, you'll need to decide when you'd like your peak to be. Choose a time when you're most likely to be out enjoying the garden. The garden I designed for Beth and Cappy Rothman is in the Pacific Northwest, so a midsummer peak—when the rains have passed and the temperatures have warmed up—was ideal. Depending on where you live, the peak time might be different. Late spring might be best for folks living in the South, where August is just too hot to be outside. Also, resist choosing a peak simply because it is the time that the garden looks its worst (don't choose January if you live in Maine). Peaks generally fall within a certain season, but don't span that entire 13-week period. I aim for a peak of six to eight weeks.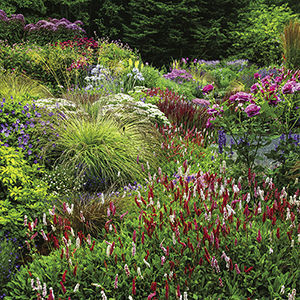 Next, it's time to make plant selections. The plants you choose do not all need to bloom during the peak, but most of them should. Options that come into bloom a bit beyond the peak time will still have burgeoning foliage and incipient buds that can contribute to the overall garden picture. Find and plant perennials, annuals, trees, and shrubs that put on a show during one eight-week stretch. Remember, too, an exciting and beautiful garden is not made up of only flowers. Be sure to select plants whose foliage texture, shape, and color look amazing during your selected peak, as well. The best thing about a plant that has a defined peak is that it generally looks good for a chunk of time before it reaches its pinnacle, as well as keeps its good looks a bit after prime time. Once I have a good list of plants that are at their peak during mid- to late summer, I narrow things down further by making sure the plants I finally purchase have an array of distinctive habits.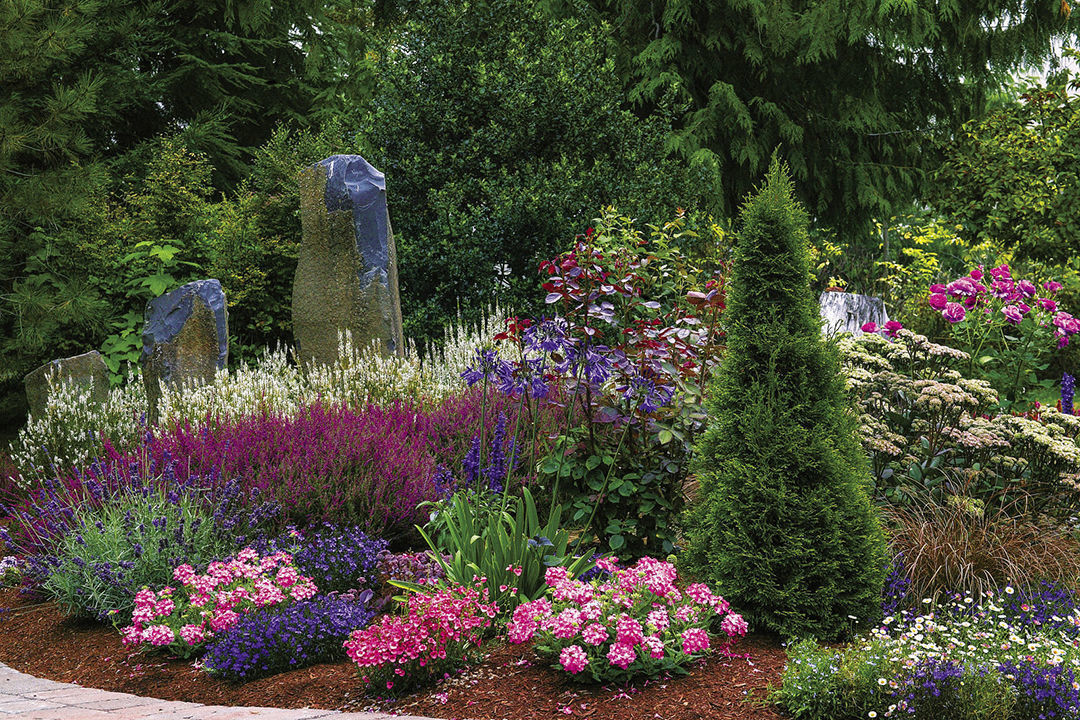 I like to design gardens to have many layers, which include plants that hug the ground, giving way to midheight plants that are backed up by tall verticals. This approach leads to gardens that seem fuller and have more visual depth. So, while I selected plants like Rozanne geranium (Geranium 'Gerwat', Zones 5–8) and 'Mönch' aster for their robust mid- to late-summer blooms, equally important was choosing tall grasses and plants like giant Joe Pye weed (Eupatorium purpureum, Zones 3–9)—not only for their blooms or seed heads that show up in late summer but also for their tall, imposing vertical structure.
Add interest for the inevitable lulls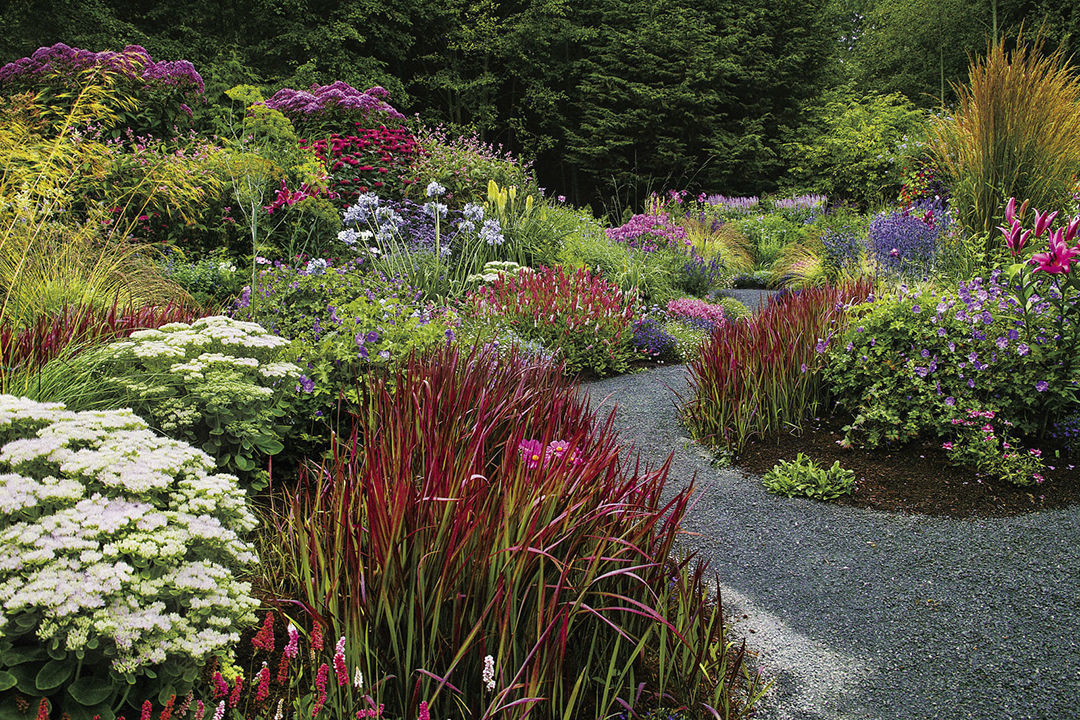 Although a peak can last for eight weeks, that still leaves 44 weeks that won't be as spectacular. So space a few evergreens throughout to give the garden unwavering structure during those lulls. During the peak, they won't be a distraction but merely form a frame for the rest of the plantings. These shrubs should be the first thing you plant. If you're lucky, you might even find an evergreen that peaks at the right time, too. For instance, heather (Calluna vulgaris and cvs., Zones 4–7) is an evergreen that also blooms magnificently in mid to late summer, so I planted several.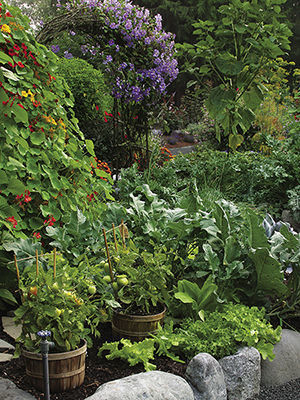 The garden, as a whole, should have a strong underlying structure, which adds interest regardless of the time of year. My husband and I designed paths to run throughout the plantings to give visitors the feeling of being inside and surrounded by the garden all at once. The beds are slightly raised in a bermed fashion not only for good drainage but also to make the plants feel more imposing—sort of an Alice in Wonderland effect. Adding tall plants to the tops of the mounded beds only adds to the feeling of being engulfed by the garden. And as you can probably imagine, this design element keeps things stimulating year-round.
A central seating area, an adjacent vegetable garden, and a few standing stones grab your attention while walking around, as well. All of these elements ensure that the garden looks good in the slow times when your selection of peak plants is just getting going or perhaps dormant. If you follow these steps, you'll be so enamored by your space, you'll forget that you designed it with only eight weeks of happiness as the goal.
---
Ideal Plants for a Midsummer Peak
Some of my favorite plants for a midsummer peak do not necessarily bloom at the same time. Depending on where you live, these plants might work for your designated peak, as well.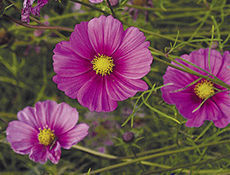 Cosmos
Name: Cosmos bipinnatus and cvs.
USDA Hardiness Zones: Annual
Size: 1 to 4 feet tall and wide
Conditions: Full sun; well-drained soil
Cosmos is a graceful, fine-textured plant. I prefer the tall varieties that gently hover above the midheight plants in the garden. These daisy-like plants bloom themselves silly from late spring until the first few frosts.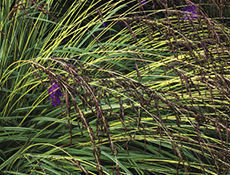 Variegated purple moor grass
Name: Molinia caerulea 'Variegata'
Zones: 5–9
Size: 18 inches tall and wide
Conditions: Full sun; well-drained soil
There is rarely a time when variegated purple moor grass doesn't look good. Its gold- and green-banded blades sparkle the minute the new growth pushes in spring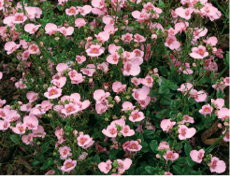 Diascia
Name: Diascia spp. and cvs.
Zones: Annual
Size: 6 to 12 inches tall and wide
Conditions: Full sun to partial shade; moist, well-drained soil
This is one of my favorite ground-hugging plants, which is covered in blooms all spring and summer long. Diascia tolerates cooler temperatures as well.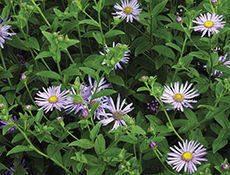 'Mönch' aster
Name: Aster

×

frikartii 'Mönch'
Zones: 5–8
Size: 2 to 3 feet tall and wide
Conditions: Full sun; well-drained soil
Most of the gardens that I design have at least a few 'Mönch' asters in them—and for good reason. When the mounds of bright green foliage burst into bloom in early to midsummer, not much else can rival the flower power.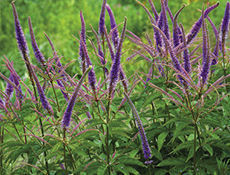 'Fascination' Culver's root
Name: Veronicastrum virginicum 'Fascination'
Zones: 4–8
Size: 4 to 5 feet tall and wide
Conditions: Full sun; well-drained soil
This past year, I decided to cut back a grouping of 'Fascination' Culver's root as it started to come into flower in late spring. To my delight, the plants bounced back and came into full bloom right at the midsummer peak.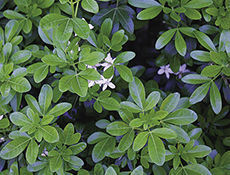 Mexican orange blossom
Name: Choisya ternata
Zones: 8–10
Size: 6 to 8 feet tall and wide
Conditions: Full sun; well-drained soil
The glossy oval leaves of Mexican orange blossom look almost artificial because they're so perfect. Small white flowers appear in late spring. This evergreen shrub is the definition of a backbone plant.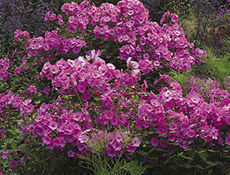 Flame

®

Pink phlox
Name: Phlox paniculata 'Bartwelve'
Zones: 4–8
Size: 18 inches tall and wide
Conditions: Full sun; well-drained soil
Flame® Pink phlox is an early-summer bloomer. For a midsummer garden, though, it can be trimmed back after it sets buds to delay flowering. The bright pink blooms are the perfect addition to other colors that are glowing at this time.

Hardy fuchsia
Name: Fuchsia magellanica
Zones: 6–9
Size: 6 to 10 feet tall and wide
Conditions: Full sun to partial shade; well-drained soil
Hardy fuchsia has deep green leaves that hold onto the arching stems in warm climates. In summer, bright magenta and purple blooms appear.
---
Sharon Nyenhuis is a garden designer in Sequim, Washington.
Photos: Danielle Sherry, Michelle Gervais, Jennifer Benner