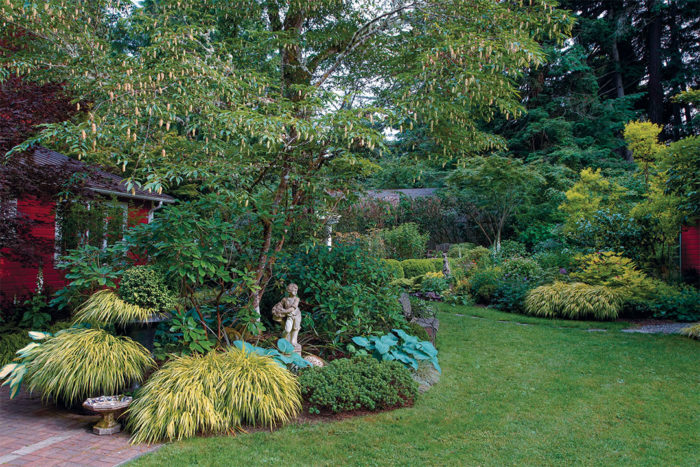 When we moved to our little red house on one and a half acres in 1977, I was 26 years old, just married, and beginning to rediscover myself after my rebellious counterculture years. Immediately, I was drawn out into the barely landscaped yard trying to figure out how to improve it. Four decades later, while preparing anxiously for yet another Open Garden Tour, my garden worker and I were squatting over the contorted root ball of a small tree when he looked at me and asked, "Why do you do this?"
He meant, of course, why do I spend so much time and so much money on an ornamental garden that achieves nothing but nice views out my window and provides a place for people to walk around, perhaps admire, and be inspired?
I have no idea—except that throughout my intimate relationship with the garden over my entire adult life, I've been given structure and purpose, I've had the opportunity to hone my evolving taste and aesthetic, and every time I've looked out my windows, my view has been beauty and life and the cycles of the seasons. My passion for gardens and plants has given me community with like-afflicted souls. And it ultimately led me back to school to increase my knowledge and study the craft of design, so that now I am a professional designer for other people's garden dreams. Here is a look at some of what I have done to make my shady spots a little more interesting.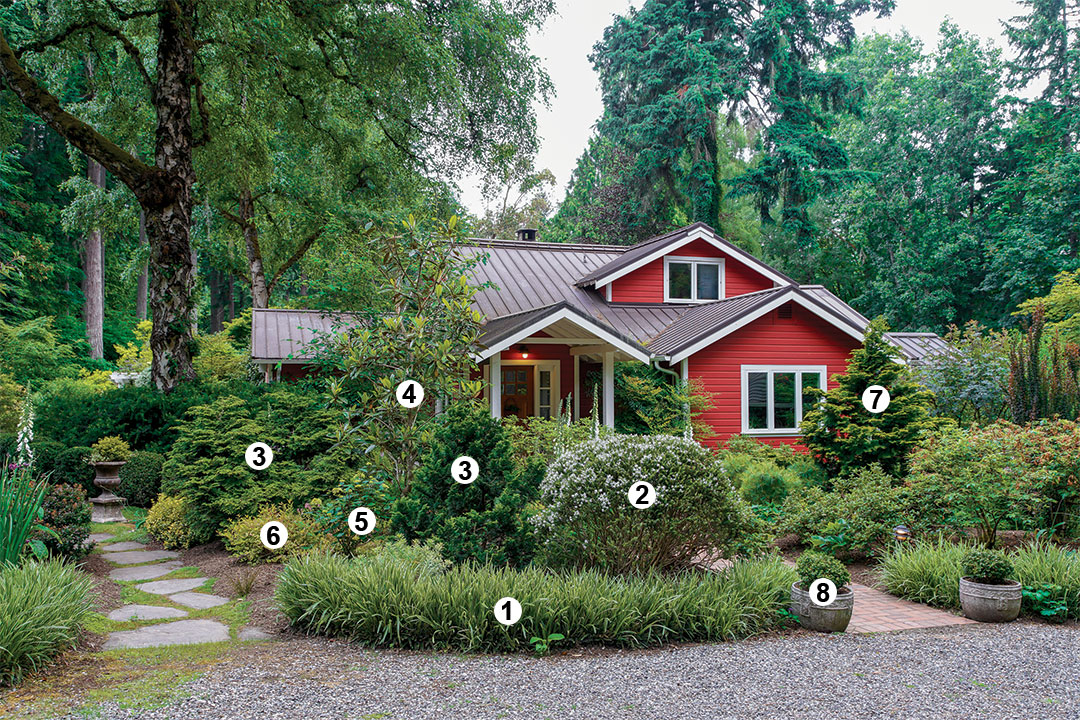 Shrubs provide separation
The "meadow" of shrubs on either side of the main entry path creates a sense of separation and privacy from the driveway without blocking the house from view. A first-time guest walking to the front door knows clearly which path is the main entry. The straight, wide, mortared brick path, flanked by matching containers at its entrance, has compelling prominence, while the stepping-stone path says, "I'm private." The concrete containers were rescued from the front steps of my childhood home when it was sold and torn down in 1980.
1. Variegated lily turf (Liriope muscari 'Variegata', Zones 5–10)
2. Dwarf boxwood hebe (Hebe buxifolia 'Nana', Zones 8–9)
3. Dwarf hinoki cypress (Chamaecyparis obtusa 'Nana Gracilis', Zones 4–8)
4. 'Little Gem' magnolia (Magnolia grandiflora 'Little Gem', Zones 7–9)
5. 'Glowing Embers' bigleaf hydrangea (Hydrangea macrophylla 'Glowing Embers', Zones 6–9)
6. 'Gold Mound' spirea (Spiraea japonica* 'Gold Mound', Zones 4–8)
7. Golden dwarf hinoki cypress (Chamaecyparis obtusa 'Nana Lutea', Zones 5–8)
8. 'Cilpinense' rhododendron (Rhododendron 'Cilpinense', Zones 4–8)
*See invasive alert below
Expect trial and error. Some plants do fine for a while but eventually become leggy, or don't thrive, in my shade. I can prune back leggy stems to encourage new growth, but eventually I'll take them out and try something else.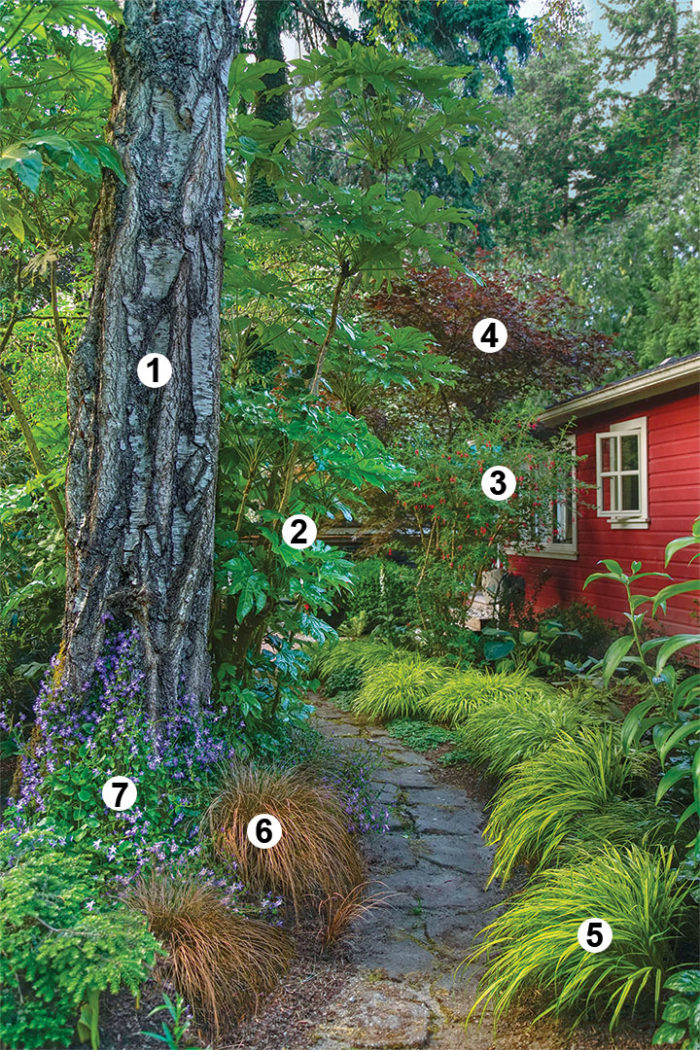 Beds can change with the seasons
This bed, divided by a shady stepping-stone path, is planted with ferns, woodland ephemerals, and other low, shade-loving plants that appear and disappear throughout the year. Its protected conditions also make it perfect as a "nursery bed" where just-rooted cuttings and plant-sale purchases can grow for later use in other parts of the garden. When this stepping-stone garden first went in, I planted the fatsia to create an obstacle, like thick undergrowth in the forest, that you have to decide to navigate around in order to walk down the path.
1. Silver birch (Betula pendula, Zones 2–7)
2. Fatsia (Fatsia japonica, Zones 7–10)
3. Hardy fuchsia (Fuchsia magellanica, Zones 6–9)
4. 'Bloodgood' Japanese maple (Acer palmatum 'Bloodgood', Zones 5–9)
5. 'Aureola' Japanese forest grass (Hakonechloa macra 'Aureola', Zones 5–9)
6. Weeping brown sedge (Carex flagellifera, Zones 7–9)
7. 'Blue Waterfall' Serbian bellflower (Campanula poscharskyana 'Blue Waterfall', Zones 4–7)
Every size and shape to keep the eye moving
I don't want to live in a rainy, wet jungle, so I've kept the border plants low and small in stature, allowing the eye to move. This photo, taken from the back of the house, looks through the arbor toward the bedroom patio. The narrowing of the lawn and the stepping-stone path (to keep feet dry in our wet Northwest) create a transition from the open lawn and beds surrounding it into the next garden room. As one moves through this transition, a weeping katsura hanging over the small pond creates a midlayer backdrop between the neighbor's towering cedar and the ground, contributing to the anticipation of a more intimate space beyond.
1. Hops hornbeam (Ostrya virginiana, Zones 3–9)
2. Weeping katsura (Cercidiphyllum japonicum f. pendulum, Zones 4–8)
3. English boxwood (Buxus sempervirens, Zones 6–8)
4. 'Aureola' Japanese forest grass (Hakonechloa macra 'Aureola', Zones 5–9)
5. 'Gold Heart' bleeding heart (Dicentra spectabalis 'Gold Heart', Zones 3–9)
6. 'Teddy Bear' rhododendron (Rhododendron 'Teddy Bear', Zones 6–9)

Shade is ideal for seating
Japanese snowbell hangs over this small seating area, a perfect place to look up into its thick display of bell-shaped flowers in June. Plants surround the patio without encroaching onto it. The birdbath dish on the coffee table was made by a local artist from my grandmother's Italian faience plates, which shattered when I packed them insufficiently for shipping from Sonoma, California. I'd kept the pieces in a box for twenty years and finally found this way to repurpose them. From my grandmother, I learned how to look closely and analyze garden views, and much of my garden is inspired by hers. Whenever I walk past this dish, I think of her sunny Sonoma kitchen.
1. Japanese snowbell (Styrax japonicus, Zones 5–9)
2. David viburnum (Viburnum davidii, Zones 7–9)
3. Spirea (Spiraea spp., Zones 4–9)
4. 'Johnson's Blue' geranium (Geranium 'Johnson's Blue', Zones 4–8)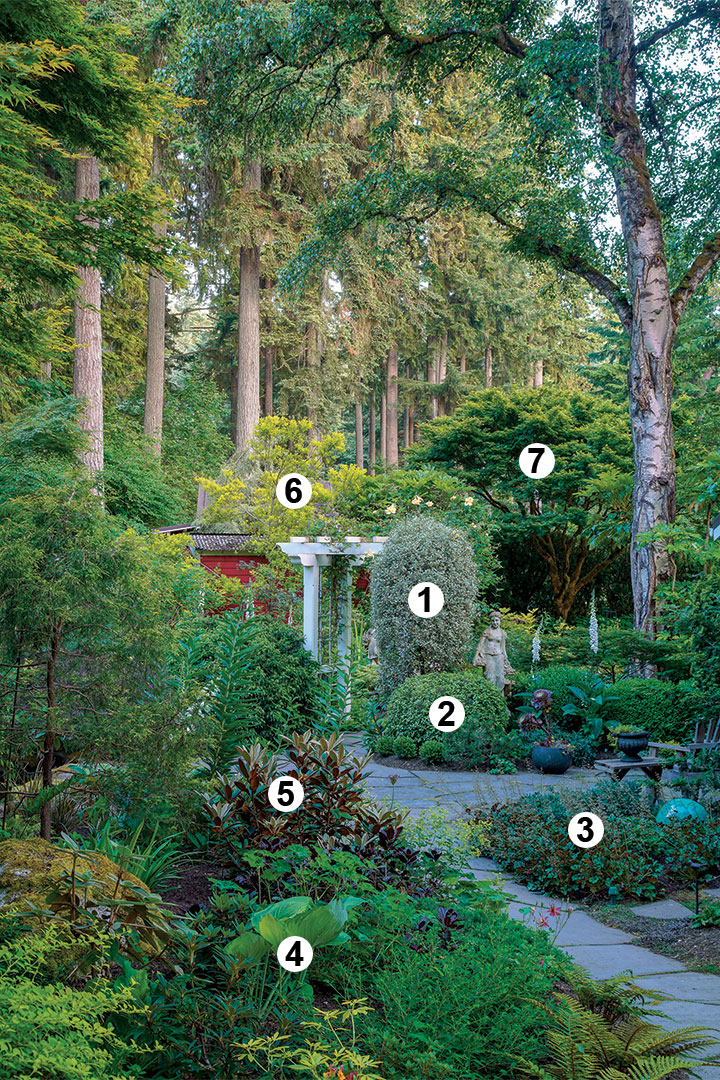 Ensure continuity between spaces
When we moved into our house, there was no garden, but the 1.5-acre property had been cleared and occupied for many years. We built the gardens around the house incrementally over the next twenty years. I hired a friend who was a landscape architect every time I was ready to tackle a new area, so there was continuity between the spaces. He worked out the grading, the shapes of the beds, and the hardscape. I made the plant selections.
This area was the first designed by that landscape architect, in 1985, but it has changed many times over the years. It was in this bed that I learned the value of using shrubs, particularly evergreen shrubs, to give strength to a garden. When we remodeled the house in 2005, we added a door out to this garden, and now it's our private bedroom patio.
1. Variegated Italian buckthorn (Rhamnus alaternus 'Argenteovariegata', Zones 7–9)
2. 'Golf Ball' pittosporum (Pittosporum tenuifolium 'Golf Ball', Zones 8–11)
3. Heuchera (Heuchera cv., Zones 4–9)
4. 'Gold Standard' hosta (Hosta 'Gold Standard', Zones 3–9)
5. 'Teddy Bear' rhododendron (Rhododendron 'Teddy Bear', Zones 7–9)
6. Golden Spirit smoke bush (Cotinus coggygria 'Ancot', Zones 5–8)
7. Japanese maple (Acer palmatum cv., Zones 5–9)
Repeat reliable plants. Not every plant in the garden has to be a standout. I bought a dozen David viburnums one year after recognizing that the established one in my garden was a great foil for the plants around it and that I could use more of that kind of dependability.
---
*Invasive alert: Japanese spirea (Spiraea japonica)
This plant is considered invasive in GA, IN, KY, PA, and TN.
Please visit invasiveplantatlas.org for more information.
---
Deborah Cheadle gardens in Bainbridge Island, Washington.
Photos: Joshua McCullough