As life comes back into the garden in spring, there's no time like the present to focus on creating an outdoor world you can enjoy for the coming year. Spring is the ideal time to design, redesign, and plant your Southern California landscape. In addition to tweaking your garden for practical purposes, like making it drought tolerant and climate-change friendly, you may also be considering ways to make your outdoor areas more beautiful and colorful. Don't overlook including edibles in the mix. Some vegetables and fruits are as decorative as traditional flowering garden plants. Here are some design ideas to bring your ornamental and edible plants together in functional and beautiful ways.
Idea 1: Artichoke Plants for Unique Foliage and Flowers
Add big, bold, artichoke plants to flank a stairway or path in the flower garden, to herald an entry, or to make a statement around a lamp, post, or other item in your landscape. Artichokes love our hot sun and are remarkably drought tolerant. Remember to leave some of the delicious buds to flower out into their unique, electric-indigo blooms. They look like giant paintbrushes and, if left to go to seed, send each seed off on a journey around your garden on a silky white parachute—perhaps finding the perfect place you hadn't considered. Volunteer seedlings are easily transplanted to locations you prefer when small. When mature, the majestic, bold foliage of this fast-growing 6-foot-tall edible is a must-have in the landscape.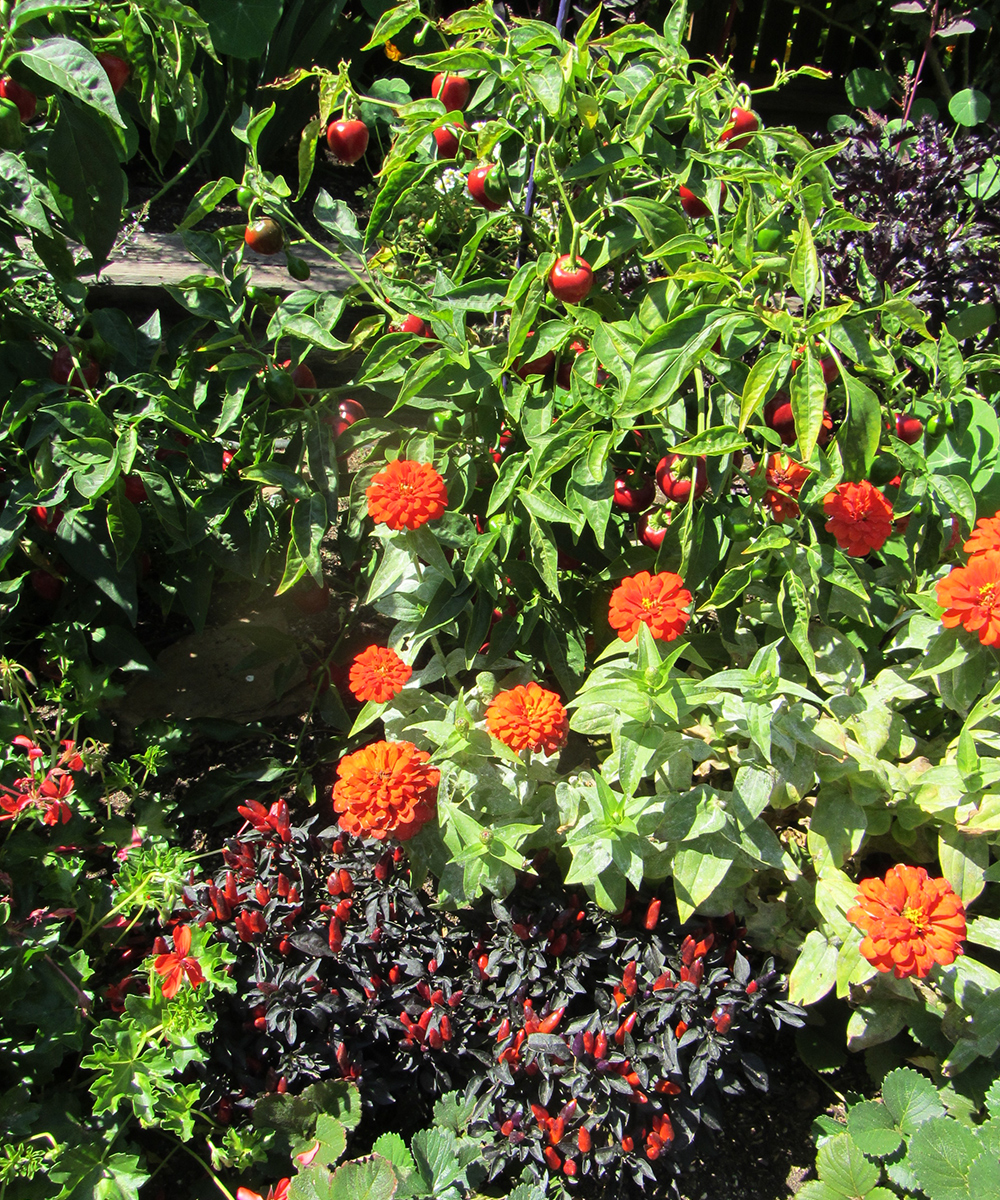 Idea 2: Peppers Add a Pop of Color and Design Interest
Dot the scene with colorful bushes of peppers to add color, interesting shapes, and food to a mixed flower garden. Contrasting foliage and cheerfully colored fruits can line a walkway or decorate a garden bed. You can choose from a wide assortment of peppers that grow well in just about all parts of our warm SoCal climate. Some will survive to fruit into a second or third year where winters are mild. Look for colorful, variegated, or dark foliage ornamented with dangling bright peppers for contrast in the flower garden. Sprinkle in dwarf or giant varieties to vary heights and textures. Or try mixing red, orange, and yellow fruiting plants with big blocky, tiny round, or long dangling peppers for artistic, bright accents. Then pick the peppers when ripe for use in fresh salads and recipes; they will add a fiesta of color and flavor to your meals.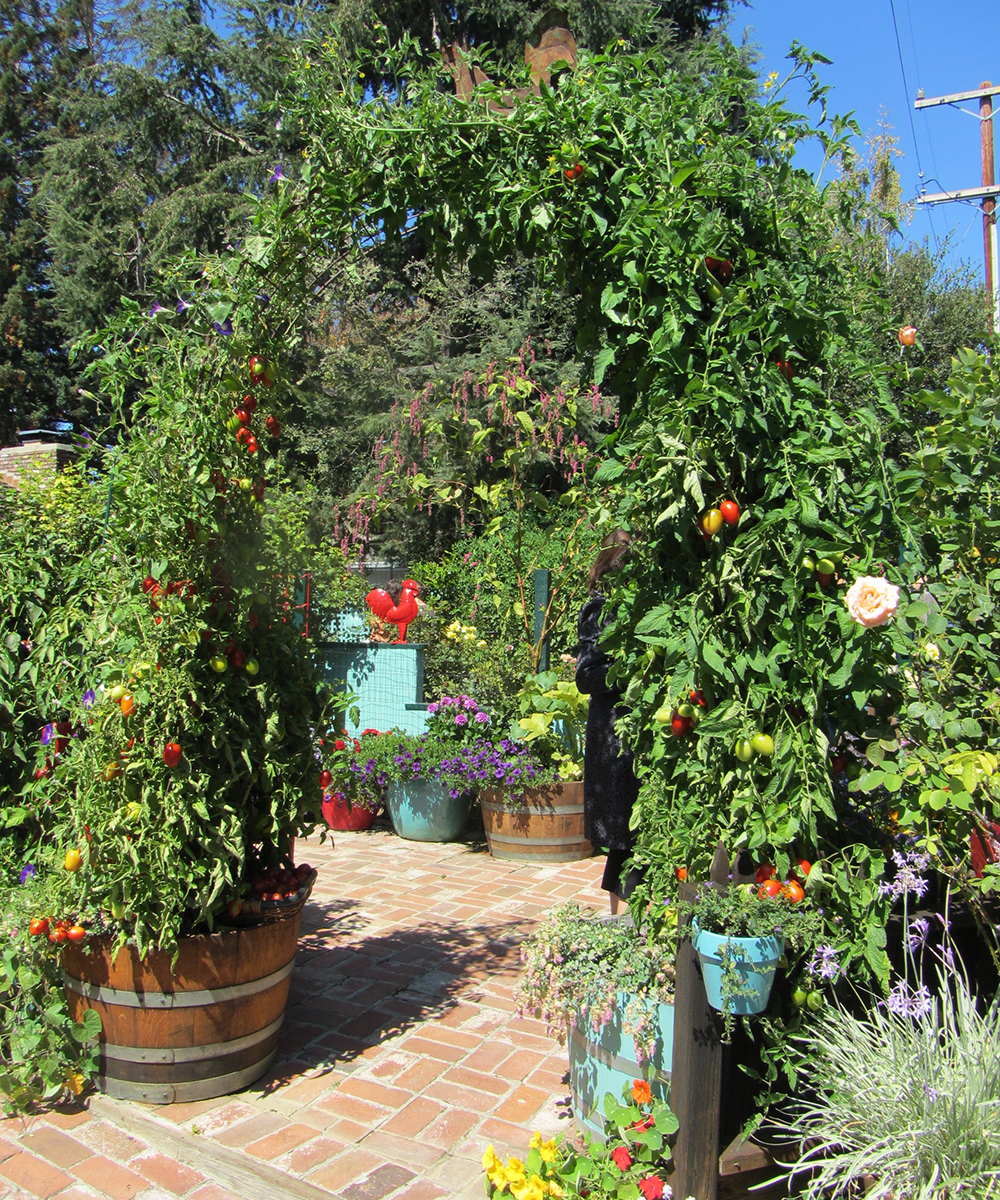 Idea 3: Vining Plants Add Interest to Entrances and Archways
Dress up a landscape with climbing beans or even dangling tomatoes. Some fruit and vegetable plants can offer flowers and/or edible seedpods that are as decorative as traditional flower-garden climbers. Expand your choice of vines that grace archways, hide walls or tree trunks, or form a living roof for a shade cover structure. Our long growing seasons make beans, peas, and tomatoes reliable, edible, decorative residents even in the flower garden. Look for beans and peas with red, pink, purple, white, and occasional yellow or bicolored varieties to add color through flowering to seedpods. Or choose sweet fruits like grapes and even the superfood goji berries as showy, edible climbers in your garden.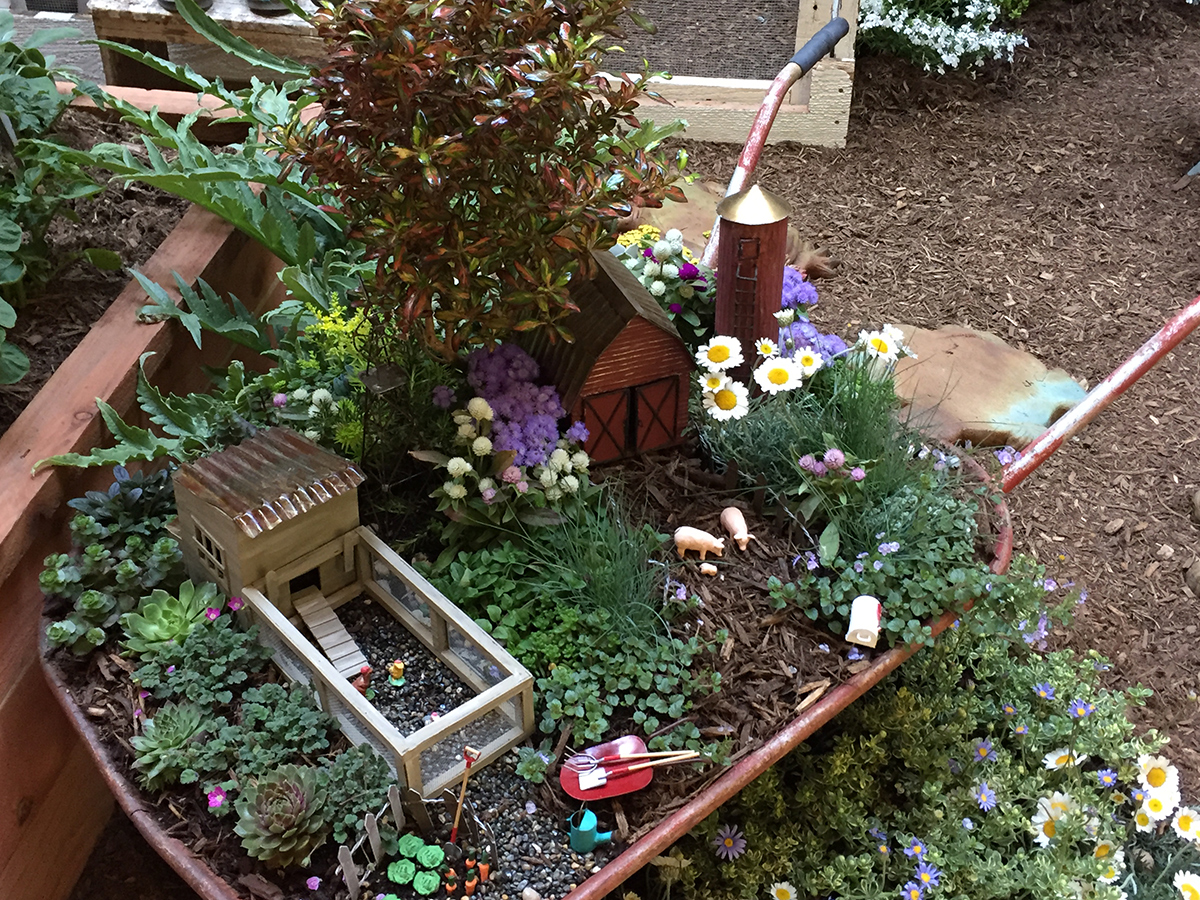 Idea 4: Build Unique Containers Mixed with Herbs, Annuals, and Edibles
Add decor or focal points with herb pots, wheelbarrows, or other containers bursting with a mix bright annual flowers and edible goodness. Interesting, colorful mixed containers add interest to the garden design, offering a wide range of choices that can even have a practical impact. For example, use a wheelbarrow to easily crop potatoes while protecting them from our ravenous gophers. Or march colorful stalks of corn, fennel, or feathery ferny asparagus plants in a row of big, colorful pots to line a pathway or to form a formal sentry line along a flower garden. The containers can protect their residents from nibbling wildlife or rambunctious pets. And as a bonus, you can control the quality of your soil when gardening in containers.
Have fun and experiment. Spring is the time to sow seeds and pop in plants. Here in Southern California, we can grow decorative plants and edibles all year round. Just remember that these fruiting plants like a fair amount of sunshine. In the desert or canyon areas, a little shade during the hottest part of the day may be welcome to avoid burning. But all the plants mentioned will give you the best crops when they enjoy at least several hours of direct sun.
—Jane Gates is the owner of Gates & Croft Horticultural Design in Los Angeles and the author of All the Garden's a Stage: Choosing the Best Performing Plants for a Sustainable Garden.
Photos: Jane Gates