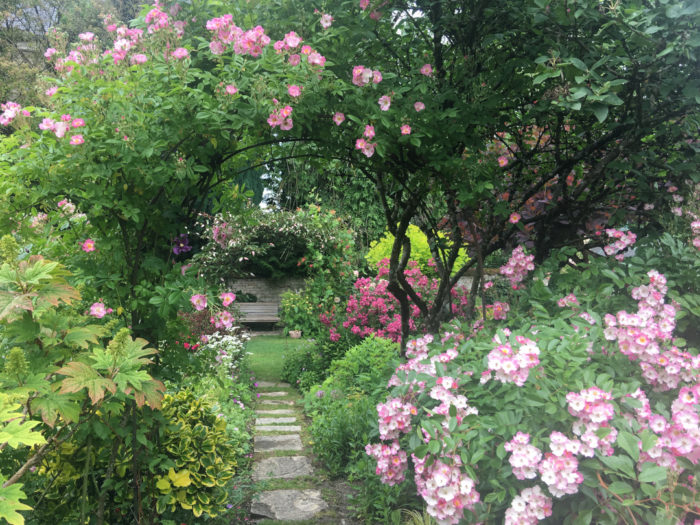 I garden in a village near Dijon in Burgundy, in France, and I am a new subscriber to Fine Gardening magazine, which I find very interesting, I had never read an American garden magazine before!
My garden is a small village garden, 600 square meters, with an old stone wall circling two sides of it. My husband Hervé and I bought the house in 1995, and I have been able since then to exercise my love of perennials. I am overfond of golden and variegated foliage to relieve the tedium of green, and I love bright colors. We have an Open Garden scheme in France too, and I open my garden to the public every year in June.
I was an English teacher, and every year I took my students to Kent in England on a school exchange. I thus had the fantastic luck of being able to visit such iconic gardens as Sissinghurst Castle Garden or Great Dixter every year for 10 years in a row. I was so smitten by what I saw that I tried to create a British atmosphere on my very modest scale in my little plot.
Here are ten garden vignettes.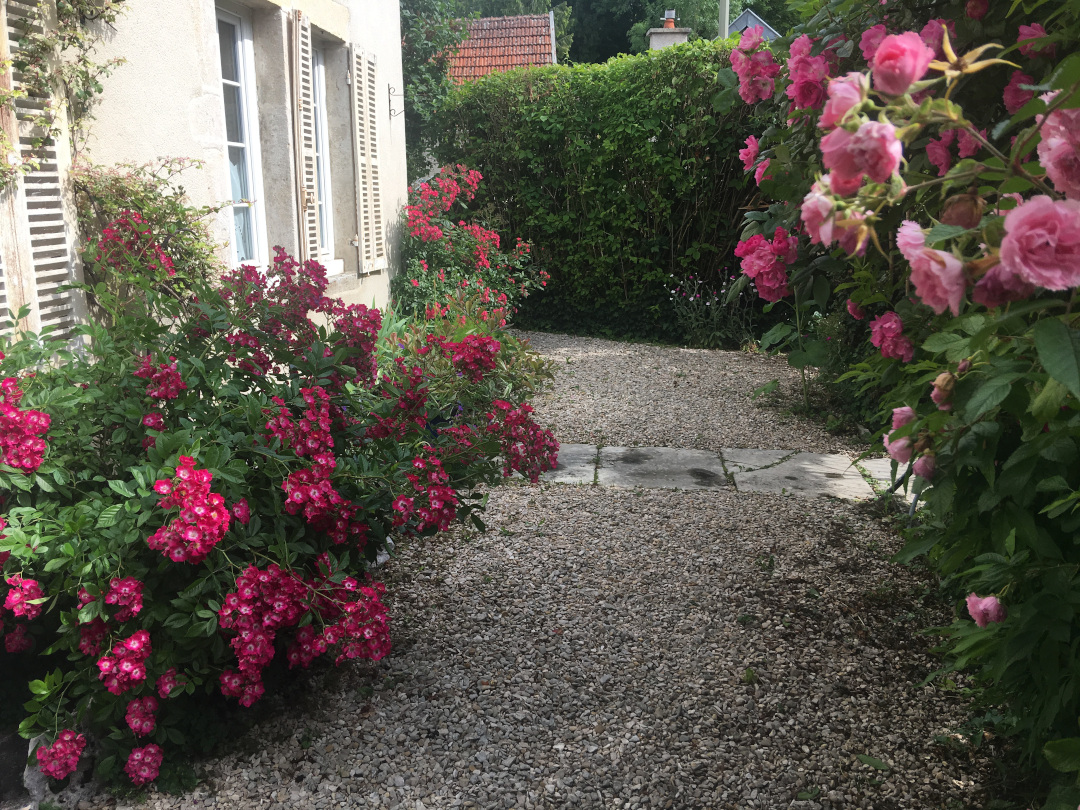 This is the front garden, which is very tiny. There used to be gravel pits in a nearby village, and most houses in Saint Julien use gravel as a base for garden paths. The roses are 'Pink Grootendorst', bought in Scotland in 1998, 'Marjorie Fair', and 'Robin Hood'.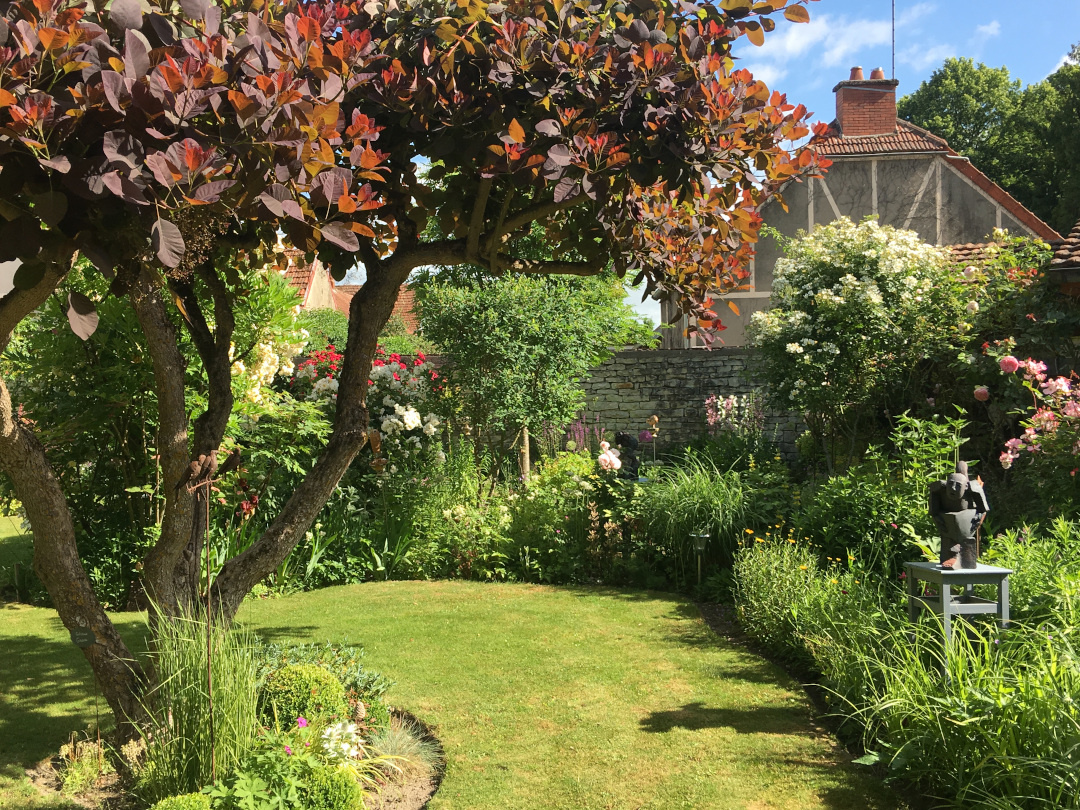 The star of the garden is the centerpiece Cotinus 'Grace' (Zones 3–9), one of my three smoke trees which I bought for the sake of their fantastic colors, 'Grace' turns vermilion in the autumn. I love every opportunity of ways out of green.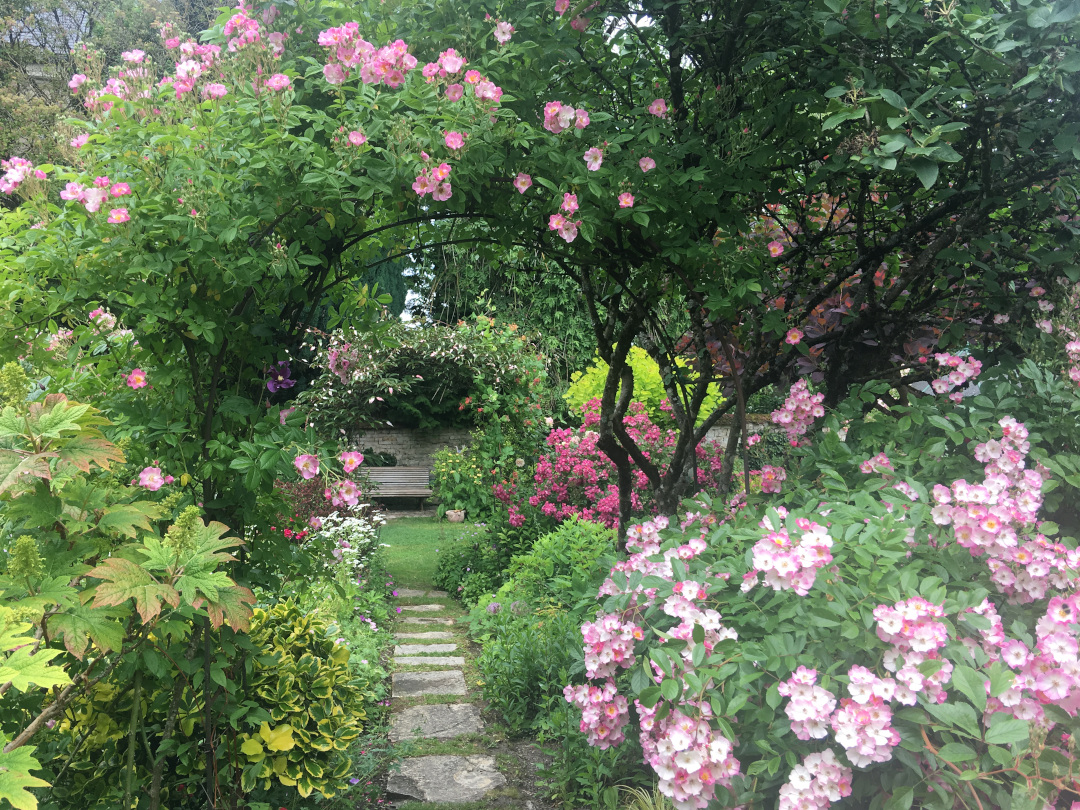 The main path with its antique stone slabs, the rose trees are 'Ballerina', a fabulous moschata rose that repeats flowering until very late in season, 'Evangeline' on the arch, and 'Sibelius' in the distance. I have installed six arbors in the garden to echo my beloved English gardens.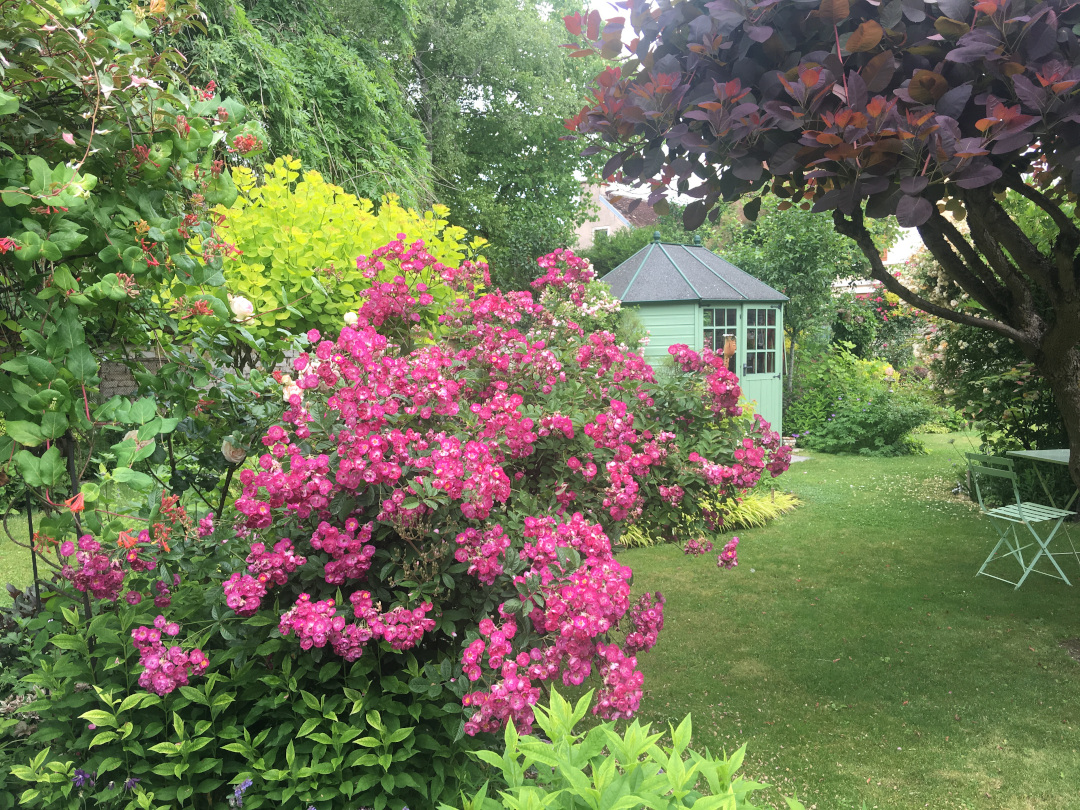 My garden shed was imported from England, the rose tree is 'Sibelius', another fabulous moschata rose with a very unusual deep purple hue. The golden moment is Cotinus 'Golden Spirit', which turns pink in October.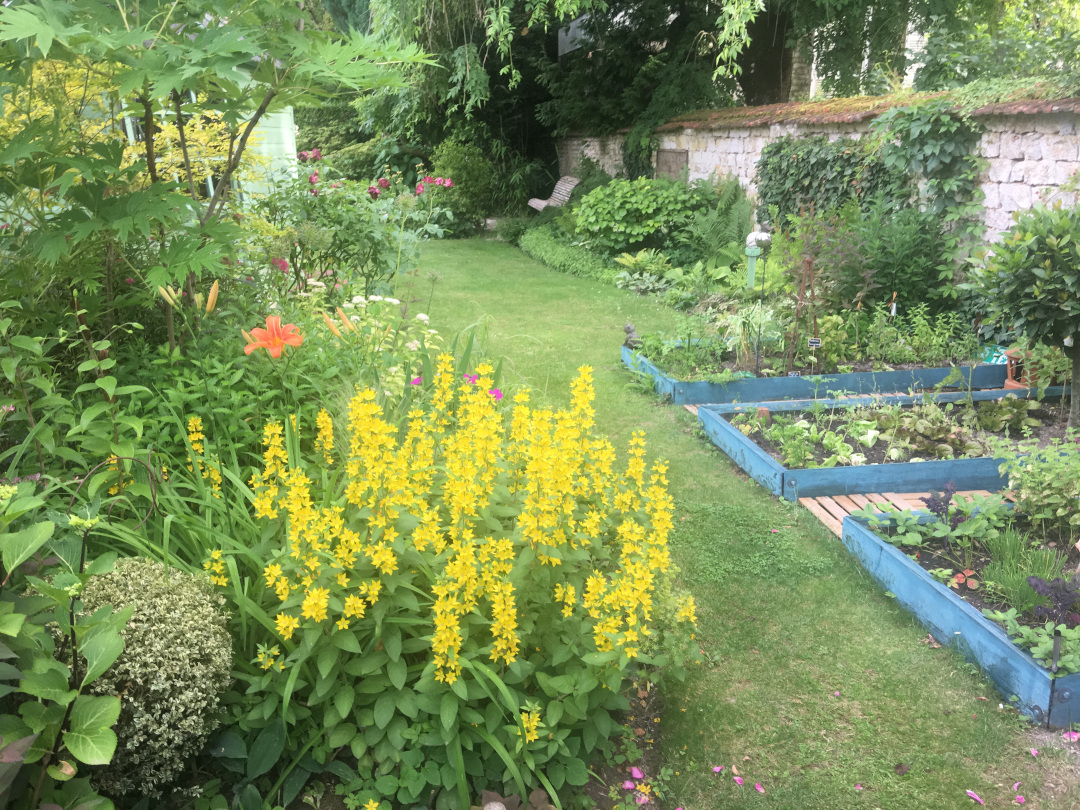 I also have a tiny version of Marie-Antoinette's vegetable garden, where I grow fun plants like Mertensia, whose leaves taste of oyster, and Paederia lanuginosa, which tastes of camembert. The flowers are lysimachia (Lysimachia punctata, Zones 4–8), one of my favorite perennials, which has a perfect shape and is long-lasting and reliable.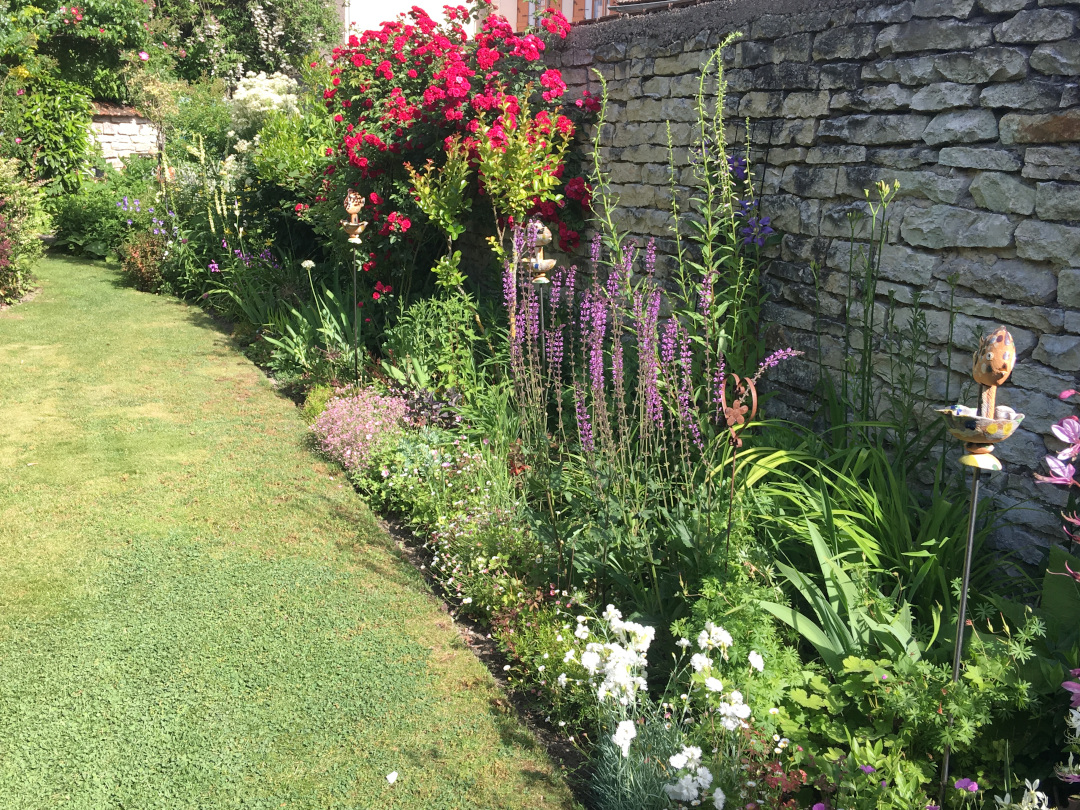 The "hot bed" with a choice of heat-loving perennials, the heat being provided by the reflection of the sun on the old stone wall. Salvia 'Serenade' (Zones 3–9), Campanula persicifolia (Zones 3–7), 'Chevy Chase' fabulous rose tree, and sweet-smelling white carnations, which we call "granny's carnations" because they used to grow in every village garden in Burgundy.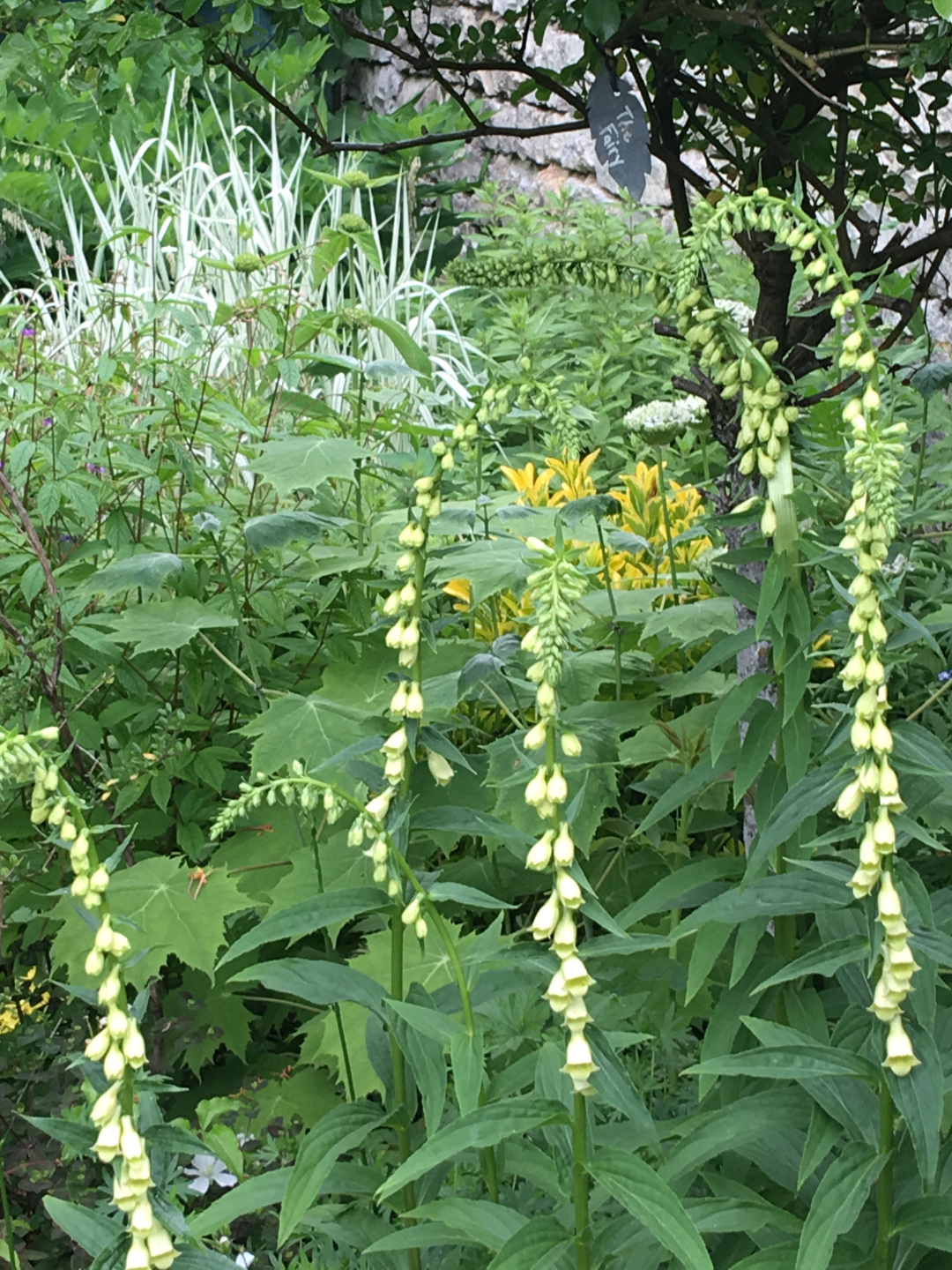 One of my favorite plant combos, with tall Phalaris echoing slender Digitalis 'Gerber Herold' (Zones 3–9).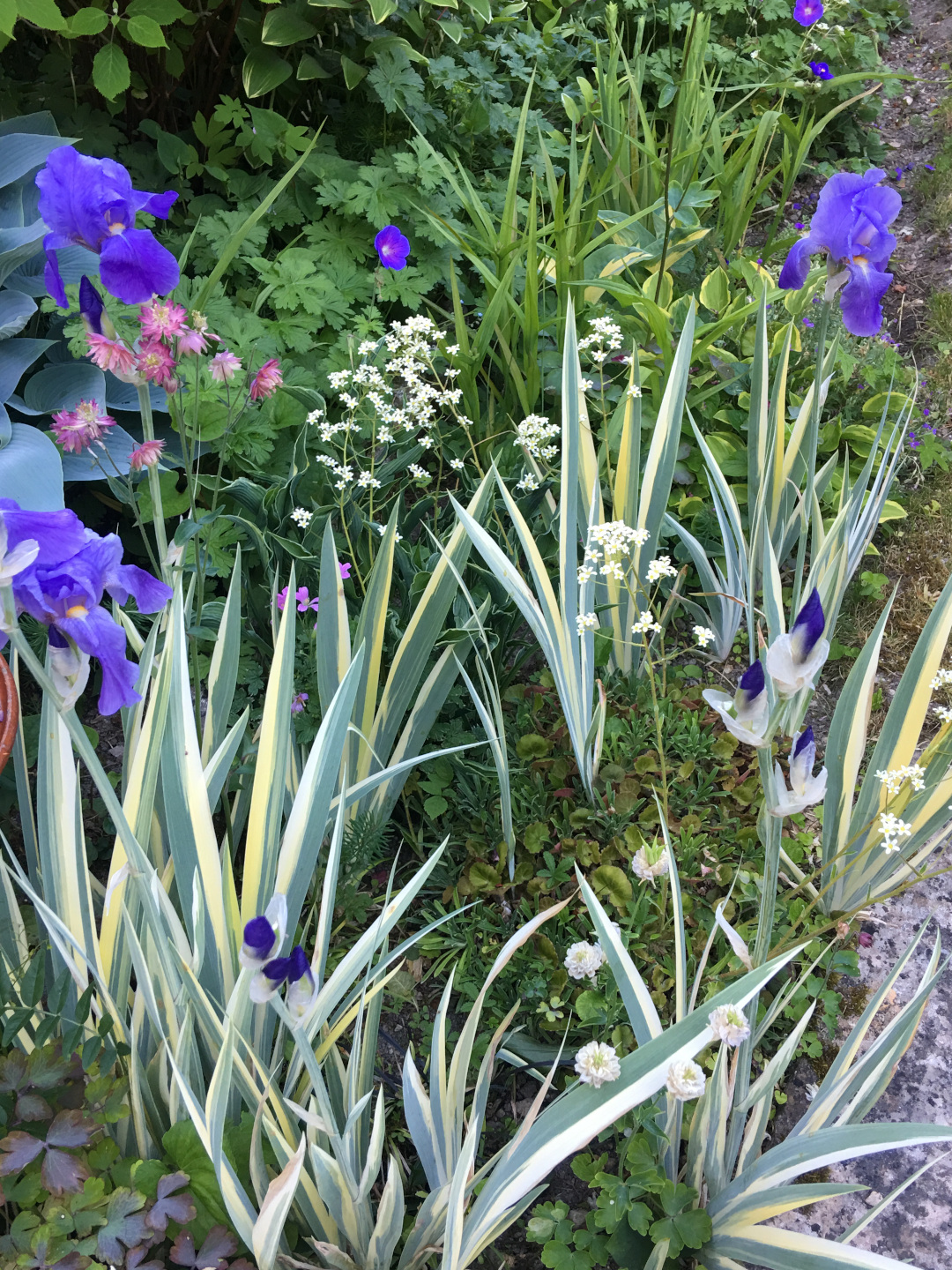 Variegated pallida irises (Iris pallida 'Variegata', Zones 4–9) are often sold as pond plants, but they also like dry gravelly spots.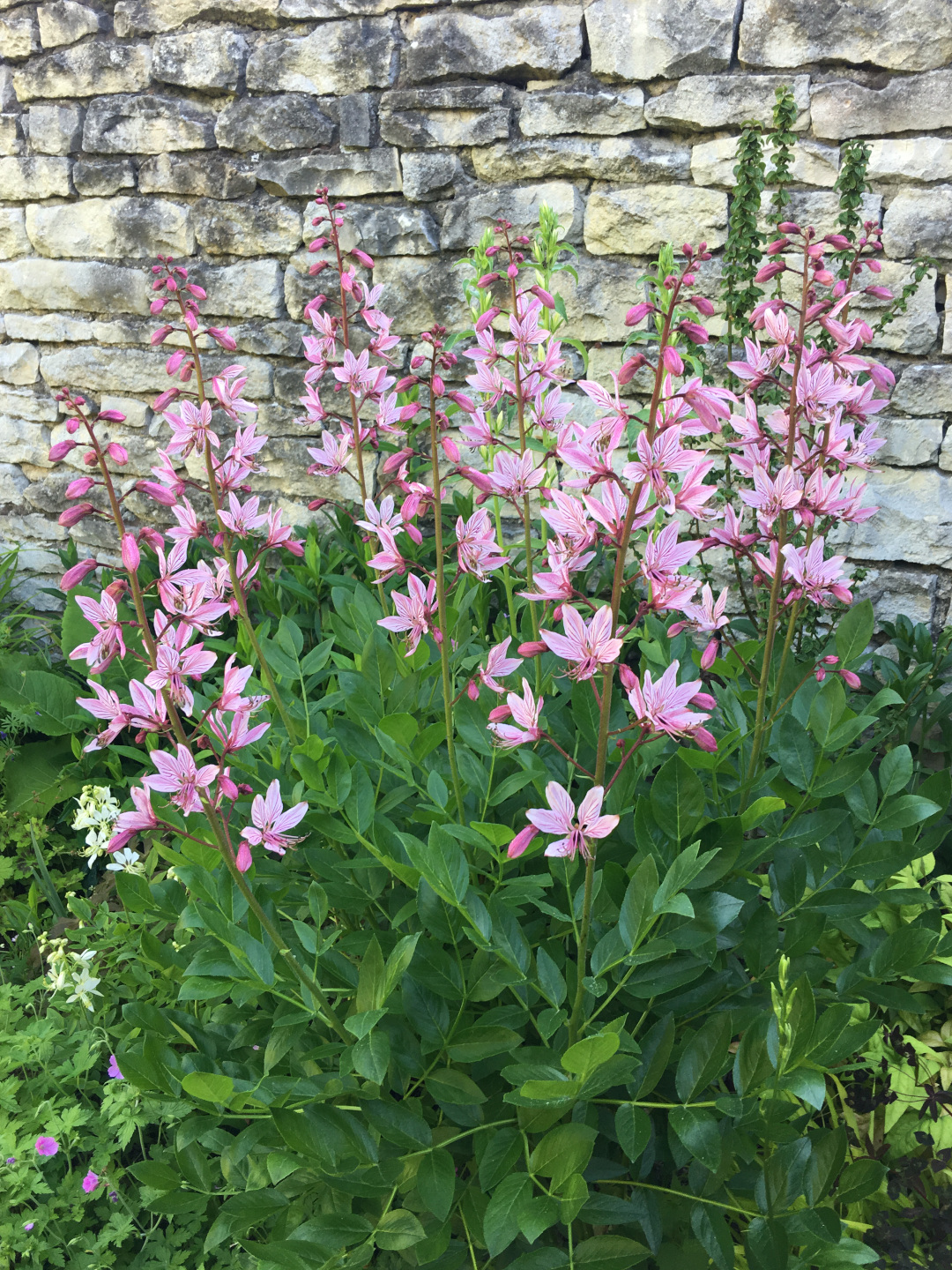 A rare Dictamnus albus (gas plant, Zones 3–8) thrives in the reflection of the sun on the old garden wall.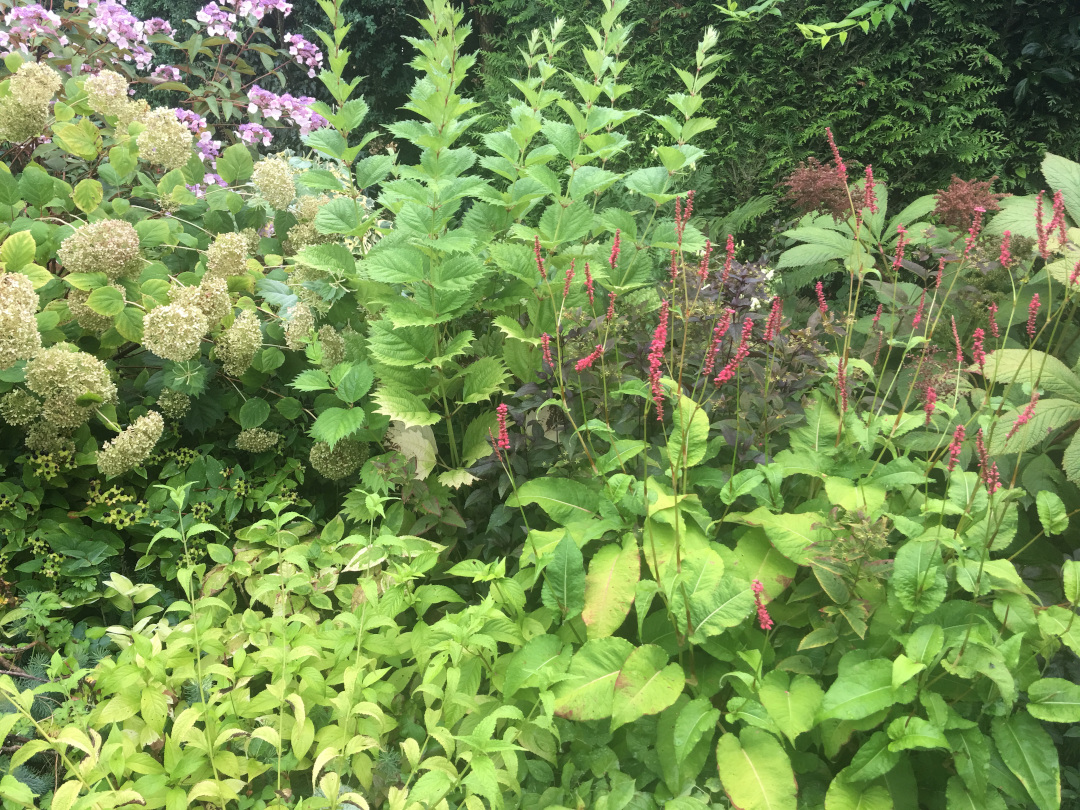 My favorite plant combination in a shady area of the garden, from left to right: Hydrangea 'Invicibelle' (Hydrangea arborescens 'Invicibelle', Zones 3–8), which is the pink version of universal 'Annabelle', Leucosceptrum 'Golden Angel', aka Japanese bush mint (Zones 5–8), Boehmeria platanifolia (Zones 5–8), Lysimachia 'Firecracker' (Zones 3–8), Persicaria amplicaulis (Zones 4–9), and spectacular Rodgersia aesculifolia (Zones 4–7). I love the way shapes and colors mix and match.
Have a garden you'd like to share?
Have photos to share? We'd love to see your garden, a particular collection of plants you love, or a wonderful garden you had the chance to visit!
To submit, send 5-10 photos to [email protected] along with some information about the plants in the pictures and where you took the photos. We'd love to hear where you are located, how long you've been gardening, successes you are proud of, failures you learned from, hopes for the future, favorite plants, or funny stories from your garden.
If you want to send photos in separate emails to the GPOD email box that is just fine.
Have a mobile phone? Tag your photos on Facebook, Instagram or Twitter with #FineGardening!
You don't have to be a professional garden photographer – check out our garden photography tips!
Do you receive the GPOD by email yet? Sign up here.