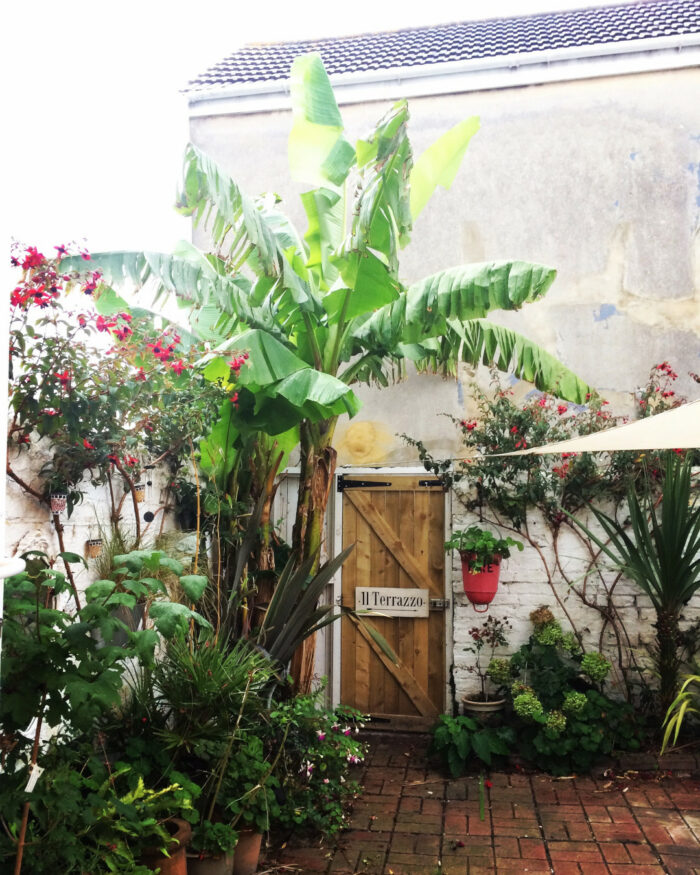 Steve in the UK is sharing a very cool, very small garden space with us today.
My wife, Emily, and I followed our dream of moving to the seaside from Surrey nine years ago. We were looking for a period house, and much as we didn't want to take a project on, we fell in love with a 1800's Victorian house in a quiet crescent, a short walk from the beach. We are keen gardeners, and whilst we were moving to a house with a paved courtyard, rather than the lawn/beds we were used to, we could see great potential in it. When we moved, we potted up plants from our Surrey garden, took cuttings, divided shrubs, etc. The larger pots we moved to the courtyard; others we gave to family and friends to foster until we got settled. We also made use of the front garden as a "nursery" to hold plants temporarily.
For the first couple of years we tackled the chaos in the house: stripped out, repaired, restored, plastered, and painted. In the summers we got on with cleaning the courtyard, a bit of painting, and looking after the pots. Furniture was a couple of deck chairs and a little table.
In the third year, we started work on the courtyard in earnest. The ground was slabbed wall to wall, and whilst we considered that raised beds and pots were our only option, one weekend I decided to lift some slabs on one side to see what was below.
We encountered a deep layer of hardcore underneath a concrete skin, and with use of a sledgehammer and brute force we managed to break through, remove shingle, bricks, sand, and rubble to about 2 feet. Underneath was the soil we were looking for. It took two very long weekends to break through and dig down to three sides. We pulled out bags and bags of rubble, and once clear, we backfilled with a mix of soil and compost.
We had always had a love of exotic plants and Mediterranean-style gardens. I have grown a variety of bananas and palms over the years. We have been lucky to spend time in Italy and Greece and loved the courtyard-style seen in both countries, particularly Venice. Our time at the house enabled us to know our own courtyard, sun positions, and how we wanted it to be planted. The garden is north-facing, but it gets full east-west sun from May to early October. We were fortunate that the mild coastal climate was perfect for the garden we wanted.
The pictures give you the "before and after" of the garden, yet is very much an ongoing process. Digging down and putting three beds in was the best thing we did, as it has enabled us to plant "vertically" with all manner of climbers and taller shrubs allowed to take root. We have palms, climbing roses, several clematis, rambling fuchsia (amazing), passion flowers, succulents, varieties of lilies, dahlias, trailing plants, and spider plants that survive the winters—geraniums that are very hardy too. The bananas are astonishing, and we have had fruit the past three years. However, we have also retained a number of specimens in planters and large pots.
The key thing has been for us to make the garden as low-maintenance and drought-resistant as possible. It is at its peak from June to early October. In July it is at its best: bananas are full height, the flowers and roses smell amazing, and the courtyard is full of bees and butterflies.
We have added a living wall for succulents and put in an old butler sink and other large zinc troughs for herbs and salads. In the last two years we have added a grapevine, with us running overhead wires last year to create the canopy we want over the space. This will also allow the passion flowers to grow up and over, and a newly planted jasmine too.
Last year we installed two sets of lighting—uplighters and overhead festoons. The uplighters make the garden look magical at night. The walls are adorned with mirrors to open up the space and other items we have collected from flea markets. We particularly love the martini sign we found. (Friends call the garden the "Martini Bar.")
The garden is always evolving with new ideas and new plants, and each year it becomes more and more established. We are very pleased with the results. We get lots of compliments from people who come and visit the garden; some passersby have asked to see it as they have noticed the bananas from the road. We plan in another year to open the garden as part of the town "Open Gardens" scheme to raise money for local charities. We are always giving away plants to friends; it would be nice to raise some money from a few for charities.
The garden has become an extension of the house and is the perfect place for us to sit back and relax. Our two boys love sitting out there too. The dogs like to bask in the sun, and we love to barbecue, entertain, eat out there, enjoy a sundowner, play music, and light a fire. With the lighting the garden can be enjoyed 'til the small hours.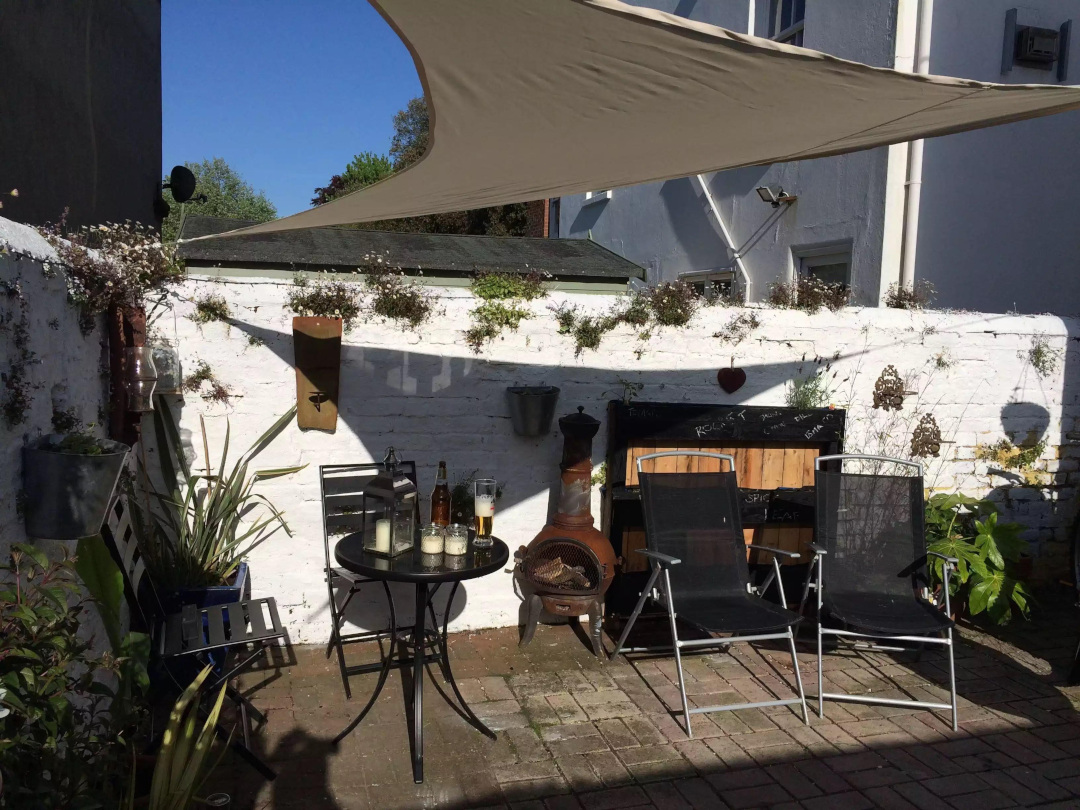 The "before" picture—not much more than a place to sit.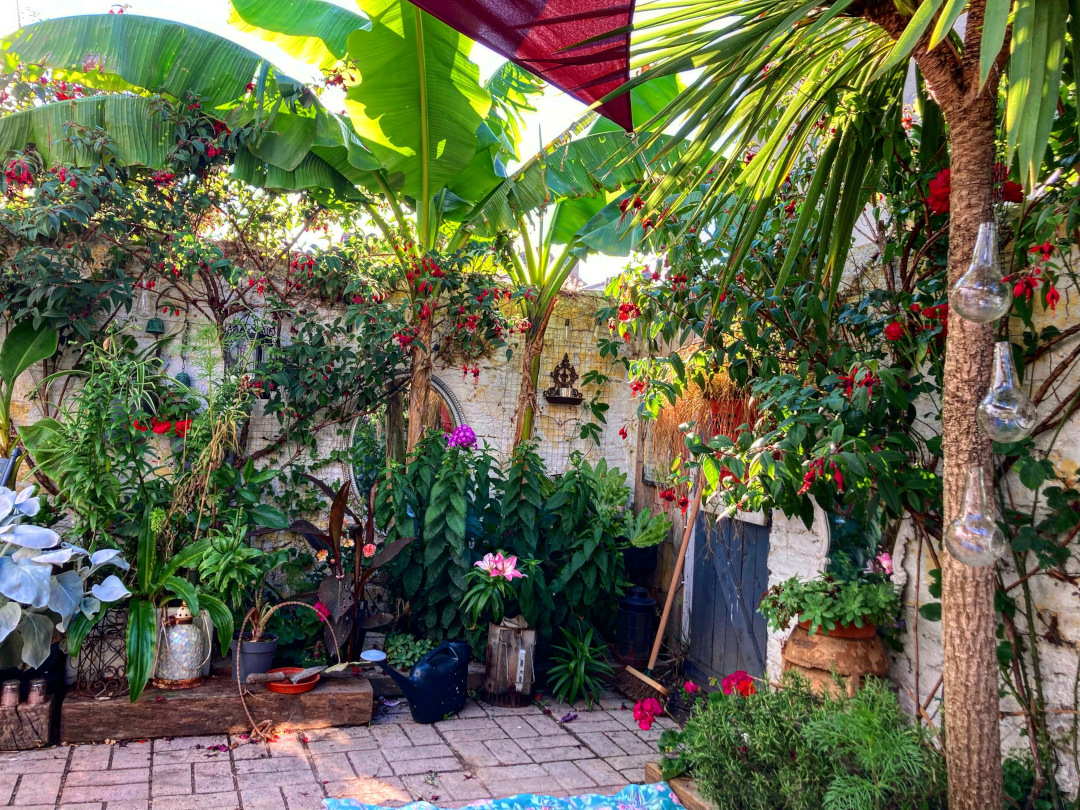 And now the place is overflowing with lush plantings!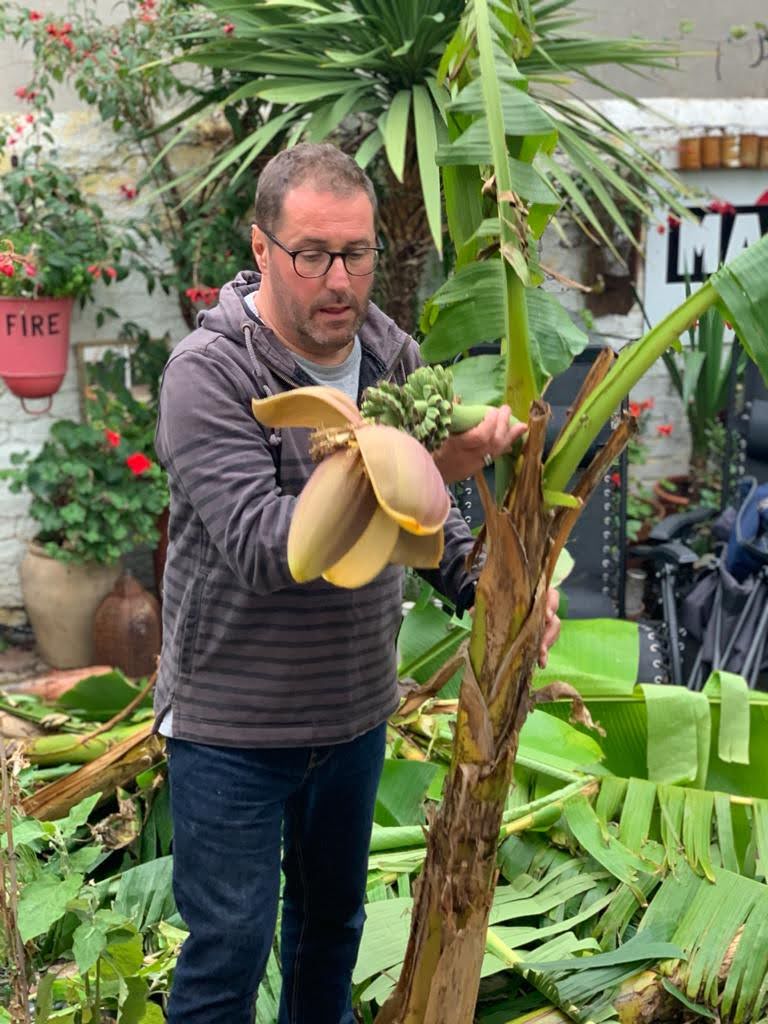 Steve shows off a banana flower, with developing fruit!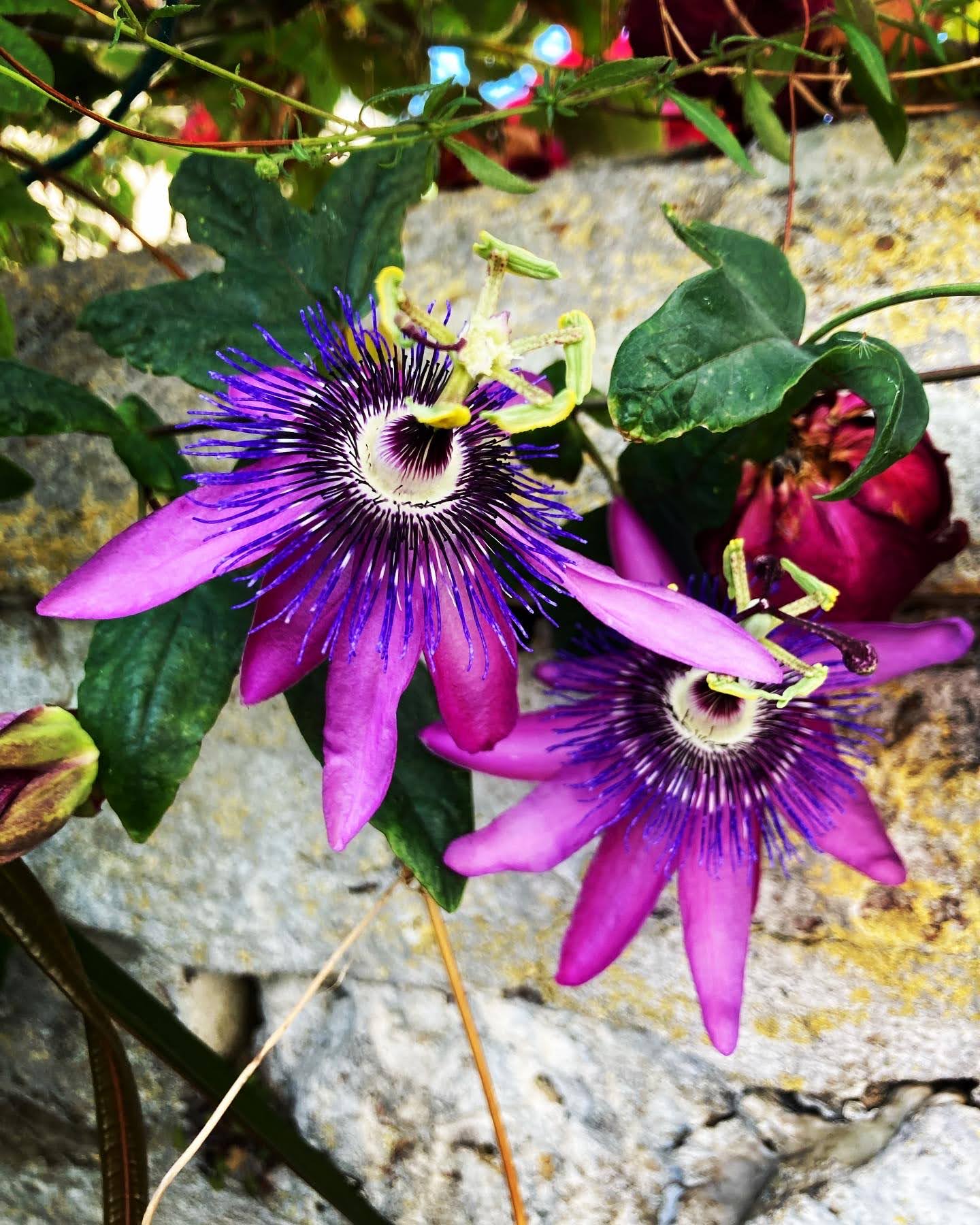 Passionflower (Passiflora sp.) blooms in the garden.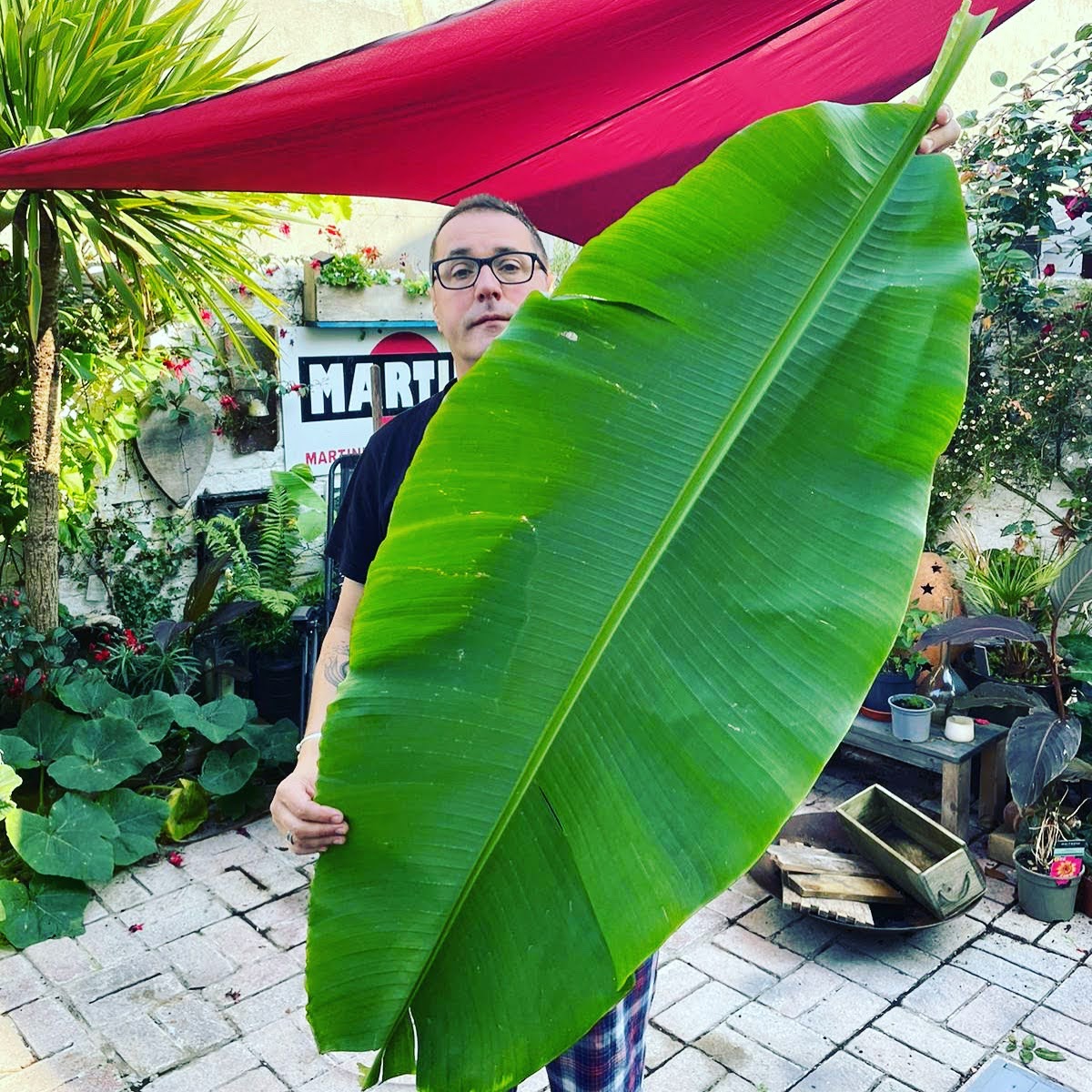 Steve poses with a banana leaf, showing how huge they get.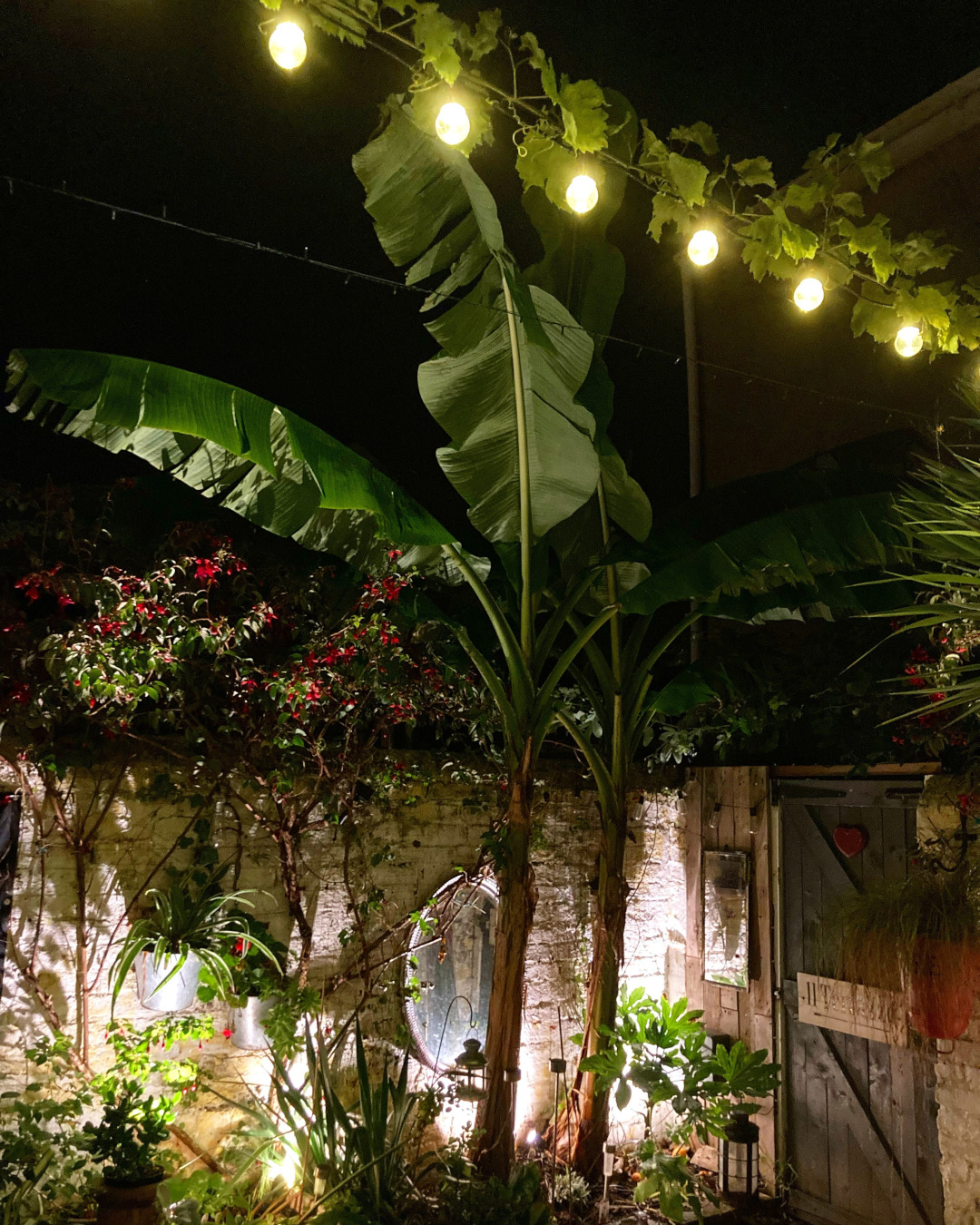 Garden lighting transforms the space and makes it a great place to relax any time of day or night.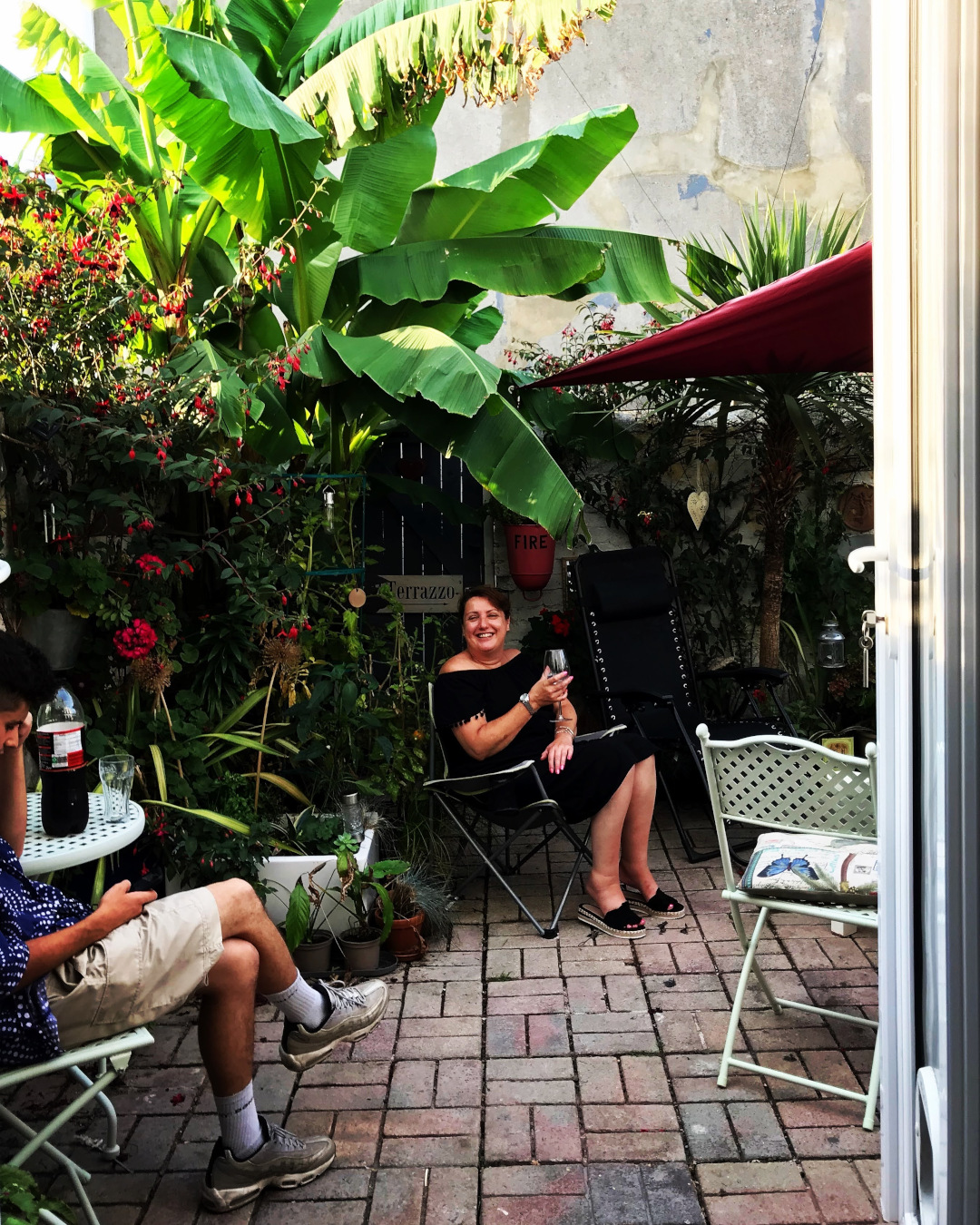 A perfect place to socialize and relax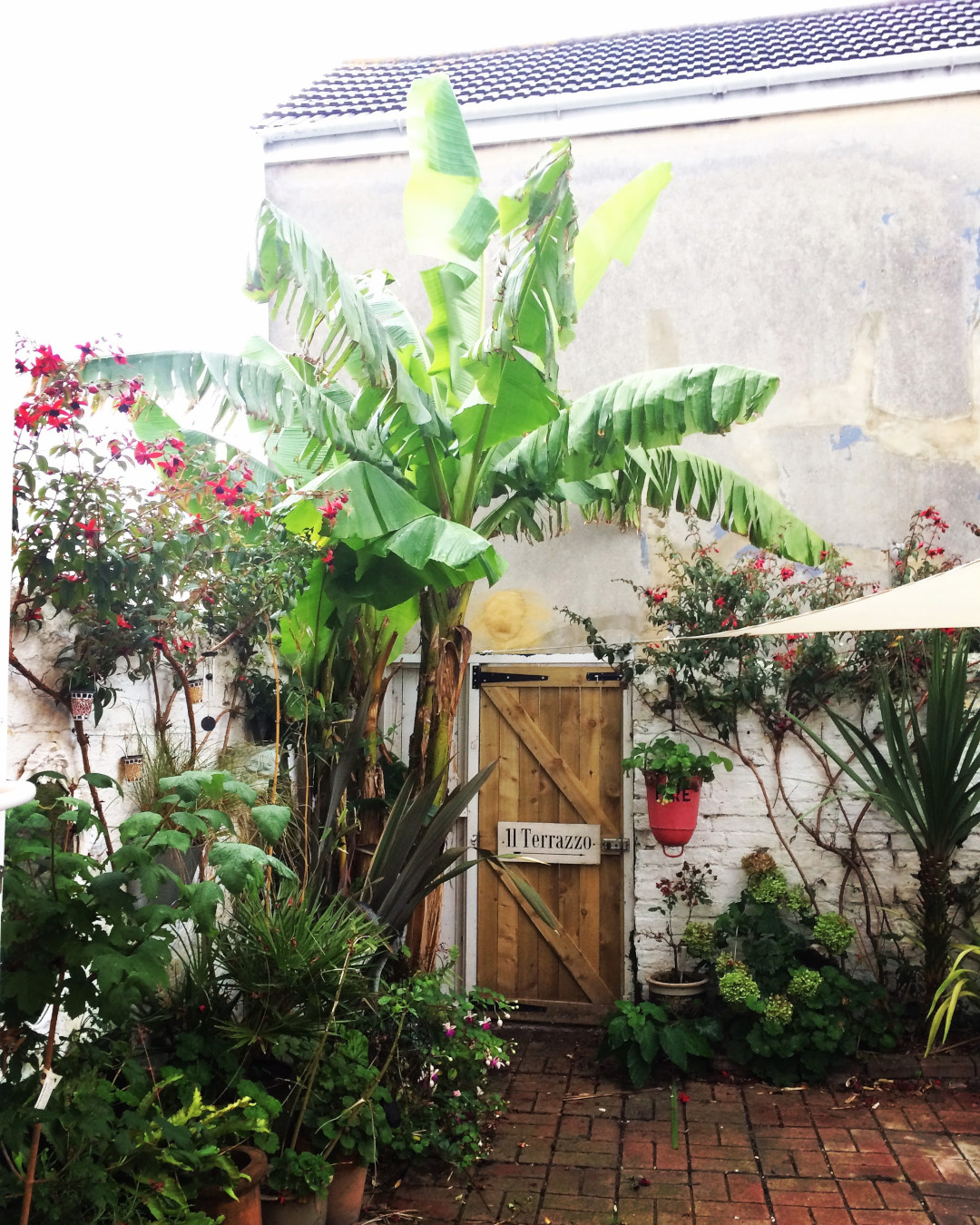 The huge bananas really transport you away from the UK to a more tropical clime.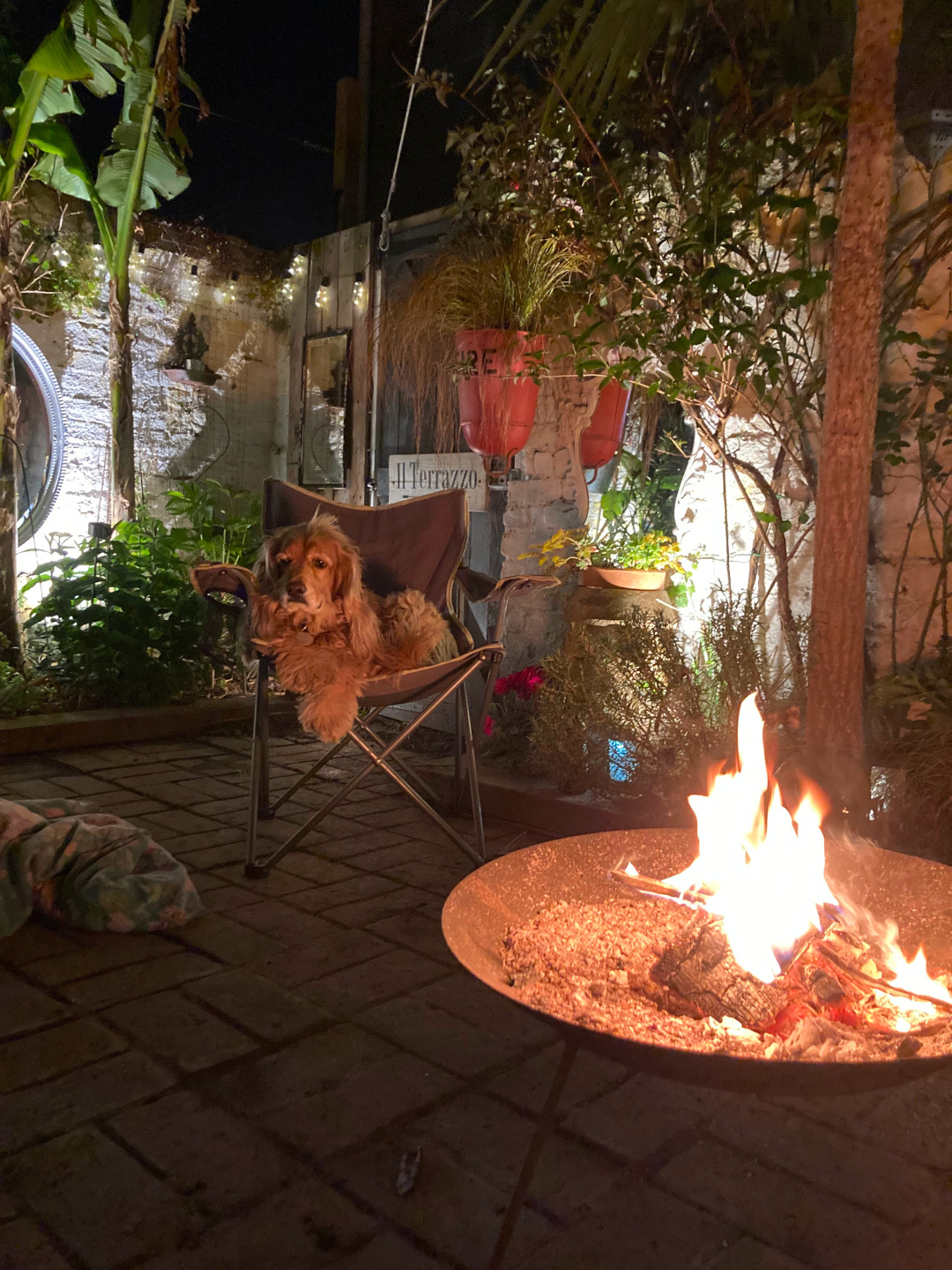 Dogs love the space as much as humans.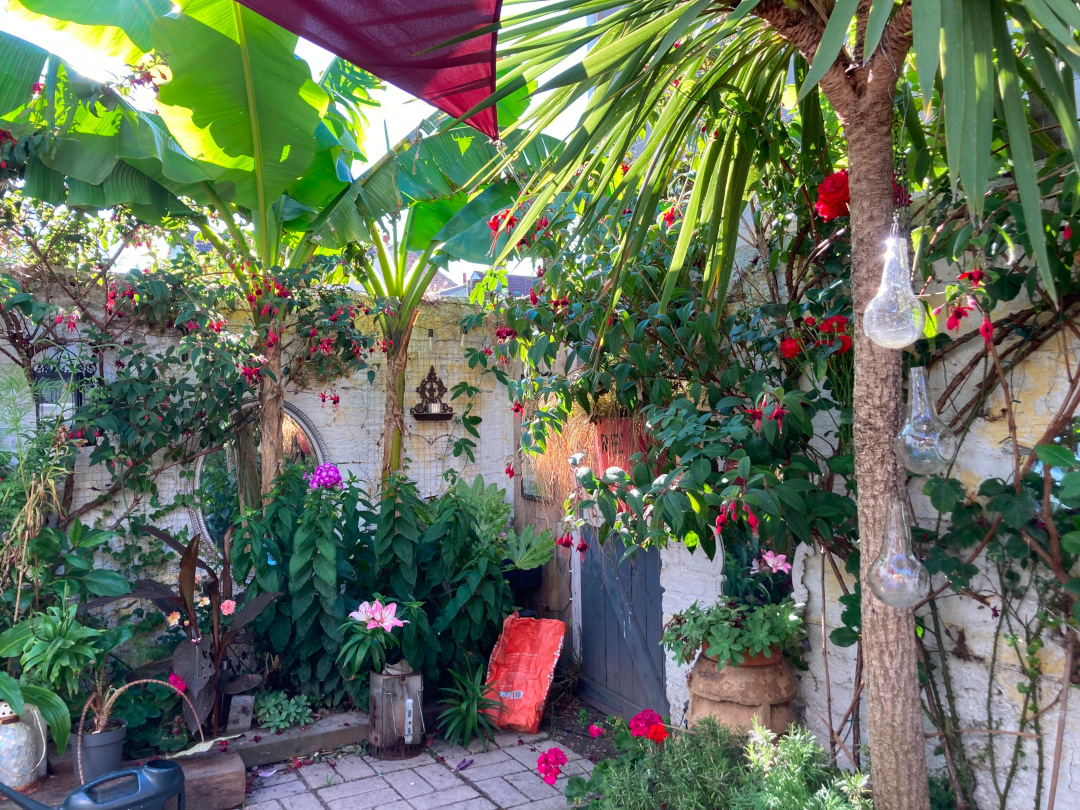 Lush abundance is the order of the day.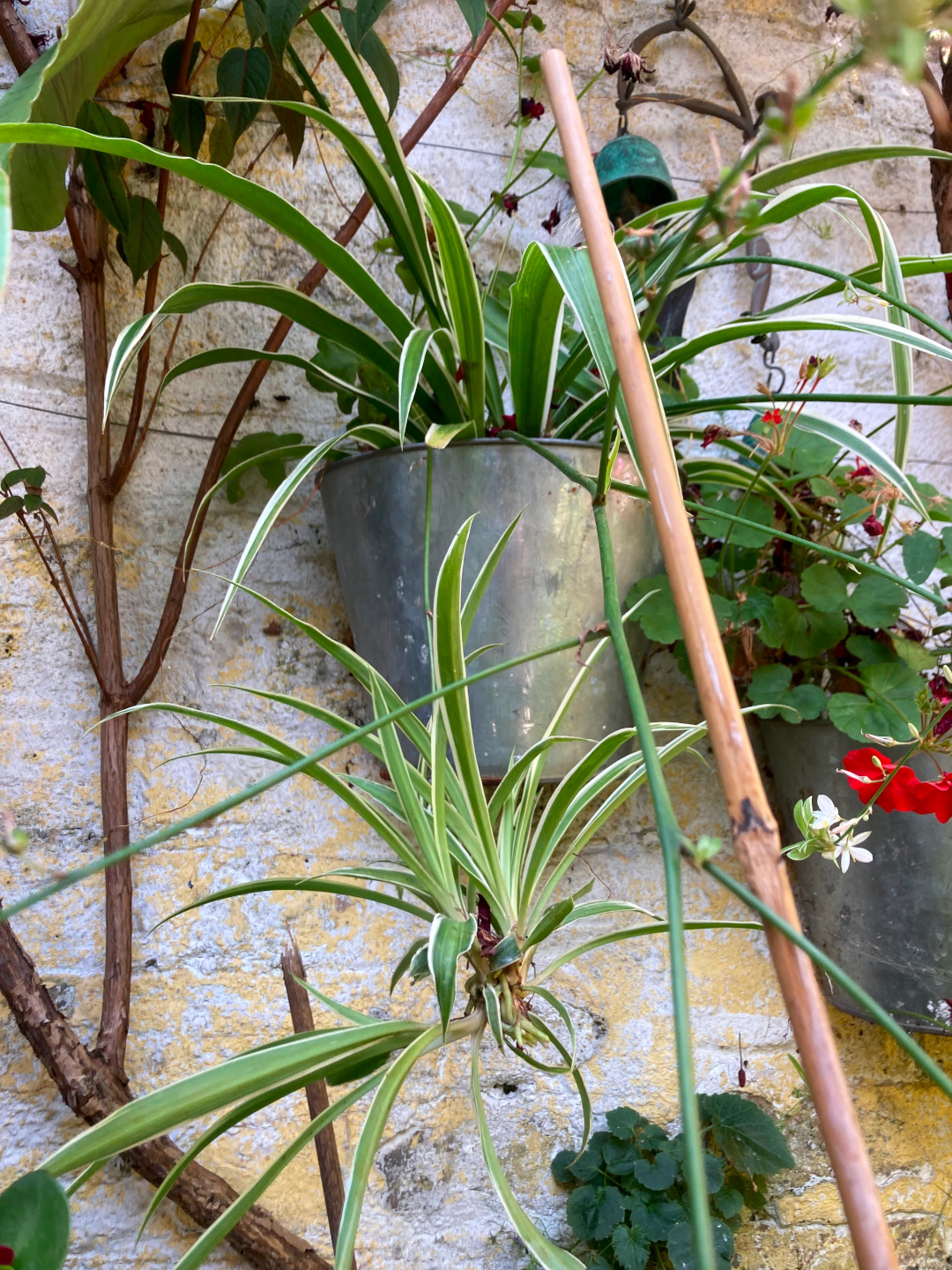 Planters mounted to the wall add more life to every inch.
If you to see more from this beautiful space, check out their Instagram: @our_exotic_garden_by_the_sea
Have a garden you'd like to share?
Have photos to share? We'd love to see your garden, a particular collection of plants you love, or a wonderful garden you had the chance to visit!
To submit, send 5-10 photos to [email protected] along with some information about the plants in the pictures and where you took the photos. We'd love to hear where you are located, how long you've been gardening, successes you are proud of, failures you learned from, hopes for the future, favorite plants, or funny stories from your garden.
Have a mobile phone? Tag your photos on Facebook, Instagram or Twitter with #FineGardening!
Do you receive the GPOD by email yet? Sign up here.