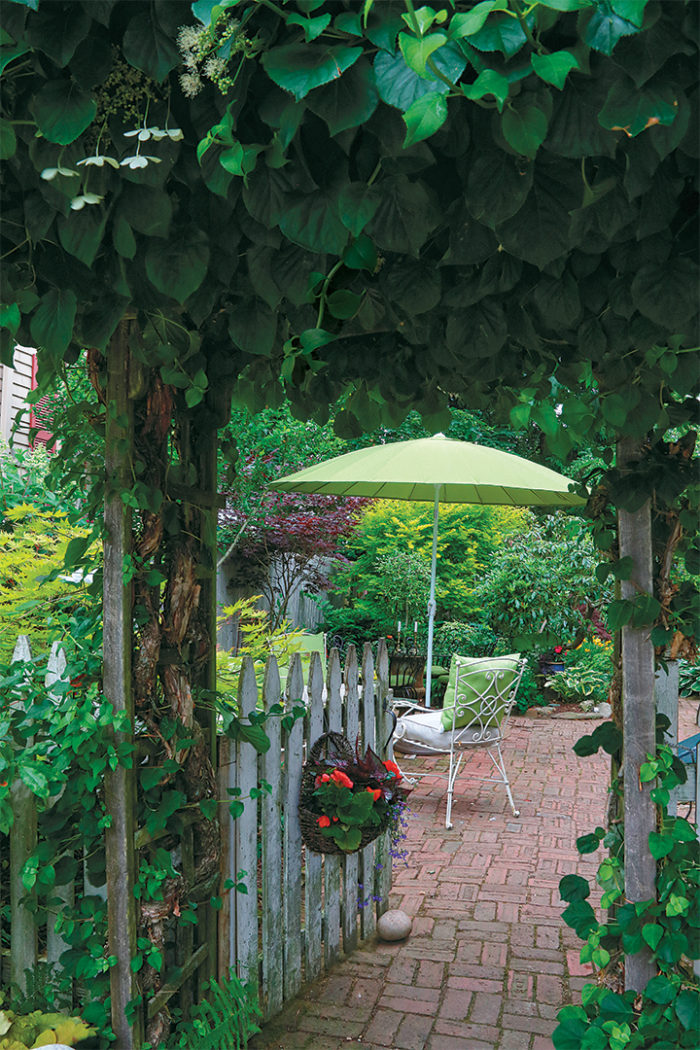 Some may say that the risks involved with designing a small space are far less than those associated with designing a big one. After all, if you mess up, you only mess up on a tiny scale. But I would argue that the opposite is true. In a small space, it's far easier to spot a poorly sited plant or an improperly sized patio. The challenges are even greater in small urban spaces because not only do you have to get the scale and proportions exactly right, but you also need to find ways to gain privacy and hide unsightly items without the ability to simply move them slightly left or right. Two charming courtyard gardens in Newport, Rhode Island, have mastered the art of small-space design—and they have done so without a lot of sacrifice. These two spaces don't limit the plants or give up on the idea of having multiple seating areas just because the square footage is at a premium. On the contrary, they have found unique ways to create the illusion of space, hide ugly but unavoidable objects, and achieve serene seclusion.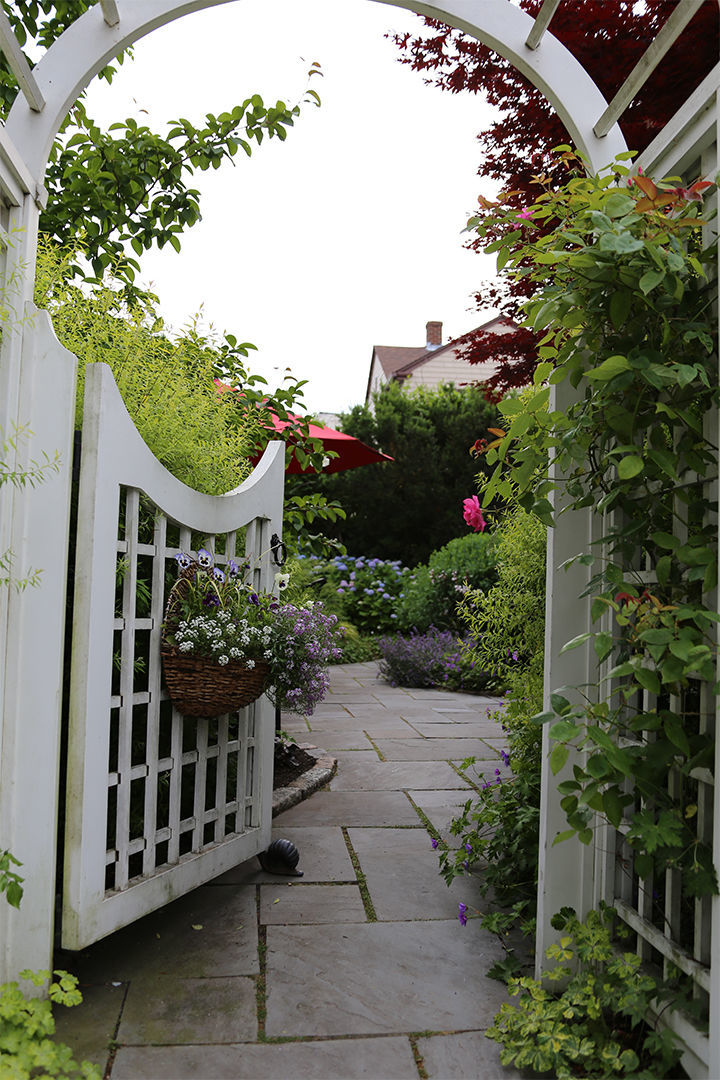 Courtyard 1: There's always room for more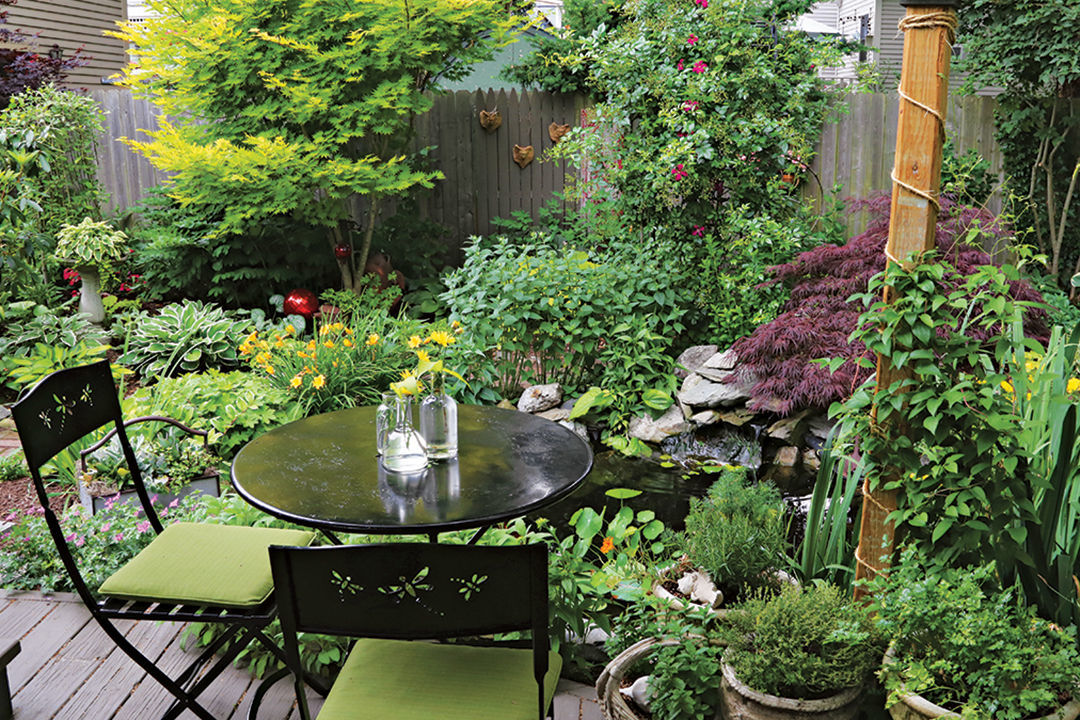 Standing knee deep in trash, old lumber, and crab grass, Annie Ritterbusch wondered if she'd made a mistake buying her new home. It was in a great location—downtown Newport, Rhode Island—but the property was a wreck. There were trees, but they were all large and overgrown to the point of threatening the house. There was one redeeming aspect of the "backyard," however: a little brick patio, which became the jumping-off point for the rest of the landscape design. Now, one step through the arbor marking the garden entrance and visitors are amazed by the volume of plants and the multiple seating areas that greet them.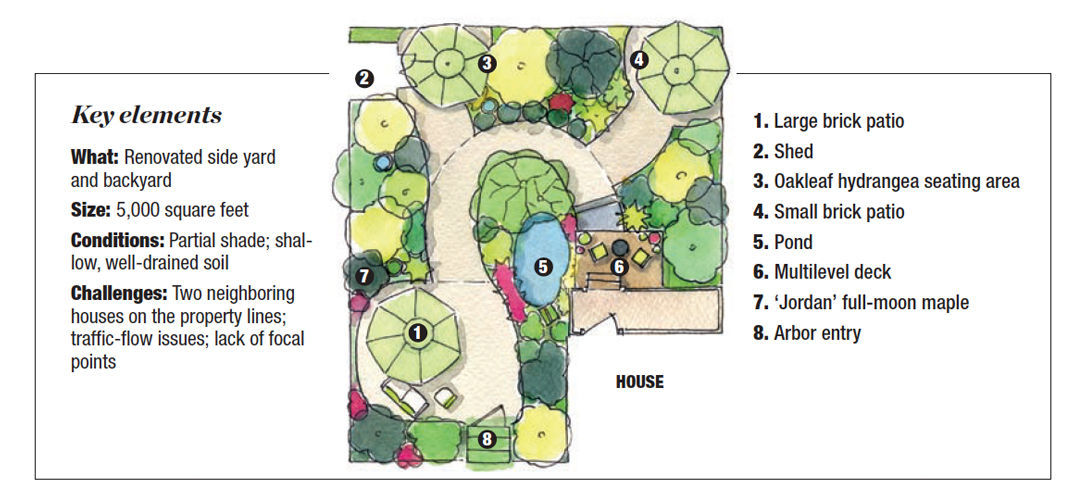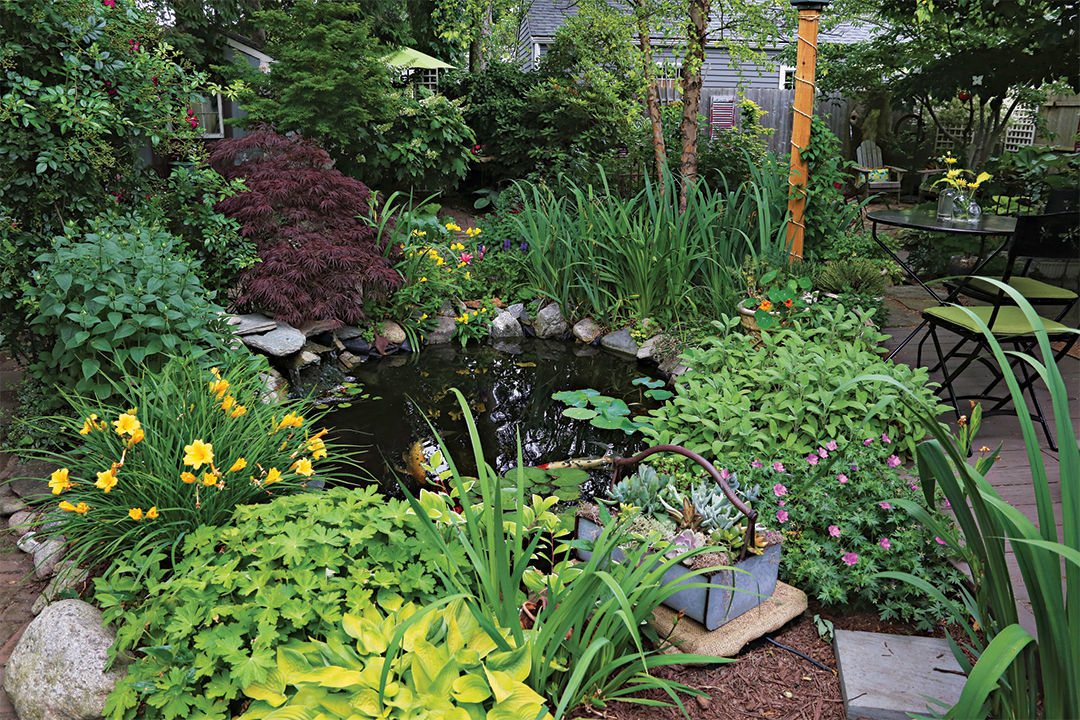 Get the illusion of space from big focal points and the incorporation of many plants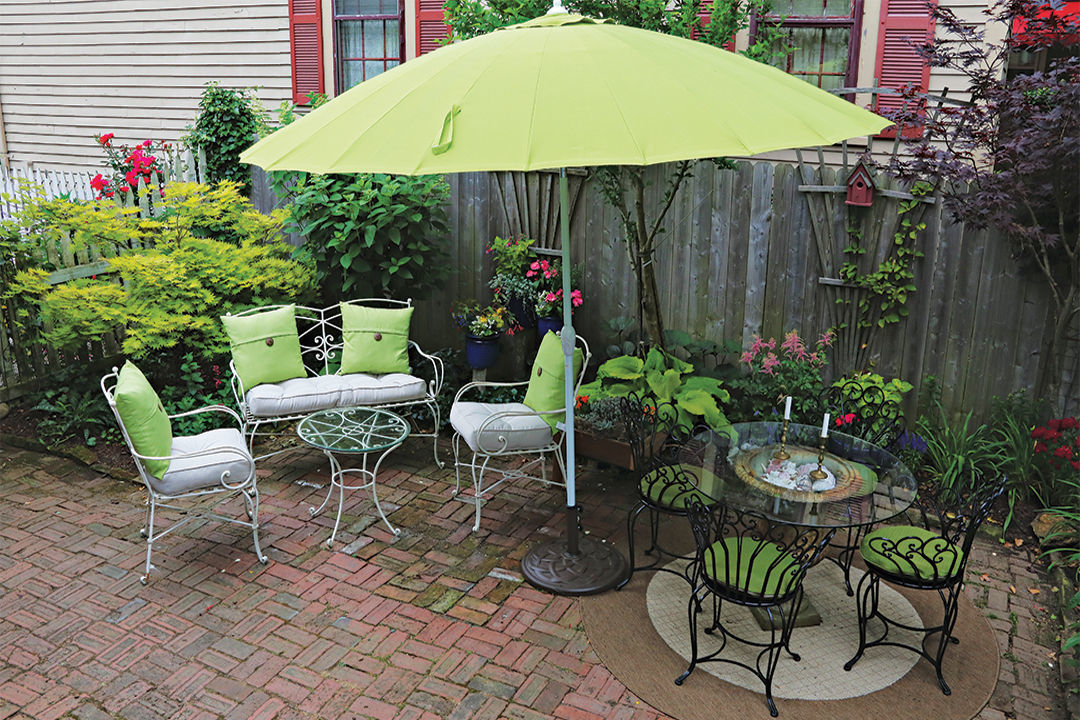 The first thing that stands out upon entering the garden is a generous seating area that was formed out of an existing brick patio. The size of the patio, though large relative to the small space, seemed to work in scale with the narrow yet very tall house. With this in mind, Annie thought that the important focal points in the space should be as large as possible. For example, the koi pond has grown larger over the years to better match the size and scale of the nearby patio. The size of these key features helps the overall space feel more expansive.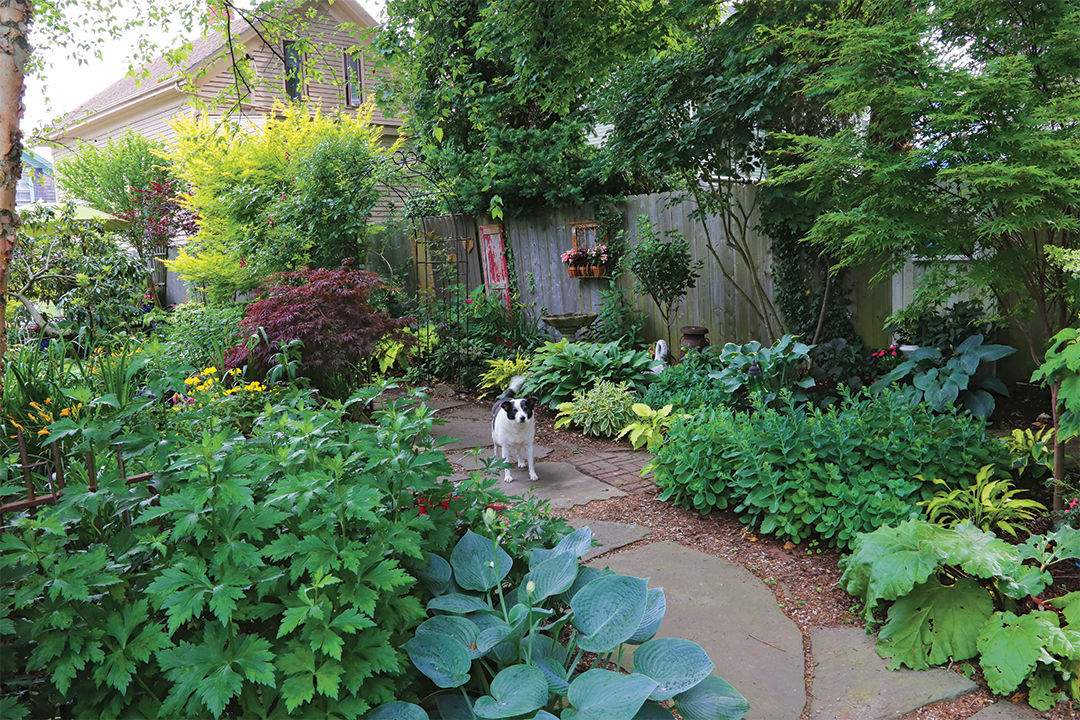 The sheer number of plants in this courtyard also help it feel more spacious. Skinny garden beds are nestled next to fences and along pathways, and in spots where a plant can't fit (or won't grow, thanks to the resident dogs who use it as their raceway), Annie places containers filled with treasures. The plants aren't undersize either. There is every type of plant imaginable, including trees. One focal point of the courtyard is a 'Jordan' full-moon maple, which, though large, is roughly half the size of other maple trees.
Smaller, more private seating areas are located at the end of the brick paths. One is actually hidden behind an oakleaf hydrangea (Hydrangea quercifolia, Zones 5–9) toward the back of the courtyard. With the addition of these spots, there is a total of five seating areas, an amazing number considering the square footage.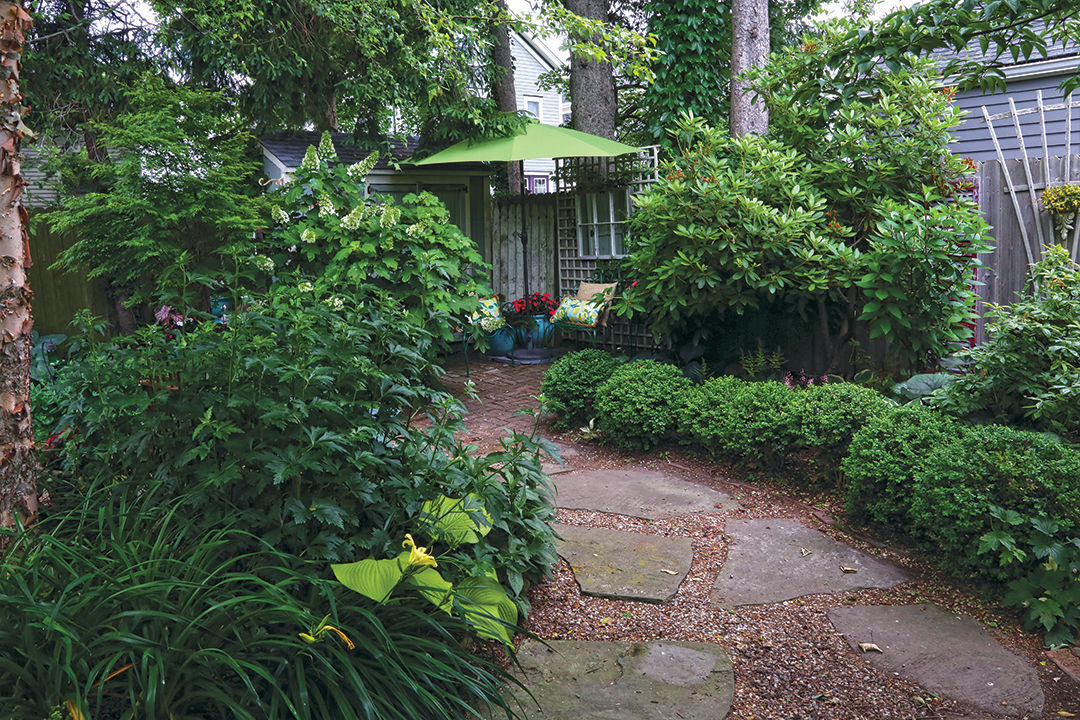 Create privacy by limiting views, and hide unsightly objects
In urban settings, your neighbors often can see everything. But since a garden is supposed to be a place of refuge and relaxation, it's important to find ways to limit the views into (and out of) the space. Small trees such as Japanese maple (Acer palmatum, Zones 5–9) and dogwood (Cornus spp. and cvs., Zones 2–8) play a big role in this space, serving to block, screen, or distract folks from the neighboring houses. A few expertly placed trellises and a small pergola also help screen out the neighbors. When it comes to hiding composting areas and repotting spots, fences and mirrors in old windows either block or distract. Pumps and filters for the pond were put under the deck off the back of the house and behind the pergola.
Courtyard 2: Less is more with a deliberate design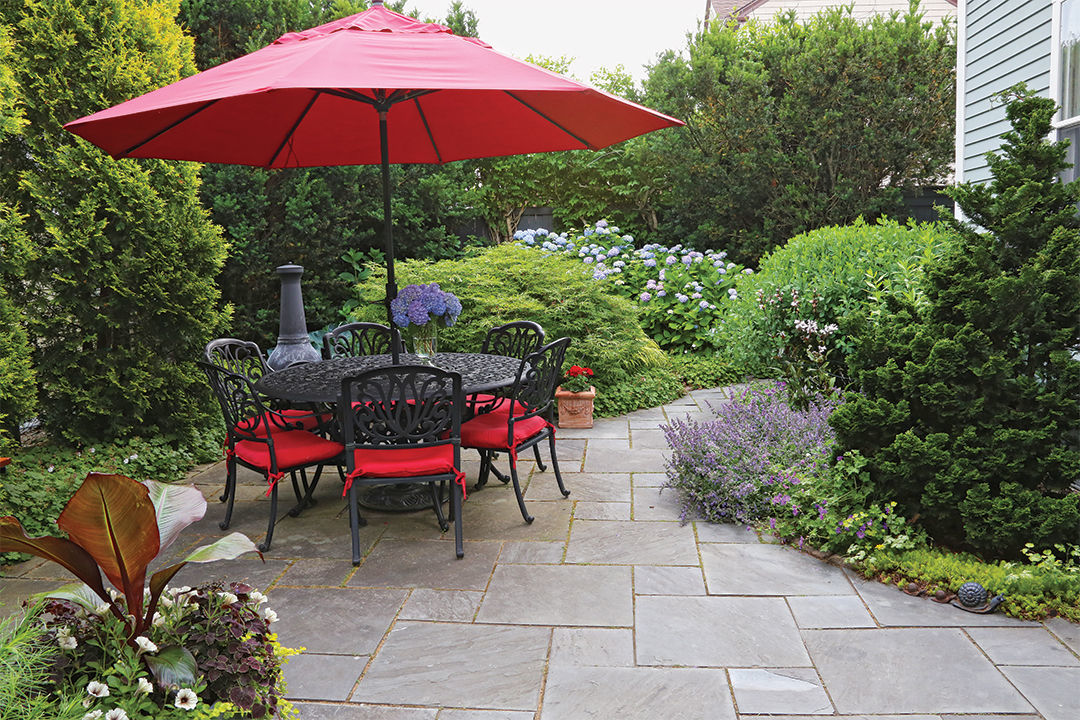 On the other side of the urban-space spectrum is the garden of Kim Paquette, just a few houses down the street. Planted in 2009, this space is almost half the size of the previous courtyard. Prior to the landscape renovation, the lot was dominated by an overgrown cherry tree whose dense shade prevented even crab grass from growing beneath it. The biggest priority for Kim was creating a welcoming outdoor living space, with plenty of room for plants, a place to cook, and a water feature to drown out street noise.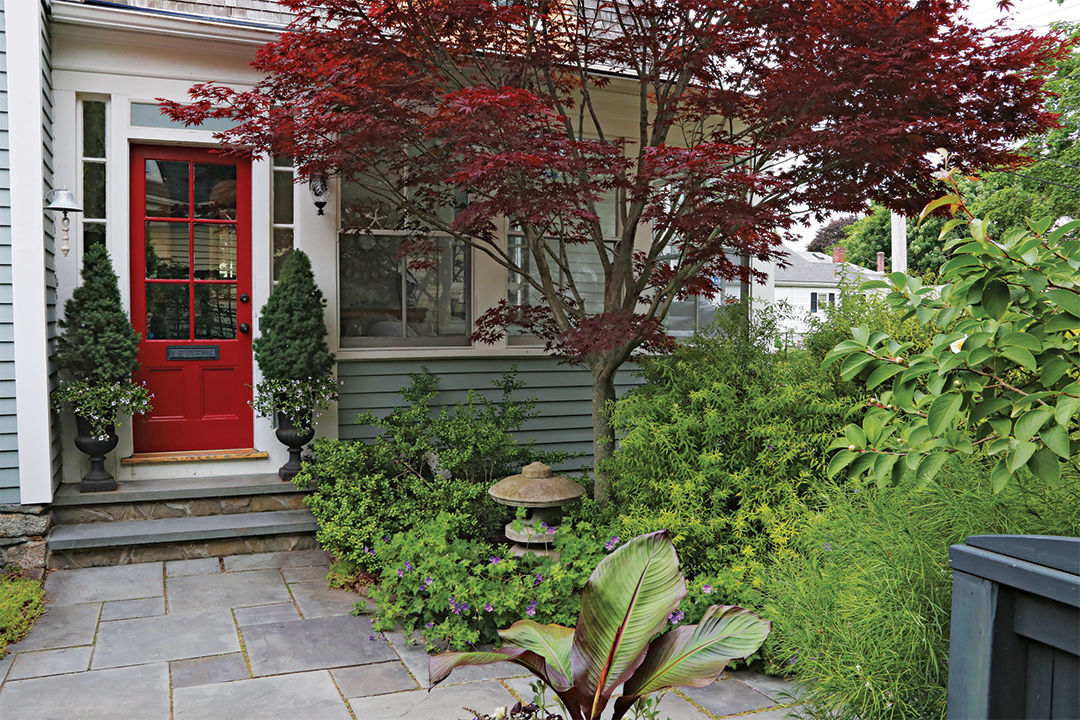 Get the illusion of space from big focal points and the incorporation of many plants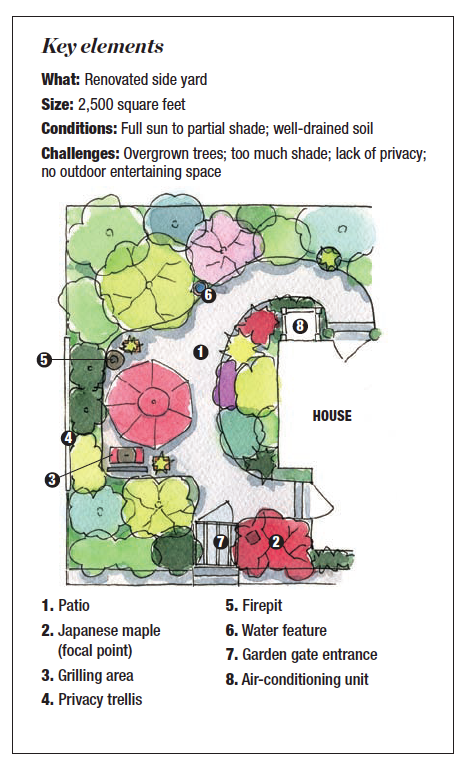 First and foremost, this garden plan needed a patio and entertaining area that would provide as much space as possible, since the house is so small. Typically such a small footprint would lend itself to a bistro table with a couple of chairs, but that wouldn't be useful for Kim and her family. They considered a larger hardscape area with seating for eight or more but were worried that it wouldn't leave room for any garden. Eventually, they settled in the middle with a patio built for six, which makes the space feel large, yet they left enough room for plenty of green. The cushions and umbrella are bright red, making the seating area a point that draws the eye. The front door and large Japanese maple nearby are similarly hued and are also standout features of the space.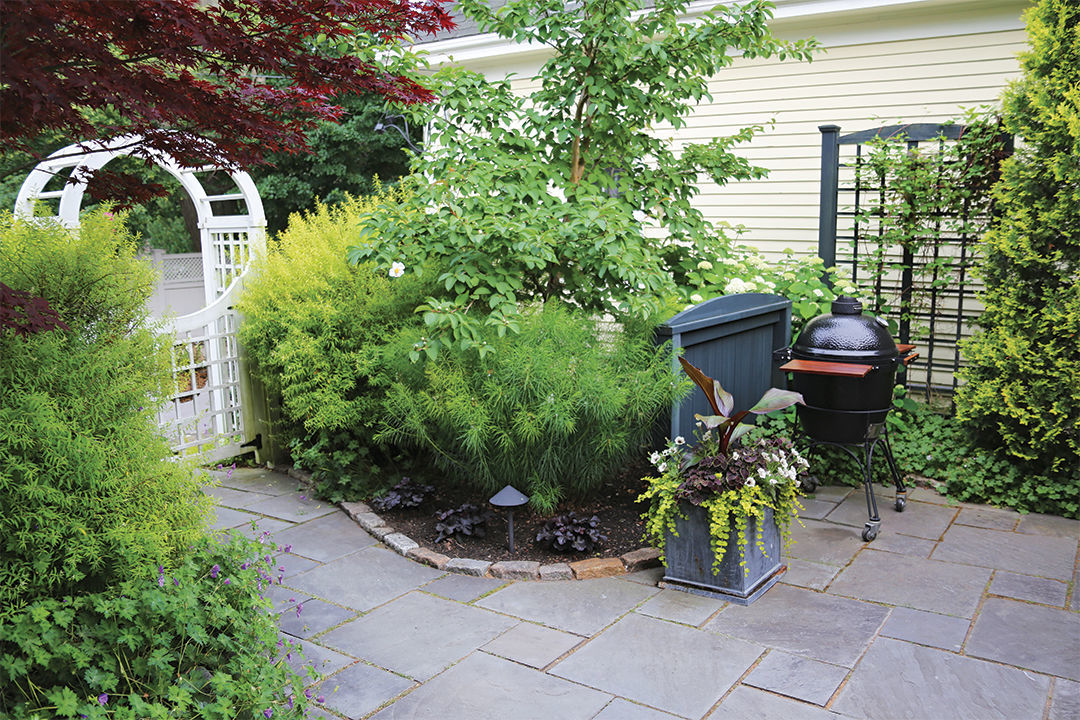 Layering helps make the most of the smaller planting beds. Trellised vines, skinny evergreens, and a few small trees utilize the upper levels, while robust hydrangeas and beefy perennials fill in the foreground. There is also an array of billowy ground covers that take up little root space but flow freely around all the other plants and add depth to the beds. This lower level is where Rozanne geranium (Geranium 'Gerwat', Zones 5–9) and 'Walker's Low' catmint (Nepeta x faassenii 'Walker's Low', Zones 4–8) truly shine. Containers provide a home for even more plants and are deliberately scattered in places where soil doesn't exist. The presence of a fountain, a grill, and a fireplace leaves visitors feeling that the space must be larger to fit in so many things.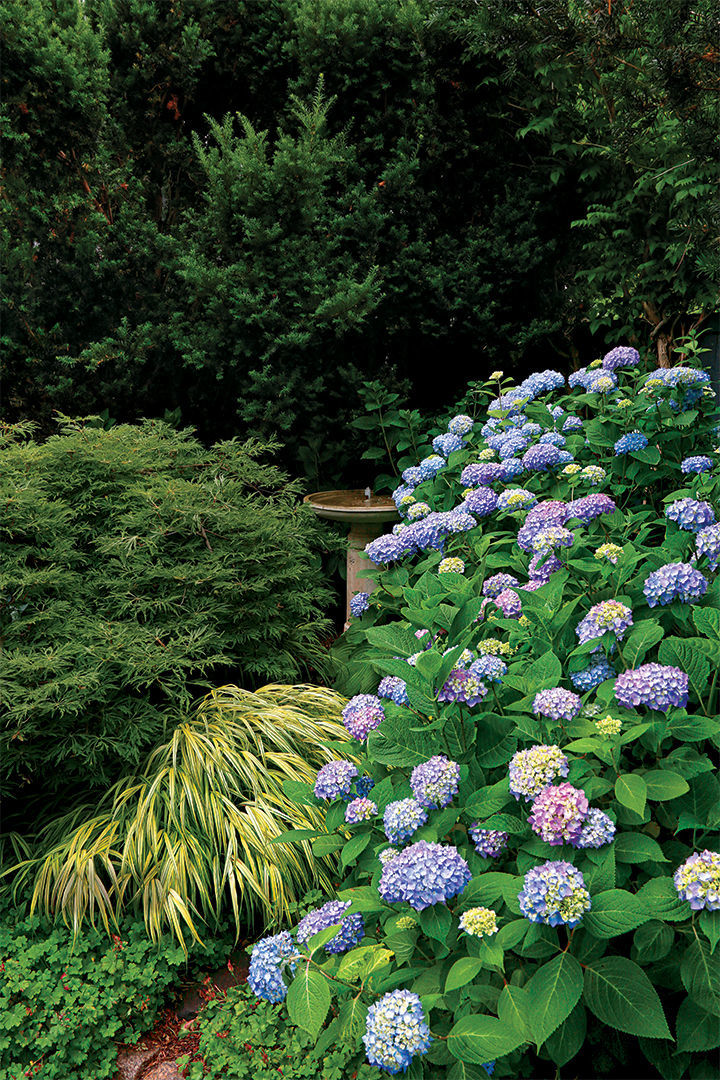 Create privacy by limiting views, and hide unsightly objects.
Privacy took years, since Kim and her family had to wait for several of the larger shrubs, such as spirea (Spiraea spp. and cvs., Zones 4–9) and boxwood (Buxus spp. and cvs., Zones 2–8), to mature and for Japanese maple and stewartia trees to grow fuller. Placing these large plants around the perimeter of the courtyard created an enclosure that screens the space from the neighbors and the street. Where there wasn't room for large plants, custom trellises and columnar arborvitae (Thuja occidentalis 'Yellow Ribbon', Zones 4–8) make a screening wall of vegetation. The air-conditioning unit has a lattice enclosure similar to the trellises. Another thoughtful touch was staining the rear fence and shed (necessary utility items) a dark teal to help them blend into the background.
---
Annie's favorite plants for small spaces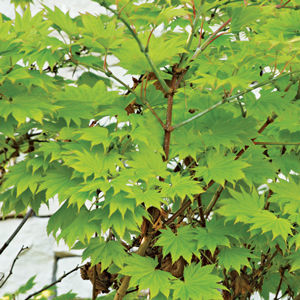 1. 'Jordan' full-moon maple   
(Acer shirasawanum 'Jordan')
Zones: 5-9
Size: 15 to 30 feet tall and wide
Conditions: Partial shade; moist, well-drained soil
Native Range: Korea, Japan
2. Oakleaf hydrangea 
(Hydrangea quercifolia)
Zones: 5-8
Size: 4 to 6 feet tall and wide
Conditions: Partial to full shade; moist, well-drained soil
Native Range: Southeastern United States
3. Hellebore
(Helleborus spp. and cvs.)
Zones: 4–9
Size: 12 to 18 inches tall and wide
Conditions: Partial to full shade; well-drained soil
Native Range: Southern and Central Europe
---
Kim's favorite plants for small spaces
1. Arkansas bluestar
(Amsonia hubrichtii)
Zones: 5–8
Size: 2 to 3 feet tall and wide
Conditions: Full sun; well-drained soil
Native Range: Eastern North America
2. 'Blue Heaven' bigleaf hydrangea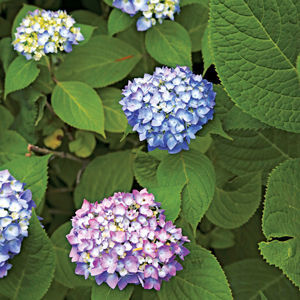 (Hydrangea macrophylla 'Blue Heaven')
Zones: 5–9
Size: 2 to 3 feet tall and wide
Conditions: Partial shade; moist, well-drained soil
Native Range: Asia
3. Japanese stewartia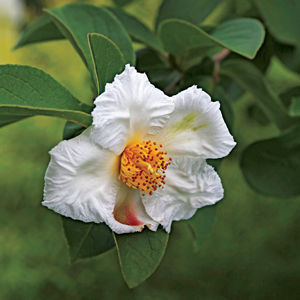 (Stewartia pseudocamellia)
Zones: 5–8
Size: 12 to 20 feet tall and 8 to 12 feet wide
Conditions: Full sun; moist, well-drained soil
Native Range: Japan
---
Danielle Sherry is the Senior Editor of Fine Gardening.
Photos, except where noted: Danielle Sherry. Photos noted: Steve Aitken, Kerry Ann Moore. Illustrations: Elara Tanguy.