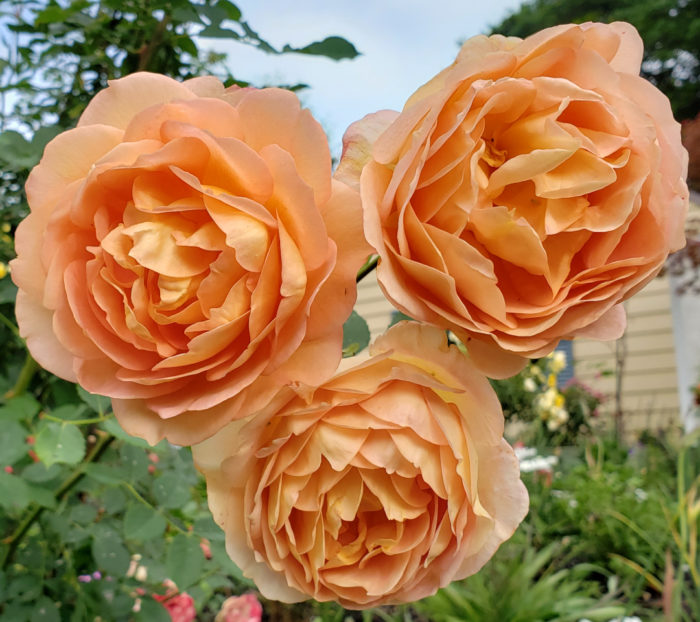 Today's photos come from Doug and Elaine Downing of Kennett Square, Pennsylvania.
Our garden has some wonderful roses. But like many rose growers, we have seen a lot of trial and error. We are in southeastern Pennsylvania (Zone 7a), a climate with hot and humid summers. We've selected roses that are hardy (disease-resistant), prolific, and beautiful, that don't mind the heat and humidity, and that bloom throughout the summer and into the fall. We also use only organic fertilizer, some chelated iron, compost, mulch, and water—nothing more. Many roses do not thrive on that simple regimen, and we have grown (and discarded) many of them. Some produced beautiful but disappointingly few blossoms (all of the tea roses were excluded on that score). Others produced superb blossoms but soon succumbed to black spot. Most simply failed to thrive in our hot and humid climate. We've found that well more than half of the roses we've tried to grow over the last twenty years are no longer in our gardens. But those that have lasted have flourished.
For other gardeners with a similar climate, and for those who favor a more organic approach to their gardens, below are some photos of nine roses that have brightened our gardens for many years.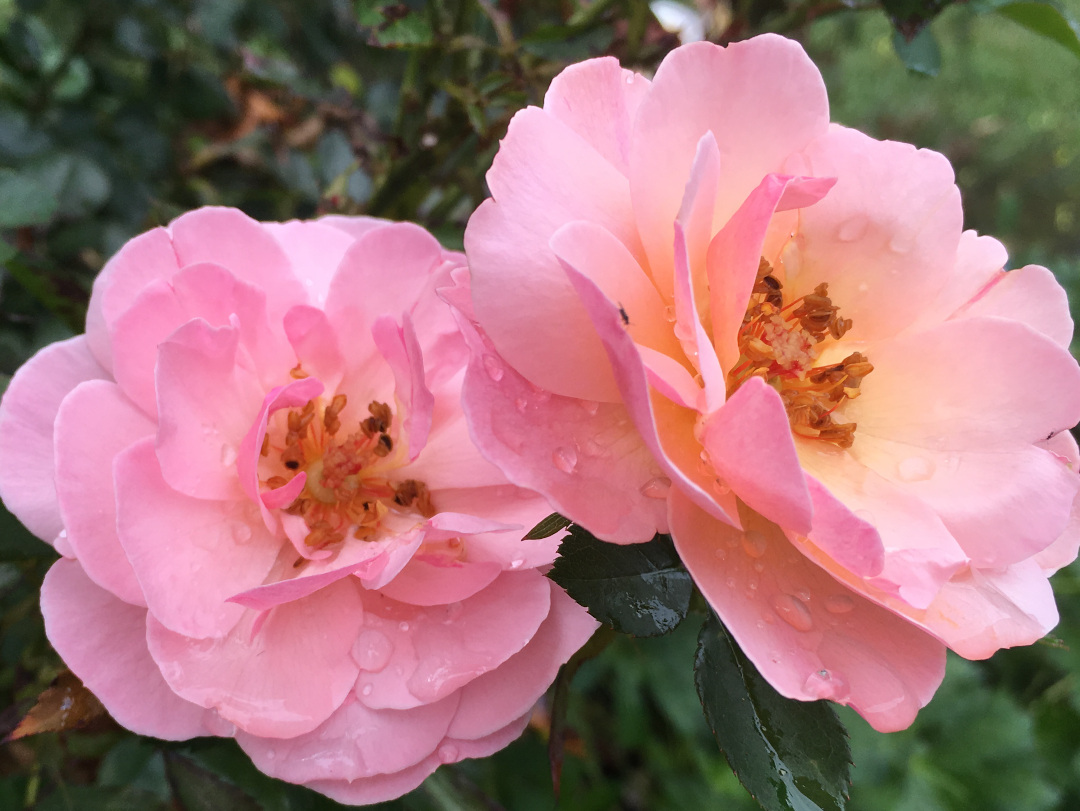 Calypso is a medium-height rose that is covered with simple, apricot/rose blossoms. The foliage is deep green and contrasts wonderfully with the profusion of blossoms. Calypso is a shrub rose.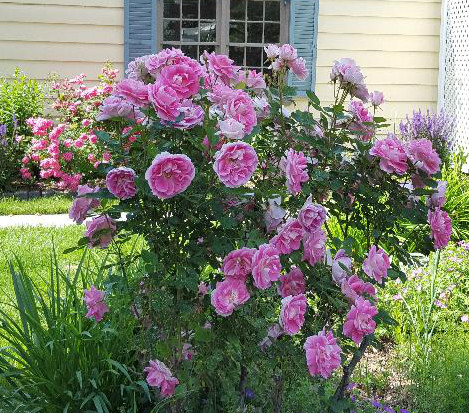 Carefree Wonder is a cupped rose with pink blossoms that fade to light pink or white on the back. A tall rose, it grows to about 5 feet in height and 4 feet in width, and it's extremely prolific with blossoms. This also is a shrub rose. All of these roses are watered only in the morning, to reduce the potential of black spot.
Cherry Parfait is a small rose (smaller than the catalogs suggest) that you can't miss. Ours grow about 2 feet tall and wider than they are high. The blossoms are a distinctive red and white, and are stunning when highlighted against the deep blue of the salvia surrounding them. Cherry Parfait is a grandiflora rose.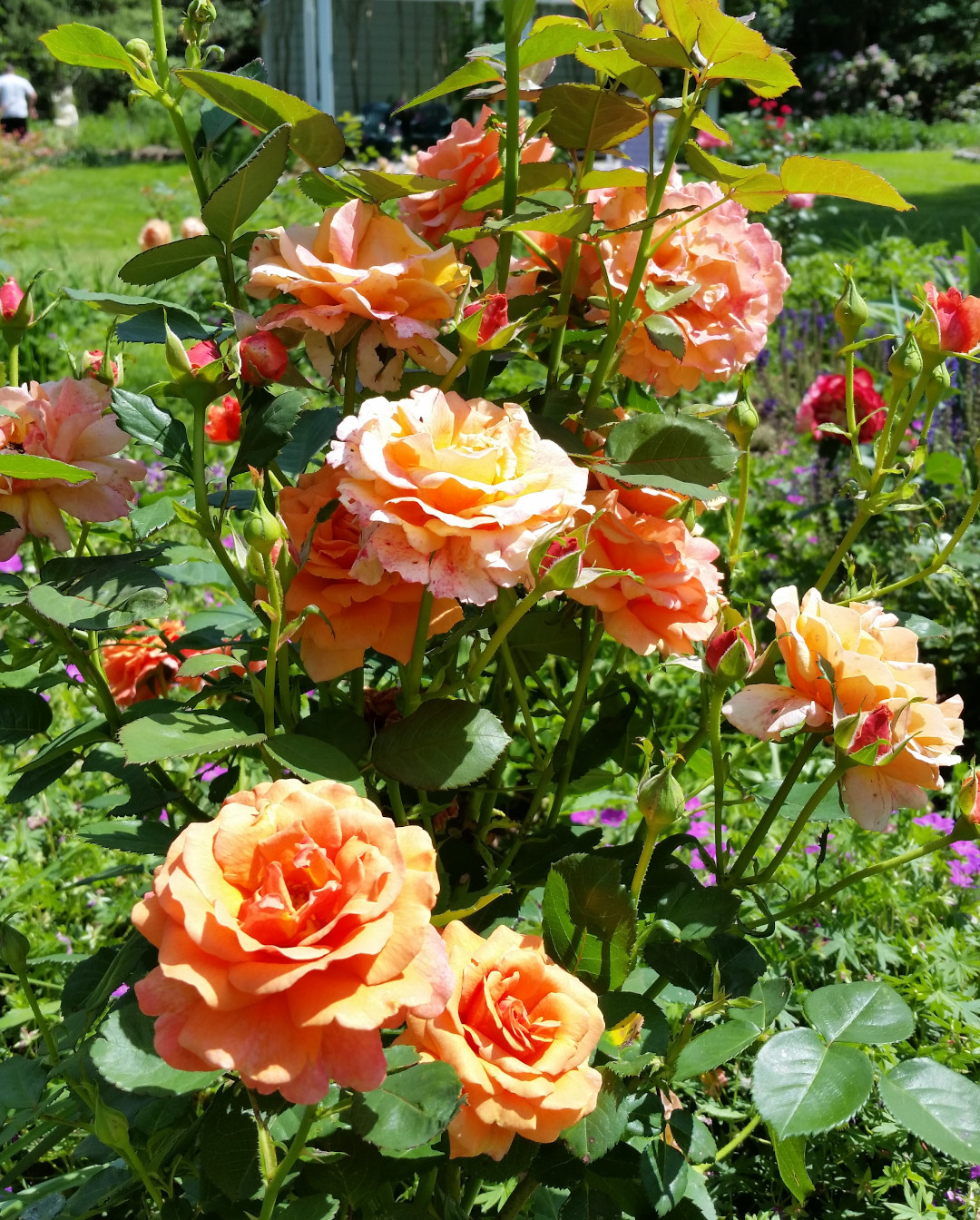 Easy Does It is a delight in the garden. The blossoms range across orange, mango, peach, pink, and apricot. This rose is the favorite of Japanese beetles, but we've found that if you can keep them from laying eggs in your lawn, they will migrate someplace else. Cut the top off a gallon jug, and fill it with a few inches of soapy water. In the early morning (don't even bother if it's after about 9:00) position the jug under the beetles so that when they roll off the flower, they fall into the water. Two years ago I was catching about 25 a day, and last year I had fewer than fifteen all summer. Easy Does It is a floribunda rose and is deliciously fragrant.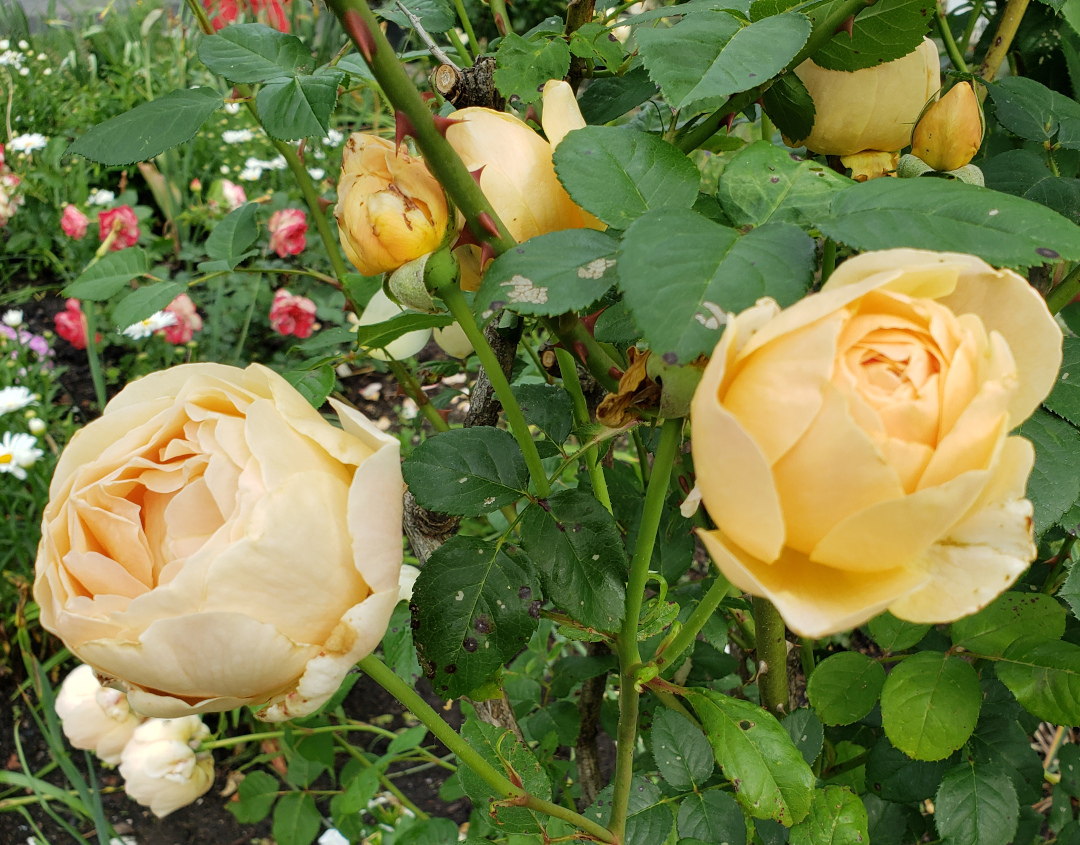 Jude the Obscure is the most fragrant rose in the garden. It is superb as a cut rose, although it is also the first to lose its petals. This rose has a graceful dreamy yellow cup shape, edging toward a deeper yellow when the blossoms first open. This is a very tall English shrub rose by David Austin.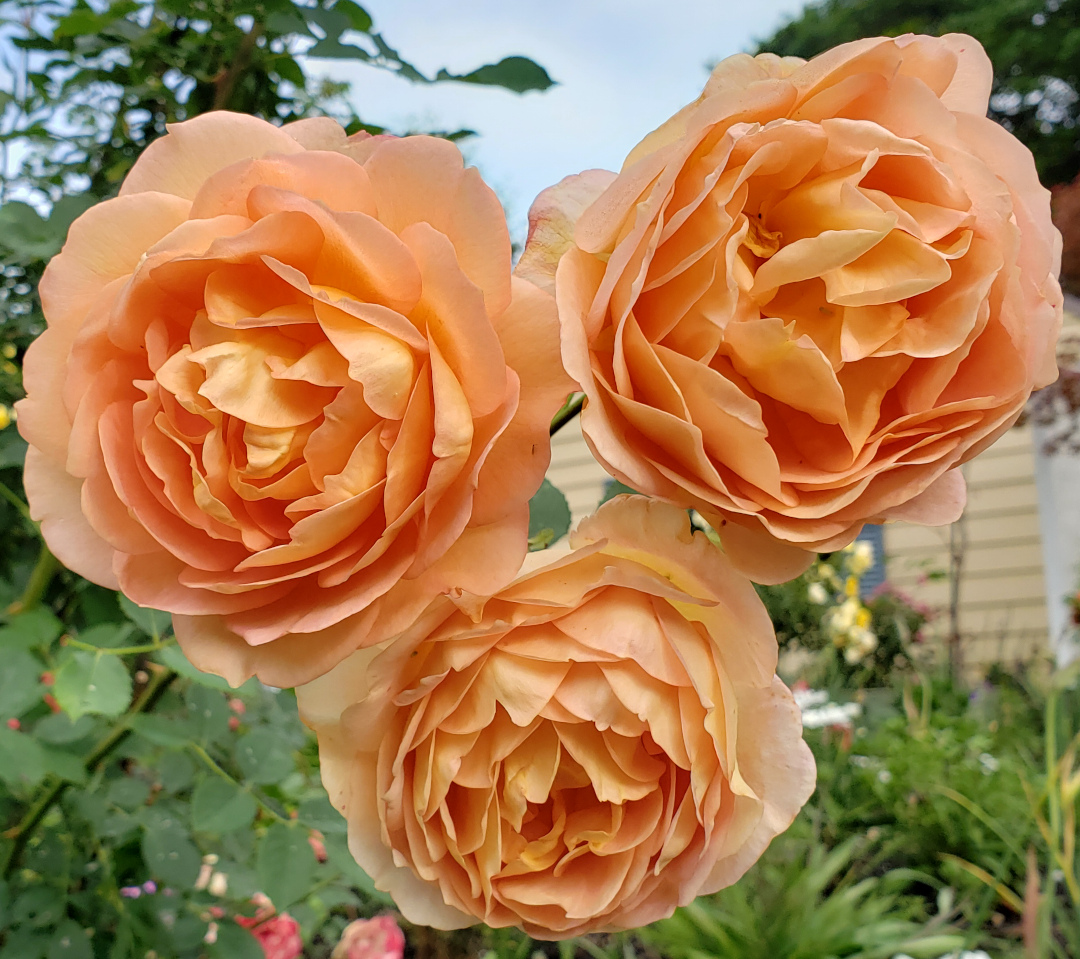 Lady of Shallot is one of the most prolific bloomers, and also one of the most fragrant. Its cupped blossoms are an eye-catching peach and can completely cover the plant. All of the roses in our garden bloom all summer, blossoming from spring until the first hard frost in October or November. Lady of Shallot is a tall English shrub rose by David Austin.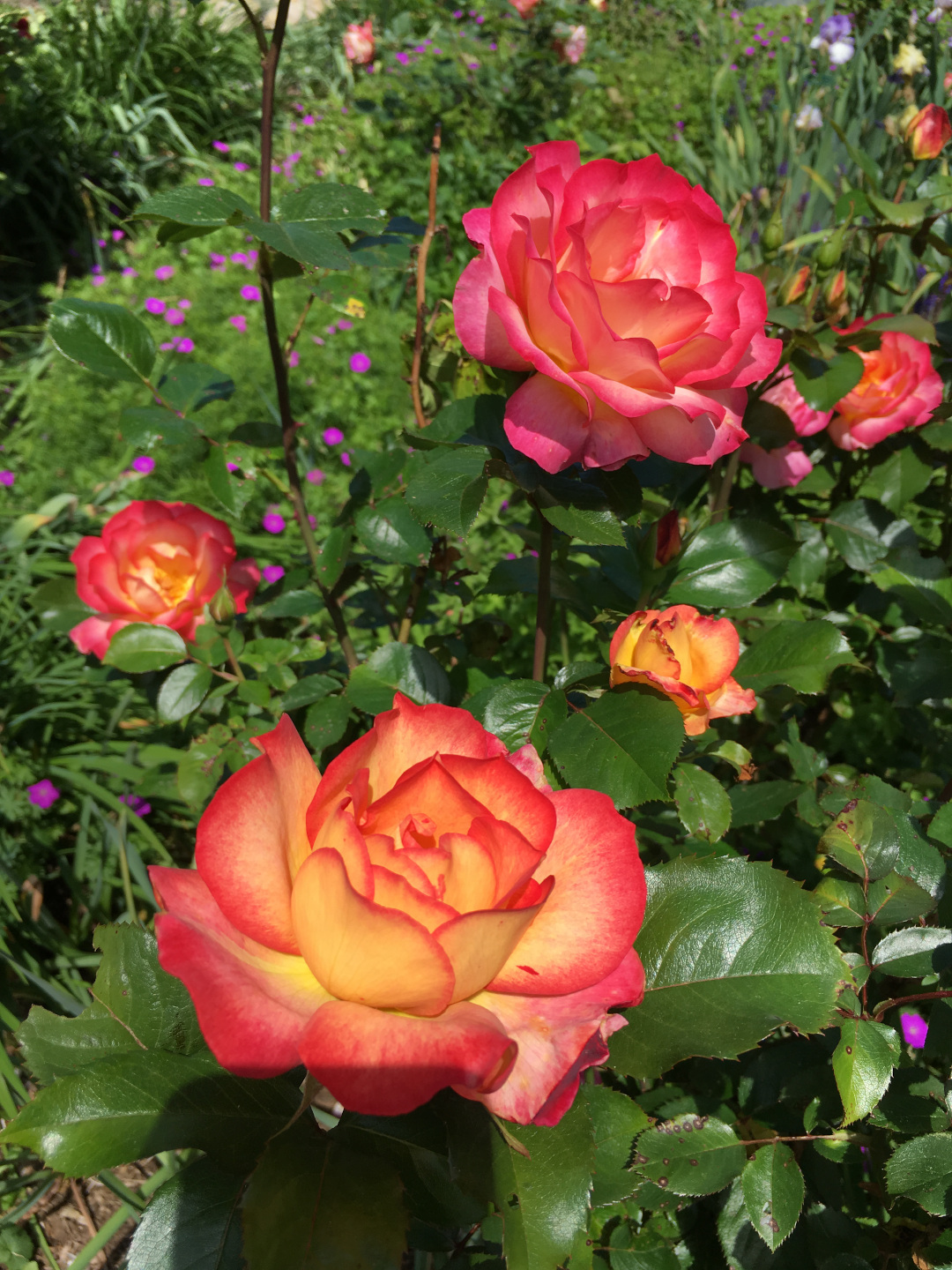 Rainbow Sorbet has one of the most beautiful blossoms, in shades of red and yellow that intensify in the cooler temperatures at the end of summer. Extremely prolific, it is the first to blossom in the spring. This is a tall floribunda rose.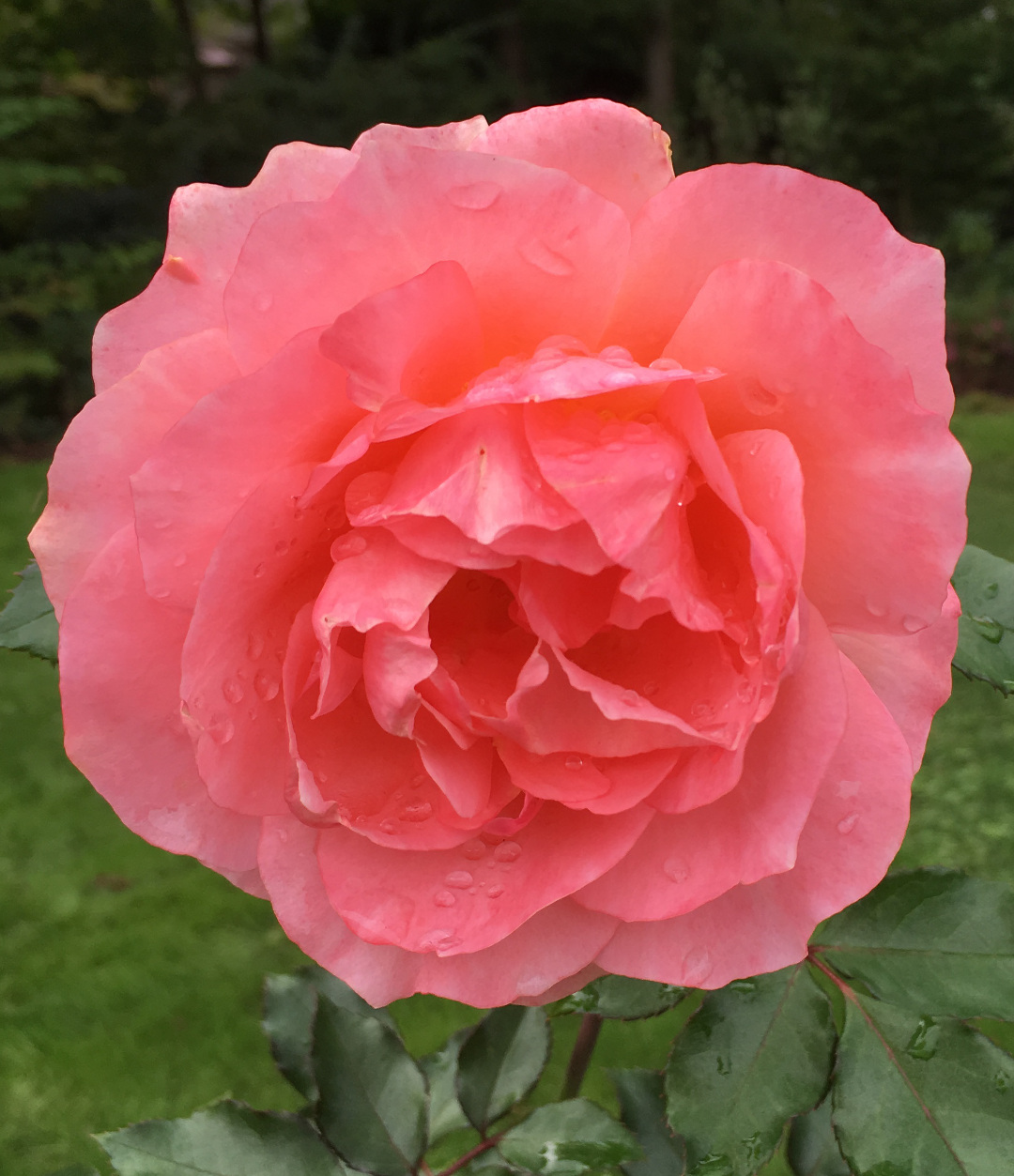 Sweet Fragrance is medium-sized rose with a profusion of delicate pink blossom that can completely cover the plant. Despite its name, it's fragrance is mild, although certainly sweet. Sweet Fragrance is a grandiflora rose. All of the roses in our gardens are mulched over the winter, with cones built up to about 12 inches around the stems, and then they get a layer of compost in the spring.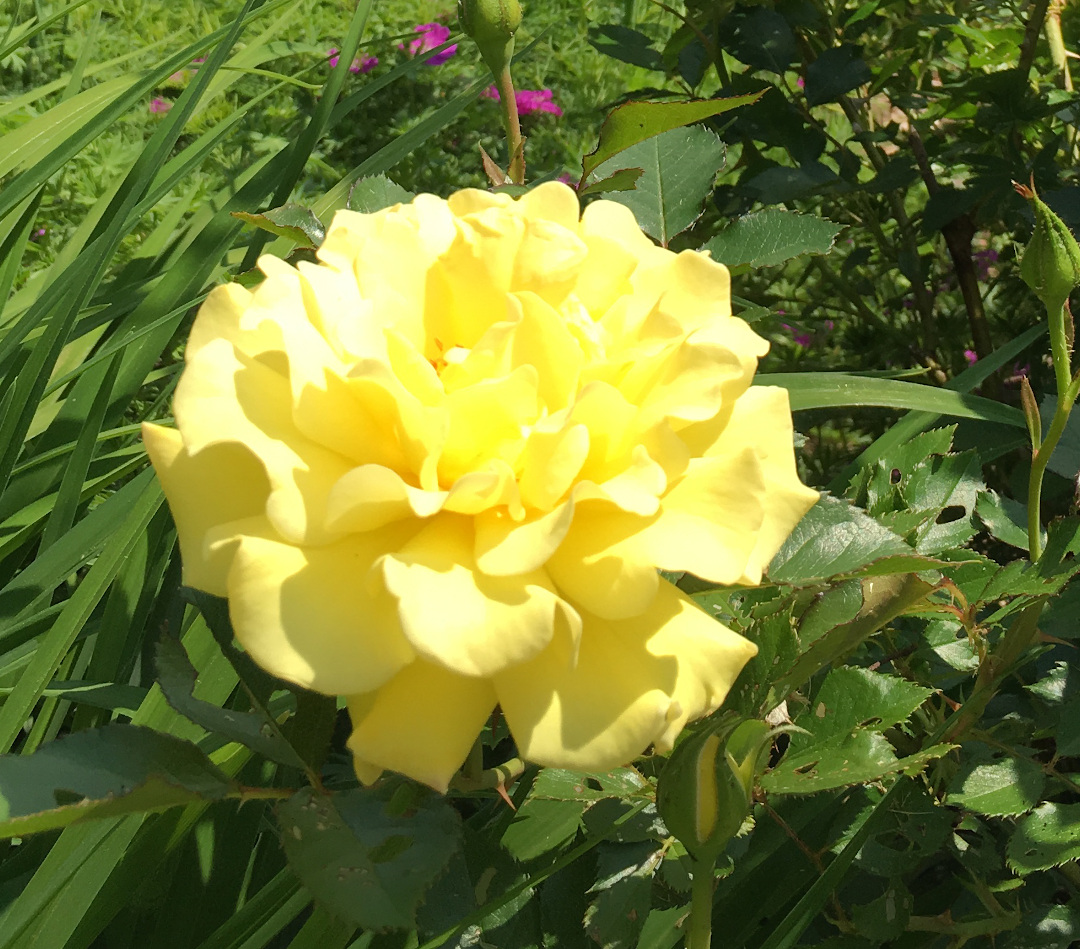 Yellow Submarine is one of the most prolific of all our roses. It's also one of the most beautiful, with blossoms starting out deep yellow and then fading to nearly white as they mature. The plant will be covered by blossoms at all different shades during summer, and it is fascinating to watch it change. This rose is highly fragrant and makes wonderful cut flowers. This is a tall shrub rose.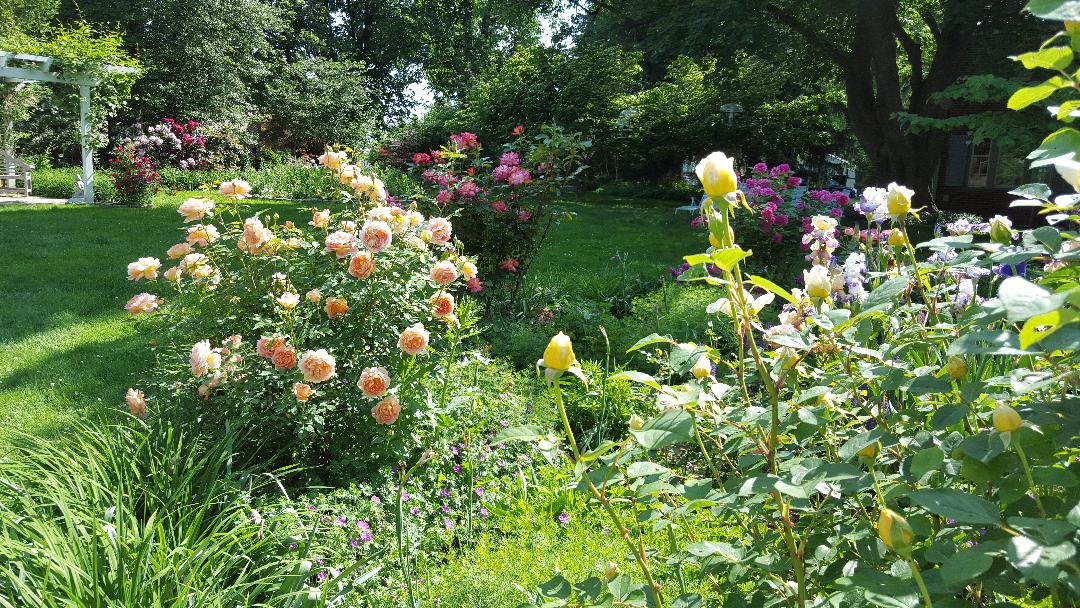 The last photo shows part of the rose garden in the spring, with Lady of Shallot (left) and Rainbow Sorbet (behind) in full bloom, and the buds of Yellow Submarine in the foreground. A list of roses that flourish in our area should also include the Knockout roses—we have both pink and red (one can be seen by the pergola in the far background)—but these seem to grow well nearly everywhere. Daybreaker, a peach-colored medium-tall floribunda, is the last rose we have added to our gardens, and we expect that in a year or two it will be added to our list of flourishing roses.
Have a garden you'd like to share?
Have photos to share? We'd love to see your garden, a particular collection of plants you love, or a wonderful garden you had the chance to visit!
To submit, send 5-10 photos to [email protected] along with some information about the plants in the pictures and where you took the photos. We'd love to hear where you are located, how long you've been gardening, successes you are proud of, failures you learned from, hopes for the future, favorite plants, or funny stories from your garden.
If you want to send photos in separate emails to the GPOD email box that is just fine.
Have a mobile phone? Tag your photos on Facebook, Instagram or Twitter with #FineGardening!
You don't have to be a professional garden photographer – check out our garden photography tips!
Do you receive the GPOD by email yet? Sign up here.