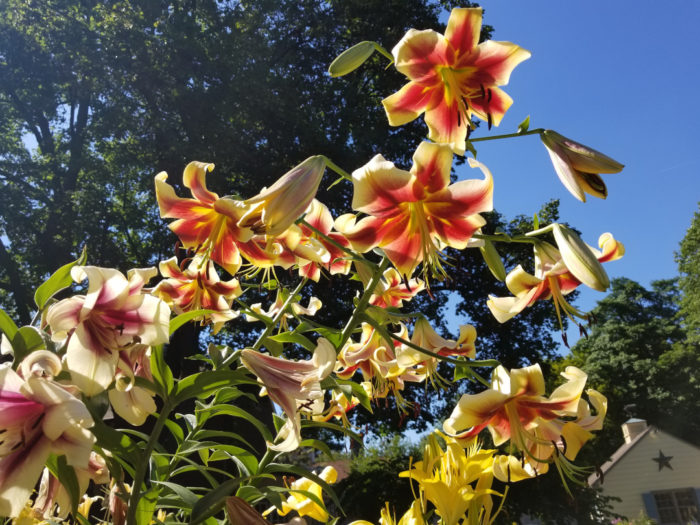 Today's photos come from Doug and Elaine Downing of Kennett Square, Pennsylvania.
During July, the lilies (Lilium spp.) are the stars of our garden. Tall and commanding, they fill the yard with brilliant color. Some have single blooms, and some overflow with blossoms. Some of the blossoms are exquisitely delicate. All of them have a blissfully sweet fragrance, which fills the yard in the early evening.
But it wasn't always so. Here in southeastern Pennsylvania (Zone 7a), we have summers that are both humid and hot, and the only space that was good for the lily garden was one with afternoon sun (which was enhanced when our neighbors took down some trees). Here we've planted about 100 species of lilies in the last twenty years, always looking to see what would fade and what would flourish. Asiatics flourished in the more shaded border garden, but in the lily garden the trumpets faded away from too much afternoon sun and the Orientals faded away from too much heat and humidity. But the Orienpets (OTs)—hybrids crossbred from Orientals and trumpets—came back year after year with more blossoms, more height, and more new little lilies growing around the originals. For a hot and humid climate like ours, the OT hybrids are the best. For others who have similar growing conditions, and for anyone who loves growing plants that ask little and give much, these photos show several of the hardiest, most beautiful, and most prolific lilies that have become the stars of our summer garden.
All of the lilies we show here are 3 to 5 feet in height, although some of them—particularly Caravan and Silk Road—seem to inch higher each year and are now well over 6 feet tall. All of them are hardy and wonderfully fragrant. While the catalogs say they all bloom in late July to early August, we're finding that the blooming season begins in late June and extends to the end of July. You can see some other photos of our gardens in an earlier GPOD post.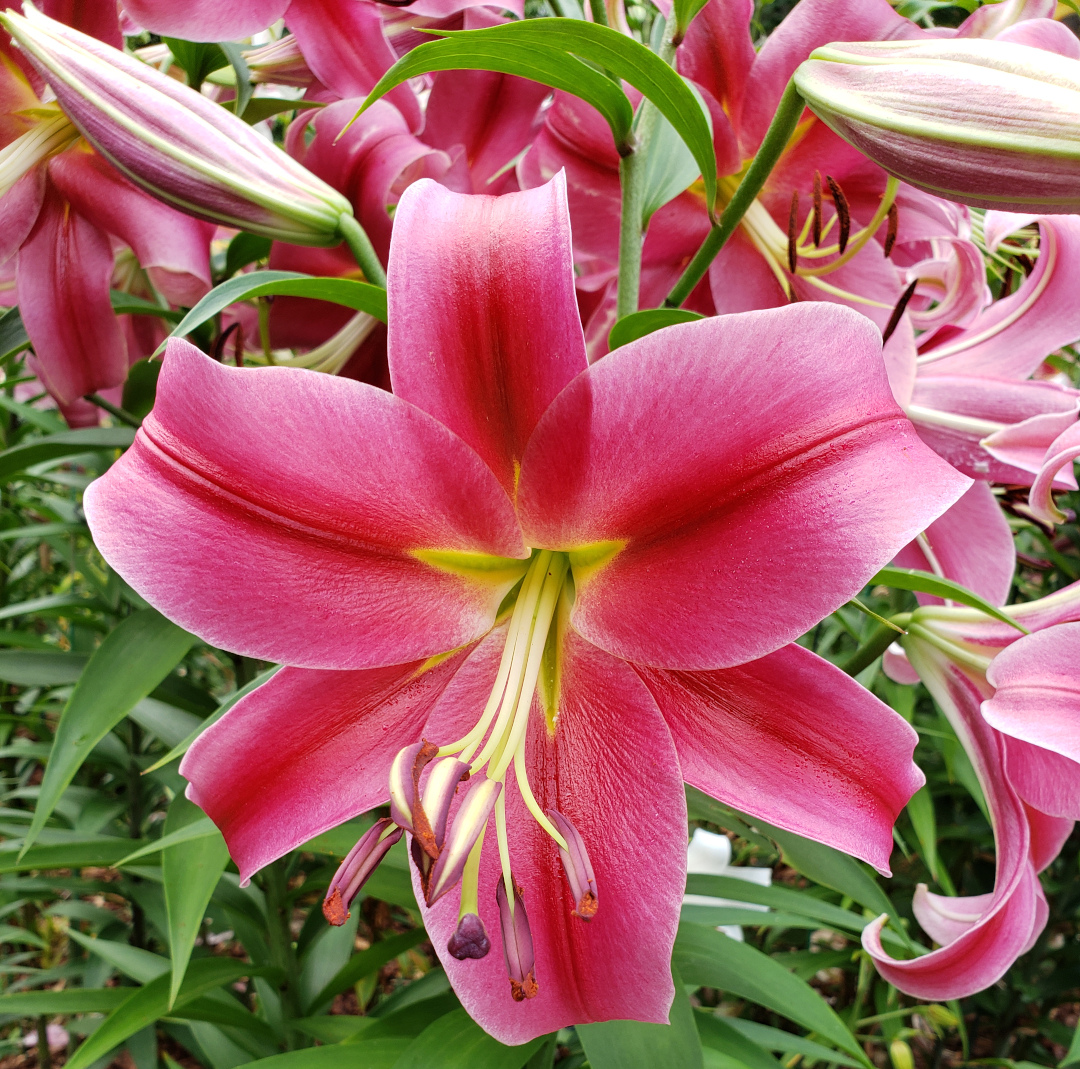 Amarossi is a brilliant red that catches the eye from all the way across the yard. It is hardy and extremely prolific. We've given away a couple boxes of them to the neighbors (along with the also exceedingly prolific Yelloween).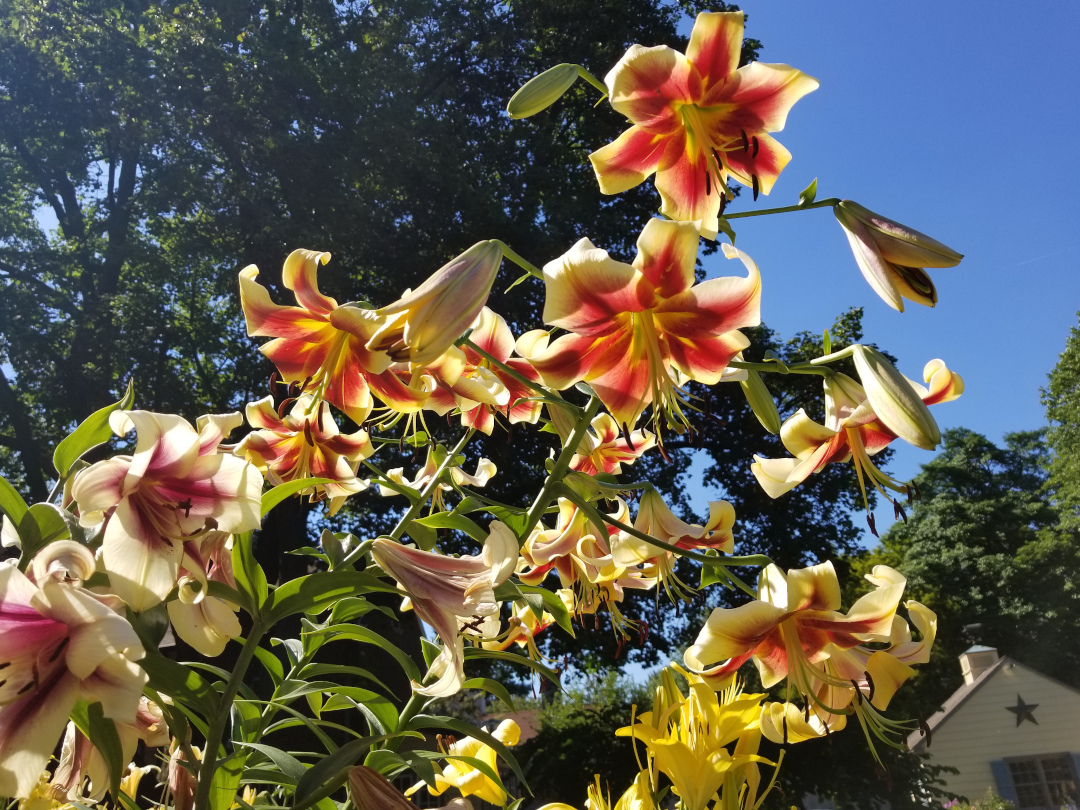 Caravan is the tallest of the lilies, with most of the plants reaching 6 feet or more. All of our lilies are staked, since we found that without the extra support, the tallest of these lilies will blow over in a strong wind.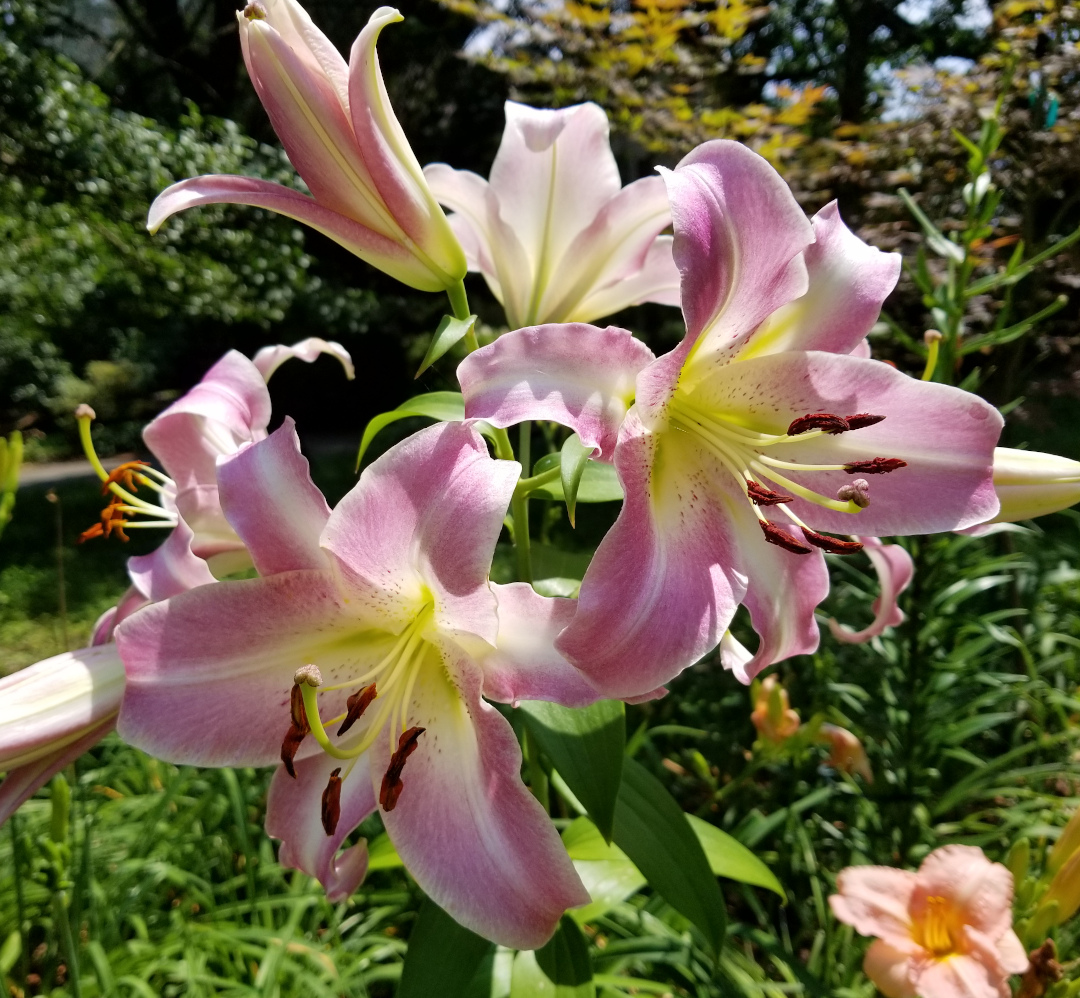 Corsini is one of the most beautiful of all the lilies, with bright pink-coral petals and a soft yellow-green center. Corsini is particularly hardy and happily prolific. All of the lilies have benefited by our amending the soil—we actually dug out the original and replaced it with higher quality soil—and the gardens are covered with a new layer of compost each year.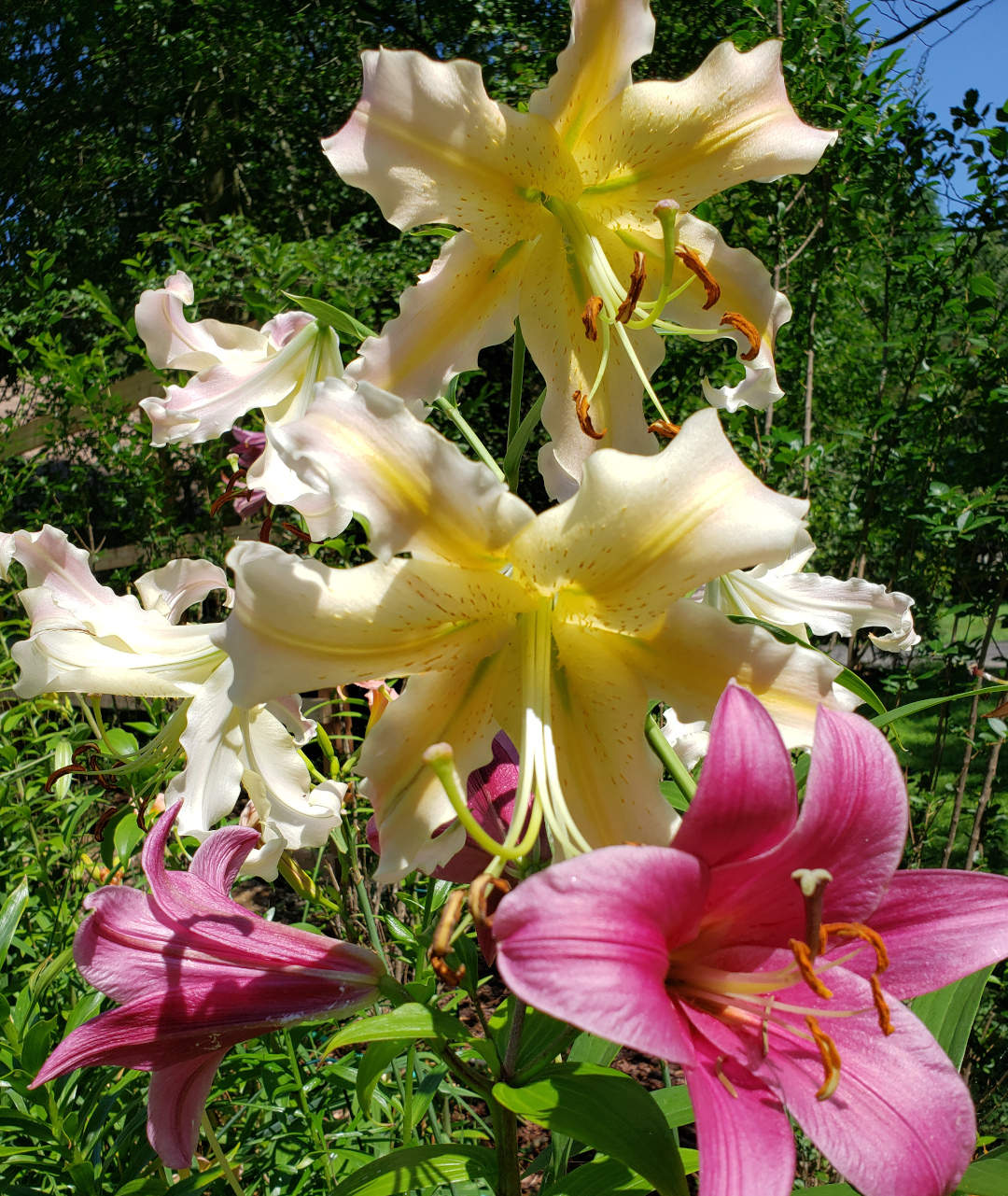 Elusive, with its delicate white-yellow petals, is a strikingly beautiful lily, and one of the most fragrant. Particularly in the cool of the evening, the fragrance will fill the whole yard, although it's a sweet, spicy fragrance that's not overwhelming.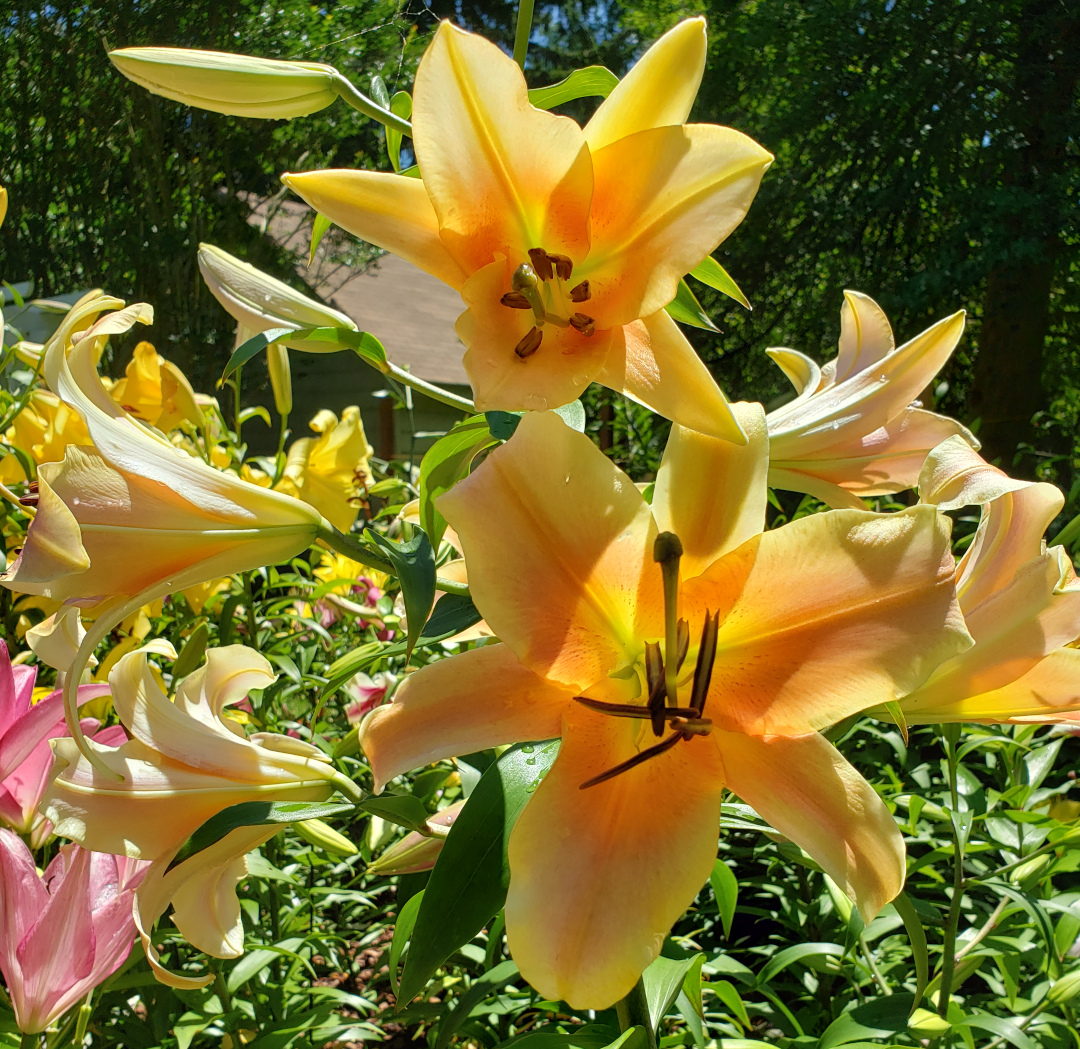 On Stage has been in our gardens for at least twenty years. While this is often described as a dusty red rose, ours have more yellow, with the red showing more to the center. We have observed that the color palette varies between different growers and is also affected by local sunlight, soil conditions, and the temperature.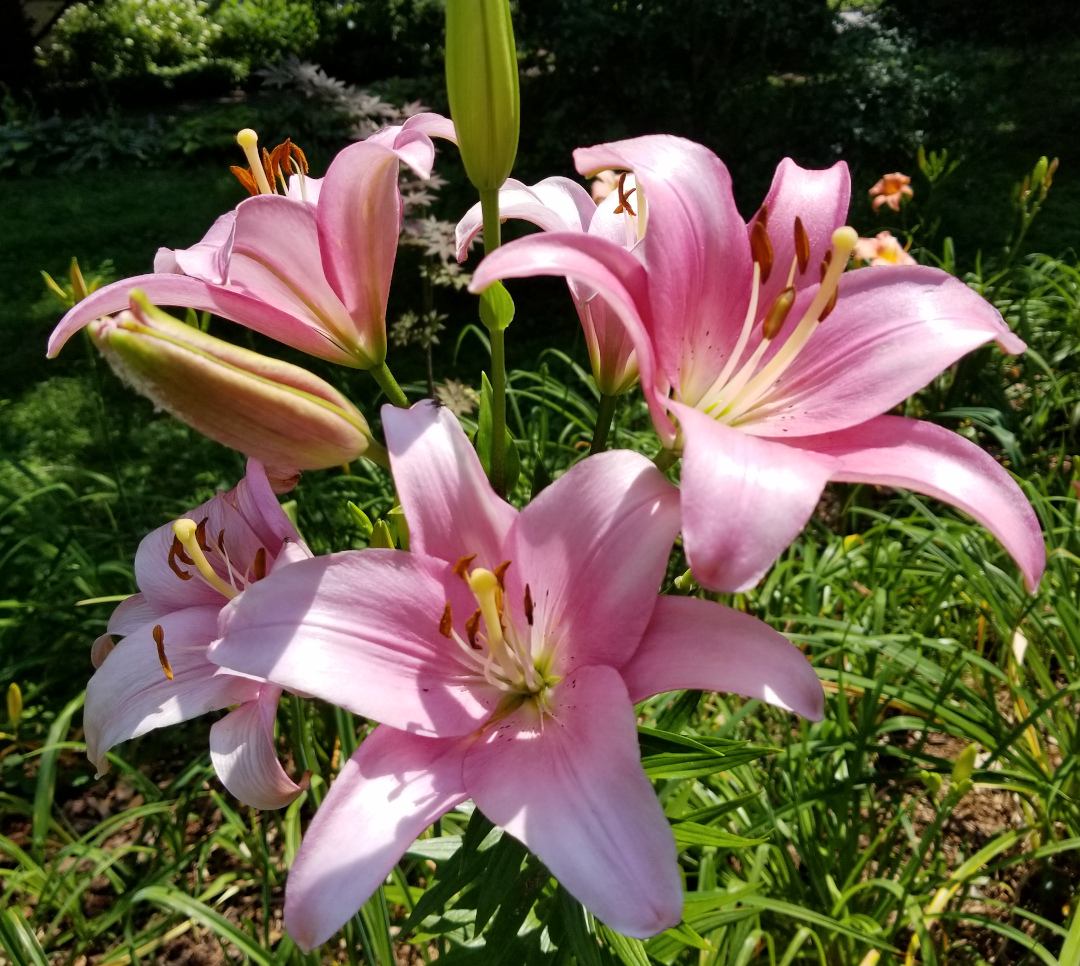 Purple Lady was a late addition to our garden, but its light lavender petals are so beautiful that we've added many more. These are mixed into the border row with the Asiatics, and in July the entire row is lavender.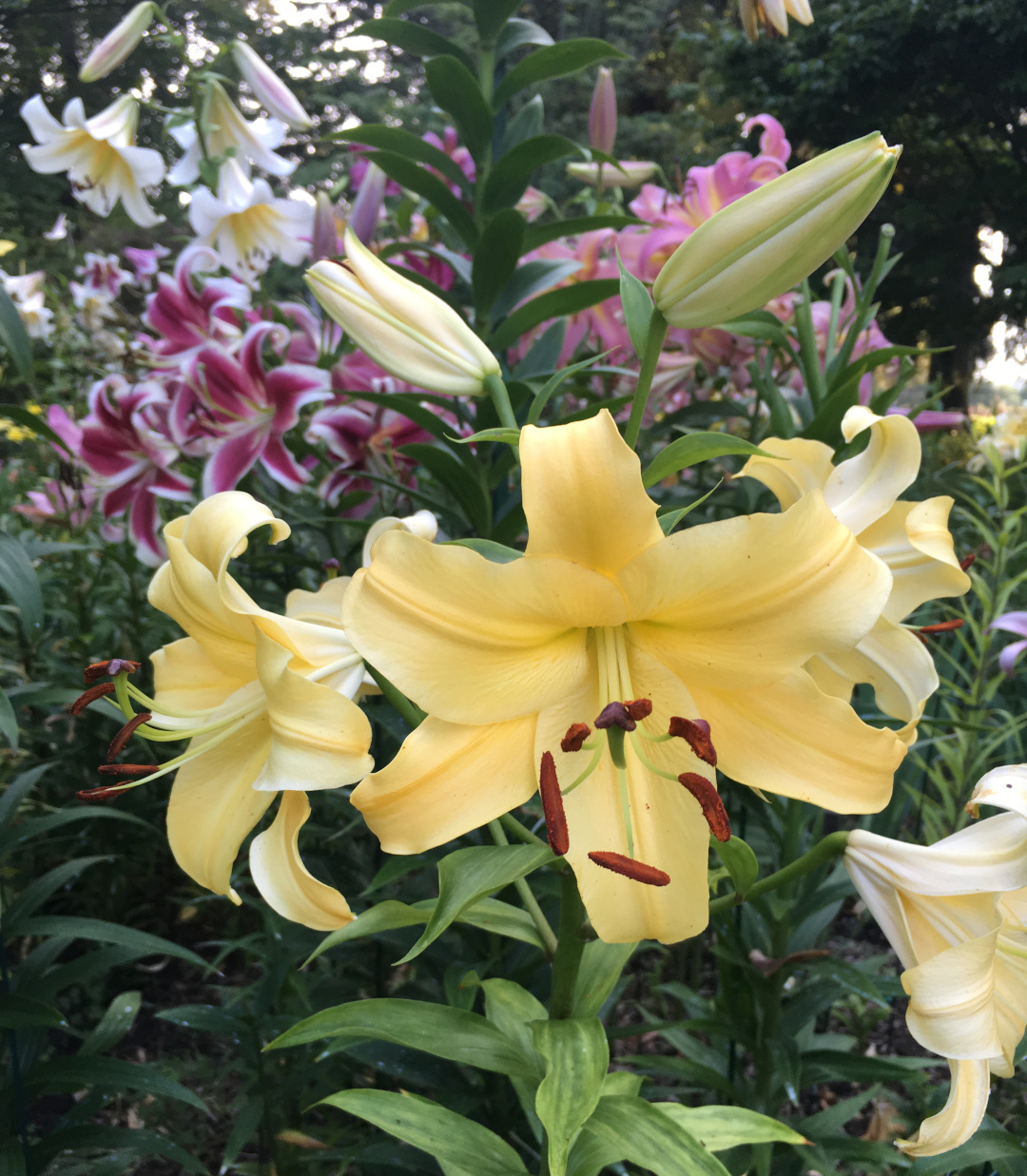 Corcovado is soft butter yellow and stands out against the others. Here it contrasts well with the red and white colors behind it. While this bloom has more white in the photos we see elsewhere, these bulbs—obtained from a "Lilytopia" show at Longwood Gardens—have always been more yellow as the blossoms open.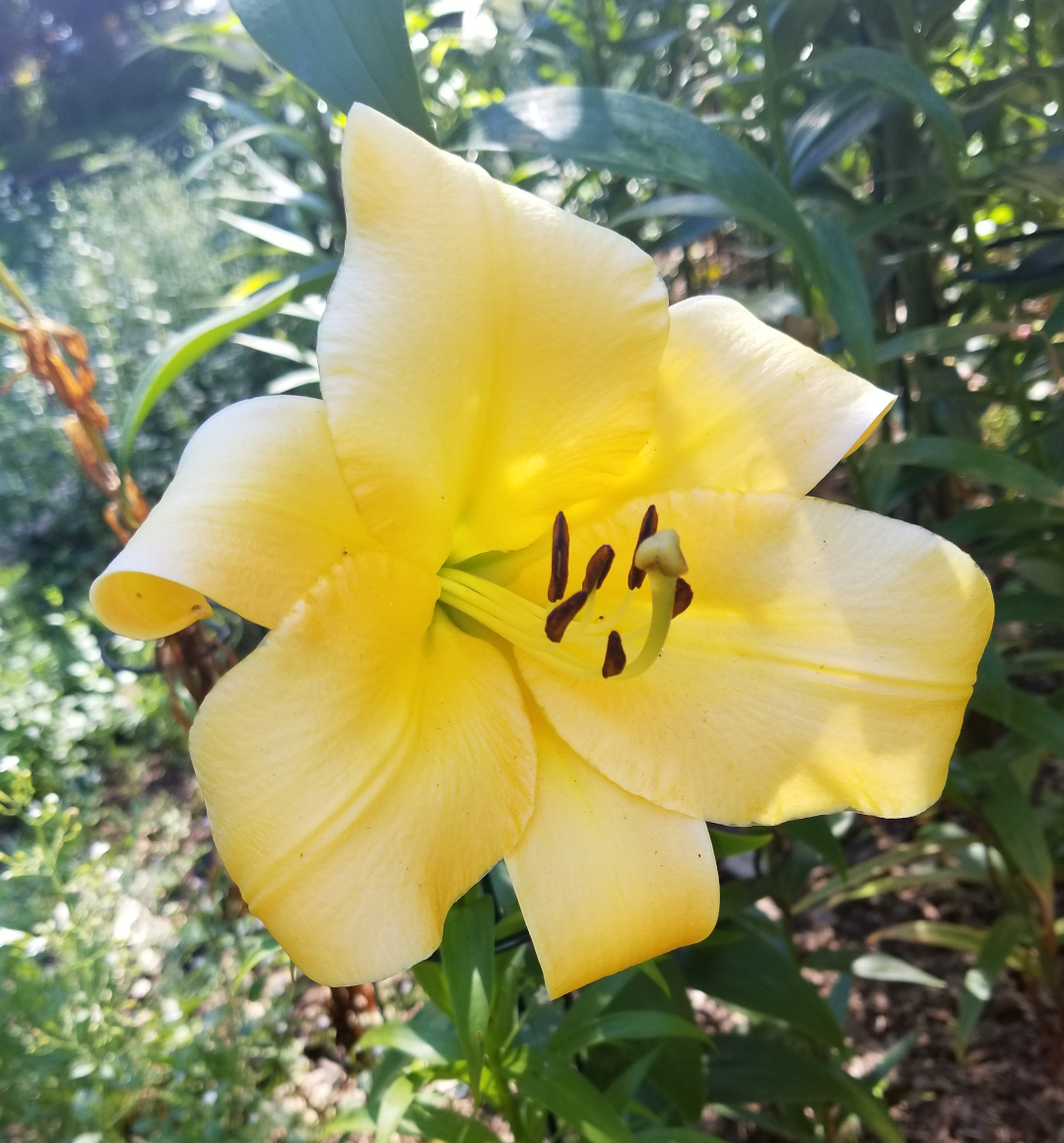 Morini is another brilliant yellow lily that is always an eye-catcher. Our lilies have also benefited from a low chicken-wire fence that keeps out the voracious bunnies. Even though it's only 18 inches high, they can't seem to figure how to get over it or under it. The last year before we put in the fence, we lost about 75% of our lilies to the bunnies.
Sensi is a red lily that ranges from a dusty rose to a bright scarlet, with slight speckles toward the center. It is particularly hardy and prolific. The lilies get only organic fertilizer, compost, mulch, and water (and some insecticidal soap for the aphids), but they don't seem to need more.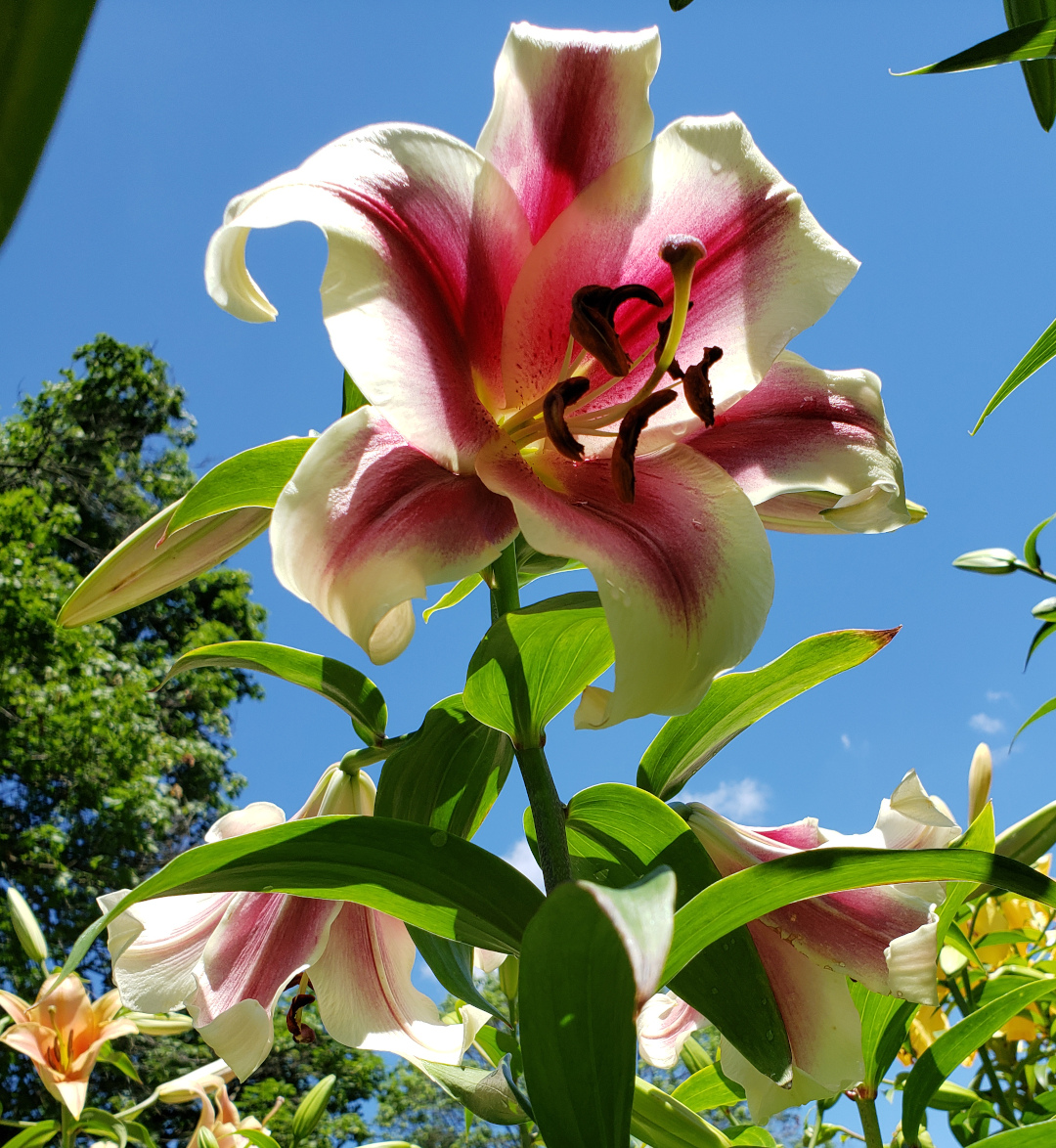 Silk Road is one of the most popular of the Orienpet lilies, and it has adapted extremely well to our garden. It's also one of the tallest, and like Caravan, these two seem to grow slightly taller each year.
Have a garden you'd like to share?
Have photos to share? We'd love to see your garden, a particular collection of plants you love, or a wonderful garden you had the chance to visit!
To submit, send 5-10 photos to [email protected] along with some information about the plants in the pictures and where you took the photos. We'd love to hear where you are located, how long you've been gardening, successes you are proud of, failures you learned from, hopes for the future, favorite plants, or funny stories from your garden.
If you want to send photos in separate emails to the GPOD email box that is just fine.
Have a mobile phone? Tag your photos on Facebook, Instagram or Twitter with #FineGardening!
You don't have to be a professional garden photographer – check out our garden photography tips!
Do you receive the GPOD by email yet? Sign up here.