Design
8 Types of Garden Containers and Their Pros and Cons
When choosing containers, consider their durability and overall look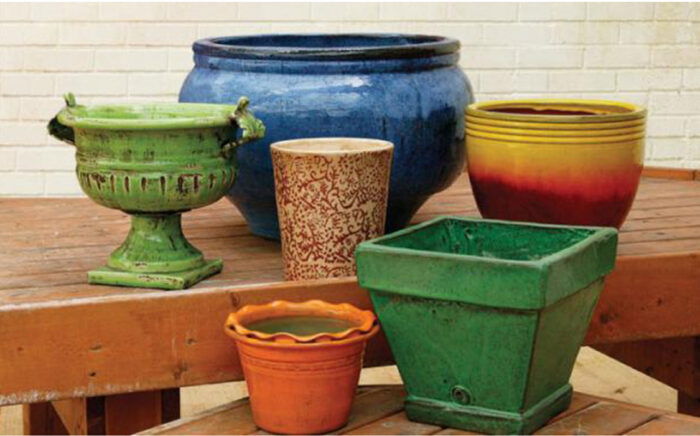 Pots are like plants: They come in all sorts of colors, sizes, and patterns. When it comes to materials, some require more care or attention than others. When you've found what looks like the perfect pot, ask yourself a few questions. Do you know what lurks behind its charming facade? Do you know what will happen to it during a hot spell? A cold snap? We've broken down the popular choices so that you'll know what you and your plants are in for.
Glazed ceramic pots are colorful and durable
Love color? Who doesn't? Glazed ceramic pots come in just about any imaginable hue, making it fun to coordinate colors between pots and the plants they hold. The containers can look classic and traditional or modern enough to decorate the Museum of Modern Art. And because they're coated with glaze, they efficiently retain moisture.
Love a hefty price tag? Who does? Glazed ceramic pots can be expensive, but a patient shopper can put together an impressive collection by sifting through clearance sales, tag sales, and big-box stores. Keep in mind that glazed ceramic containers can crack—not quite as often as unglazed terra-cotta but regularly enough. They also lose their colorful luster after some time in the sun.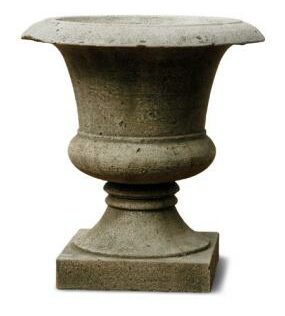 Cast-stone pots last a long time
Cast-stone containers are in it for the long haul. They're strong, like concrete, and just as heavy, so they aren't for the gardener who likes to rearrange container groupings every weekend. The silver lining is that they won't easily tip over or break due to rough weather conditions. Use them as substantial focal points in the garden. Cast-stone pots are less permeable—and thus hold moisture better—than baked-clay options. They still need protection, though, during extremely cold winters.
Plastics are easygoing and kind to the wallet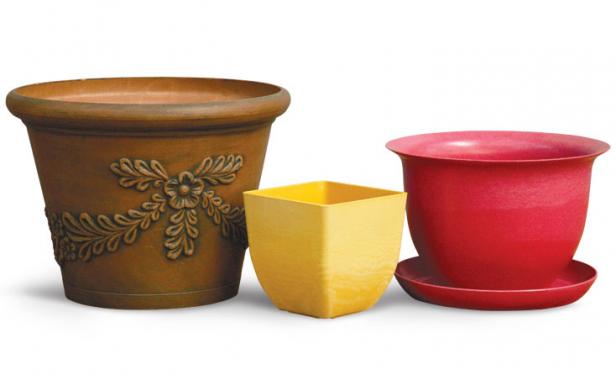 Plastic containers are light and strong, retain moisture, and look dashing for years. They come in just about every style and sit on the lower rungs of the price ladder. Modern manu­facturing can make them look like almost any other available pot material. But alas, plastic pots have one Achilles' heel: They don't cut it with garden snobs. If you tremble at the idea of a visitor unmasking a stonelike plastic's true identity, seek out another material. If you think you'll be able to grin and bear it, plastic containers are a great option.
Metal is a versatile choice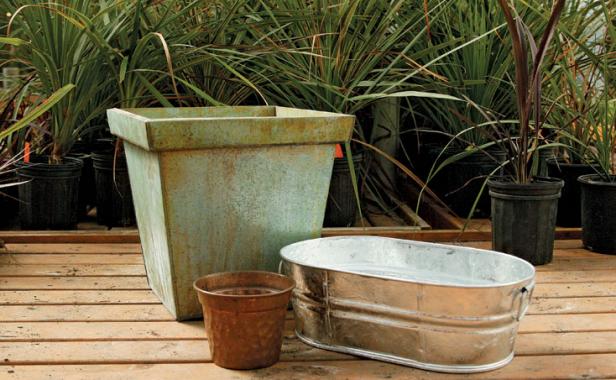 It seems as if metal can be smelted or shaped into any form or style imaginable. Cast-iron and copper models usually stand out as the ornamental belles of the garden ball. In addition to their visual appeal, metal pots handle winter with crack-free grace. They do, however, get hot in summer, especially if placed in direct sunlight. A metal container in full sun could burn your plants or the unaware passerby. It can also rust, so a vessel's thickness will influence its longevity. A thick iron pot can last for decades, but a sheet-metal container might only last a few years before rusting beyond repair.
Terra-cotta is a delicate beauty that requires diligent care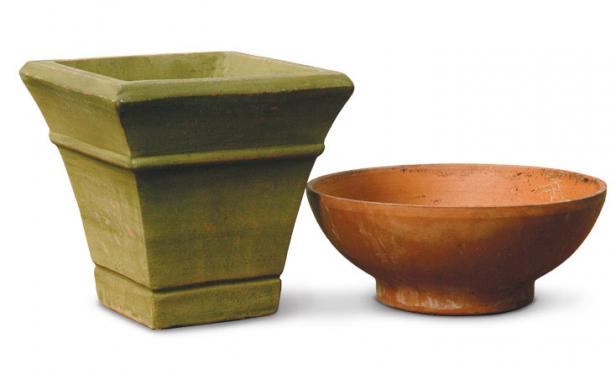 Terra-cotta has enjoyed unwavering popularity from ancient times to the present. Thanks to its clean looks, a terra-cotta container fits almost seamlessly into any design, and if allowed to age, it develops an alluring patina. It is, however, fragile. A cold winter—not to mention a barreling dog or a slippery grip—can make shards out of a terra-cotta pot. Its porous clay walls hold lots of water, so when temperatures drop to below freezing, water molecules expand and crack the container. The pores in the material also wick moisture away from the soil, so a strict watering schedule is a must during the growing season.
---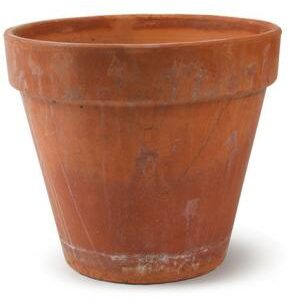 Keep pots looking good
Following just two basic steps will keep your pots pretty for years to come:
Clean them out. Before winter sets in, remove spent plants and soil. Then tuck the pots away in a dry place, like a shed or garage, until spring.
Scrub them up. Porous pots, like terra-cotta and cast stone, sometimes develop green algal spots or white mineral streaks from watering. To clean them, simply scrub with a brush dipped in a solution of baking soda and water.
---
View Comments