How-To
Choosing the Right Soilless Potting Mix
A good growing medium will ensure that your plants get a healthy balance of water and air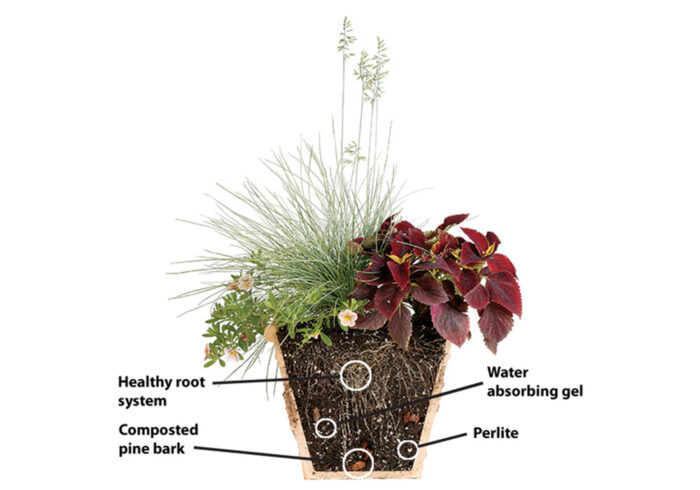 The term potting soil has become something of a misnomer in today's world of container gardening. Most bags of potting soil contain no field soil but are composed of a variety of organic and inorganic materials and are referred to as soilless mixes. As a commercial greenhouse operator and horticultural researcher, I've worked with all kinds of soilless mixes over the years and believe them to be far superior to soil-based mixes for a variety of reasons. Many excellent brands are readily available at chain stores and garden centers. If you have a clear understanding of the requirements for a good container medium and the various ingredients used in these products, choosing the right mix for your container plantings is in the bag.
Successful container gardening requires a potting medium that meets several of the plant's needs. The medium must be a stable reservoir of moisture and nutrients and remain loose enough to allow for root and water movement and the exchange of gases in the root zone. A growing medium must also have a pH (a measure of the alkalinity or acidity of a medium) that can support adequate nutrient uptake, and it must be free of soil-borne diseases, weed seeds, and toxins. Finally, a container medium must provide adequate anchorage and support for the roots while still being heavy enough to provide sufficient ballast to prevent plants from tipping over. A well-blended soilless medium can easily satisfy all these requirements and do so without the inherent problems and variability frequently encountered when field, or native, soils are used in containers.
If you have a good mix, water will penetrate it quickly and drain freely from the bottom of the pot. When the excess water has drained away, air will fill the large pore spaces, but enough water will be retained in the smaller spaces to provide ample moisture for the plant. In a poor mix, water may be slow to penetrate, the medium will become heavy and waterlogged, and a crust from algae or accumulated salts may form on the surface. Under these conditions, the roots become starved for oxygen, plant growth slows, foliage may begin to yellow, and plants often succumb to root rot.
---
For the best results:
Lightly moisten the mix before filling containers.
Don't pack the mix too tightly when planting.
Water your pots thoroughly after planting.
Begin fertilizing your pots two to three weeks after planting if you did not include a slow-release fertilizer at planting time.
---
Both organic and inorganic ingredients serve a purpose
Organic ingredients hold water and nutrients
Some organic ingredients, such as peat moss, provide needed water-holding capacity; others, like pine bark, can lend a porous structure to avoid compaction.
Peat moss: The physical and chemical properties of peat moss make it an ideal base for most soilless mixes because it can hold both water and air. It's light, but its fibrous structure allows it to hold 15 to 20 times its weight in water. The peat fibers also give it a large amount of pore space (80 to 90 percent of its total volume). It holds nutrients well, and it readily shares them with the roots, thanks to its slightly acidic pH. Horticultural-grade peats come from the decomposed remains of sphagnum moss species that have accumulated over centuries in peat bogs. They are not a renewable resource, however, and concerns about the sustainability of harvesting this product is a common topic of discussion among gardeners. Another type of peat that is used in soilless mixes is known as reed-sedge peat, but this material is generally inferior to sphagnum peat.
Composted pine bark: This material is a renewable resource and is one of the most widely used components in commercial container media, although barks from many other species are also processed for this purpose. Bark lacks the moisture-holding capacity of peat moss, but it can dramatically increase the porosity of a mix. Bark particles used in container media generally range in size from dustlike to about 3/8 inch in diameter.
Coir: Another renewable organic material is coir, a derivative of coconut hulls that shows promise as a peat substitute. Coir has exceptional water-holding capacity, and when mixed with pine bark, it can eliminate or substantially reduce the need for peat moss in a mix. Other sources of organic matter that can be used in soilless mixes include composted manures, leaf mold, and crop residues such as rice hulls.
Inorganic ingredients improve drainage and add weight
Inorganic ingredients improve drainage and add weight. Inorganic ingredients like sand, vermiculite, and perlite generally lend porosity to a mix, but they can also help retain moisture and add weight or density.
Sand: This material can add needed weight to peat- and bark-based mixes and fill large pore spaces without impairing drainage. Coarse sand is preferred in most cases, and sand ground from granite is used in the best mixes. Fine sand with rounded grains like that found at the beach can actually reduce drainage when used in excessive amounts.
Vermiculite: A mineral that has been heated until it expands into small accordion-shaped particles, vermiculite holds large amounts of both air and water. But it can easily be compacted, so avoid packing down mixes containing large quantities of it. Vermiculite can also retain nutrients and help a mix resist changes in pH.
Perlite: One of the more common ingredients in commercial potting mixes, perlite is an inert ingredient manufactured by heating a volcanic material to produce lightweight white particles. It promotes good drainage while holding nearly as much water as vermiculite.
Other inorganic materials that are useful in potting media include polystyrene (plastic) beads and calcined clay, which is similar to kitty litter. Plastic beads are inert and serve only to promote drainage, but calcined-clay particles can actually improve the moisture- and nutrient-holding capacity of a mix.
---
What is the ideal soil mix?
Generally, most container plants will thrive in a mix that contains about 40 percent peat moss, 20 percent pine bark, 20 percent vermiculite, and 20 percent perlite or sand.
---
Soilless mixes leave the fertilizing to you
Soilless mixes have little natural fertility, so they need fertilizer, lime, and sometimes other materials added to them to give the plants nutrients. Many soilless mixes contain a "starter charge" of fertilizer that can satisfy the nutritional requirements of plants for a few weeks, but longer-term fertility maintenance can require the addition of liquid fertilizers on a regular basis. Another option is the application of a slow-release fertilizer, which provides a constant supply of available nutrients and can either be incorporated into the medium or simply top-dressed on the surface. The rate of nutrient release for most of these fertilizers is regulated by temperature, so plants receive more fertilizer when they are actively growing, and frequent watering will not leach the nutrients from the mix. Slow-release fertilizers are available in various formulations that can provide adequate nutrition for as short as three months or as long as two years.
Soilless mixes also have limited reserves of trace elements, so for best results, choose a fertilizer that also contains these micronutrients. Some mixes now come with slow-release fertilizers incorporated into the medium, and in these cases, the fertilizer analysis is usually included on the bag's label.
Most commercial mixes have ample lime added, so the pH should remain fairly stable over time. Soilless media perform well at a slightly acidic pH, so the lime requirements for these mixes are not as critical as for native garden soils. When in doubt about the fertility of a soilless mix, a soil test may be useful, but be sure to indicate that you have an artificial or greenhouse medium when submitting your samples.
One positive trend in soilless media products is improved labeling on the bags. Many products now list all the ingredients and additives on the package (mixes with systemic insecticides added are always clearly labeled). If you have an understanding of what components do in a mix, then choosing the right product for your container gardening needs has never been easier.
---
Use crystal polymers to help retain moisture
Many soilless mixes have either liquid surfactants or gel-forming granules added to help them retain moisture. If you have trouble keeping containers well watered in hot weather or in sunny locations, you may want to consider adding one of these products to your mix before you plant. As with fertilizers, follow the label directions and don't overapply. Soilless mixes that already have extra wetting agents typically indicate this on the label
| | |
| --- | --- |
| | Adding too much water-absorbing material, which expands greatly when moistened, can knock your plants out of their containers. |
---
Why don't native soils belong in pots?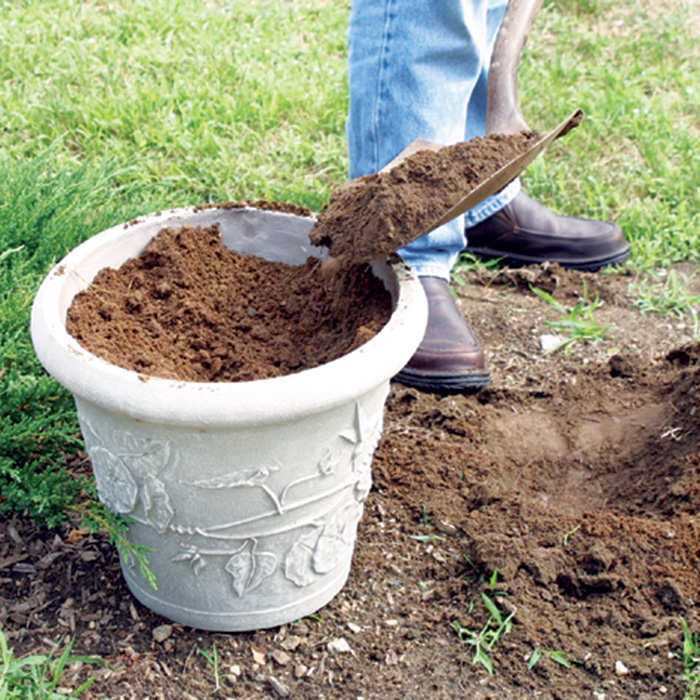 Field soils can be appropriate for growing plants in the garden, but these soils are unsuited for growing plants in containers. In most cases, the texture of field soils is simply too fine to ensure adequate aeration in containers, and pots or planters of any size are generally too shallow to permit proper drainage. Soilless media have larger particles, which form bigger spaces or pores to hold air in the medium, while still retaining enough water for plants to survive. Adding too much water-absorbing material, which expands greatly when moistened, can knock your plants out of their container.
---
Jim Garner is associate professor of horticulture at Horry-Georgetown Technical College in Myrtle Beach, South Carolina.
Photos, except where noted: Steve Aitken
View Comments