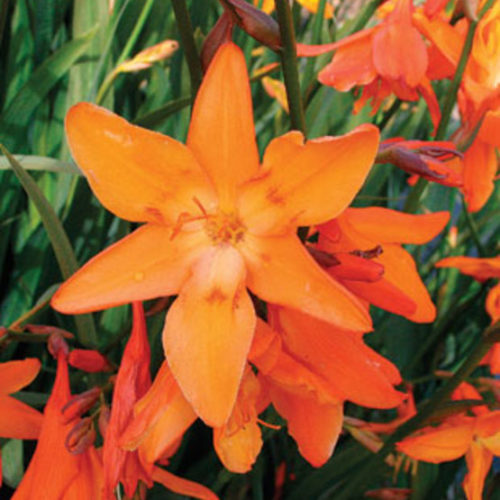 To put it in perspective, 'Star of the East' crocosmia is as far removed from the well-known 'Lucifer' crocosmia as Lady Gaga is from an Appalachian clogger. 'Star of East' is a strong grower without being aggressive, starting the season off with attractive green leaves that are held verti­cally. The foliage remains upright and in good condition well into fall, which isn't always the case with other cultivars. The flower stems are exceptionally sturdy, too, and they need to be because they bear some of the largest flowers of any crocosmia—nearly 4 inches in diameter.
In late summer, deep orange flower buds emerge like tubes of lipstick from protective bracts. The flowers open widely with a glowing, soft orange face highlighted by a pale center. A surprisingly long bloom period is a bonus, the blossoms perfectly mixing with the other hot colors of late summer and then seamlessly blending into the warm oranges and yellows of autumn.
CareMulch crocosmia well in winter if you live in Zone 6 or the cooler parts of Zone 7—especially if you experience prolonged, deep freezes. Spider mites can attack if the plant becomes stressed or is planted in too much shade. Voles will sometimes eat the corms in autumn and winter, so use barriers if these critters are a problem in your garden. -Kelly Dodson and Sue Milliken own Far Reaches Farm in Port Townsend, Washington.
Genus

: Crocosmia

Plant Height

:

3 to 6 feet

Plant Width

:

3 to 6 feet

Zones

:

6, 7, 8, 9

Light

:

Full Sun

Foliage Color

:

Green

Bloom Time

:

Late Summer

Maintenance

:

Low

Growth Rate

:

Moderate

Plant Type

:

Perennials

Plant Seasonal Interest

:

Summer Interest

Moisture

:

Well-drained soil