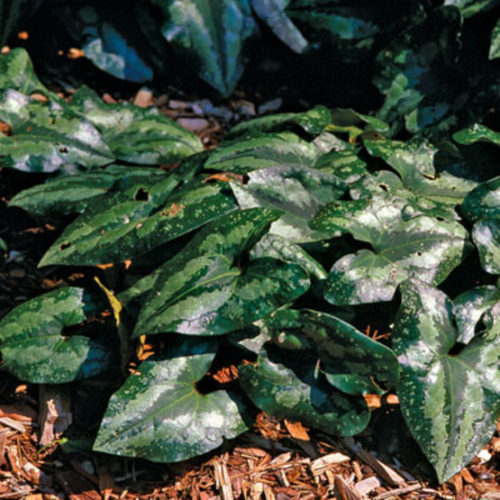 There are many species and varie­­ties of wild ginger, but this vigorous, fast-growing, and beau­tiful species tops my list. Elongated, heart-shaped, dark green leaves look and feel as if they were made out of Naugahyde and splashed with metallic paint. The foliage shimmers when hit by a beam of light. It is evergreen to 10°F but will quickly reappear in the spring if it freezes. If you want to see the unique, 2-inch-wide, dark purple flowers, get on your hands and knees and look at the base of the plants. Though not particularly showy, they are interestingly attractive.
Plants spread quickly by underground rhizomes, forming a thick mat of foliage that crowds out weeds. I recommend spacing them 10 to 12 inches apart and letting them fill in over the next few years. Plants are not picky about soil pH or type, but they do best in well-drained areas. -Jimmy Turner, Plants for dry shade, Fine Gardening issue #133
Noteworthy CharacteristicsHeart-shaped, patterned, textured foliage.
PropagationPropagate by root division.
Genus

: Asarum

Plant Width

:

10 to 15 feet

Zones

:

5, 6, 7, 8, 9

Moisture

:

Dry

Growth Rate

:

Fast

Light

:

Full Shade

Maintenance

:

Low

Plant Type

:

Perennials

Uses

:

Shade

Characteristics

:

Showy Foliage

Bloom Time

:

Spring