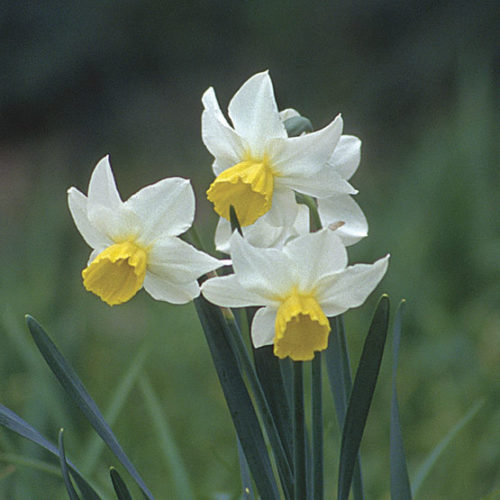 Generally speaking, daffodils perform best in full sun and well-drained soil, in areas where there is a fair amount of rainfall in the fall and spring and where the summer is relatively dry. However, cyclamineus-type daffodils seem to tolerate at least partial shade and more moisture than others do. Narcissus 'Jack Snipe' (pre-1951, Zones 3–8) is a charming example of this type of daffodil. Its white petals are swept back, as if it were standing in front of a fan, and its medium-length, buttercup-yellow trumpet (or nose) sticks straight out at a 90 degree angle from the stem.  'Jack Snipe' is an intermediate-size daffodil, standing only 8 to 10 inches tall, and is perfect for a rock garden or the front of a flower border. This whole division of daffodils is becoming more popular not only because it tolerates some shade but also because the shape of the flower is so handsome.
CareGrow in average, well-drained soil in full sun or partial shade. In autumn, plant bulbs from 1.5 to 5 times the bulbs' height (3 inches or more in cold climates). Under glass, grow in 1 part grit and 2 parts soil mix. Deadhead seed heads (except those of species, for dispersal) and allow leaves to photosynthesize for 6 weeks before cutting back, including plantings in turf. Lift and divide clumps if they become overcrowded or perform poorly.
PropagationSeparate bulbs and replant in early summer or early fall.
ProblemsNarcissus bulb fly, narcissus nematode, bulb scale mite, slugs, narcissus basal rot, other fungal infections, narcissus yellow stripe virus, and other viruses.
Genus

: Narcissus

Plant Height

:

1 to 3 feet

Zones

:

3, 4, 5, 6, 7, 8

Plant Type

:

Bulbs

Uses

:

Containers

Tolerance

:

Deer Tolerant, Frost Tolerant

Characteristics

:

Fragrant Flowers

Light

:

Full Sun to Partial Shade

Maintenance

:

Low

Moisture

:

Medium Moisture

Growth Rate

:

Moderate

Bloom Time

:

Spring

Plant Seasonal Interest

:

Spring Interest

Flower Color

:

White