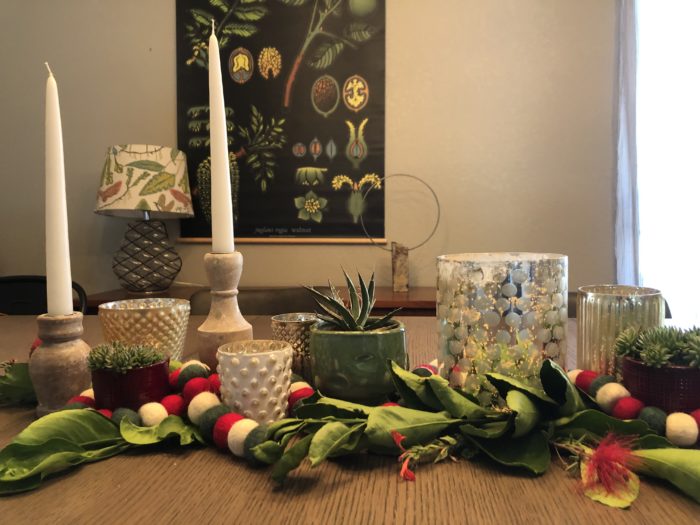 Instead of heading to the store to pick up some greenery to create your winter centerpiece and holiday decorations, why not look in your own backyard? Here are three design ideas for holiday décor that use everything you're already growing in your Southwest gardens.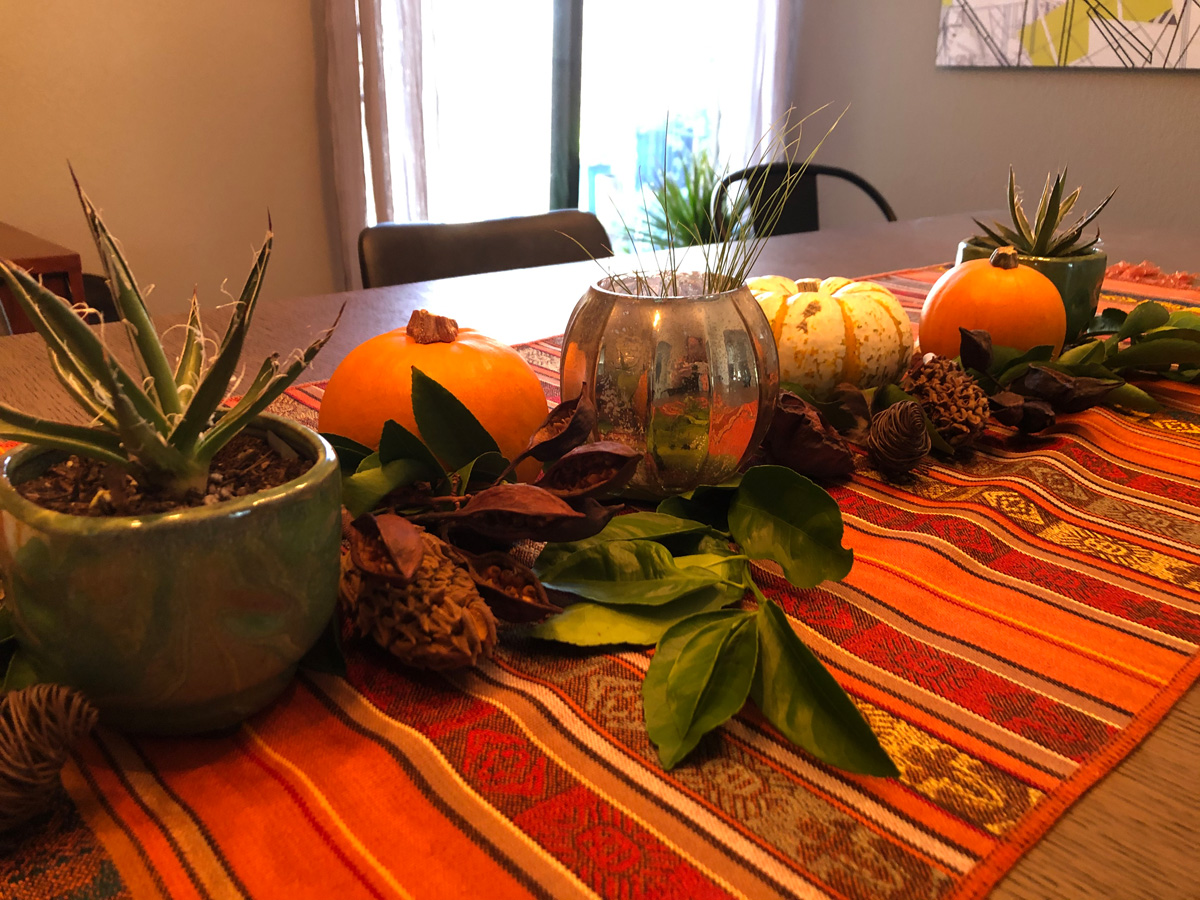 Lime boughs, seedpods, pumpkins, and succulents create an offbeat table centerpiece.
While we were out trimming back some shrubs, we cut back a few branches from our sweet, yet frost tender, key lime (Zones 8b–10). Instead of composting the leafy branches, we brought them inside to use as greenery on our dining table. We paired those vibrant lime branches along with some seedpods we've collected over the years, some miniature pumpkins from our local pumpkin farm, and most importantly, a couple of thread-leaf agaves (Agave filifera, Zones 9–11), which we will soon place in our garden. Using cacti and succulents as table décor not only looks beautiful, but it's a fantastic way to incorporate the natural beauty from the outdoors inside.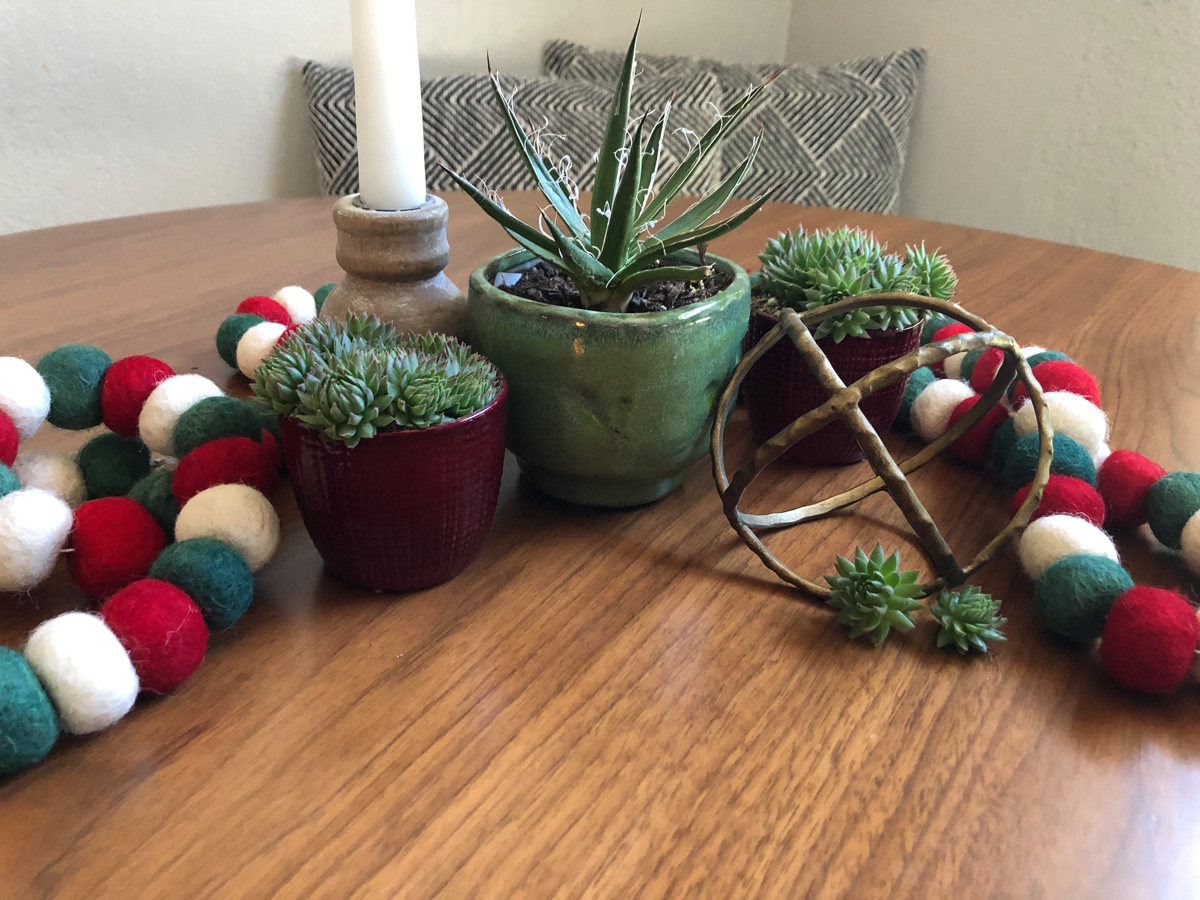 Succulents and felted balls weave around each other for a simple holiday scene.
For this design, we included more succulents, which we will be able to plant once we're done with them. This time, we used some 'Marne' hens and chicks (Sempervium 'Marne', Zones 3–9) alongside more thread-leaf agave. Using perennials like this in your table décor creates a truly unique look specific to our region. We then paired these 'Marne' hens and chicks with a string of felted balls, which are fun to use on tables and mantles alike.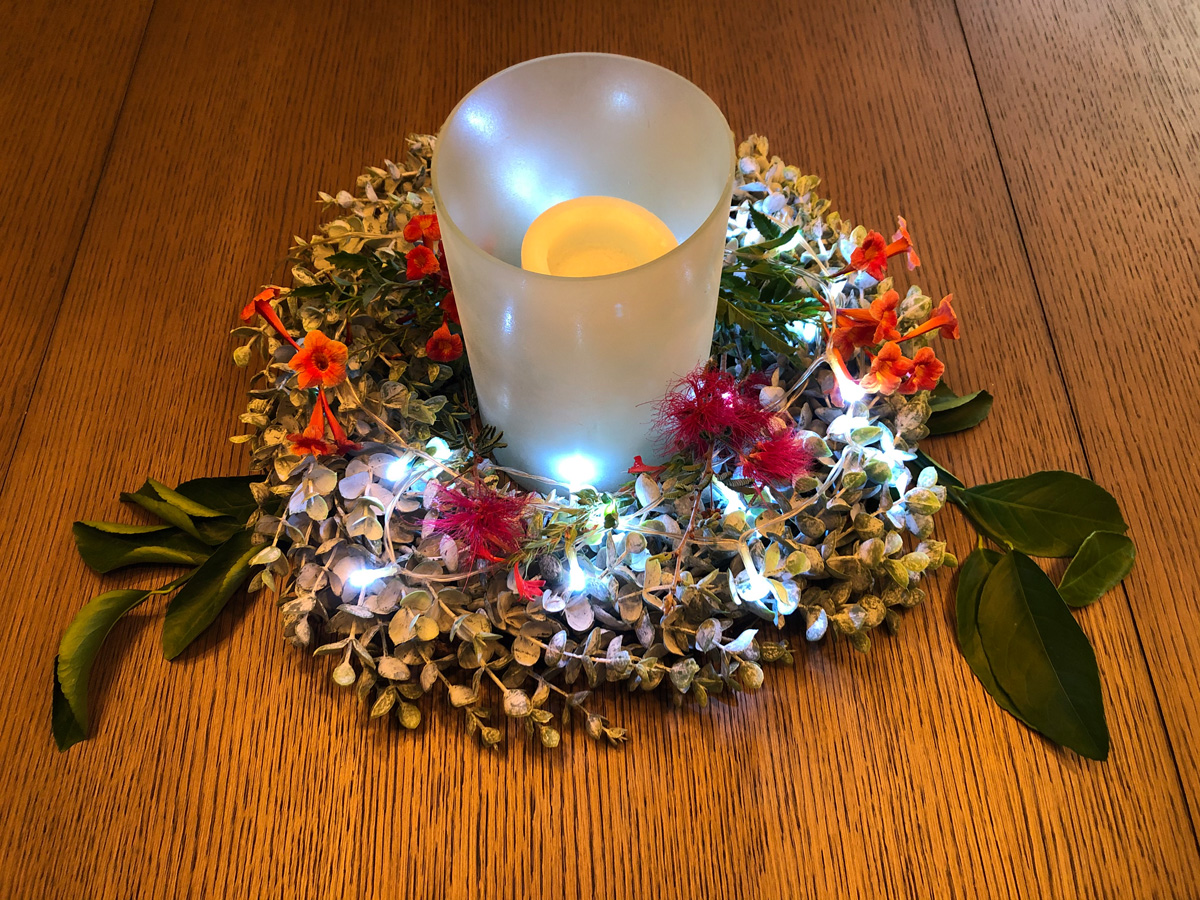 A discarded wreath becomes a beautiful table centerpiece with just a few additions.
While out in the garden, we also trimmed a few blooms to use in our décor. We had a fun artificial wreath in which we placed a large hurricane. We then surrounded the wreath with some fairy or twinkle lights. We then finished off the look with those blooms we had trimmed off earlier. These included Baja fairy duster (Calliandra californica, Zones 9–11), Bells of Fire™ esperanza (Tecoma stans 'TEC6010916', Zones 9–11), and chuparosa (Justicia californica, Zones 8–9).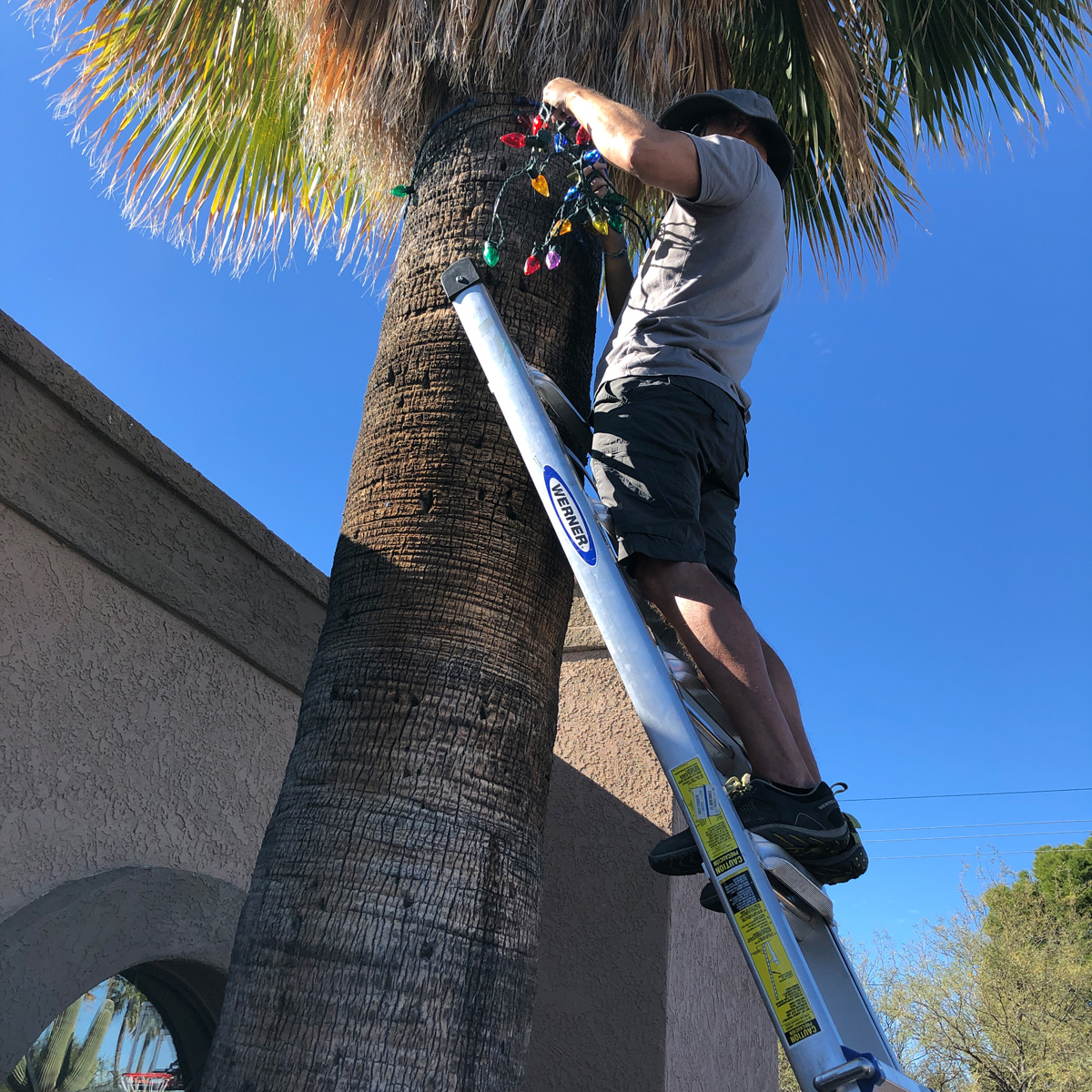 String lights and dressed-up garden plants add cheer and whimsy to the outdoors.
For our exterior, we like to grab some strands of holiday lights and wrap some cacti. If you have a saguaro (Carnegiea gigantea, Zones 8–11) or a palm, there's nothing more Southwestern than the look of these plants lit up in the evening. We have also been known to put some decorative foam ornaments on the points of our agaves. It's a fun and playful way to add some holiday spirit to our landscape.
Using plants that are either from your garden or décor that can be planted in your garden later is a win-win in our book. Isn't it better to continually add to your landscape every holiday season instead of throwing away unsalvageable greenery? Have fun creating your own unique centerpieces and holiday décor this year! Remember, these centerpieces don't need to be elaborate. Just adding a bit of color, texture, and local plant life will really make the looks come together.
—Sheila Schultz and Laurel Startzel are a mother-daughter duo who founded Denver Dirty Girls Container Gardening while living in Denver and have continued their business since moving to Tucson, Arizona.