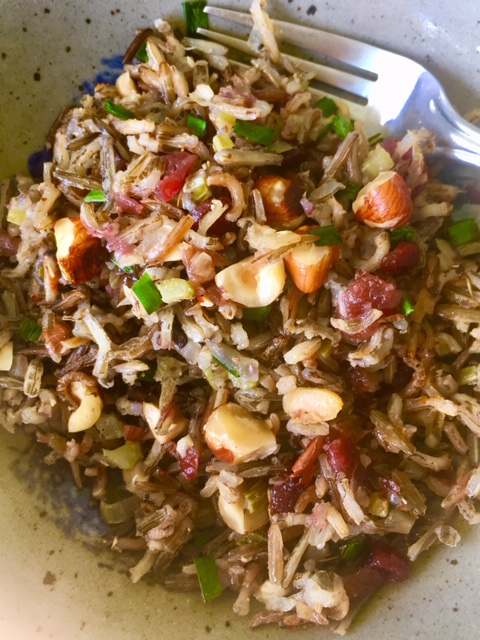 We are gearing up for the annual Herb Harvest Fall Festival at the Ozark Folk Center in Mountain View, Arkansas on the weekend of October 3 to 5. For this event , we are featuring the Northern United States, north of historic U.S. 40. We will be studying the foods, herbs, crops and folkways of these regions. Here is a recipe that we will be serving for the Lavish Herbal Feast that you will want to make!
I procured the hand-harvested wild rice from White Earth Wild Rice, which is harvested by the members of the Objibwe tribe–and it is the finest quality wild rice that I have ever eaten. (https://realwildrice.com/) The rice cooks in 20 to 25 minutes and combines with other northern ingredients like cranberries and hazelnuts to create a lovely autumnal dish. Sage, sumac and chives provide this dish with delightful and seasonal flavors.
I have been cooking up all sorts of dishes with wild rice; it was oft used and still is, as a porridge-type dish with fruit and nuts. In a recent article "Where the Wild Rice Grows" in Saveur Magazine, there is a recipe for Wild Rice with Warm Spiced Carrot Milk, which I did an adaptation of that was a simply stellar dish. I will be cooking it as part of my demo for my upcoming program "Regional Recipes from the East Coast to the Pacific Northwest".

Come join us for a fun and educational event with renowned speakers and an inspired herbal feast–or at least try this recipe! https://ozarkfolkcenter.ticketleap.com.

Wild Rice with Cranberries and Hazelnuts
This tasty recipe was inspired by a similar dish on the White Earth Wild Rice website. (https://realwildrice.com/wild-rice-with-cranberries-and-pecans/) You can use whatever dried fruits or nuts that you have on hand. Only use the stock if the pan is dry-the rice should be moist, separate grains-though not soggy with liquid. Add the nuts last as they will get soggy and not remain crisp if they sit in the rice for too long.
Serves 8 as a side, 4 as a main course.
2 tablespoons olive oil
1 medium onion, finely chopped (generous 1 cup)
1 large or 2 smaller stalks celery, finely chopped (generous 1/2 cup)
2 large cloves garlic, minced
Handful fresh sage leaves, cut into chiffonade (generous tablespoon)
1/2 cup dried cranberries, rough chopped
4 cups cooked White Earth Wild Rice, drained of excess liquid (follow directions on package)
About 1 teaspoon salt
1/4 teaspoon ground sumac
About 1 cup vegetable or mushroom stock
Freshly ground black pepper
Generous 1/2 cup roasted hazelnuts, chopped
Generous tablespoon fresh snipped chives
In a large skillet, heat the olive oil over medium heat. Add the onion and celery and saute for about 5 minutes; add the garlic and cover for 2 minutes. Add the sage and cranberries and cook for another minute or two.
Stir in the wild rice, salt, sumac, and 1/2 cup stock; if the rice is wet, you may not need the stock. Cover the skillet and cook over low heat until the rice is heated through. Taste for salt and adjust if need be and season lightly with black pepper. Toss in half of the nuts and chives and reserve the other half for garnish. Serve hot garnished with reserved nuts and snipped chives.