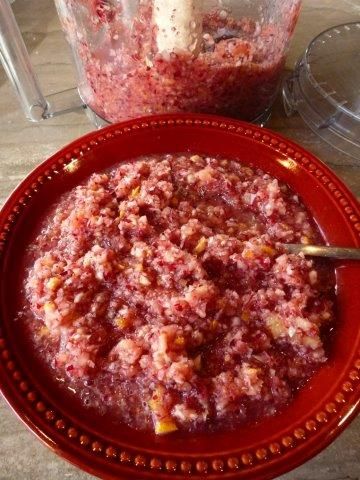 Ingredients:
1 bag cranberries (about 4 cups)
2 large navel oranges
1/2 to 3/4 cup pure maple syrup
Options:
Use clementines or tangerines in place of the oranges (remove seeds)
The original recipe that I adapted this from used sugar, although the maple syrup is tastier and better for us–you could also use honey. The amount of sweetener will vary depending upon how tart the cranberries and oranges are. Begin with a lesser amount of sweetener, taste, add more if needed.
This recipe has only three ingredients and is quite simple to make. It is a wonderful accompaniment to the Thanksgiving table, or to any meat, fowl, or vegetarian entree. The relish is fresh and crunchy, tart and sweet. I like it right out of the bowl with a spoon. It is tasty on yogurt with granola, over ice cream, in a smoothie, on a bagel with cream cheese, and on sandwiches. Try it with sharp cheddar on pumpernickel for a great grilled cheese or on a veggie or turkey reuben with sauerkraut. Mix some into a vinaigrette or marinade.
Wash the cranberries and the oranges. Cut the oranges in to quarters and cut them crosswise. Put the cranberries and oranges into the bowl of a food processor. Pour in 1/2 cup maple syrup.
Pulse the ingredients until they are coarsely chopped. Taste for sweetness and add the other 1/4 cup maple syrup if desired. Pulse to blend. Do not over process; the relish should not be a puree–it should be just a bit chewy with have little pieces of cranberry and orange.
Transfer the relish to a container and refrigerate until ready to serve. Remove from fridge about 15 to 20 minutes before serving, so that it is cool room temperature. The relish will keep for about 2 weeks in the fridge, although it is best eaten the first week.