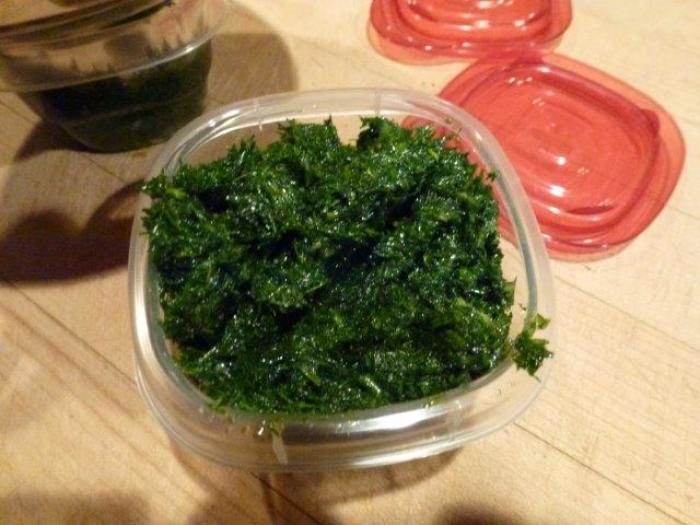 I thought for sure that I had posted the recipe for making salsa verde with botanicals foraged from in and around the garden, however I can only find my traditional one posted, which contains garden grown herbs and greens. So here is the wild weed version for those of you who requested it.
Salsa Verde with Wild Weeds
This traditional green sauce goes well with any type of vegetable whether it is grilled, steamed, oven-roasted, or crudités; it is also good with simply prepared meat, chicken, or fish and pasta. I like it spread on bread with sliced tomatoes for a tasty bruschetta and it is wonderful stirred into scrambled eggs, frittata or an omelet and it elevates simple crackers and cheese to another level.
Vary the herbs that you have on hand, or what is in season. When I can, I make this a wild green sauce by adding whatever can be foraged: sorrel, chickweed, dandelion greens and/or flowers, purslane, lambs' quarters, violet leaves, field cress, Monarda fistulosa (wild bee balm or bergamot), garlic mustard, wild onions or garlic and nettles* (see note below).
You can fill in with any seasonal greens from the garden if need be like parsley, fennel fronds, cilantro, arugula, spinach, etc. This is best eaten the first few days, however it will keep in the fridge for about 5 days.
Makes about 2 1/2 cups
1 1-inch slice country bread, crusts removed
3 garlic cloves, slivered
About 1/2 cup olive oil
About 3 to 4 cups of mixed edible green leaves, picked over, washed and spun dry
1/4 cup minced sweet-tasting onion
2 tablespoons white wine vinegar
1 tablespoon capers
Salt and freshly ground pepper
Soak the bread in a little water for 10 minutes, then squeeze most of the liquid from it. Add the bread and the garlic to the mortar or food processor and pound or pulse to coarsely chop.
Rough chop the greens. Add them a handful at a time-and pound them in a mortar and pestle-or chop in a food processor. Use a little olive oil to loosen them.
Add the olive oil to the herbs as if making a mayonnaise, a few drops at a time, blending or pulsing to incorporate.
When all the olive oil has been added, blend in the onion, vinegar, and capers. Season the sauce with salt and pepper. Add other ingredients if you like.
Let the sauce stand at least 30 minutes before using. Adjust the seasoning and serve at room temperature. The olive oil will not emulsify completely; a little will remain on top of the sauce. Store any leftover sauce in a tightly-covered glass container in the refrigerator for up to a week.
*If using nettles, while wearing gloves, I harvest and stem them and put them in a pasta scoop or large strainer. Then I plunge them into boiling water for about 20 to 30 seconds or pour boiling water over them. Then I shock them in ice cold water so that they stay green, drain them well and use them in the salsa verde.