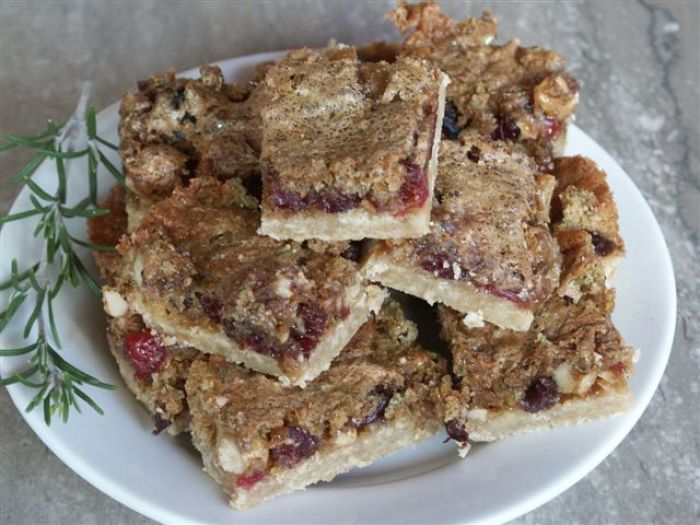 Ingredients:
Makes 24 to 32 bars
10 tablespoons unsalted butter, cut into pieces
1 2/3 cups firmly packed light brown sugar, divided
1 1/2 cups unbleached flour
Pinch salt
3 extra-large eggs
1 1/2 teaspoons pure vanilla extract
Zest of 1 orange
1/2 teaspoon salt
1 1/2 teaspoons baking powder
Generous cup of hazelnuts, chopped coarse or pecan or walnut halves
Scant cup dried cranberries or dried cherries, rough chopped
3 to 4 tablespoons fresh minced rosemary leaves
These buttery bars are full of flavor—tart with dried fruit, sweet with brown sugar, chock full of nuts—and fragrant with a pleasant surprise of rosemary. Use the larger amount of rosemary for a stronger herbal flavor, or the smaller quantity for a milder taste. I like these best when made with hazelnuts that have been toasted and rubbed from their skins, but pecans and walnuts are equally good. For smaller bars, divide the pan into rows of 4 by 8 pieces, and for larger bars, cut them into 4 by 6 pieces. Store the bars in an airtight container.
Preheat oven to 375°F and lightly butter a 9 x 13-inch pan. In a food processor or a bowl, combine the butter, 2/3 cup brown sugar, 1-1/4 cups of the flour, and pinch of salt. Process, or mix in a bowl with a pastry blender, until crumbly. Pat the crust into the prepared pan and bake for 12 to 14 minutes until just barely golden brown. Remove from oven and let cool a bit. Reduce oven temperature to 350°F.
In the food processor or a bowl, beat the eggs with the remaining cup of brown sugar and blend well. Add the vanilla, orange zest, remaining 1/4 cup of flour, 1/2 teaspoon of salt, and baking powder and blend well. Stir the rosemary into the batter. Evenly spread the nuts and cranberries over the crust. Pour the egg mixture over the nuts and cranberries on the crust.
Bake for 22 to 25 minutes, or until the center is baked and the bars are a deep golden brown. Cool the pan on a baking rack and them cut into bars.