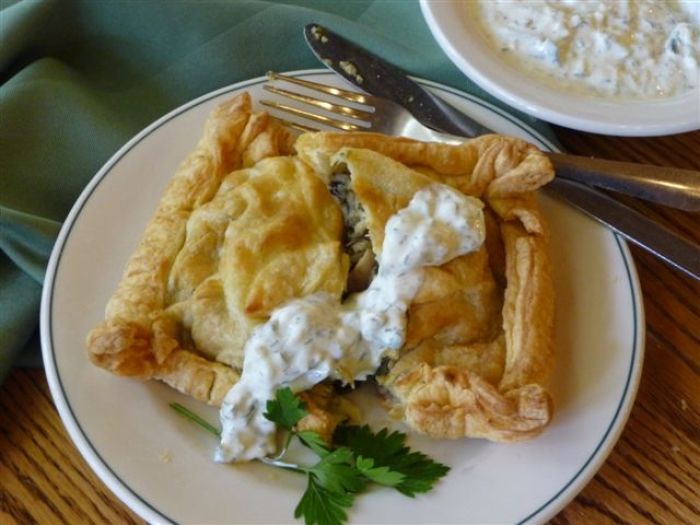 I don't really have a recipe for this dish; I just sort of put it together with what I have on hand. Basically a coulibiac is a buttery Russian pastry crust often made in a loaf form, though it can be made in a pie plate like a potpie. It is traditionally filled with layers of salmon, sliced hardboiled eggs, sautéed leeks or onions and mushrooms or other vegetables, rice, and fresh dill. You can use any vegetables that are in season from the garden or market; I like to make it in spring and add wilted greens, asparagus, peas, and/or artichoke hearts.
I use a homemade butter piecrust—a top and a bottom crust. I usually do it freeform; I lay out a crust in rectangular shape on a baking sheet, stack the layers of rice and vegetables, and then drape the top crust over all. Often I do this as a large single pie; however, smaller individual pies make a lovely presentation. You will need an extra batch of pie dough if you are making single servings, since you will need more dough. Crimp along the edges, and brush with an egg wash on the crust. If you'd rather, make this in a deep-dish, 10-inch pie plate. I cut out pastry leaves from extra crust pieces for decoration and stick them onto the top crust with the egg wash.
To make enough for serving 6 to 8, cook equal amounts of brown basmati rice (you can use all brown rice if desired) and wild rice (separately since cooking times are different); you'll need about 6 to 8 cups of cooked rice depending on the size of your crust. While the rice is cooking, sauté 2 or 3 good-size leeks with about 2 to 3 cups of sliced mushrooms (half domestic and half shiitake) with 4 to 6 sliced green garlics or that many cloves of garlic minced in about 2 tablespoons each olive oil and butter. Sometimes I add fresh asparagus cut into 1½-inch lengths, 1 to 2 cups fresh shelled peas, or 2 to 4 steamed artichoke hearts sliced (or use 1 can of artichoke hearts, drained and sliced). Add the asparagus, peas, or artichokes, and sauté for a few minutes more.
Hard boil 6 eggs (about 9 minutes—don't overcook!) and slice them. Wash and pick over some greens (about 4 to 6 cups)—spinach, sorrel, dandelion, arugula, small beet greens—and rough chop them. Wilt them briefly, and season with salt and pepper.
Toss the cooked rice with the sautéed leeks, mushrooms, and vegetables; season with salt and pepper, and add chopped chives, dill and fennel or tarragon; use at least 1 to 2 cups of chopped herbs so there is plenty of flavor. Begin to assemble by rolling out a bottom crust. Fill the pie crust half full of the rice and vegetable mixture. Cover the mixture with a layer of chopped greens, and then cover the greens with a layer of hard-boiled egg slices. Season generously with salt and pepper, then taste for seasoning. Repeat the layering process: rice and veggies, greens, and eggs, and then cover the pie with the top crust. Bake for about 45 minutes in a preheated oven at 375°F. Let the pie sit for 5 to 10 minutes before cutting. Serve hot with the yogurt herb sauce as a garnish.
Yogurt and Herb Sauce
Make a sauce from 2 cups Greek yogurt mixed with 2 to 3 cloves chopped fresh garlic, and a generous half cup of a mixture of some or all of the following herbs: dill, parsley, chives, and tarragon or fennel. Sometimes I use half yogurt and half sour cream. The sauce can be made a day ahead and refrigerated.