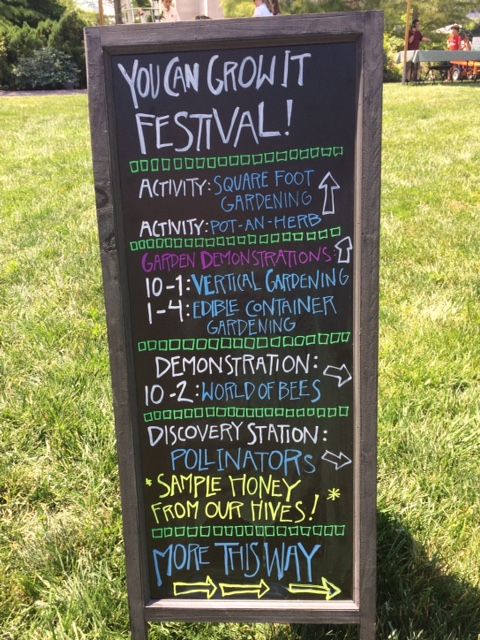 Last weekend was the You Can Grow It! Festival at the U.S. Botanic Garden. (www.USBG.gov/Programs) There was a good turnout and visitors got to pot up an herb plant and a carnivorous plant to take home, view a beehive and taste honey, observe pollinator activity in the Butterfly Garden, smell the roses in the Rose Garden, enjoy the native blooms in the Regional Garden and then cool off in the Conservatory while enjoying the many plant collections from tropicals and medicinals to rare & endangered.
There is always something going on at your local Botanic Garden or Arboretum–and an everchanging seasonal landscape–so find one near you and go visit! Or if you are headed off on vacation, find out what public gardens are nearby and put them on your go-see list; I've visited some delightful gardens when on vacation. Schedules of events, exhibits, free classes, etc. can easily be found online.
I am fortunate to have both the USBG and the US National Arboretum within about an hours drive from my home in Maryland. So I am on the mailing list to receive their seasonal Calendar of Events and then I sign up for all sorts of free tours and classes (might as well take advantage of our tax dollars at work!). Even if I am not taking a class, I always enjoy the various gardens in the National Garden (which is celebrating its 10th Anniversary this year so there are lots of events happening.
Last weekend, I was involved because the Potomac Unit members of the Herb Society of America were on hand to help folks pot up herbs to take home and give herbal advice and info–we had lots of attendees and many questions on growing herbs–there are more people gardening and growing herbs than we realize. (
https://potomacunithsa.org/
)
Parts of the Conservatory building and the Terrace are being cleaned and renovated so there is no Terrace Garden display this summer, however the National Garden is in its full summer glory already. I particularly like seeing all of the pollinators working the Butterfly weed and many species of Echinacea in the Butterfly Garden and there were so many native plants in bloom in the Regional Garden from creamy white elderflowers to vibrant purple pickerelweed and bright yellow St. John's wort. Outside under the trellis are great, informative posters of the Native Plants to view in the gardens including Wildflowers, Plants for Critters, Wetland Plants, Shrubs, Small Trees and Large Trees.
For plant lovers like myself, I was delighted to find these posters replicated on small cardstock inside the Conservatory at the front desk. Also there, are two other beautifully illustrated booklets that are great for both kids and adults: Plant Explorer's Field Journal: A Trek through the Wilds of the USBG Conservatory which is sort of like an educational scavanger hunt and Field Journal: Observations in the Regional Garden, which gives you a list of certain plants to look for and observations of their characteristics. Fantastic, handsomely done teaching tools make learning fun! And they are yours for the asking.
Get inspired and visit gardens. Or better yet, volunteer! All public and private gardens depend on volunteers. I was surprised at the number of volunteers (in their baby blue Botanic Garden shirts) there were–and even more amazed at how many young people were volunteering their time. It is a great way to spend time in beautiful places, support your community, do good things, make friends and meet people from all over the world–even if it's only for a couple of hours a week, or even a month.