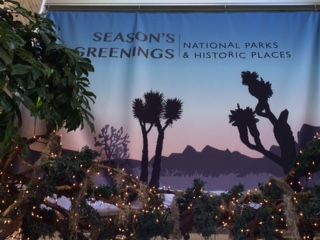 Every year, I try to visit the USBG for each season, however the winter holiday display is one of the best and this year it celebrates National Parks and Historic Places. The plant-based sculptures are absolutely incredible–a must see if you live in the area–or take a little tour right here and now.
Last week, when I visited "Season's Greenings, National Parks & Historic Places" it was the coldest day that we have had so far this year and the wind was gusting about 25 miles per hour, which made the wind chill factor seem like the Arctic. We parked in front of the USBG facing the reflecting pond and I was astounded to see 2-to 3-foot swells and whitecaps on the reflecting pond in front of the U.S. Capitol! As we got out of the car, a group of underdressed tourists ran by screaming from the frigid cold.
So when we entered the building, the warm air inside enveloped us in a welcoming embrace. Festive lights on tall river birches and an array of poinsettias in the entrance were just a suggestion of what was in the Conservatory. Farther inside, folks were peeling off their coats, as they strolled through flowering and fruiting plants from perennials to shrubs and huge tropical trees. On display amongst the flora is an amazing exhibit of replicas of historic buildings and national park sites–get this–all built from plant materials.
USBG has collaborated with Paul Busse of Applied Imagination since 2004 to create these sculptures made with over 70 different plant materials. Many types of seeds and pods and wood are used, however the most often-used botanicals are pine cone scales, willows, cinnamon sticks, grape tendrils and acorn caps.
Over the years, they have added to the collection of buildings and this year to celebrate the 100th anniversary of the National Park Service and the 50th anniversary of the National Historic Preservbation Act, they went all out and built replicas of national parks all over the U.S. As we walked through the exhibit in the Garden Court, each building captivated and delighted us.
And of course, the smells and sights of the many colorful blooms (over 30 different poinsettias from small to huge, in hues of scarlet to shocking pink and even a pale cantaloupe color), vanilla orchids climbing the wall, the cacao tree hanging heavy with bright yellow-orange cacao pods, the coffee tree had red berries and the collection of bananas had huge bunches of green fruits and showy, deep red flowers.
As if there weren't enough, the West Gallery has a huge tree (from Western Maryland) decorated with a vast collection of ornaments sent from National Parks around the country. The largest model of the Old Faithful Inn is on display along with a miniature geyser set to go off every few minutes!
The East Gallery has a model train show with tracks that run through national parks from coast to coast including Alaska and Hawaii. This display is so much fun–little kids to adults stand before the displays in amazement–and to think that these are made from plant material! It would be hard to choose a favorite: the Grand Canyon is quite incredible with its layers of shading, Mesa Verde Cliff Dwellings gave me goosebumps since I have visited there, and I do have a fondness for the Taos Pueblo. There's a covered bridge, lighthouse, totem poles, a volcano, a coral reef, not to mention the Statue of Liberty with her dress fashioned from the base of banana leaves.
Be sure to walk to the back of the rainforest to see the collection of poinsettias–dazzling colors, shapes and sizes. I heartell that there is a wait to get in on the weekends. We went around lunchtime on a weekday and it had cleared out and was not crowded at all. Don't miss this display if you live in or are visiting the area–it is well worthwhile. For more info check out www.USBG.gov/SeasonsGreenings. Visit soon as exhibit ends on January 2, 2017.
Wishing you a happy winter solstice (yay–the days will be getting longer!) and a jolly holiday season!