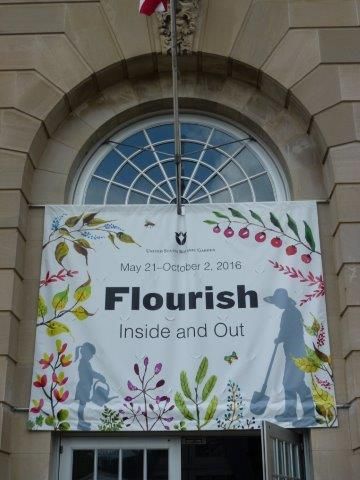 Even though it has been really hot, I've been visiting gardens this summer–so I'm going to share some of them with you in the next few blogs. This year's exhibit inside and outside at the USBG is colorful and aesthetically delightful–might be one of my favorite outdoor displays there ever–check it out!
Flourish, inside and out, is on exhibit from May 21 to October 2, 2016; it is located in the East Gallery of the Conservatory and the Terrace in front of and surrounding the building. Right now it is peaking and the eye-popping colors are full on. I imagine that the gardens didn't have the same impact back in May and June that they do now–and they should be dazzling from here through harvest season.
Here's the description on the Web site (https://www.usbg.gov/flourish-inside-and-out): "From a walk in the woods to strolling through a park, and from gardening at home to visiting a public garden, therapeutic horticulture, nature therapy, and accessible gardening connect people to nature and themselves. Come learn how nature can improve human health and wellbeing. Demonstrated through accessible gardens, adaptive tools, engaging programs, and vignettes showcasing the intersection of humans and nature, a visit to the Garden will highlight how people flourish through interactions with plants. This exhibit, developed in consultation with the Horticultural Therapy Department of the Chicago Botanic Garden, will excite and motivate visitors to find their place through nature!"
Especially for the gardener, yet appealing to the other visitors and tourists, the displays are quite impressive. I love the use of both singular and mixed colors in the different beds. Adam Pyle, USBG Horticulturist, designed this year's garden beds and he has done a knockout job. While the white and silver grey bed is elegant and unusual and somewhat cooling to the eye, the yellow and orange bed combines sunshine and flames in a dazzling hot dance. In another bed, there are lavenders, purples and pinks which are lovely and suggestive of a cottage garden, and then there are a few beds that are a riot of color mixing red, dark purple, lime green and orange.
There are vegetable plots with plants that are all a similar leafy green, which are now showing red-orange and yellow tomatoes, purple, red and green chiles peppers, purple eggplant and rainbow chard. Vines, shrubs and small trees highlight fruit from fox grapes and pomegranates, to unusual selections like Job's tears. Annual and perennial herbs are interspersed throughout the gardens with lots of cultivars of my favorite basils and lemon herbs are appropriately placed in the yellow-flowered garden.
Inside the conservatory, Flourish illustrations and info on the concept are on display. I'd be remiss not to mention the wonderful photographic posters highlighting soil under the covered walkway at the far end of the Terrace.
If you live nearby, you are lucky to be able to visit our nation's USBG regularly. If you are only a few hours away, make the trip soon… it is well worth it. And if you are further afield, plan a trip to visit this amazing botanic garden–both in the conservatory and oudoors in the gardens–it is an amazing array of plants from all over the world. Be sure to go online and see the many free classes they have to offer throughout the seasons.