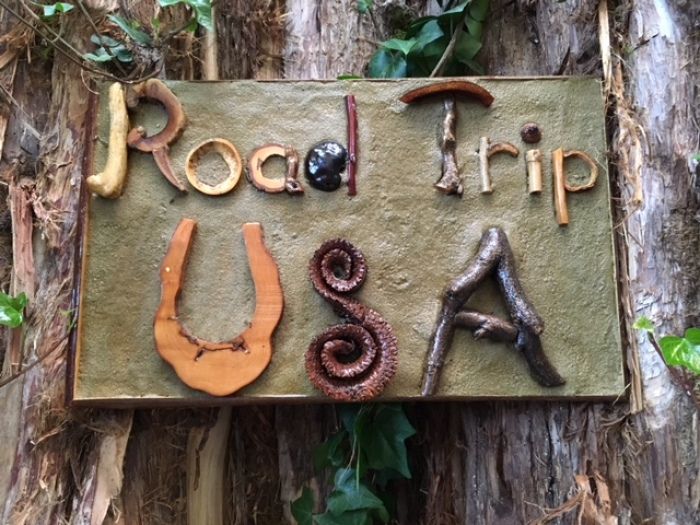 Went for my annual visit to view the U.S. Botanic Garden's Holiday Show "Season's Greenings" and I wasn't disappointed! This year's theme is Roadside Attractions and it is a totally fun exhibit within the train garden located in the East Wing. Besides that, it is always lovely to come in out of the cold and enter the conservatory where it is delightfully warm and fragrant with tropical blooms, stunning arrays of poinsettias, and impressive holiday decorations from adorned trees to hanging baskets, wreaths and more.
This is not just another roadside attraction–it is a whole collection of them–all modeled after famous attractions across the nation; however these models are built totally out of botanicals! There are over 40 of them, you can read the list on the website. My most favorite was a close-up diorama of the inside of the Route 66 Diner in New Mexico intricately decorated with ketchup and mustard bottles on the wooden counter with bar stools, booths from seed pods and a jukebox. I was totally delighted by the Boll Weevil Monument from Alabama, Coffee Pot and Cup Water Towers from Iowa, Lucy the Elephant from New Jersey, Paul Bunyan and Babe the Blue Ox from Minnesota, the Jolly Green Giant Statue from Minnesota (who was holding up traintrack) and who wouldn't love the life-size Mr. Potato Head from Rhode Island? What a hoot!
I am fortunate that my friend and colleague Laura Anthony, who is Special Events Coordinator at USBG, gave us an insiders, detailed tour of the show and accompanied us through the conservatory so that I was able to fill out my Plant Hunt-Roadside Attractions-I Spy and get it stamped. I spied all of the items so I got all of them stamped (there are clues). The USBG has great interactive kids' plant hunts, fieldguides and other publications that are very well done and allow kids to explore and find plants throughout the conservatory.
Don't miss a chance to visit live or go online and check it out; the display runs through January 1, 2018. https://www.usbg.gov/plan-your-holiday-visit If you can't make it in person, be sure to scroll down and open up the Building Guide for Season's Greenings: A Roadside Attraction. There it will show you each attraction–how it looks in real life–and then the botanical replica. There is information on each roadside attraction and then it gives a list of what botanicals were used in the building of each creation–really quite fascinating not to mention impressive.
Of course, the Season's Greenings show includes the amazing collection of botanical government buildings with the Capitol being the showiest edifice, interspersed in the holiday plants. This year the newset additional is the National Museum of African American History and Culture which is created from over 500 sliced walnut shells, which replicates its intricate lacy design–quite impressive.
There are tons of school field trips and a lot of kids early in the day… it quiets down some after lunch. I hear there is a line on weekends to get into the East Wing where the Roadside Attraction is located. The USBG is open everyday including holidays from 10am until 5 pm and admission is free. Even though many of the plants are dormant, there are still plants in bloom in the outdoor gardens and many laden with berries so bundle up for outside in D.C. and prepare to peel down and carry your coat around once you get inside the conservatory. This is a great way to kick off the holiday season!