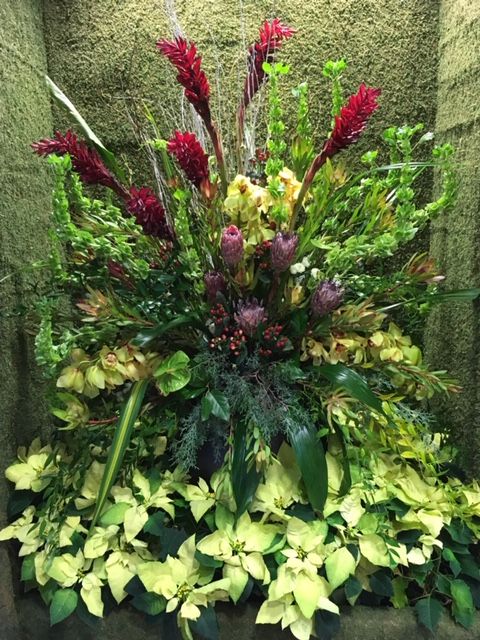 Yesterday, I went for my annual trek to see the holiday exhibit at the USBG. Fortunately for me and the many other visitors, the Botanic Garden has not been shut down due to government closures. Every time I go to the USBG, I am so glad that I went and am thankful that we have such a marvelous collection of botanical specimens right here in Washington, D.C. Visitors from around the world marveled right along with me at the variety of plants and the seasonal train exhibit All Aboard!
Upon entering the conservatory, one is dazzled by the holiday display of pointsettias in every color (lime green with red was brilliant this year!), large evergreens adorned with ornaments and the fantastic collection of architectural models of landmarks from all around Washington, D.C. constructed from plant materials. If that isn't enough sensory stimulation, there are the usual botanical specimens–large trees of allspice, cacao, coffee and citrus–and blooming tropicals which are permanantly located in the Garden Court. Coming in from the cold, the steamy glass house envelops visitors in warmth and fragrance accompanied by the sounds of fountains and bird sounds from above. It is a delightful bombardment of the senses.
It is a lot to take in. Fortunately, I have a dear friend who works at the USBG, who recommends that we come to visit on weekdays before and after Christmas and New Years because there are often lines to get into the train display. And no wonder… this year's "All Aboard!"-themed show was train stations across America. There were over 30 railroad stations on display–constructed from over 70 different plant materials. They are truly amazing works of art and there are trains running through and around them and overhead. The stations were situated along train tracks, built into landscapes with water features and plants of all varieties along with colorful lighting.
We were lucky to not have big crowds so it was easy to get around and view everything. As I watched the visitors (speaking in many languages) I saw looks of astonishment and joy on their faces. Little kids were wide-eyed with excitement. In fact, pretty much everyone who entered the room, had expressions of childlike delight–I know I did. I saw grown men standing there in awe studying the models. We spent quite a long time looking at the details on all of the buildings–with the Visitors Guide, which showed photos of what the real stations looked like and the models in comparison–and what plant materials were used in the construction of each structure. See the informative visitor's guide for All Aboard! at https://www.usbg.gov/sites/default/files/attachments/train_station_building_guide_12-4-18-opt.pdf
From there, we moved on with our "Plant Hunt" card listing plants to find and their location. At each location there was a stamp to stamp on one's plant hunt card and there was a shaker, which contained the aroma of said plant (ie: cinnamon, cocoa, pine, fir, pointsettia). The USBG usually has this sort of fun printed material/treasure hunt for kids and visitors–and I might add that I always admire the fine-quality artwork.
Whether you live in the area or are traveling to D.C. put this on your future to-see list (holiday show runs from Thanksgiving through New Years). Although this show will be changing and a new spring theme will take its place, don't miss a chance to visit the USBG. In warm weather the Terrace Gardens are always full of incredible displays with plants from around the world; I can't wait to see what they come up with next! www.USBG.gov