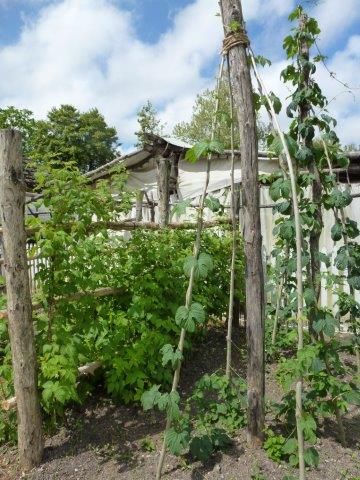 I recently attended and presented at the annual Herb Society of America conference, which took place this year in Colonial Williamsburg. If you haven't visited Williamsburg, Virginia, or been there recently–it is a wonderful place for a getaway or family vacation. There is lots to see and do, many gardens to walk through, it is educational and historic and there are no amusement rides (well except for a horse and buggy) and no plastic. Things there are built out of wood and stone and brick as was done in colonial times.
Although there are many gardens in Williamsburg, both formal and backyard, when I go there, I head for my favorite place to see, and that is the The Colonial Garden and Nursery. There is a botanic garden featuring North American and European herbaceous plants and an herb garden with examples of culinary, medicinal, and household herbs used by the colonists. There is a Kitchen garden, herbs, flowers, fruit orchard, arbors and bowers and the garden and nursery display many rare and unusual varieties of heirloom vegetables as well as a collection of heirloom roses and fruits. If desired, one can return home laden with plants, seeds and even garden tools. The gardeners there are hands-on and well informed, not to mention happy to talk to visitors.
The folks who work in Colonial Williamsburg dress in colonial clothing and in many places there is first person interpretation. The tours and programs are scheduled throughout the day and it is worthwhile to take one or two so you get the historical aspects of life as it was. There are walking tours of the gardens, or you can pick up a map of the gardens–there are 26 of them featured–and you'd be hard put to see them all in one day! The gardens vary enormously from backyard kitchen gardens to formal gardens at the Governor's Palace. There are pleasure gardens, topiaries, an apothecary garden, vegetable and herb gardens, and gardens featuring fruit and nut trees and ancient shrubs of boxwood and holly.
Below are some photos taken at the Colonial Garden and Nursery. It was hard to select just 12 out of over 100 in this garden alone (the blog only allows space for a dozen photos). There are many herbs featured here, due to the fact that colonists cultivated a lot of them, both to flavor food and as a source for medicine.
The Web site is very informative (www.history.org) and gives events, programs, times and prices for passes, and even virtual tours. There are many good places to eat in and around Colonial Williamsburg, however it is a good idea to make reservations in advance for the taverns and more popular restaurants. Wear comfortable shoes–there are convenient shuttles available (every 15 or 20 minutes) included with a day pass–however there's a lot of walking from one end to the other.