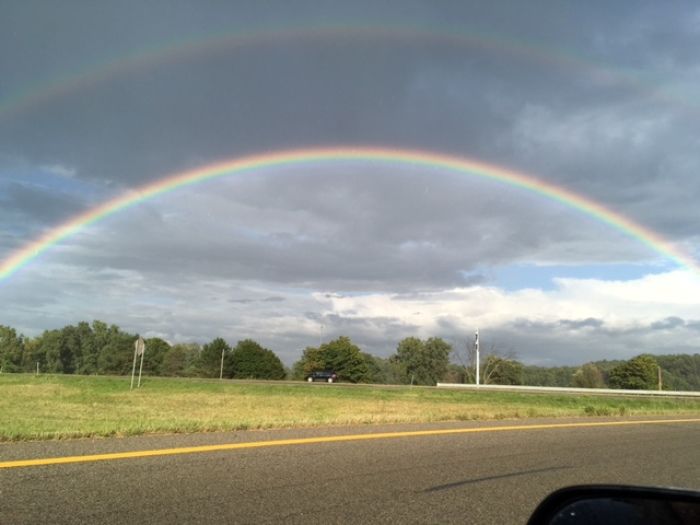 Last week the IHA held their conference in Hickory Corners, Michigan at the Kellogg Biological Station, which is a great place to hold a conference and be in nature at the same time. There's walking trails along Gull Lake, an amazing number of beautiful old trees, a bird sanctuary, the Manor House and more. The grounds there are well kept and most of the big trees and plant material were labeled (thumbs up!); there are many plantings of natives, so there are lots of birds and pollinators.
We decided to drive and have a road trip from Maryland to Michigan, rather than flying and renting a car. And we are sure glad that we did. We pulled into a rest stop, next to a woman in a car, which we noticed had plants on the backseat. We all looked at one another and said well she must be one of us… we herbal/gardener types tend to ride around with plants… So we struck up a conversation and lo and behold, she not only had plants, she had two beehives full of honeybees traveling with her! So we told our new acquaintance where we were headed and she said "oh I'd like to come", and we gave her contact info even though registration was closed–and she ended up joining us at the conference the day after our field trip!
Once we got into Michigan, we had a few showers, then the sun would come out, then it'd rain a bit and I kept looking around cause I felt a rainbow out there. Well we had to pull off the road, along with numerous other vehicles, once this double rainbow appeared! Nice welcome, huh?
This year's conference featured Hops (Humulus lupulus), Herb of the Year for 2018–we gather beforehand to get ready in advance to educate folks about each chosen herb of the year. Getting together with this group of herbies, many who are old friends now, is sort of like an herbal family reunion–we do have fun together. Our field trips were hop-laden and just a blast, however I'll write about them in another blog because there are so many fabulous photos to share.
It's colder in Michigan than here in Maryland and the leaves were already changing color up there–nights were downright nippy in the 40s. Daytime temps were high 60s and low 70s, however that did not stop a few of us brave souls from jumping in the lake a few times! The water was clear and cold and elicited a few squeals from this being… it was invigorating to say the least.
We stayed in little dormitory apartments which were sort of old, though clean and reasonably comfortable–it was nice to have a kitchen with stove and fridge. The walk to the conference center classrooms allowed us to ooh and aah at the grand old trees en route. We had a huge yellow buckeye outside our room that was laden with big fat pods, I have never seen one so large. Outside the classroom was the largest European beech tree just covered with pods and littering ground beneath with spikey, star-shaped seed pods. Our banquet dinner was held in the Manor House owned by W.K. Kellogg–it is well kept and a lovely old home, actually a mansion (complete with a display of antique Corn Flake boxes)–and the gardens surrounding are quite lovely with colorful plantings.
Susan Betz, member and sole committee for this conference, did a fine job of lining up speakers and each day was full of lectures, demos, not to mention herbal camaraderie–I learned so much! Hops are right up my alley, since I love a good IPA, the bitter the better. I did a presentation titled Hops: From Pint to Pillow, Bitters, Bath and Beyond. I discussed bitter flavor–an encouraged folks to embrace bitters–I prepared a bitters formula with hops and citrus (we tasted a number of them), a hops tincture, a dream pillow with hops and other herbs and also a bath blend.
As you know, hops are sedative and calm us down and help us to sleep. Medicinally, hops are also a tonic, nervine, diuretic and they alleviate pain. Hop preparations produce soothing effects, from tea to tincture, which can improve appetite and digestion.
We learned about growing hops, preserving them, decorating with them, using them in body care products, how they are used in brewing and we had a Great Hops Cookoff! I made Welsh Rarebit which I will share the recipe with you in the next blog. I will also cover our pre-and post-conference field trips–boy did I come home with some superb Michigan craft brews–good thing we drove!