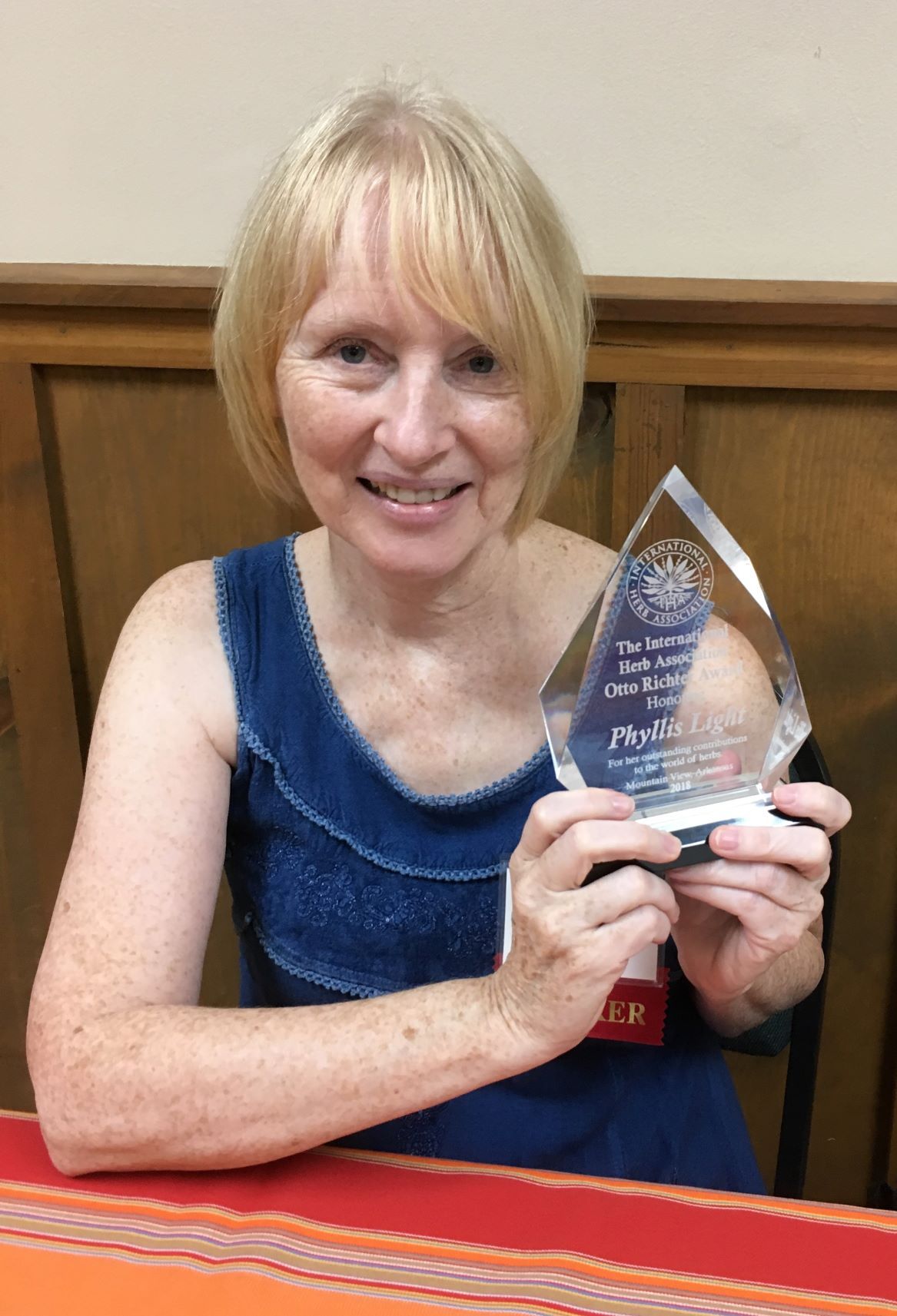 This year's IHA conference in Mountain View, Arkansas at the Ozark Folk Center State Park, was full of memorable moments–from seeing dear old friends, field trip to Missouri and Baker Creek and Sweetwater Community Land Trust, fun and educational programs from a variety of speakers, great vendors–to the annual awards banquet and auction and time in the Heritage Herb Garden (in both rain and shine). 
Our post-conference field trip began with a long bus ride with a first stop at the Donald W. Reynolds Library in Mountain Home, Arkansas, where we had a tour of this beautiful facility, along with a stop in their coffee shop and walkaround the garden. They are doing an impressive job there, with great programs participating with evey age group in the community.
Next, onto Bakersville in Mansfield, Missouri where we had a tasty vegan lunch at the Baker Creek Restaurant, then a tour of the gardens and facility with excellent, well-informed and lovely tour guide Jamie Jackson. The day was perfect and we enjoyed wandering around the gardens and amazing seed store. I found the facility where the automated packaging of seed orders from choosing the seed to dropping them in bins, choosing the right size envelope, creating an invoice and packing list, labeling and dropping the finished package into mailing bins absolutely amazing (not only impressive–rather mind-boggling). This state-of-the-art system was designed and built by staffmembers, led by David Winters (whom we met and he appears to be a normal fellow–his genius lies beneath the surface).
While we were at Baker Creek, we met up with friend and herbalist, Sasha Daucus. She joined us on our visit to Sweetwater Community Land Trust, where we enjoyed a walk with her to look at Ozark herbs that live in a forest setting. There, we visited resident and potter, Susan Minyard, in her studio. Many of us went home with some of Susan's Sweetwater Pottery. We had a picnic dinner, served in courses on the bus ride home.
Our next two days, were filled with wonderful speakers presenting great programs (you can go online to www.iherb.org to see schedule). And lots of new and exciting books to purchase and have signed by the authors and all sorts of herbal goodies to purchase. We also had a visit to Gravity Brewworks where we enjoyed local craft brews with Tommy's Famous pizza and live music.
Our Otto Richter Memorial Award this year went to Phyllis Light. Phyllis brought her book Southern Folk Medicine and many happy folks went home with a signed copy. Our other award winners, HOY book editor, Gert Coleman, and Skye Suter, IHA newsletter editor, were given their well-deserved awards by our president, Matthew Reisen.
We had a tasty banquet, Southern-style, served by the Skillet Restaurant, followed by our rousing, annual fundraiser auction, with auctioneer Chuck Voigt and recordkeeper of sales, Stephen Lee, and beloved treasurer, Marge Powell. Thanks to all who contributed auction items and to Frontier Co-op for being a sponsor.
Our post-conference tour of the Heritage Herb Garden was in the rain, however we are stalwart gardeners so we were prepared. We had a picnic lunch in a pavilion at Blanchard Springs, where we walked over to see some of the highest sandstone bluffs in the state and sang a few songs in the natural amphitheater. Thanks to conference committee, Tina Marie Wilcox and to all attendees–and folks who keep these herbal gatherings happening! Gearing up for Agastache, Herb of the Year 2019!