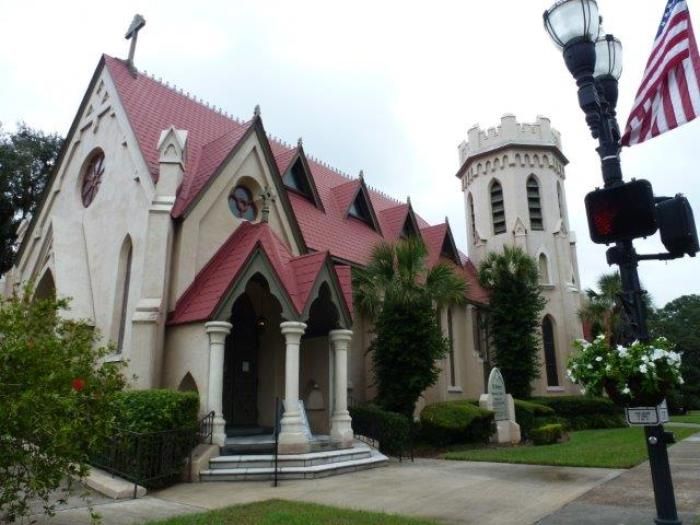 Here's a brief synopsis of a wonderful trip to Fernandina Beach, Florida for the recent IHA conference–a good time was had by all gathered–and we so enjoyed the warm weather and sunshine (a break from the cold temps back in my Maryland garden!). It seems so odd to have all of the leaves off of the trees and the woodstove going and then arriving at a place with warm sunshine, balmy breezes and tropical plants in bloom. (I even went swimming in the Atlantic Ocean and it was quite pleasant–not cold at all.)
Well it is challenging to fit a whole conference into one short blog, however I will hit some of the highlights. You can go on www.iherb.org and read about the conference and speakers and even order a copy of the proceedings. It is always inspiring to get together with like-minded people and share gardening and herbal tips, ideas, recipes and just the general camaraderie; this IHA group is especially dear to me and it is like getting together with old friends.
This conference which was themed "Spice It Up!" was particularly stimulating for me as it was all about chile peppers since Capsicum is Herb of the Year for 2016. We had some great speakers (too numerous to mention each one here) and I was pleased to meet keynote Dr. Mark Uchanski from the University of New Mexico, who gave two informative programs on capsicums. Although, I have co-authored three books on chile peppers, I still learned new info from him!
Jane Taylor, won the Otto Richter Award and gave a wonderful program on Childrens' Gardens–she is the guru of designing kids' gardens–and it was great to view so many of her accomplishments. Way to go Jane!
My program was on Chiles & Chocolate–I made a veggie chili; rich hot chocolat with anchos; and dark chocolate, chipotle & salted pistachio bark. I had more than a few folks tell me that it was the best chili that they had ever eaten, so I will post the recipe for it soon. And the chocolate chipotle nut bark is simply divine–I'll post that recipe next –since it would make a great holiday gift for your favorite chocoholic or chilehead.
The pre- and post- conference tours were good fun. We visited two different members' gardens, that of Marge Powell and Linda Cunningham, both in Jacksonville. We got to see where Marge creates her wonderful products like soaps, salves, lotions and more, in her Magnolia Hill Soap Company's apothecary. (www.magnoliahillsoap.com)

On the post conference tour we visited Linda's private home with a backyard chocablock full of plants. Linda holds herbal events throughout the year and she has one coming up the first week of December in time to shop for the holidays! (https://events.jacksonville.com/event/herbal-celebration).

Our awards banquet always features a rousing auction, which raises money for our foundation. Long-time member Betsy Williams received the Professional Achievement Award and Women Healers of the World by Holly Bellebuono was honored by the IHA with the Thomas DeBaggio Book Award. It is a beautiful book full of history and herbal information. This book would make the ideal holiday gift for any gardener, herbalist, historian or woman in your life.

Fernandina Beach is a lovely, small town situated on Amelia Island in Northern, Florida. We were able to walkabout the town easily, shop and dine and even ride the trolley back and forth to the church where the event was held. We even got to walk on the beach and along the backstreets and waterfront. I'd go back there for a visit anytime!

We had really good vendors–and I tried to buy something from each one of them. The interns, conference committee, helpers/volunteers and caterers all did a great job–thanks to each and every one of you!