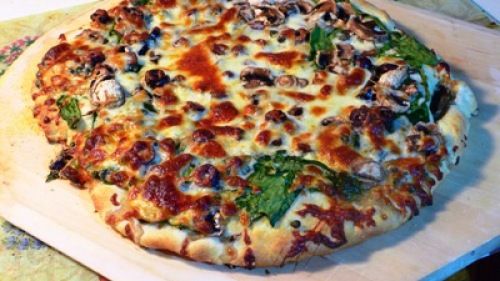 Homemade Pizza Makes the Party Super
One of the best parts of getting together to watch the Big Game is the party food which usually includes chips, dips, burgers, brats, and hot wings. But this year, instead of loading up on all those extra calories, offer a lighter version of a fan favorite—pizza.
This veggie pizza uses a base of good-for-you olive oil and healthy ingredients like garlic, spinach and mushrooms. The chopped kalamata olives add such a nice meaty texture that no one will miss the pepperoni.
Choose a ready-made crust or roll out a simple dough for a pizza that's something to cheer about.
Simple Pizza Dough is Super Easy
I've used this basic pizza dough recipe for many years because it's nearly fool-proof and it makes a nice bread-like crust that stands up to a thick layer of ingredients.
This dough can also be prepared the day before and refrigerated overnight to speed pizza prep the next day.
Pizza Dough Ingredients
1 package (2 ¼ teaspoons) active dry yeast
1 tablespoon sugar
1 cup lukewarm water
3 cups all-purpose flour
1 teaspoon salt
¼ cup olive oil
Cornmeal
Dissolve the yeast and sugar in a small bowl of lukewarm water.
Allow the yeast to rest for about 15 minutes until it becomes foamy.
Mix the flour and salt together in a large bowl.
Add olive oil to yeast mixture.
Add olive oil mixture to the flour and stir to combine.
Knead on floured countertop until the dough is smooth and elastic.
Form the dough into a ball and place in a bowl; set near a warm place and cover with a clean towel.
Allow the dough to rise until it doubles in size (about 1 hour).
Punch down the dough and place on a floured surface.
Use a rolling pin to roll dough into either one large circle or rectangle or two smaller pizzas; pinch edges.
Place dough on pizza paddle or rimmed baking sheet that's been sprinkled with cornmeal; add pizza toppings.
Super Veggie Pizza Topping
The topping for this pizza uses healthful olive oil, sprinkled with chopped fresh garlic, as the base for the pizza instead of a tomato sauce. If you're feeling creative, add thin slices of roasted red peppers, minced shallots, red onion or other veggies of your choice.
Layer ingredients on pizza crust in the following order:
2 ½-3 tablespoons olive oil spread evenly over dough.
3 medium cloves of chopped garlic
3 cups fresh spinach leaves washed, dried and stems removed
2 ½-3 cups sliced fresh white mushrooms
¼ cup pitted, sliced kalamata olives
2 tablespoons capers
3 cups shredded mozzarella cheese
Bake It
If using a pizza stone, place it on an oven rack and preheat oven to 400 degrees. Sprinkle cornmeal on pizza stone and slide the pizza(s) onto the stone or slide the pizza on the baking sheet into the oven.
Bake for 15 minutes or until the crust is golden brown. Let pizza rest for several minutes before slicing.