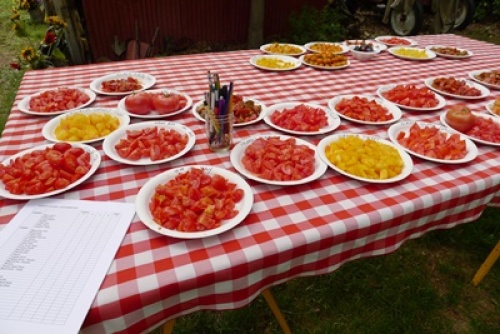 If one of the NatureSweet Homegrown Tomato contests isn't planned for your neck of the woods, you can start your own. A tomato tasting party is a simple way to get together with other gardeners for some end-of-summer fun.
The party can be as laid back or elaborate as you'd like, but here are the basic steps for tossing a memorable one:
Plan the date when you know there will be an abundance of ripe tomatoes in gardens. In my region, mid-September would be a perfect time.
Invite gardeners, whether they have a big crop of tomatoes or not. In addition to having some fun, the party is a good educational and networking opportunity, too. 
Ask gardeners to bring enough tomatoes for cutting and serving. It helps to know the tomato variety and whether the tomato is an heirloom or hybrid.
Gather the basic party supplies: paper plates, toothpicks, napkins, markers, pencils, paper. Be sure there's enough table space, table covers and seating.
Plan for refreshments, like drinks and appetizers, snack-type picnic foods or ask guests to bring a dish to share,
As guests arrive, have them mark on a paper plate their tomato variety and if it's an heirloom. With this information, gardeners can save the seeds of the heirlooms they'd like to grow in their own gardens. (An easy way to save seeds is to fold them in a paper napkin and let them dry. Save in an envelope marked with the variety name. Next season, simply cut the seeds out of the napkin and plant. The paper will decompose.)
Recruit a helper or two to cut the tomatoes into sample-size pieces and place back on the plates.
Set the plates, napkins, toothpicks, paper, pencils, and waste baskets near the tasting table. Then let the tasting begin.
Gardeners can write down the names of their favorite varieties to keep and refer to later.
You could also have slips of paper for people to vote for their favorites. Near the end of the party, tally the votes and offer inexpensive prizes for the sweetest, tastiest, best plum tomato, best beefsteak or other categories.
What else do you think would make for a great tomato tasting party in your garden?