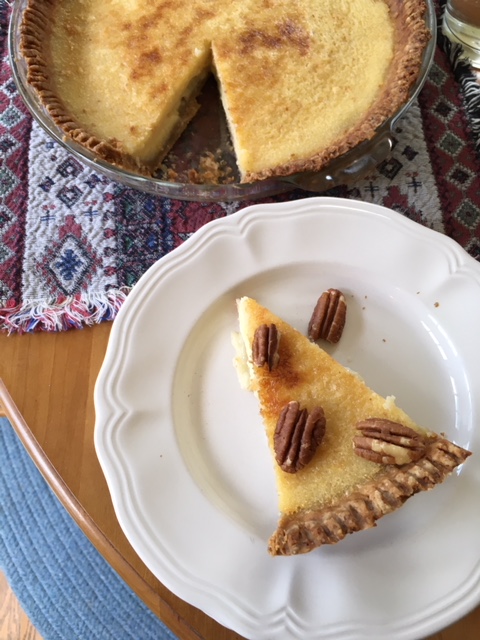 Gearing up for the Herb Harvest Fall Festival at the Ozark Folk Center. This year we are highlighting the foods of the Southern United States–south of historic U.S. 40.
We have a line-up of great speakers and programs–check it out at https://www.arkansasstateparks.com/events/lavish-herbal-feast and https://www.arkansasstateparks.com/events/herb-harvest-fall-festival

Here is a sneak preview of a classic buttermilk pie–infused with herbal flavors.
Buttermilk Pie with Pecan Crust
This delicious recipe is adapted from The Beekman 1802 Heirloom Dessert Cookbook by Josh Kilmer-Purcell, Brent Ridge and Sandy Gluck. I tweaked it a bit and had an inspiration to infuse lemon basil in the buttermilk overnight, which gives a mild, lovely, ethereal flavor along with the mace blades. The original recipe calls for nutmeg, however I often use mace (which is the outer membrane covering the nutmeg shell), instead of nutmeg, because I love the aromatic flavor of this spice. The pie is still delicious if you decide not to infuse the herbs and spice–use plain buttermilk-and add the mace.
I enjoy this pie barely warm or at room temperature. If there are leftovers, refrigerate, and remove to stand at room temperature about 30 minutes before serving.
It is delightful as is, although I like a few toasted pecan halves for garnish. It could be served with fresh sliced peaches or nectarines, berries or lightly poached pears.
Makes a 9-inch pie; serves 8
Buttermilk infusion:
1 1/3 cup buttermilk
Generous 1/4 cup rough-chopped lemon basil leaves
2 mace blades or scant 1/4 teaspoon ground mace
Combine the buttermilk, lemon basil and mace in a jar with a tight-fitting lid and shake well. Refrigerate overnight or for at least a few hours. When ready to make the filling, pour the buttermilk through a strainer, pressing on the leaves to remove the essence.
Crust:
1 1/4 cups unbleached flour
1/2 cup pecans
1 tablespoon organic sugar
Scant 1/2 teaspoon sea salt
5 tablespoons unsalted butter, chilled and cut into pieces
1 large egg
Combine the flour, pecans, sugar and salt in the bowl of a food processor and pulse until the nuts are finely ground. Add the butter and egg and pulse until the dough just starts to come together-don't let it form into a ball. Turn the dough out and pat it into a disk, wrap in plastic wrap and refrigerate for a minimum of 30 minutes or overnight.
Flour your work surface and roll the dough out with a floured rolling pin into a 12-inch round. Carefully transfer the dough to a 9-inch pie plate and press the dough against the bottom and sides of the pan, making sure that it is evenly thin. Use a knife to trim the dough leaving about 1-inch overhang. Fold this over, doubling the dough around the edge and crimp with your fingers or a fork. Chill the pie crust for at least an hour.
When ready to bake the crust, preheat the oven to 400° F. Cover the pie dough with parchment paper leaving and overhang to cover the edges and add pie weights or dried beans to cover the bottom. Bake the crust for 15 minutes. Remove the parchment with the weights and bake for 10 minutes more until lightly browned. Remove to cool on a baking rack and reduce oven temp to 325° F.
Filling:
1 cup organic sugar
3 tablespoons cornstarch
Large pinch salt
1 1/3 cups infused buttermilk
6 tablespoons unsalted butter, melted
1 teaspoon fresh lemon zest
3 large eggs
Combine the sugar, cornstarch and salt in the bowl of a food processor and pulse to mix. Add the buttermilk, melted butter, lemon zest and eggs; pulse to combine. Pour the filling into the warm pie shell. Bake for about 1 hour until the filling is set and just barely wobbly in the center. Remove the pie to a baking rack to cool before serving. Cut into slices and garnish with toasted pecans casually scattered over each slice once plated (about 1 scant cup for the whole pie).