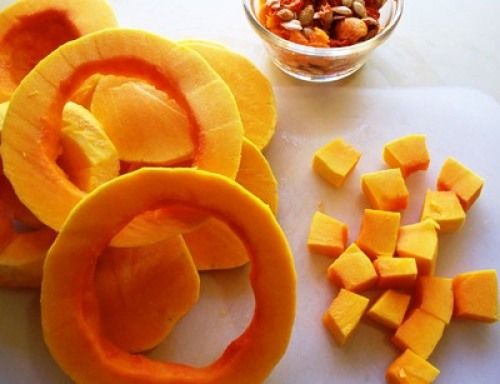 When the organic winter squash went on sale at the market, I decided to stock up on these versatile vegetables. While weighing the difference between two butternut squash, another customer stopped and watched. She said, "I'd love to get some of those, too, but they're just too hard to peel."
After I showed her how to cut the squash for easy peeling, she smiled and placed a few in her cart.
The secret to preparing a butternut squash is to 1) slice through the squash at the narrow neck to separate it from the bottom section 2) cut the bottom portion into rings for easier peeling and 3) scoop out the seeds and stringy pulp.
If you think the squash will still be too hard to cut, simply use a fork to poke holes over the surface of the squash (to allow steam to escape) and microwave on high for 3-4 minutes or just until the squash starts to soften. Let cool slightly before slicing and peeling.
Once the squash is peeled, you can cut it into cubes for sautéing, pureeing, roasting, baking, steaming, or blanching for freezing.
Besides being so adaptable to different recipes, butternut squash (Cucurbita moschata) is an excellent source of vitamins A, B6 and C. It's one of those vegetables that's high in fiber, low in calories and its orange color means it's rich with beta-carotene.
Now that you know how easy it is to prepare butternut squash, here are four recipes to use for holiday meals, Sunday football parties or a winter weekday dinner:
Butternut Squash with Cheddar Cheese and Sage requires cutting the squash in half lengthwise and scooping out the seeds. Use the technique for microwaving the squash for a few minutes to make cutting easier.
Squash, Apple and Onion pizza uses 1 cup of cooked, pureed butternut squash in place of tomato sauce for a perfect fall combination of flavors.
Squash is filled with tomatoes, Feta cheese and sage before it's baked in this simple twist on stuffed vegetables.
Spicy Butternut Squash Soup Recipe
Spicy Butternut Squash Soup can be served at any temperature from steaming hot to soothing cool. It makes a nice home-cooked dinner with a salad and warm rolls or it can be served as an appetizer in shot glasses for a party. Garnish with your favorite fresh herbs. One ingredient that helps flavor this butternut squash soup is turmeric, a spice containing curcumin, an antioxidant that has anti-inflammatory properties. 
Ingredients
4 Tablespoons butter
3 large shallots
2 cloves garlic
1 Tablespoon curry powder
2 ½ -3 pounds butternut squash 
4 cups chicken or vegetable stock
Fresh herbs (optional)
Instructions
Mince shallots and garlic and set aside.
Wash and peel squash; cut into ¾-inch cubes.
Melt butter in large saucepan over medium heat.
Add shallots and garlic; cook for several minutes.
Add curry powder; stir well.
Add squash and cover the pan.
Cook squash over medium-low heat for 20 minutes.
Add stock, cover and simmer until squash is very tender.
Puree small batches of squash and liquid in a blender or food processor until smooth.
Garnish with fresh herbs.
Do you have a favorite way to prepare butternut squash? Please share it here.