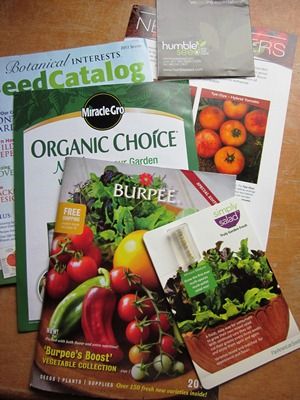 When vegetable gardeners speak, the gardening industry listens. The 2012 season offers products that make gardening easier, dozens of organic and heirloom options, and a surprising number of new and unusual varieties to plant.
Gardening Gets Easier
With so many new gardeners trying their hand at backyard growing, companies are meeting the demand with products that simplify vegetable gardening. Look for "easy-grow" Ferry-Morse seed strips and disks; Simply Salad multi-species, multi-pellets from Ball Horticultural; and pre-packaged seed kits from Humble Seed.
Self-watering trough planters will take the guesswork out of plant care. The water reservoirs on the Lechuza molded plastic planters hold about three gallons of water and send up a signal when it's time to add more.
Organic Gardening Grows
Vegetable gardeners have more organic options than ever before. Companies are capitalizing on the grow local and organic movements by featuring the green and white "USDA Organic" logo on their seed packets. More organic products will also be on the shelves for organic gardeners. Established brands, like St. Gabriel Organics, will face competition from industry giants with new organic product lines like Miracle-Gro's Organic Choice plant foods, Daniels Plant Food from Ball Horticultural and Ortho's Elementals garden solutions.
Heirloom Gardening Takes Off
At one time it was unusual to see seeds and plants described as "heirloom" or "open-pollinated" in catalogs, but now "heirloom" is used as a marketing catchword. Baker Creek Heirloom Seeds, once the go-to source for heirloom seeds, has competition from just about every other seed company in the business. Look for "wonderful heirloom" "family heirloom" "popular heirloom" and even "organic heirloom" descriptors. Another common marketing term: "non-GMO." It's interesting to see that catalogs have made it a point to clearly label "hybrid" varieties.
Bold Colors, Tastes and Claims
Gardeners bored with growing the same vegetables and herbs in their gardens each year will be pleasantly surprised to plant blue or 'Tye-Dye' tomatoes, yellow 'Faerie' watermelons, 'Orange Blaze' peppers, and 'Wasabi' arugula. Burpee has a new vegetable collection called "Boost" that includes varieties that are said to have higher levels of antioxidants and higher nutrition than other home garden vegetables.
What vegetable gardening trends are you anticipating for 2012?