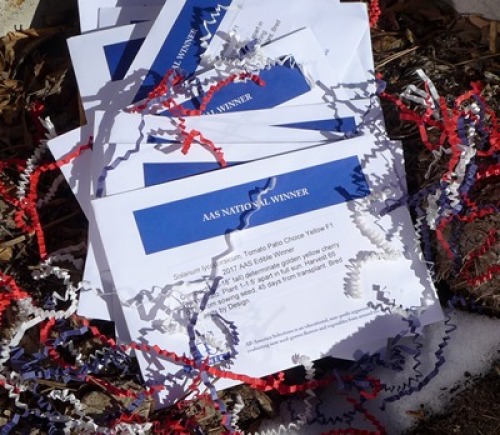 As part of the All-America Selections (AAS) garden communicators group, I get to trial the new winners in my garden each year. This year I'm especially looking forward to planting and growing Patio Choice yellow tomatoes. 
AAS must have had me in mind for these small-space tomatoes. First, I love the taste of dozens of yellow tomatoes, and second, this cherry size is perfect for an early tomato – just 45 days – from transplanting in the vegetable garden. This tomato was bred especially for growing in container gardens, and I bet plants will do well in a hanging basket, too. 
If you're not familiar with AAS, you should be. It's the only non-profit trialing organization in North America that tests new plants each year and recommends them to home gardeners. Professional growers volunteer to trial them in their gardens and compare them to other great varieties to determine the winners.
This year, like every year since the 1930's, there are fruits, vegetables, herbs and flowers named as AAS winners. When you see these varieties at the garden center, you can be assured they've undergone a rigorous evaluation and came out on top. In addition to naming national winners, AAS also selects regional winners that will perform especially well in different areas of the country.
In addition to the Patio Choice yellow tomatoes, AAS sent me these other 2017 national winners to grow in my garden this season, courtesy of the companies who produce them:
Seychelles pole bean
Antares fennel
Candle Fire okra
Aji Rico pepper
Mad Hatter pepper
Midnight Snack tomato
Gold in Gold watermelon
Mini Love watermelon
Asian Garden celosia
Supra Pink dianthus
Mega Bloom Orchid Halo and Pink Halo vincas
Profusion red zinnia
To see all of the AAS winners and read more about the characteristics that make them special, visit the All-America Selections website. And watch for my updates on how they do in my garden throughout the season.