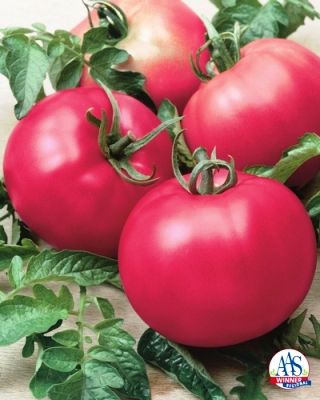 It's easy to get lost looking at all the new vegetable and herb winners posted on the All-America Selections website. The images of these "most wanted" vegetables and herbs for next season make me want to clear a path through the snow to start planting today.
There are too many vegetable and herb winners to list all of them, but here are my top three must-haves for a tomato, culinary herb and hot pepper:
One of my favorite tomatoes from last season was 'Chef's Choice' Orange, an All-America Selections (AAS) winner for 2014. Those beautiful tomatoes certainly earned their name, because they added a tasty, colorful zing to every salad and tomato sauce I made.
For 2015 AAS has picked another winner from the same family. 'Chef's Choice' Pink is sure to win a spot in my garden as a blushing pink beefsteak variety. 'Chef's Choice' Pink is a regional winner that did especially well in the Southeast and Great Lakes trial gardens.
Fresh tomatoes need a little drizzle of olive oil and a sprinkling of just-picked basil for one of my go-to summer salads. That's why I'm excited to see AAS has a winning basil on its 2015 list. Basil 'Dolce Fresca' is a national winner that judges chose because of its edible qualities and its ornamental value, too.
The plant's mouth-watering description says 'Dolce Fresca' is a good plant for containers, borders or as a focal point because of its compact habit. Any basil lover will have to give this one a try because of the AAS stamp of approval as a "new and better" basil.
When I read that 'Flaming Flare' is a Fresno pepper, that's all I needed to know about this winner. I love the flavor of Fresno peppers, and this variety is said to grow sweeter tasting and larger fruits than similar Fresno types. A bonus to gardeners is being able to grow more peppers on each plant.
'Flaming Flare' is a national winner which means it performed well in all the edible trial gardens from Oregon to North Carolina.
I've recommended AAS winners to other vegetable gardeners ever since I discovered how reliably they perform in a high-altitude, semi-arid climate. I figure if they can grow in my garden they can grow just about anywhere.
In addition to the AAS 2015 winners, there are other winners listed on the National Garden Bureau website. There you'll find 'Indigo Sun' Bumper Crop grafted tomato, 'Primavera' spaghetti squash, 'Blue Podded' pea, 'Anthonina' purple carrot. The 'Halloween mix' of radishes includes black, white, yellow and purple. That's sure to be a winning combination in anybody's garden.