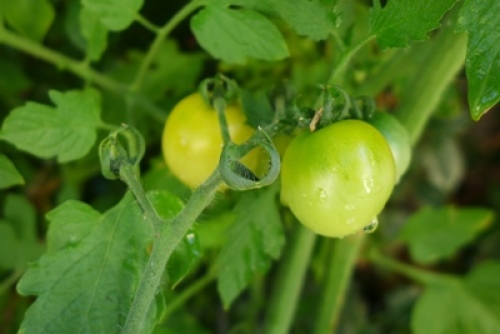 When I plant my tomato seeds indoors in spring, I always make sure the plant tags are exact. But by the end of the season, most of the tags are either missing or weathered beyond being legible.
That's why I'd been waiting for the patio container of cherry-sized tomatoes to ripen to a deep red before clipping them from their tall vines. When I spotted several bunches near the base of the plant that had ripened to a beautiful yellow-white, I knew I'd been waiting on the wrong tomatoes. 
I checked my records and realized these are the Fire Fly tomato seeds sent by All-America Selections to test in my garden. Fire Fly is a 2019 AAS national winner, and a winner in my garden, too.
These tomatoes grow to a perfectly round 1-inch size on indeterminate vines that definitely need staking. Even in a large patio container, Fire Fly grew over 6-feet tall. The tomatoes form on nice bunches and really light up when they begin to ripen. I can see where Fire Fly gets its name. 
White and yellow tomatoes have a taste that's different from other colors of tomatoes. They naturally have less acid, so the taste is much fruiter. These white cherry tomatoes have a sweet taste, with just a hint of real fruit, like pineapple or mango. 
I was pleased they met the number of days from transplant to harvest at 80 days. The plants have good disease resistance and there's no cracking or splitting on the tomatoes at all.
The one disappointment is my yield will fall short of the estimated 500 tomatoes grown in the AAS trial gardens (500!). Maybe some vegetable gardeners will be able to get that kind of production from each plant, but that's a big stretch for my short-season garden.
AAS has its headquarters in Illinois, but the edible winners are trialed in many different areas of the country. The organization's mission is "To promote new garden varieties with superior garden performance judged in impartial trials in North America."
With so much trialing, vegetable gardeners can be assured they'll have success with AAS winners, no matter where they plant. Fire Fly is certainly a tasty and prolific new introduction to the line-up of vegetable winners.