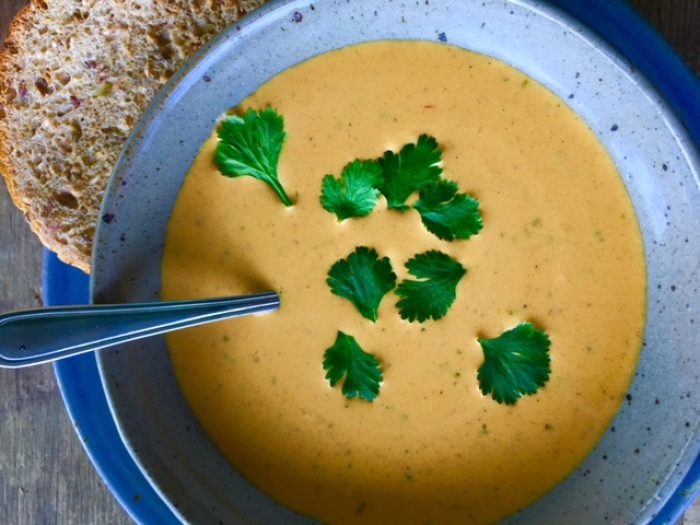 During our recent celebration of the Herb Harvest Fall Festival at the Ozark Folk Center, we had a Caribbean-influenced dinner menu. The following soup recipe was one of the favorite menu items–and it is season appropriate–just in time to make a delicious warming soup and use up the last of the garden harvest of summer tomatoes. Make this soup soon–you will be glad that you did!
We served the soup as is as a vegetarian dish. For the rest of the folks, we wanted to have some sort of seafood soup or chowder, since seafood plays a large part in island cuisine. Since conch and lobster are not readily available in the Ozarks, And so we added crabmeat to the pureed soup and cooked it briefly. You could also add local fish or shrimp.
The soup can be made ahead and gently reheated. If adding seafood, do this during the reheating. Stir in the cream after the soup is hot and do not allow it to simmer or boil. (For a vegan soup, use coconut or almond milk in place of the 1 cup of cream.)
For those of you who do not prefer cilantro, use parsley, lemongrass and/or basil.
Tomato Bisque with Curry and Coconut Milk
Curry is used quite a bit in Caribbean cuisines due to the British and Indian influences from centuries ago; it is even made and processed on a few of the islands and some cooks mix their own blends. This simple soup combines flavors of the islands with ethnic influences. Use cilantro or culantro leaves, or if you do not like the flavor, parsley will do. If you prefer it spicy, add an extra hot chile.
 Serves 6 to 8
1/4 cup coconut oil
1 medium red onion, chopped (about 1 1/2 cups)
1 medium potato, chopped (about 1 generous cup)
1 small chile pepper, chopped
1 large or 2 small bay leaves, preferably fresh
3 large cloves garlic, peeled and chopped
2 cups peeled, chopped tomatoes and their juice; fresh or canned
About 1 cup vegetable stock, heated
14- or 15-ounce can coconut milk
1 tablespoon curry powder
About 7 drops Angostura bitters
Sea salt and freshly ground pepper
1/4 cup packed cilantro leaves
1 cup heavy whipping cream
In a heavy-bottomed soup pot, heat the coconut oil over medium heat and add the onion, stir for a few minutes, add the potato, chile and bay leaf, stir and cover and cook for about 5 minutes or so. Remove lid and add garlic, reduce heat to medium low, stir and cover, cook for about 5 minutes more. Add the tomatoes, stir, and cook 5 minutes more.
Add the vegetable stock, coconut milk, curry powder and bitters, stir well and cook over medium-low heat for about 10 to 15 minutes. Season well with salt and pepper and stir in the cilantro. Carefully, use an immersion blender to puree the soup, or blend it in batches in a regular blender and return to the soup pot. If you are serving soup right away, add the heavy cream and stir well over low heat; once you add the cream do not allow the soup to boil!
If you are preparing the soup ahead (it is quite good if made a day ahead), then allow the soup to come to room temperature before refrigerating. Gently reheat the soup the next day, adding the cream before serving. Taste once the cream is added as it may need more salt and pepper. If it is too thick, add a bit more stock. Serve hot.
Variation:
Crabmeat, fish or shrimp can be added to this soup to make a curried seafood bisque. Add them towards the end of cooking and once they are cooked through, add the cream as directed above.