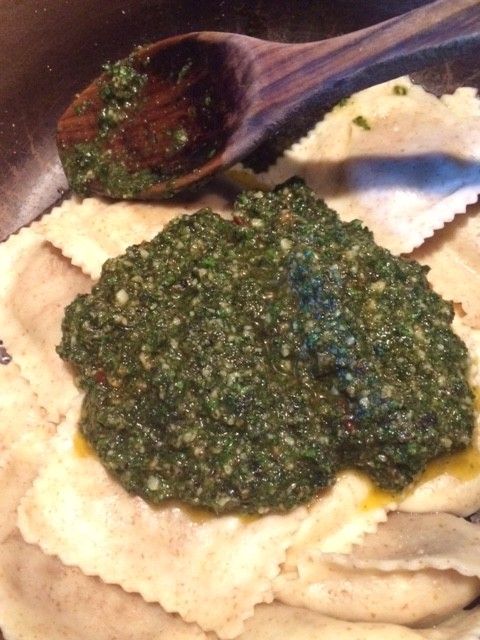 Once nettles flower and set seed, most sources say they are too bitter to eat and that the leaves become stringy and gritty with calcium oxalate. Right now I am after the seeds so I can make gomasio and also I want to cut the plants back so that I will have a fall crop.
Nettles are definitely the best in spring when they are young and tender. I cut them early on as soon as they get 6 or 8-inches tall; this is a perfect spring tonic and delicious, nutritious food. Then I harvest them a second time in late spring–most sources recommend harvesting only the tops which are the most tender. Since I want to eat and dry some, I generally cut them back leaving anywhere from 8- to 12-inch stems.
With the onset of warm weather, I allow the next round of growth to flower and make seed. Since the seeds are edible, I like to harvest and dry them and combine them with sesame and sea salt to make an incredibly tasty and nutritive version of gomasio. I will give you the details and recipe for this traditional Japanese condiment in my next blog post so stay tuned.
When I do this final summer harvest, I cut the plants back again to 10-or 12-inches. Then I trim off the flowering tops–usually anywhere from to 12- or 15-inches–below the last set of flowers. (Of course, I am wearing gloves while I am handling nettles–and somehow I still usually get stung during the process.) Then, I bring the flowering tops and sit in the shade and trim off the upper leaves into a bowl and the flowers into another bowl. I do eat this third harvest of upper leaves (although some refer to them as coarse and hoary)–they are not as sweet and tender green as the new, early spring leaves–however I do not find them all that bitter or gritty and I mix them with other greens for a saute, soup or salsa verde.
Meanwhile, I will tell you how I make an early summer salsa verde featuring my last nettle harvest. Most folks cook nettles to remove their prickles. However, if you blend, process or juice them, they lose their prickliness when they are crushed. Many nettle sauces and pestos call for blanching the leaves briefly and refreshing them under cold water first. I do not find that this is necessary–it gives a softer and mushier texture–not the same as a fresh minced herb. However, if you prefer to briefly cook them for the following recipe, it works out fine.
Early Summer Salsa Verde with the last of the Nettles
This can be varied according to what you have on hand. I just happen to have planted my basil plants out in the garden recently and trimmed them back to just above the bottom 2 sets of leaves, so I had fresh basil. Also, since cilantro is herb of the year, I have an abundance of plants maturing, so it was easy to harvest a few cups of those leaves. Use whatever nuts that you like: walnuts, almonds, pecans, pine nuts or pistachios; I used lightly toasted walnuts in this batch. Use a salty, hard, grating cheese like Parmigniano, Pecorino Romano or Asiago. I often add 1 to 2 teaspoons of seaweed flakes for flavor and salt.

This recipe made enough for me to freeze two, 1-cup containers and toss the rest with pasta for 4 servings.
Makes 3 to 4 generous cups of sauce

1 generous cup toasted walnuts
6 to 8 cloves fresh garlic
About 4 cups nettle leaves
About 2 cups each fresh basil and cilantro leaves (if you don't like cilantro use flat-leaved Italian parsley)
About 1/3 to 1/2 cup extra-virgin olive oil
1 cup grated Parmigniano or Asiago cheese
In a bowl of the food processor, combine the nuts and garlic and pulse to coarsely chop. Add about half of the herbs and a drizzle of olive oil and pulse until coarsely chopped; add the remaining herbs and a bit more oil and pulse to chop. Add more olive oil until all of the herbs are well-coated and it is the thickness of pesto, pulsing just enough to mix. Do not puree; leave some texture. Add the cheese and pulse just to blend. Taste and add the rest of the oil if need be. Sometimes, I add some hot pepper flakes or a spoonful of harissa to make it more pungent.
Toss with hot pasta, rice or other grains, serve with chicken or seafood or grilled vegetables. Will hold in fridge for a few days or pack into containers for freezing, leaving some headspace and label.